CATHARINE CLARK - BRIAN GROSS - ROOT DIVISION

BACK TO THE PICTURE - MISSION COMICS & ART

SHOOTING GALLERY - WHITE WALLS - GALLERY THREE

(with assistance from Kathryn Arnold, RWM and Kristin Farr)

10.10.09



Catharine Clark Gallery: An evening with ZERO1.
Comment by AB: ZERO1 is a biennial international art-meets-technology event held in San Jose, the next installment scheduled for 2010. Joel Slayton-- artist, professor at San Jose State, and ZERO1 Executive Director-- is here at Catharine Clark tonight to talk about that. As is typically the case, I'm pressed for time, so I gotta shoot and run. Thanks to Joel Slayton for taking a few moments to inform me on ZERO1, and of course to Catharine Clark for the hors d'oeuvrial sustenance.
Joel Slayton - artist, professor, Executive Director of ZERO1.


***
Root Division: BUY NOW Artists' Reception - An Exhibition of Auction 2009 Artwork.
Artists: Ashley Adams, Verda Alexander, Andrea Antonaccio, Eric Araujo, Kathryn Arnold, Jason Michael Aumann, Micah Bandit, Lily Martine Baxter, Bill Berkson, Elizabeth Bernstein, Timothy Berry, Elisheva Biernoff, Lisa K. Blatt, Jan Blythe, Anna Bogatin, Tanya Boggs, Aaron Brady, Pegan Brooke, Julie Brookman, Jamie Brunson, Nicolas Buron, Amy Cancelmo, Deric Carner, John Casey, Elizabeth Cayne, Aileen Chong, Jon Casey Clary, Seth Curcio, Adam Whitney Day, Lauren DiCioccio, Claire Droney, Amy Ellingson, Kelly Falzone, Michele Feder, David Fiveash, Selene Foster, Peter Foucault, Adam Friedman, Joel Frudden, Mariana Garibay, Jen Garrido, Rebecca Goldfarb, Adam Green, Scott Greenwalt, Randall Heath, Julie Henson, Michael Hession, Ruth Hodgins, Rachel Hornaday, Melissa Hutton, Raymie Iadevaia, Rachael Jablo, Jeremiah Jenkins, Ryan Jones, Erin Kellgren, Matt Kennedy, Keira Kotler, Katrina Lamb, Laureano, Carrie Lederer, Dan Lydersen, Whitney Lynn, Lindsey Lyons, Paul Madonna, Michelle Mansour, Kari Marboe, Vanessa Marsh, Andrew McClintock, Molly McCracken, Heidi McDowell, Dennis McNulty, Conrad M. Meyers II, Masako Miki, Randall Miller, Robert Minervini, Yvette Molina, Carson Murdach, Camilla Newhagen, Haden Nicholl, Jenna North, Ramekon O'Arwisters, Daniel Ochoa, Jessica Paige, James Pakola, Chelsea Pegram, Jean Pettigrew Whelan, Bernardo Poggi-Leigh, Scott Polach, Mel Prest, Sarah Ratchye, Meghann Riepenhoff, Chris Ritson, Matthew Rogers, Dianne Romaine, Kit Rosenberg, Aaron Rosenstreich, Anthony Ryan. Nadim Sabella, Robert Schroeder, Justin Schuetz, Lauren Scime, Leila Singleton, Ashli SIsk, Andrea Slattery, Constance Smith, Sarah Ann Smith, Susan Lynn Smith, Jamie Spinello, Erica Steiner, Lisa Stoneman, Inez Storer, Julie Sutherland, Charlene Tan, James Tantum, Kevin E. Taylor, Mitch Temple, Chris Thorson, John Torrente, Kristina Tosi, Ian Treasure, Chris Treggiari, Mr. Ben Venom, Camille Verboort, Hannah Pearl Walcott, Keef Ward, Brian Wasson, Nancy Willis, Sarah Willis, Carmen Winant, Edmund Wyss, Bijan Yashar.
Review by Kathryn Arnold: Nice installation of multiple art works (over 125 emerging and established artists) on display here at Root Division this evening, all to be auctioned for the cause on October 22nd-- this event being the preview opening. Sculptures, paintings, prints, photography, digital media prints-- all are here at very good prices-- and will be even better at the auction. The work is quite professionally displayed; most of the 2D works are framed or otherwise ready to hang. The artworks wrap around the entire facility, all installed at eye level. A nice plus is the opportunity to view some works in process inside the resident artists' studios, many of which are open for the evening. This is a major fundraising event for Root Division, a great arts organization in our city known for their educational programs for children and young adults (charming paintings and drawings are exhibited along one of the halls). A big thanks to Root Division for introducing me to so many artists' works.
Art.


Photography (image c/o Kathryn Arnold).


Art.


Art.


I need this one like a hole in the head.


Art.


Art.


Art.


Art.


Art.


Tunes (image c/o Kathryn Arnold).


***
Back to the Picture: Art Glass.
Artists: Renee Anderson, Kristina Barnes, Katherine Bellevin, Dean Bensen, Herb Dang, Susanne Jette Khawand, Lacy Glass by Anne Hughes & Krista Lohr, Demetra Theofanous, Truck Dog Glass.
Review by RWM: Lively display of art with glass, sometimes using glass as a canvas. One will find here the colors of Spring, Summer, and Fall. The works are fun to behold and there is life and growth depicted. One need look close in some circumstances to see that this is actually glass and not some other art form.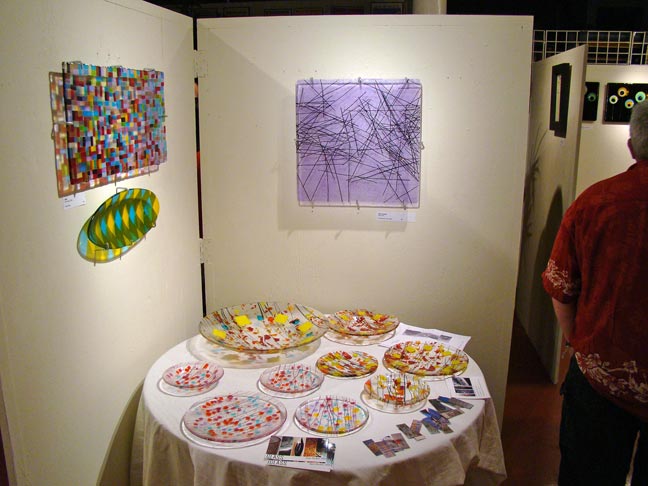 Glass art.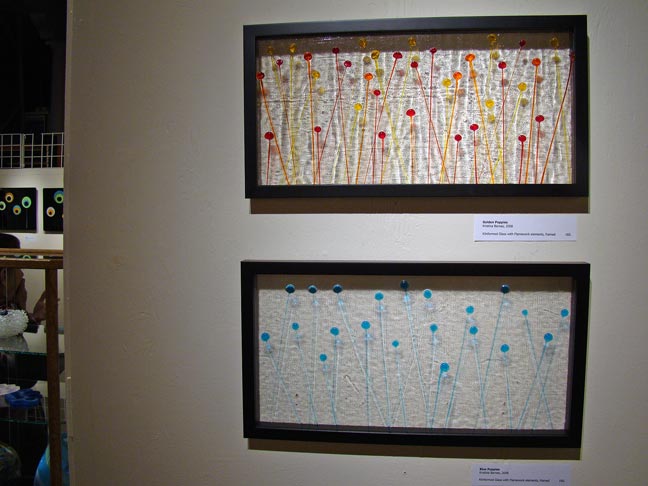 Glass art.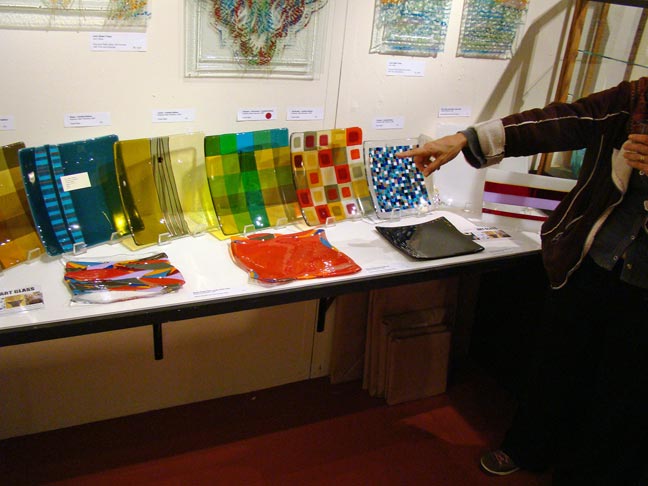 Glass art.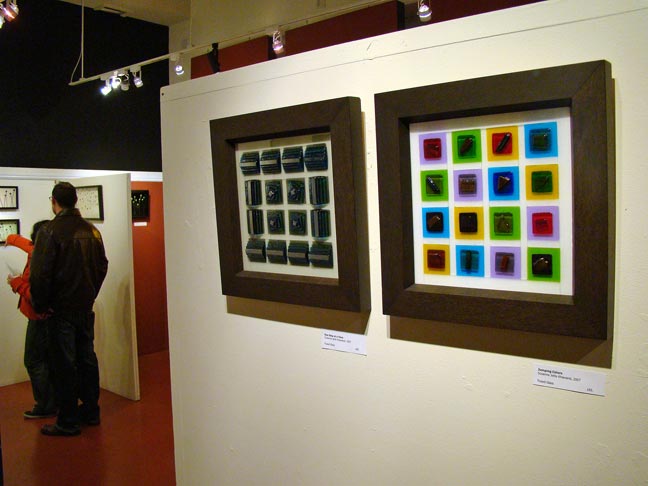 Glass art.


***
Mission - Comics & Art: Shitty Kitty is in Morocco and it's F-ing Magical.
Review by Kristin Farr: Collaborating jet-setters Casey Sciezka and Steven Weinberg mount their new exhibition from afar-- really far! They're currently in Morocco working on a graphic novel. One of their most ambitious projects stars a crudely drawn female feline affectionately known as Shitty Kitty. She's bold, she's sassy, and she is all over Mission Comics and Art for this month's gallery show. Chronicling their travels through photos of real Moroccan cats, Casey and Steven superimpose their own drawings over the photos, showing how Shitty Kitty behaves around foreigners. But it's not all fun and jokes-- cats have an historical significance in that part of the world. Also on view are a deck of Moroccan animal alphabet flash cards acquired and drawn upon by the artists-- Shitty Kitty gets really frisky with other species, she's an animal!  
Shitty Kitty is impressive in her ability to inspire communities to create their own art.  Before they left for their adventure, Casey and Steven hosted regular Shitty Kitty meet-ups at Shotwell's bar where anyone could participate, have a beer, and render their own Shittiest Kitties.
The official Shitty Kitty show guidelines.


Shitty Kitty art - Casey Sciezka and Steven Weinberg.


Shitty Kitty art closer.


Shitty Kitty art closer.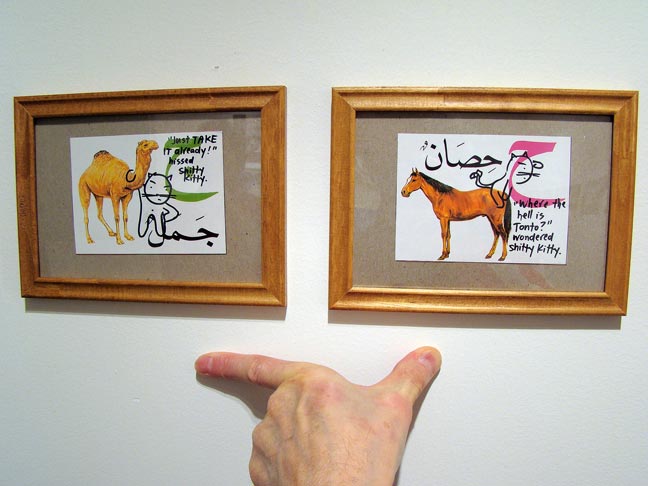 Shitty Kitty alphabet art.


Shitty Kitty art by Casey Sciezka and Steven Weinberg.


***
Shooting Gallery: Red Carpet - C3, KMNDZ and Akira.
Comment by AB: Peppy three-fer features an abundance of pencil drawings (including a number on toe tags for a chintzy $125 each... and worth it) by C3, crackerjack painted currency and pop portraiture by Akira, and ominous urban sci-fi dramatics by KMNDZ.
Karl Marx currency art by Akira.


Santa Clause currency art by Akira.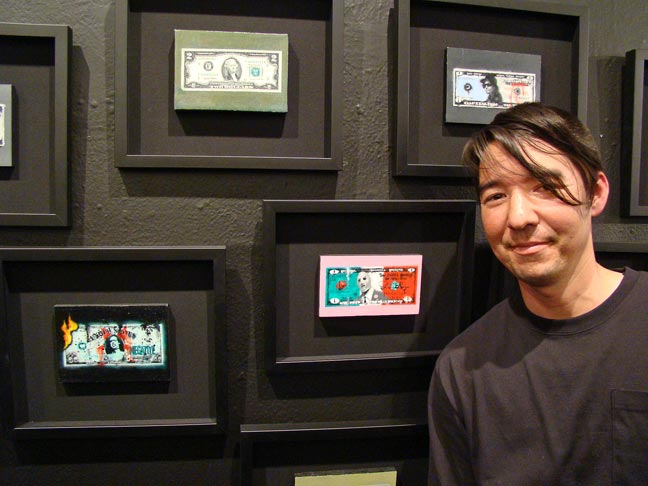 Akira and his art.


One more work of art by Akira.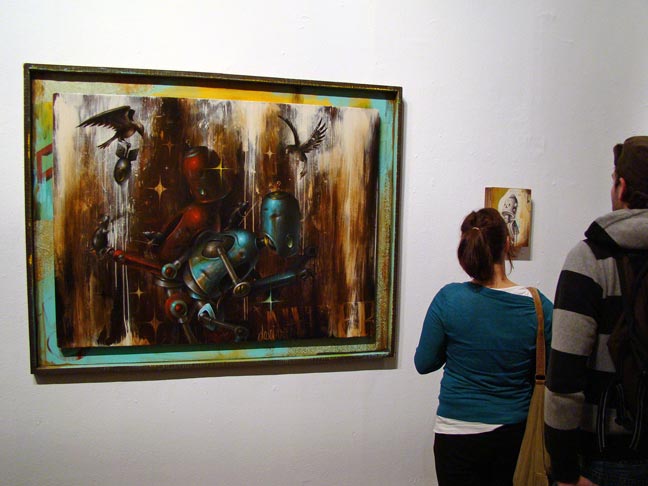 Art by KMNDZ.


Paintings by KMNDZ.


KMNDZ art.


Pencil drawing closer by C3.


Pencil drawings by C3.


C3 toe tag pencil drawing in detail c/o pinkie cam.


Toe tag art by C3 (left); art by Akira (right).


***
White Walls Gallery: The Stencil Show.
Artists: Adam 5100, David Soukup, Chris Stain, Ernesto Yerena, Tes One, Casey Gray.
Comment by AB: Stencil festival here at White Walls headed up by the stunning urban complexities of David Soukup and Adam 5100's mysterious incognito abstractions. Now a very sad thing happened last week-- Adam 5100's studio was flooded in a surprise San Francsico downpour and he lost a significant amount of work plus pretty much all of his stencils. A tragic occurrence indeed. So you might head on down to White Walls and show a little love by buying a piece of his work-- plus for you mercenaries in the audience, Adam 5100's art is now more difficult to come by than it was just a few days ago, and as for those pieces created with stencils that were destroyed in the flood-- that's all she wrote and there ain't no mo'.
Stencil art by David Soukup (like it).


David Soukup stencil art.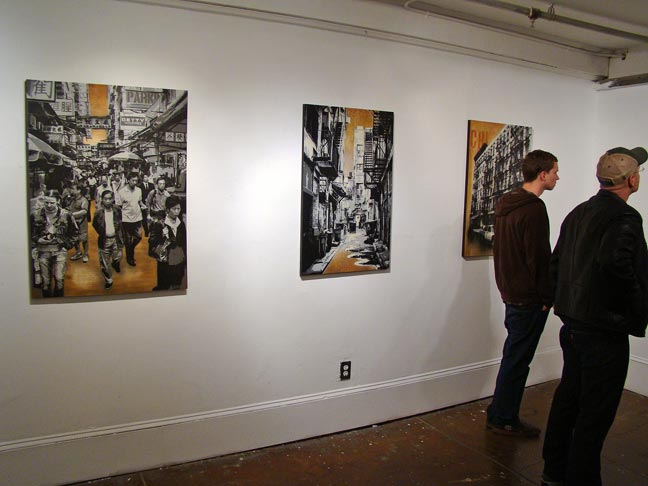 Stencil art by David Soukup.


Stencil art by Tes One (nicely done).


Adam 5100 stencil art.


Stencil art by Casey Gray.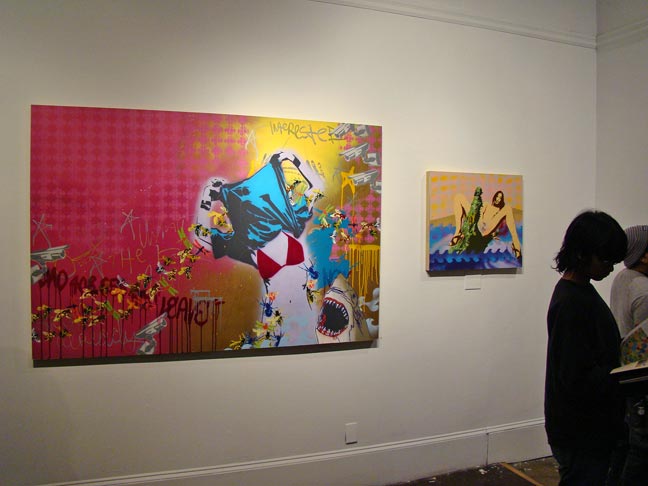 Stencil art by Casey Gray.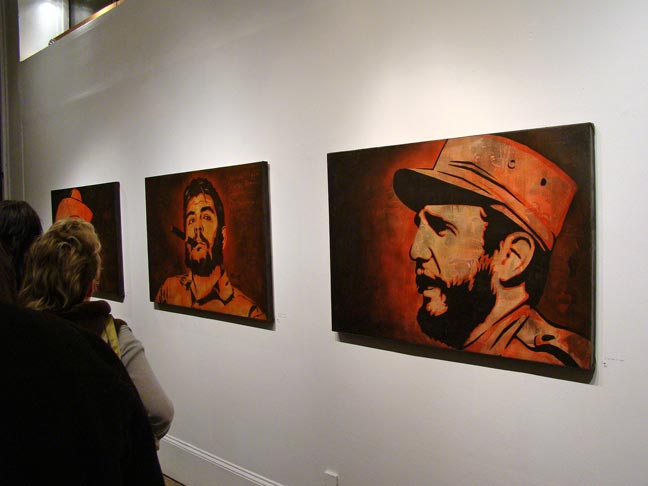 Ernesto Yerena stencil art.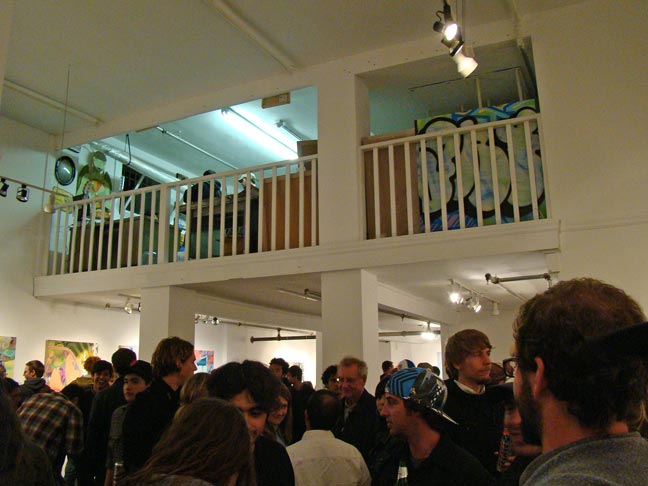 Census.


***
Gallery Three: Ramblin Worker - Upstairs Is Where The Magic Happens.
Comment by AB: Steve MacDonald aka Ramblin Worker stitches up another notable endeavor here at Gallery Three. My favorite-- a slick set of embroidered brass knuckles on gessoed canvas for $650. And let's not forget the threaded gold acrylic alphabet. And more-- every bit of it tasty. Now I can't speak to whether upstairs is where the magic happens (upstairs is where the cobwebs happen in my precious world), but one thing for sure-- it's where the party's happenin'. Dense with revelers, and you can't beat the backdrop.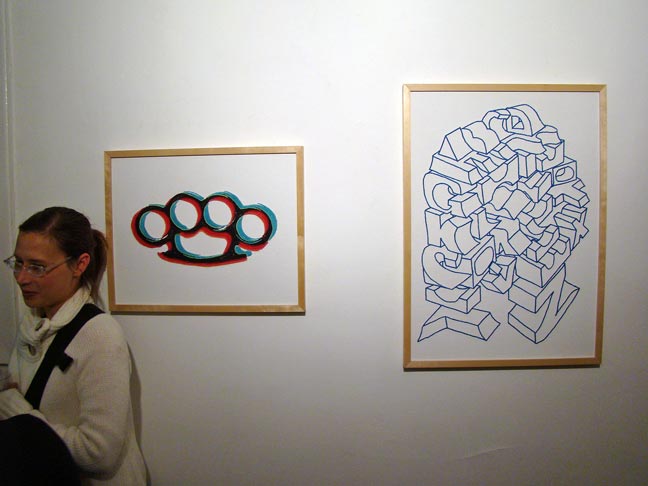 Art out of thread by Steve MacDonald aka Ramblin Worker.


Steve MacDonald aka Ramblin Worker thread art.


Embroidered art by Steve MacDonald aka Ramblin Worker.


Relative density.


***
Addendum: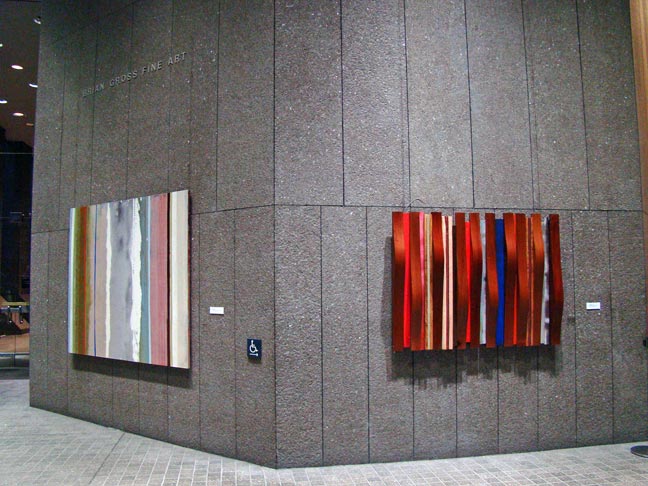 Amy Trachtenberg at One Post Street c/o Brian Bross Fine Art.


One more from Amy Trachtenberg at One Post Street.


***