ANTHONY MEIER - JOHN PENCE - 666 - 1AM

BELLJAR - SOMARTS - A.MUSE - LAKE GALLERY

SOUTHERN EXPOSURE - GIANT ROBOT - PARK LIFE

(with assistance from RWM, GLS, Sandra Silvoy,
Pilar Vree, DeWitt Cheng) and Lynnore Goldfarb

10.16.09



Anthony Meier Fine Arts: Robert Buck - iPainting.
Comment by AB: According to the prefatory remarks, Robert Buck used to be Robert Beck... until about eighteen months ago. For those of you out there in artland who may be wondering, I will continue to remain Alan Bamberger. So don't you worry your pretty little bristles about that. Meanwhile back at the show, Robert Buck, formerly Robert Beck, creates strikingly subtle silkscreen/paint combinations of smoke, done up in reflective paint so that when looked at under certain light or at certain angles, the "smoke" actually appears to hover above the surface of the art. The verdict? Like it! A challenging and ambitious artistic vision executed to perfection.
Art by Robert Buck (like 'em).


Robert Buck painting / serigraph combinations.


Smoke painting by Robert Buck on right in above image.


Pinkie cam zoom in on art by Robert Buck.


Robert Buck art.


***
John Pence Gallery: Travis Schlaht - Recent Oil Paintings.
Comment by AB: Travis Schlaht paints everything well. And that, as they say, is that.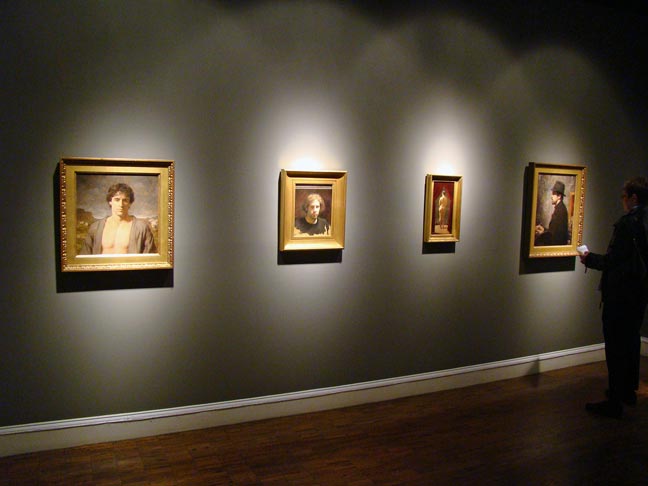 Paintings by Travis Schlaht.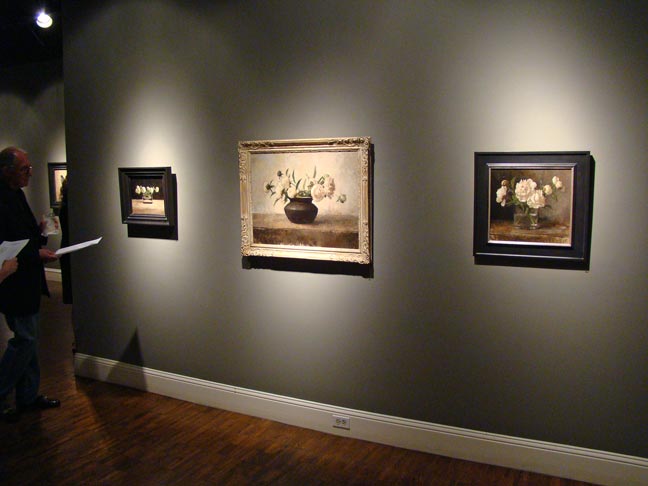 Travis Schlaht paintings.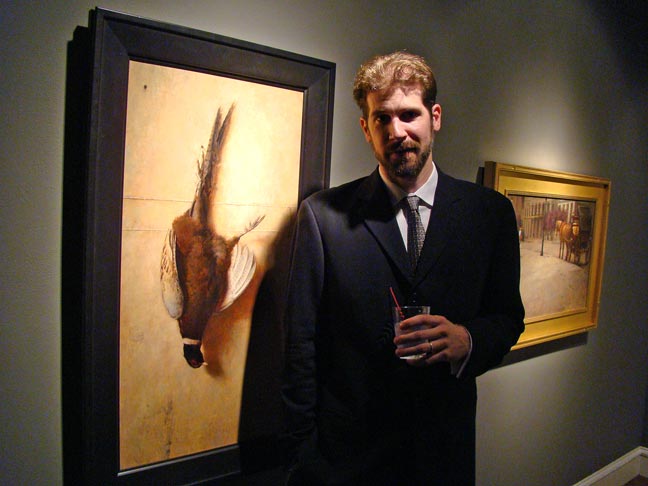 Travis Schlaht & his art.


Art closer by Travis Schlaht.


Travis Schlaht paintings.


***
Gallery 666: Charmaine Olivia's Urban Menagerie.
Comment by AB: Metropolitan melange accented with animal.
Paintings by Charmaine Olivia.


Charmaine Olivia and self portrait (image c/o Lynnore Goldfarb).


Charmaine Olivia art.


Art by Charmaine Olivia.


***
1AM Gallery: Eternal Sleep - 1AM Gallery's 1-Year Anniversary.
Artists: Peter Gronquist, Mear One, Mark Bode, 64 Colors, Alice Koswara, Bam, Bryn Taylor, Camer, Carlos A, Dave Crosland, Dia, Dril One, Eli Leppert, Hyde, Jessico, Josh Ellingson, King 157, Kob, KRK Ryden, Lango, Laurel Anderson, Lawrence Yang, Lily Black, Nate1, Oliver Fader, Orly Locquaio, Peabe, Pete Castro, Phoneticontrol, Reuben Rude, Reyes, Robert Gonzalez, Sesl, Shawn Griggs, Stan 153, Toro, Twick, Vogue.
Review by Lynnore Goldfarb: I feel like a total idiot because the batteries in my camera are dying and I don't have spares. I push through the sizable crowd of twenty-somethings, some wearing Halloween costumes, some not, and some looking like they are but probably aren't. I go directly to the counter and ask the young lady behind it if she can locate some double A's for me. However, she doesn't work here; she simply needed to sit down. I am starting to panic, because I really don't feel like going to a liquor store on sixth street at ten at night to buy batteries.
I luck out though-- another women who actually works here informs me that she can't find any, but tells me to take my batteries and rub them to get a few more pictures out of them. I can't believe it, I put them back in the camera, the battery light is off and I snap away like nothing is wrong. I love the upbeat theme coming off as a cross between Halloween party, Day of the Dead procession, and down-to-earth skater cool. Outside on Sixth Street it is just as hopping with a large crowd standing silently watching every spray of paint by Mike "Bam" Tyau as he finishes up his piece of the mural on the wall. 
Comment by AB: 1AM Gallery trots out the scary stuff not only to usher in the season, but also to celebrate a successful first year in business.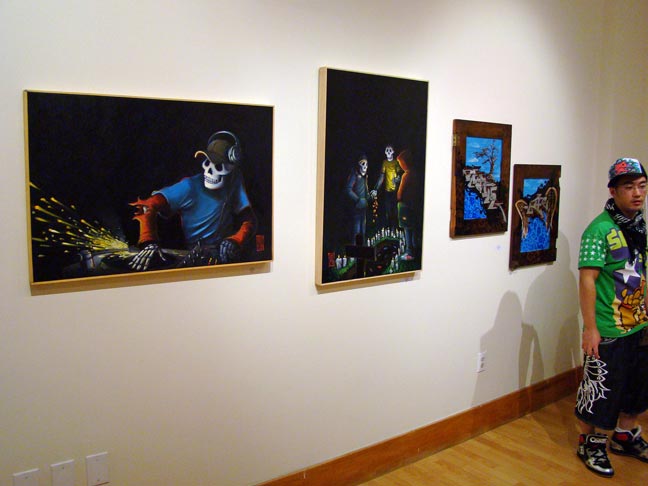 Art.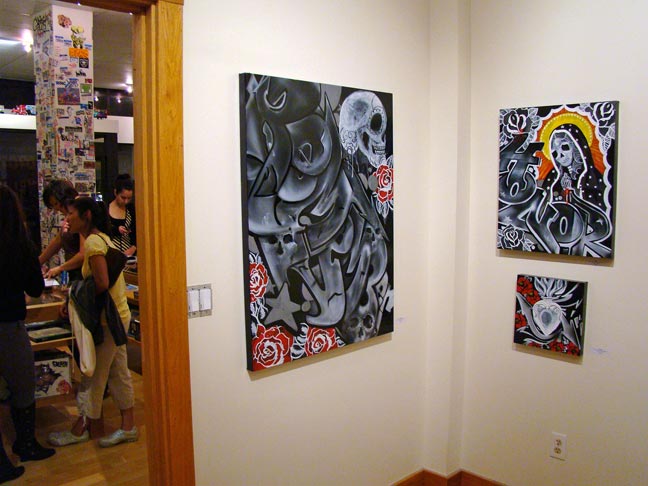 Art.


Artist Dia and his art (image c/o Lynnore Goldfarb).


Art & living art.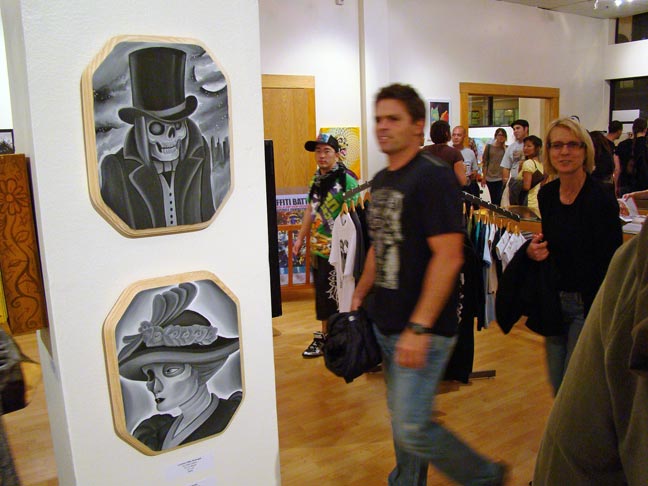 Art.


Art.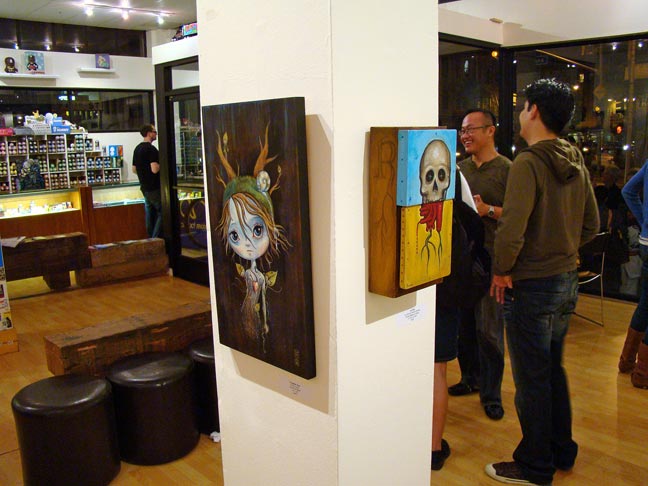 Art.


Live painting by Mike "Bam" Tyau on the outside wall of the gallery.


***
BellJar: Michael McConnell - Slings and Arrows.
Review and images by Pilar Vree: Michael McConnell's new artwork is a beautifully textured collection that brings up hints of Alice in Wonderland and childhood daydreams. Painted with a subtle electricity, the show is a delightful juxtaposition of girlish scraped knees and fantastic animal imagery.
Review by Sandra Silvoy: Enter-- Childhood. Or the reconstruction of childhood. Stuffed toy animals are cut up and pieced back together. Acrylic is applied in a watercolor-esque manner, adding a touch of whimsy, as animal heads are superimposed onto children's bodies. Michael appropriates the pair through a comparative analysis of personality traits. Tons of character is made visible through the body language of the subjects portrayed. A tiger's head may be deemed appropriate for the loner type, as he sees it.
Review by RWM: The animal people are back and are standing their ground this time. They have decided to face "the slings and arrows of outrageous fortune," but some of them have the means to fight back. They however are not all still chimpanzees. The artist and viewers find connections in all sorts of beings in this display which is more interesting than some of the other animal art you will see around town. The variety of animals are stylish and some work as totems rather than as a message about our shared ancestors Lucy and Ardy.
Art by Michael McConnell.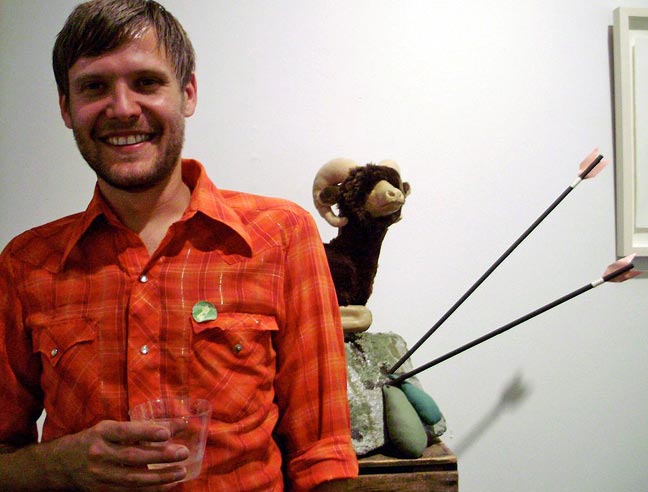 Michael McConnell (image c/o Lynnore Goldfarb).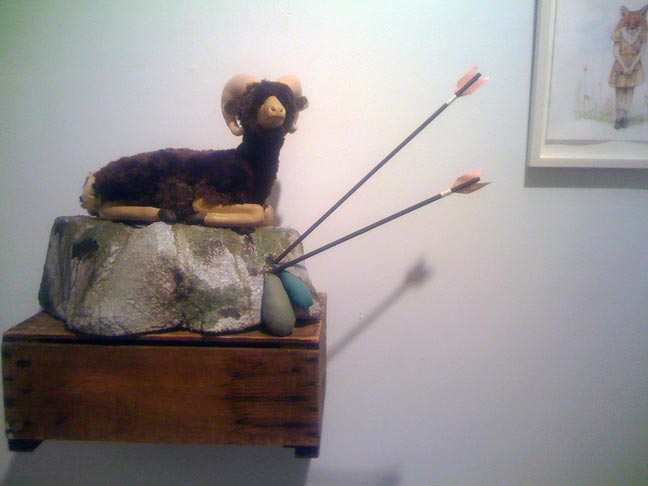 Michael McConnell art.


Michael McConnell art.


Art by Michael McConnell.


***
SOMArts Gallery: Altars for the Spirits - Offerings for the Living.
Artists: Patricia A. Montgomery, Elizabeth Addison, Dena Al-Adeeb, Susana Aragon, Adrian Arias, Azul Arias-Aragon, Mara Barenbaum, Jesus Barraza, Virginia Benavidez, Nathaniel Bolton, Nic Bucchi (AKA Flynt, )Carla Caletti, Melanie Cervantes, Deborah Cohen, Alicia Cruz-Hunt, Rick Darnell, Lucinda DeNatale, Kathy DeRosas, Lanell Dike, Annamarta Dostourian, Candi Farlice, Gisela Feid, Juliet Flower MacCannell, deCoy Gallerina, Santiago Gervasi, Francisco Gomez, CJ Grossman, Peter Gurein, Bjorn Heinbach, Rosa Hernandez, Carol J. Stewart, Melinda Johson, Caylly Jones, Fredda Kaplan-Robles, Gina Lim, Philip Long, Ytaelena Lopez, Dean MacCannell, Yoli Manzo, Jeff Marshall, Cris Matos, Susan Matthews, David Molina, Steve Molina (AKA Stix), Fernando Montiel, Mary Molly Mullaney, Carla Oden, Aydasara Ortega, Cassandra Parshall, Txutxo Perez, Audra Ponce, Brenda Rasmussen, Renaldo Ratto, Denise Richards, Russell Robles, Veronica Rojas, Michael Roman, Jeff Roysdon, Enrique Salazar, Nick Salazar, Jos Sances, Nicole Schach, Valerie Schlafke, Shizue Seigel, Malik Seneferu, Julie Slinger, Rosario Sotelo, Ilona Sturm, David Tafolla, Lia Tealdi-Heinbach, Cynthia Tom, Elka Vera, Ellen Vogel, Marcy Voyevod, Alain Waeber, Wilton Woods, Rio Yañez, Rene Yañez, Victor Mario Zaballa. Curated by Rene Yañez and Rio Yañez; architect - Nick Gomez.
Review by GLS: The annual exhibition of the Day of the Dead (Dia de los Muertos) at the SOMArts Cultural Center is one of my recurring favorites. This year continues as a great success featuring many works by a large number of artists as well as live entertainment, sales of show memorabilia, and a special room for kids to entertain themselves, leaving their parents free to explore the main exhibition.
The artistic quality of the work displayed varies from relatively straightforward arts and crafts works to high quality artwork. As in most Day of the Dead exhibits, the main theme is to honor the dead and present associated thought-provoking offerings to the living mainly in the form of art, but often accompanied by written thoughts, stories and descriptions. Most works focus on one or more persons who died and who are being honored by each artist because of the special place they occupied in that artist's life while they were alive.
The works reveal how amazing and diverse the lives of the depicted individuals were, and cause us to stop and reflect on them and in turn on our own lives. For example, one large mosaic in leather, polyester and wood by Philip Long depicts his father's spirit rising from the ocean to leave his physical residue (his bones) and this world. His father (John Long) spent fifteen years after retirement building his boat, The Culin, which he wanted to sail back to his birthplace, the coastal town of Myrtleville in Ireland. He was 78 years old when he finally attempted to sail from Alameda back to Ireland. His boat was boarded by modern day pirates off the coast of Chiapas, Mexico just a few miles from the border of Guatemala, and on February 2, 2008 his body was found floating near to where his boat ran aground in Puerto Madero, TapachulaŠ.a sad but yet at the same time inspiring story.
There are many other fascinating artworks and stories at the show as well. I highly recommend it. Congratulations to all who organized the show and to the many participating artists.
Art by Philip Long depicts his father (John Long) rising from the ocean.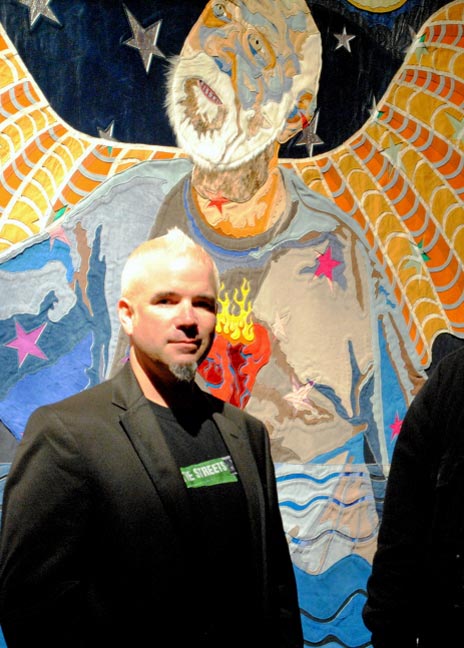 Philip Long (image c/o GLS).


Installation by deCoy Gallerina (in sunglasses).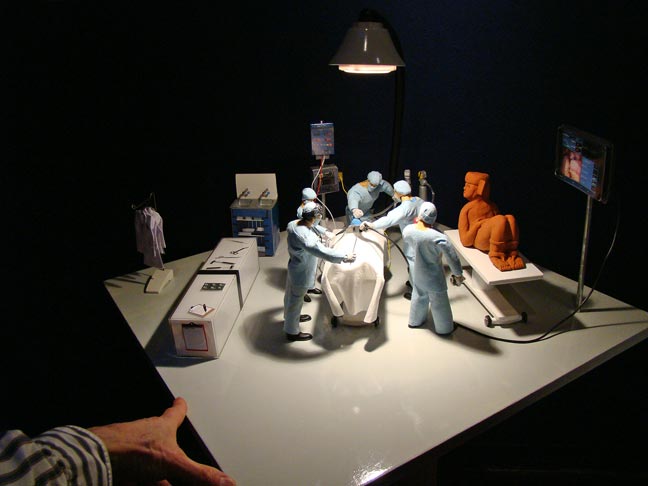 Operating room installation (like it).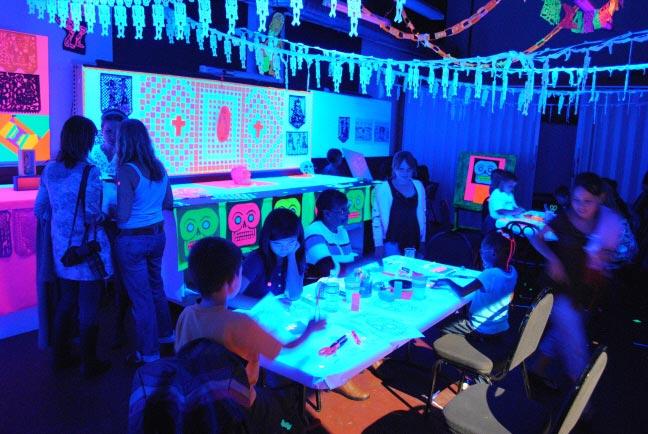 Children's activity room (image c/o GLS).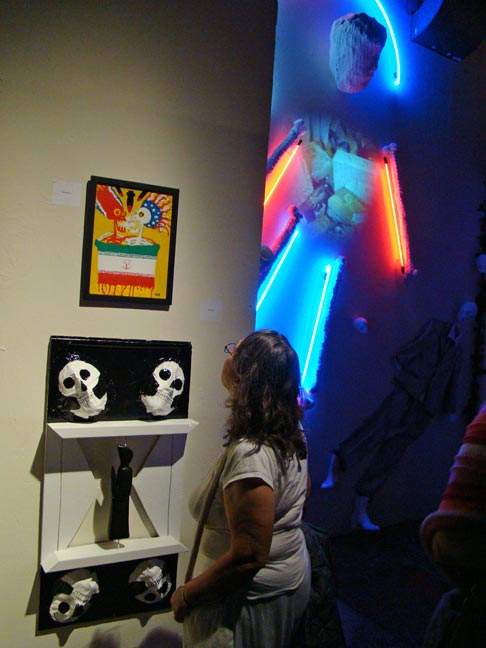 Installation art.


Installation art - only half of the booth (like it).


Wandering corpse in conversation (image c/o GLS).


Altar installation art (image c/o GLS).


Art.


Art (image c/o GLS).


Art (image c/o GLS).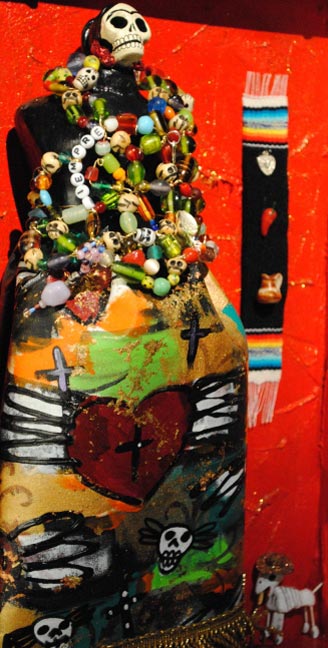 Art (image c/o GLS).


***
a.Muse Gallery: The Root of all Beauty - Drawings & Sculpture by Thao Duong, Paintings by Telopa, Soundscapes by Gloria Justen.
Review by Lynnore Goldfarb: Well, the people behind a.Muse Gallery know how to throw a party. I hear the music as I am getting out of my car and instead of dreading entering the gallery I am compelled to do so. The music is clearly something I do not recognize and from out on the street, can tell it is being played live, and I love it. I walk in the first door at the bottom of the stairs and the feel is at once sophisticated and welcoming; I am so glad I came.  
The music is being played on an amplified violin by concert violinist and composer Gloria Justen. I don't mind the candles all over the place, because the paintings are lit well and easy to see. The show consists of oil paintings by Telopa and drawings and sculptures by Thao Duong. Thao tells me that the arrangements on the long table in the center of the gallery are not just decoration, but live sculptures that are part of the exhibition, priced from $185 to $650.
Telopa's rich oil paintings range from $330 to $2,300 and Thao's large (38" x 28") intricate charcoal drawings are $2,150. I notice that there is a table with medium size (maybe 18" x 14") prints of the artists work on sale for ten dollars each. I ask the owner of the gallery if the artists use these as place mats, which doesn't go over well. However, I totally picture Telopa and Thao waking up every morning to birds singing and women with pronounced features, swirly hair, and butterflies all around them serving the two artists breakfast, placed with love on their beautiful works of art. Don't worry, in my fantasy the prints are laminated.
Comment by AB: Visions of women by Thao Duong and Telopa complemented with fine violin work by Gloria Justen makes for a captivating combination.
Paintings by Telopa.


Telopa and his art.


Art by Thao Duong.


Telopa and Thao Duong (image c/o Lynnore Goldfarb).


Sculpture by Thao Duong.


Soundscapes and violin by Gloria Justen.


The basic idea.


***
Lake Gallery: Kelly Ording - The Strange Ones.
Review by RWM - image courtesy of Lake Gallery: A likely tribute or reaction to Jules Verne for some viewers, with balloons, manned flight, strange machines, and fireworks. One cannot help but notice the exotic locales and dated machines. Not all have forgotten Verne with his unusual water boats and blimps. Ording's work will be appreciated also by the Steampunks who haven't forgotten who is probably the most famous French author in the English language. Of the past perhaps, but wondrous nonetheless.
Art by Kelly Ording.


***
Southern Exposure: Bellweather - Grand Opening Celebration.
Artists: Ant Farm, Renee Gertler, Liz Glynn, Jonn Herschend, Whitney Lynn, Jay Nelson, Nonchalance, Lordy Rodriguez, Christine Wong Yap, Youth Advisory Board (YAB).
Comment by AB plus images from the Press Preview c/o DeWitt Cheng: Southern Exposure debuts its new location-- years in the making-- with a bigtime bash, including closing off the block outside the gallery. The party is permeated with luminaries, far too numerous to mention. So I won't mention 'em. But I will say that under the capable guidance of Executive Director Courtney Fink, Southern Exposure flourishes even in tough economic times. While I'm on the subject of Courtney Fink and how to run a nonprofit right, her vision embodies all artists-- no elitist exclusionary counterproductive code of conduct here. If you like art and are dedicated to the cause, you are IN. And that, my darling artsters, is what makes Southern Exposure great.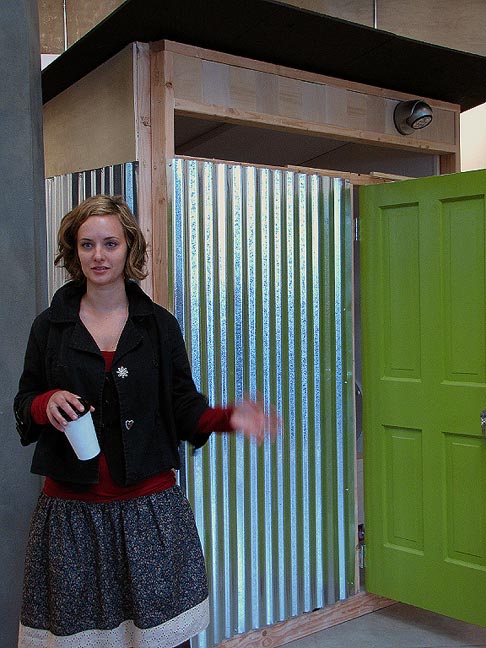 Whitney Lynn explains her "Bug-Out Location" (image c/o DeWitt Cheng).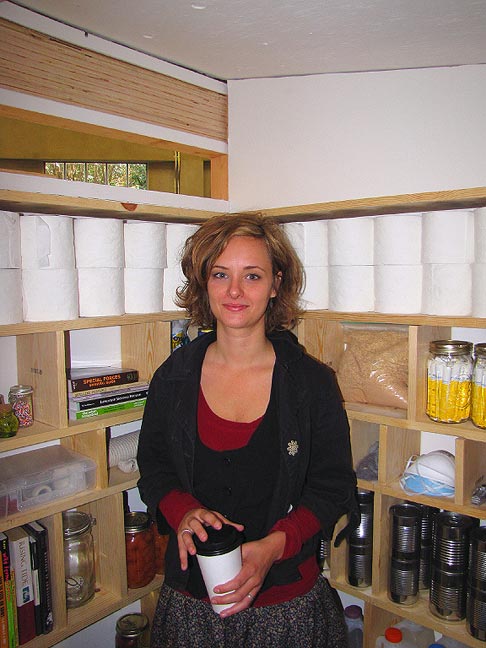 Whitney Lynn inside "Bug-Out Location" (image c/o DeWitt Cheng).


Southern Exposure Executive Director Courtney Fink.


Sara Thacher and "Nonchalance's Zetetic/Peripatetic Investigations into the Ontology of the Elsewhere Public Works Agency and the First Steps Toward the Formulation of a General Theory of the Practice of Nonchalants" (image c/o DeWitt Cheng).


Kamau Patton and Southern Exposure Youth Advisory Board's "Nuestro Futuro/Our Future" (image c/o DeWitt Cheng).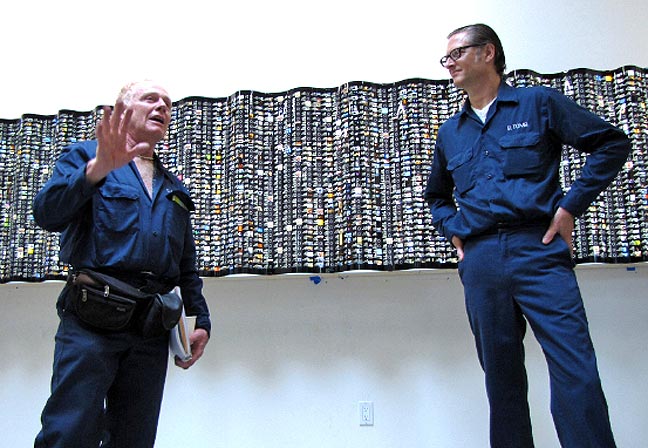 Ant Farm's Curtis Schreiber and David Tomb with "Time Capsule Triptych " (image c/o DeWitt Cheng).


"Time Capsule Triptych " - Ant Farm - Curtis Schreiber and David Tomb (like it).


"Time Capsule Triptych " closer - Ant Farm - Curtis Schreiber and David Tomb.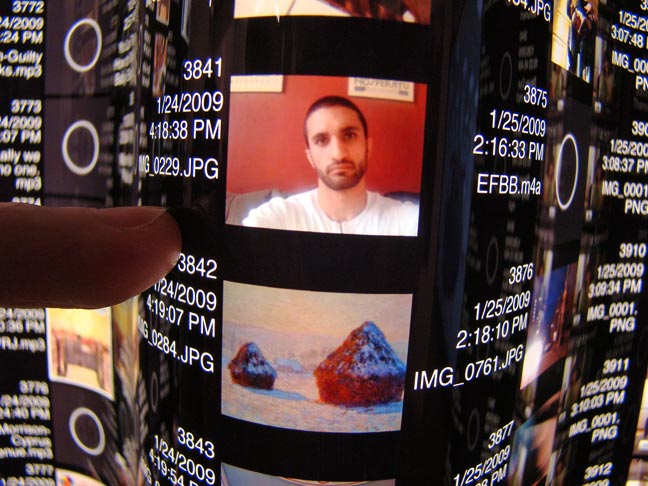 "Time Capsule Triptych " by Ant Farm pinkie cam close.


Christine Wong Yap and "mirrorsblack" (image c/o DeWitt Cheng).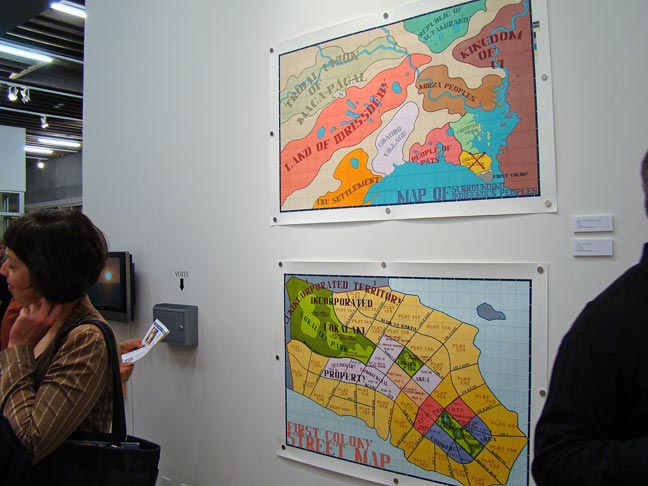 Art by Lordy Rodriguez.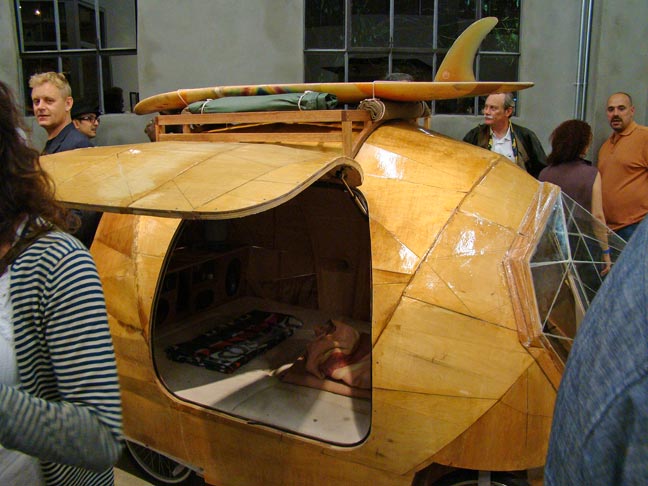 Hyper-efficient surfmobile art by Jay Nelson.


Outside looking in.


***
Giant Robot: Jeremy Tinder and Grant Reynolds - Chip Beef, Chipped Tooth.
Review and images by Pilar Vree: This show brings back the fun of illustration. The two featured artists drawing on the walls is faintly reminiscent of the things you wanted to draw when you were a slightly sick teenager. Definitely worth checking out.
Grant Reynolds and Jeremy Tinder.


Art by Jeremy Tinder.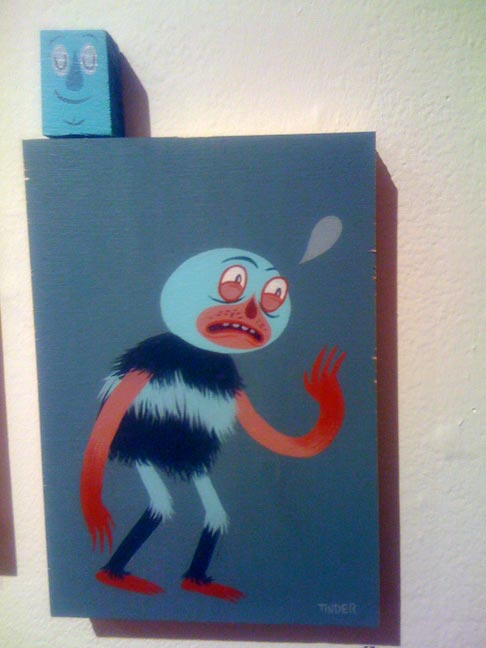 Art by Jeremy Tinder.


Live drawing by Jeremy Tinder.


Live drawing by Grant Reynolds.


Art by Grant Reynolds.


Art by Grant Reynolds.


***
Park Life: Hyperspaces.
Artists: Paul Wackers, Sean McFarland, Orion Shepherd, James Sterling Pitt, David Kasprzak.
Review by Pilar Vree: Hyperpaces is a showcase of prime conceptual artwork focused on shape and line with a playfully curious approach.
Comment by AB: I arrive after the opening's over; I figure I'll take a chance that people are still there, and I'm right. The gallery is freshly emptied, the party's dribbled out onto the street and everyone's pretty much in the bag, but the management is kind enough to let me in for a quick perusal and photo shoot. Thank you!
James Sterling Pitt and his faux telescope on ersatz rug art.


David Kasprzak and his art.


Paul Wackers and Orion Shepherd.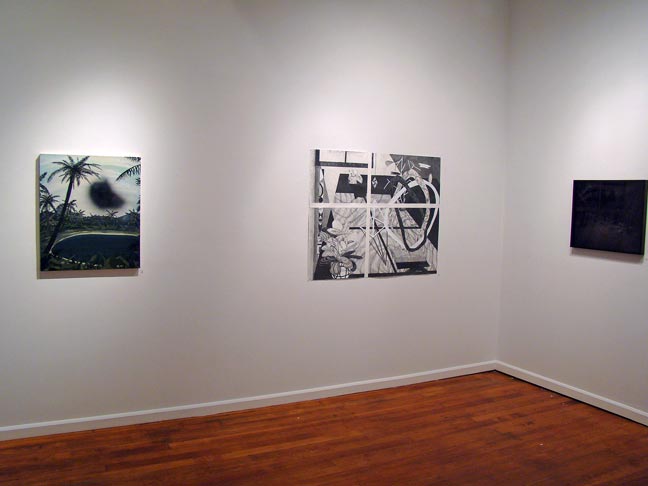 Art by Paul Wackers (2 on left) & Sean McFarland (right).


Dimunitive Paul Wackers art.


James Stirling Pitt - David Kasprzak.


***