SF ART INSTITUTE - THE COMMONWEALTH CLUB - MODERNISM

GEORGE LAWSON - RENA BRANSTEN - GALLERY 291

MERIDIAN - DAVID CUNNINGHAM - GALLERY 28

11.12.09

(with assistance from Kathryn Arnold)



San Francisco Art Institute: Everyday Miracles (Extended), Phase 2.
Artists: Hamra Abbas, Ringo Bunoan, Chen Hui-chiao. Curated by Hou Hanru and Clara Kim.
Comment by AB: In brief, Everyday Miracles (Extended), a three-phase exhibition, "brings together the work of seven women artists-- Hamra Abbas, Ringo Bunoan, Chen Hui-chiao, Shilpa Gupta, Kan Xuan, Minouk Lim, and Jewyo Rhii-- and creates a dialogue about the cultural diversity and historical difference effected by colonialism and modernization in China, India, Korea, Pakistan, the Philippines, and Taiwan." And now on to the art...
Main gallery from above at San Francisco Art Institute.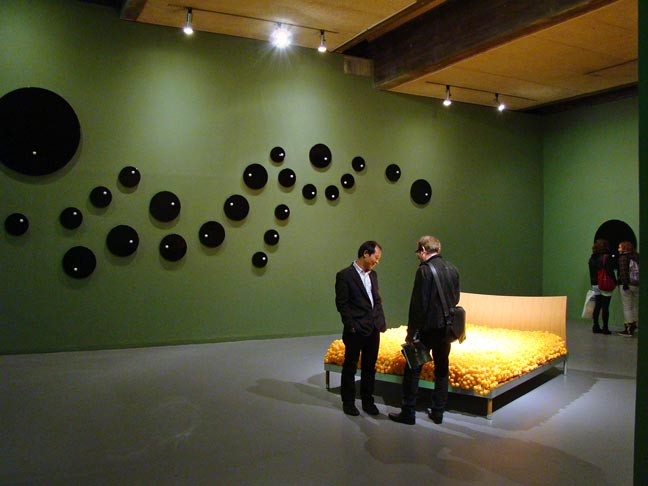 Main gallery installation closer.


Ping pong ball bed art.


Upstairs gallery at San Francisco Art Institute.


Table full of vibrators art.


Pillow and blanket installation art.


***
The Commonwealth Club: Elizabeth Jameson - Conversations With Myself, A Brain Journey.
Comment by AB: Elizabeth Jameson was diagnosed with MS (multiple sclerosis) in 1991 and since that time, has used the opportunity to make art out of her MRI brain scans, her goal being to "to saturate the cold, two-dimensional MRI pixels with the numerous colors and emotions that comprise the landscape of my life" and by doing so, to personally reflect on this abstract medical record of her progression of events.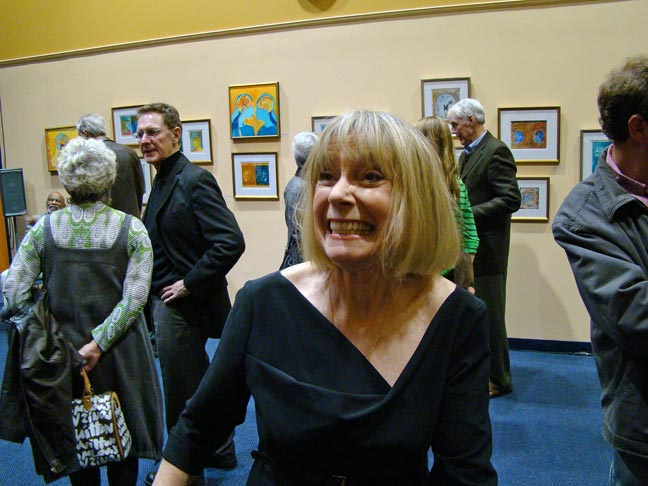 Artist Elizabeth Jameson and her art.


Art by Elizabeth Jameson.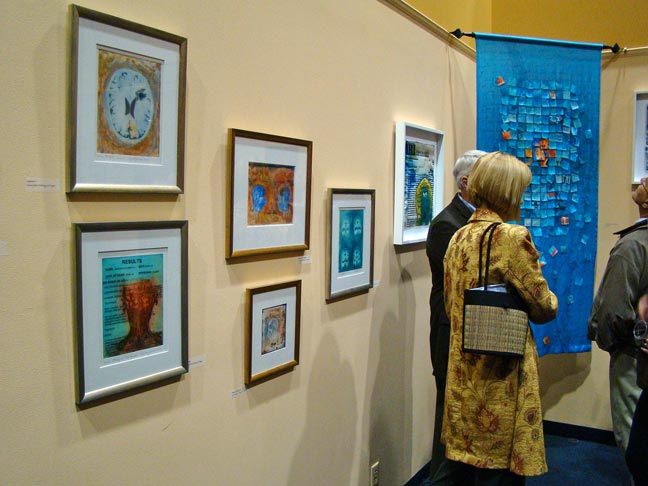 Elizabeth Jameson art.


Art by Elizabeth Jameson.


***
Modernism Gallery: Jonathon Keats - The First Bank of Antimatter.
Comment by AB: "A positron for every electron," or so they say in antimatter land. Put the two together and what do you get? Right my artful darlings-- a sum total of nothing. But keep 'em apart (where they belong), exploit the huge untapped potential of antimatter, and now you're talking. Like what exactly? Conceptual artist Jonathon Keats knows. Keats, the Magellan of antimatter as he's known in certain as well as uncertain circles, has ventured into the anti-realm and opened himself up a bank where we can all invest as a hedge against the financially fractured reality we're currently mired in. Hop on his wealth wagon early and prosper. You can secure yourself $1000 in anti-money for a measly ten bucks. Right here. Right now. Believe it. Yo!
Conceptual artist Jonathon Keats and Bank of Antimatter art.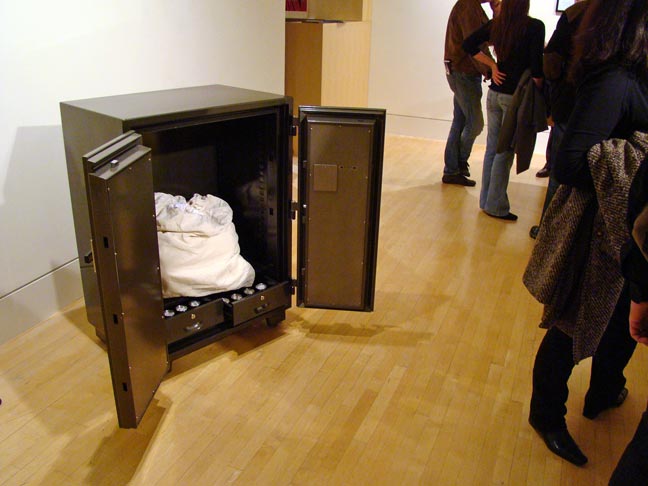 First Bank of Antimatter assets by Jonathon Keats.


The goods closer - conceptual art by Jonathon Keats.


Bank of Antimatter exchange rates - art by Jonathon Keats.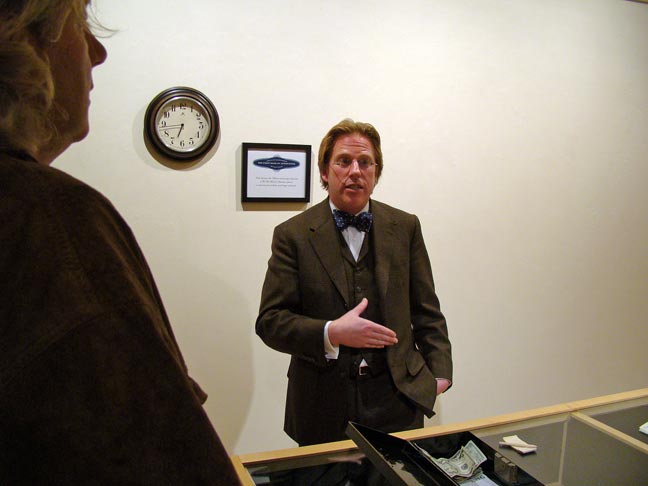 Jonathon Keats explains the unexplainable as only he can unexplain it.


***
George Lawson Gallery: Stephen Bambury; Jude Rae.
Review by Kathryn Arnold: I meet with sparsely geometric forms and what ourtwardly appear to be traditional watercolor works on paper. All are outstanding in technique. These still lifes by Jude Rae, an Australian painter, are quiet composed paintings. They convey a sense of light, partially enhanced by the paper but also from the washes, and allowing of paint bleed.
The geometric works of New Zealand painter Stephen Bambury are confined to the room for painting area of the gallery. Simple shapes of geometric quality are painted on aluminum panels. The colors are often brilliant hues against white. The way the colors form shapes creates a sense of flags or intersections and I am reminded of Mondrian, van Doesburg and Reitveld. Modernism revisited in a new form. Some of the panels take on a sensation of a an exterior panel of a Rubik's cube and the intermixing of strongly colored geometric shapes a playful rearranging. I am struck by one all white work as I am passionate about Robert Ryman.
Comment by AB: Check out the backs of Stephen Bambury's paintings-- as satisfying as the fronts.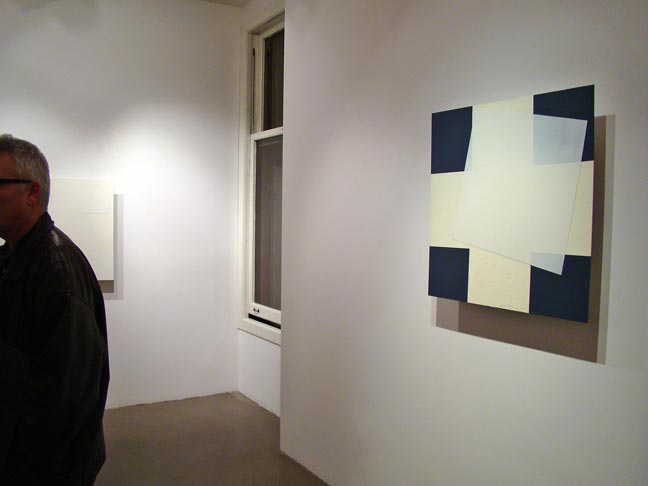 Art by Stephen Bambury.


Art Stephen Bambury.


Art armature by Stephen Bambury (kinda like it).


Stephen Bambury art (image c/0 Kathryn Arnold).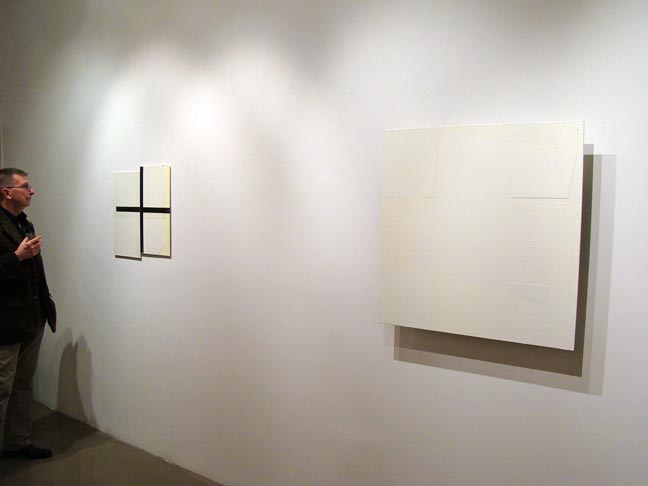 Stephen Bambury art.


Stephen Bambury art closer (image c/o Kathryn Arnold).


Art by Jude Rae.


Jude Rae art closer (image c/o Kathryn Arnold).


***
Rena Bransten Gallery: Michael McClure and Hung Liu - Deer Boy.
Review by Kathryn Arnold: I arrive too early for the reading from the limited edition book Deer Boy by Michael McClure with illustrations by Hung Liu (limited to only 20 numbered copies, 6 artist's proofs, 1 trial proof, and 2 printer's proofs). Ruth Asawa's very wonderful works adorn the gallery along with a selection of her drawings. The book, Deer Boy, by Magnolia Editions is quite large, and flanked by what look like Tibetan prayer flags.
Limited edition book by Michael McClure and Hung Liu.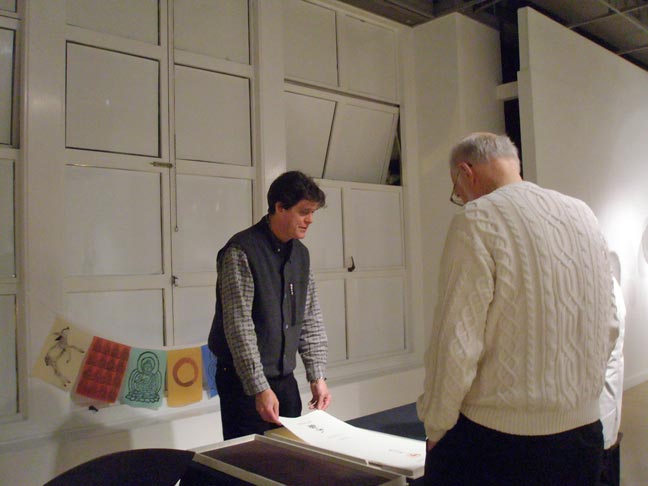 Michael McClure and Hung Liu book (image c/o Kathryn Arnold).


***
Gallery 291: Jock Sturges - New Works; Ben Nixon - Collodion Landscapes; Brigitte Carnochan - Floating World.
Comment by AB: Fine figure photography by Jock Sturges, about as good as it gets, particularly with respect to his essays on adolescent innocence. Ben Nixon employes vintage photographic techniques in creating his grand wilderness images which update yet venerate the West's major nineteenth century landscape photographers (like 'em). Brigitte Carnochan interprets the Eastern essence with her delicate sepia-toned renditions printed on handmade Kozo paper from Japan.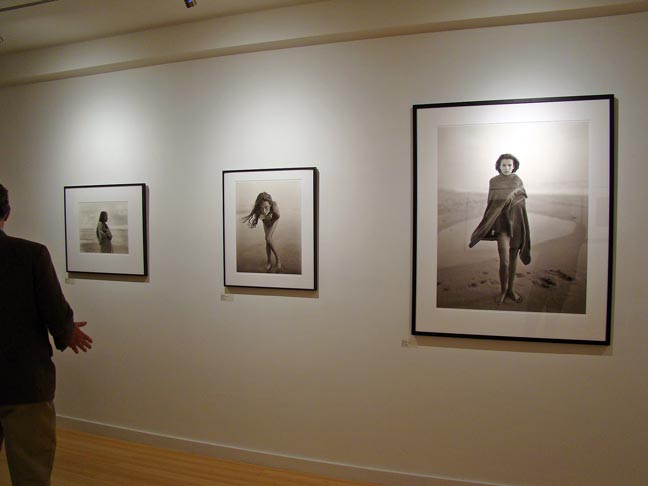 Photographs by Jock Sturges.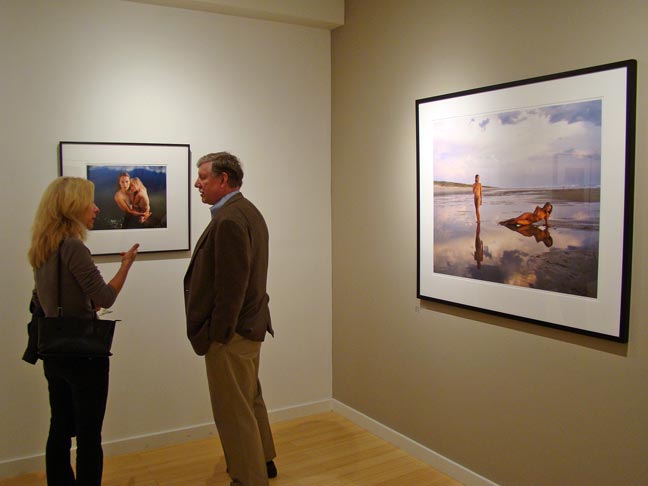 Jock Sturges (right) discusses his photography.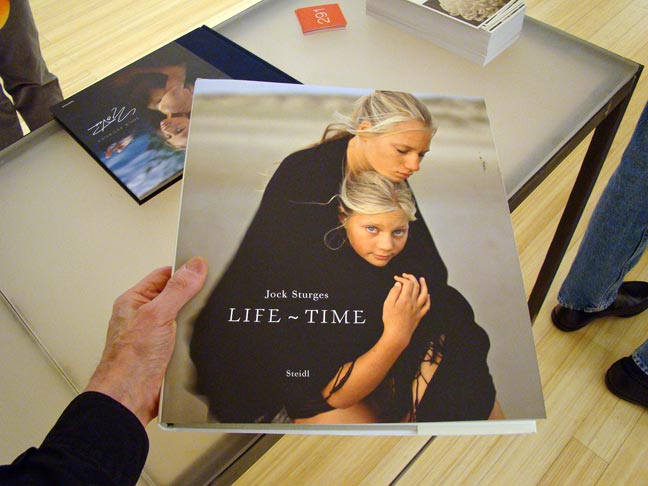 Photography book by Jock Sturges.


More photography books by Jock Sturges.


Jock Sturges talks about his photography.


Ben Nixon and his photography (nicely done).


Brigitte Carnochan and her photographs.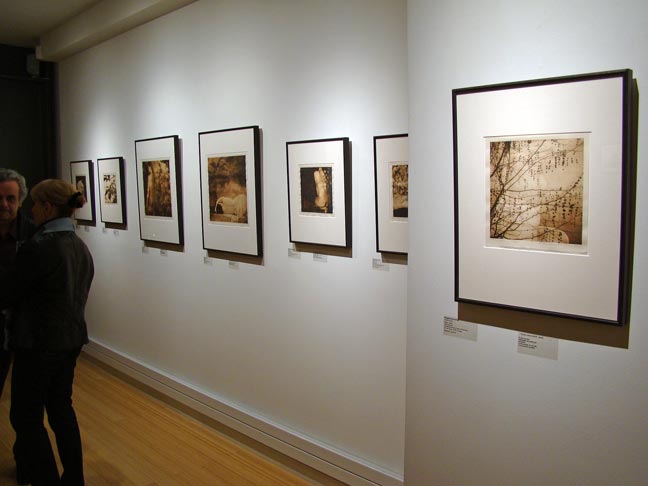 Photos by Brigitte Carnochan.


***
Meridian Gallery: TRANS: form | color.
Artists: Kasarian Dane, Stephan Fritsch, Brent Hallard, Leonhard Hurzlmeier, Robin McDonnell, Mel Prest, Richard Schur, Nancy White, John Zurier. Catalogue and notes by Peter Selz.
Comment by AB: According to the proclamation, this exhibit represents "an international, visual conversation between abstract painters; a traveling, transformable series of shows" featuring the work of "nine artists from Japan, Germany and the United States who are engaged in a dialogue about Painting and Abstraction." There you have it. Pretty crisp cull overall; worth a visit.
Art by John Zurier.


Art by Nancy White.


Art by Kasarian Dane.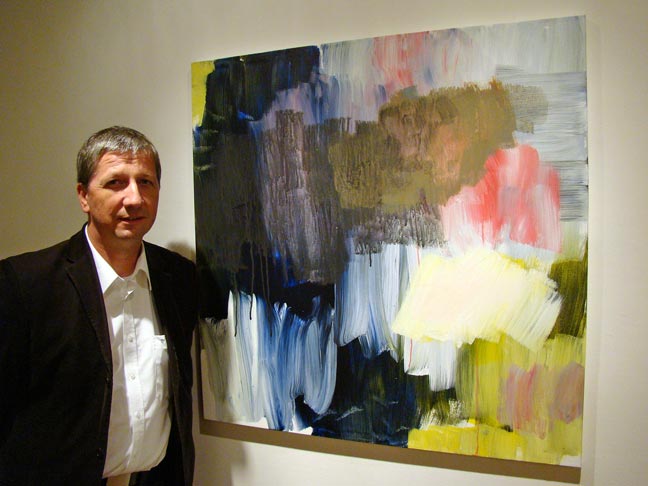 Stephan Fritsch and his art (I think).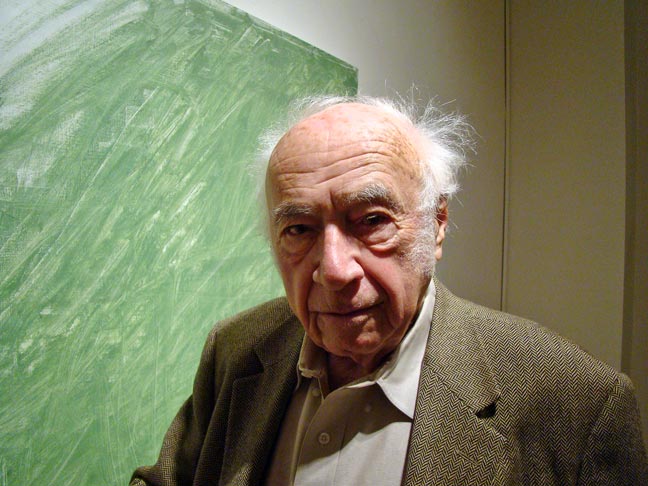 Peter Selz in da house.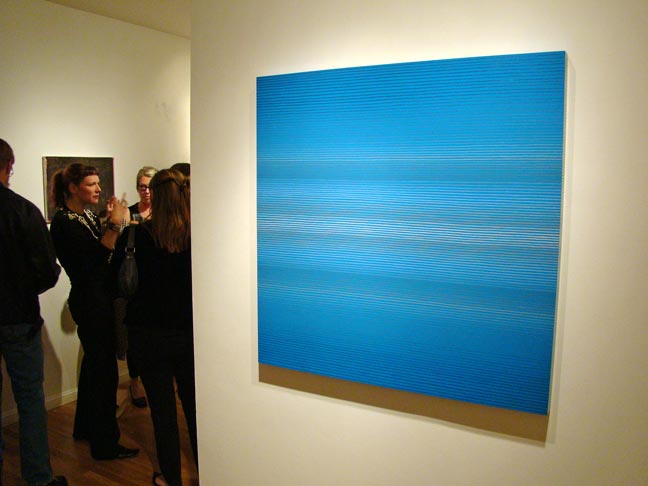 Art by Mel Prest.


Art by Brent Hallard.


Pinkie cam side view of Brent Hallard art in above image.


Art by Richard Schur (left).


Art.


Art by Robin McDonnell (left).


***
David Cunningham Projects: JIGSAWMENTALLAMA.
Artists: Keith Boadwee, Scott Hewicker, Anne McGuire, Austin McQuinn, Toban Nichols,ŬSonja Nilsson, Margaret Tedesco, Skye Thorstenson, Grant Worth, Kenneth Anger, Harry Dodge & Stanya Kahn, Craig Goodman, Kalup Linzy,ŬAnne McGuire, Jack Smith, Skye Thorstenson, Ryan Trecartin.
Comment by AB: Sadly, JIGSAWMENTALLAMA signifies the swan song for David Cunningham Projects. This combination of painting, photography, mixed media, video and more is certainly worth a perusal, featuring among other oeuvres, a remarkable 3D video hologram with a surprise moment by Swedish artist Sonja Nilsson which you have to experience firsthand. DCP has consistently presented quality thought-provoking shows, whether or not they were commercially viable, including a healthy number of live performances, and for his uncompromising conviction and commitment to the cause, David Cunningham deserves our deepest gratitude. Hopefully he will persevere in his art world endeavors at this venue or that, perhaps in a guest curatorial capacity.
Photography by Margaret Tedesco.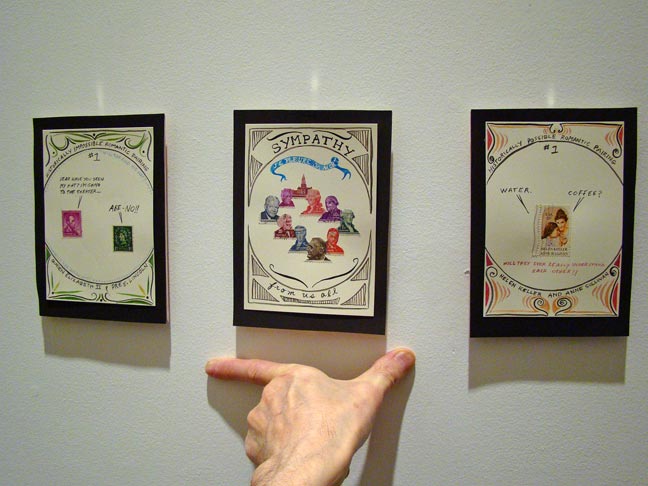 Art by Anne McGuire.


Pinkie cam zoom in art in above image by Anne McGuire.


Art by Scott Hewicker (right).


Art by Scott Hewicker.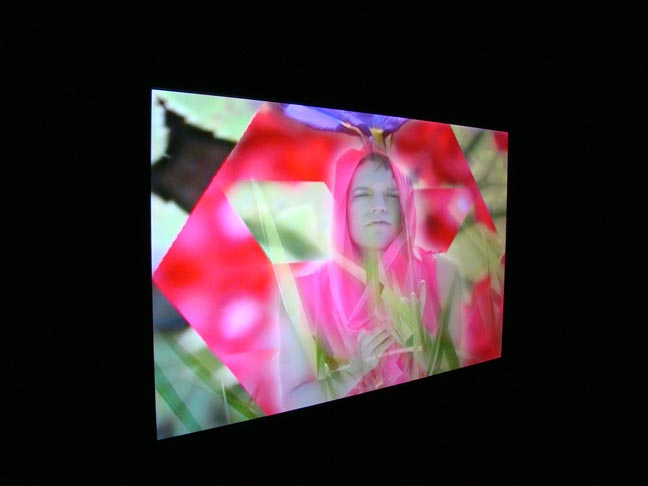 Video art by Grant Worth.


Weird video art by Austin McQuinn.


Keith Boadwee and his photography.


Art by Grant Worth.


Video art.


***
Gallery 28: Richard L. Perri - Noplacetogo.
Comment by AB: Richard L. Perri offers original works alongside digital prints on canvas of his signature San Francisco coffee house paintings, with half the proceeds going to benefit North Beach Citizens.
Digital prints on canvas of paintings by Richard L. Perri.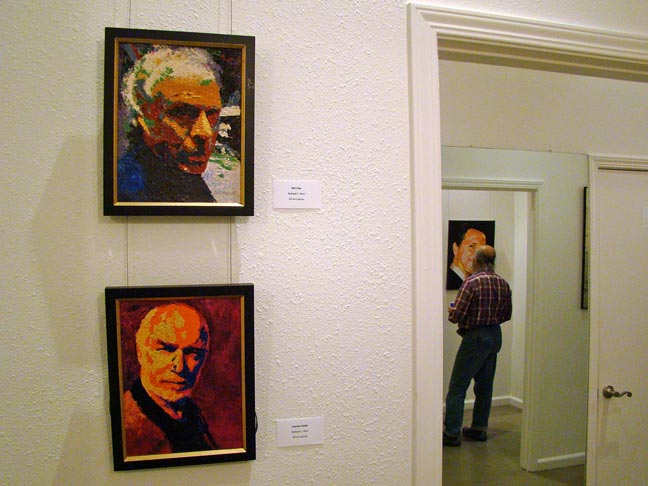 Paintings by Richard L. Perri.


Libations + art by Richard L. Perri.


***