MARINA ABRAMOVIC - CHANDLER - NOMA - 666 - 1AM

CASEY & ASSOCIATES - JANCAR JONES - 31 RAUSCH

WORKSPACE LIMITED - 667 SHOTWELL - GRANT'S TOMB

11.13.09



Marina Abramovic Institute: Grand Opening Exhibition - degeneration/regeneration.
Artists: Terence Koh, Igor Josifov, Michael Ryan Noble, Jennifer Locke, Mattias Ericsson, Wojtek Doroszuk, Davide Balliano, Kadet Kuhne.
Comment by AB: Grand opening extravaganza of the Marina Abramovic Institute features a weekend of performance art, video and photography by eight international artists including an "interactive public drill on the viewing of performance art" presented by Abramovic herself on Friday night. While I'm there, the action's happening in a glass fronted room at the rear of the gallery. A woman dressed in a head-to-toe black latex fetish suit darts about in a frenzied fervor, kinda like she's just chugged a sextuple expresso, the apparent endgame being to paint a white room black. A video camera at the back of the room not only captures the room being painted, but also the people watching the performance through the glass, the live feed being projected onto the wall directly across the hallway from the room.
Performance art.


Performance art closer.


Live video of performance projected across the hallway.


Ambience.


***
Chandler Fine Art: Kumi Korf: Skin of Water; New intaglio prints.
Comment by AB: Kumi Korf employs aquatint and sugarlift processes to create abstract images on copper plates. She then prints the plates on thin Akatosashi paper combines them into more complex compositions.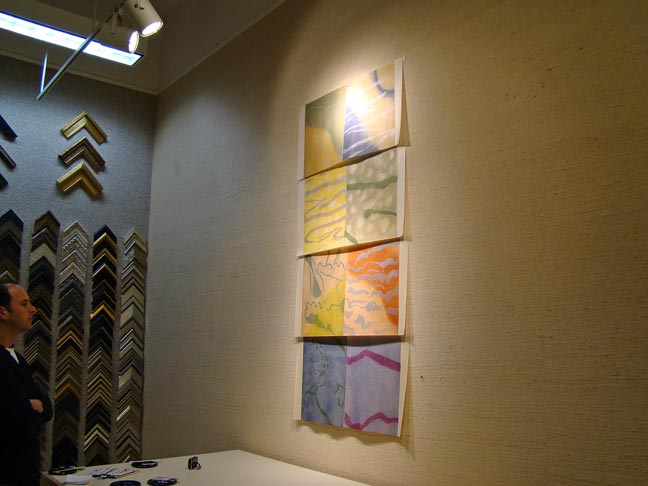 Intaglio prints by artist Kumi Korf.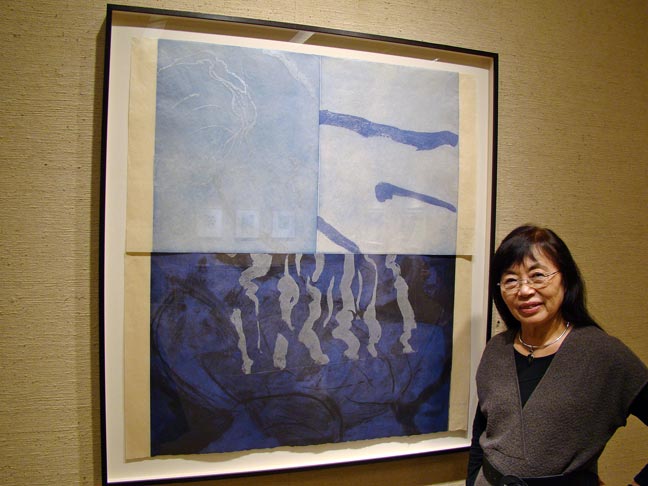 Kumi Korf and her art.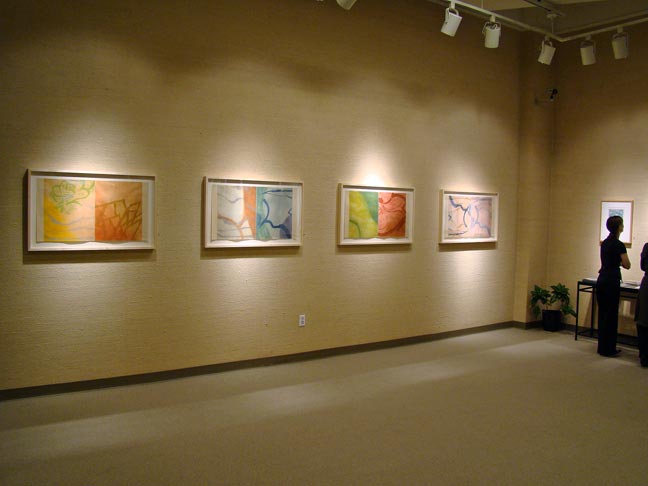 Intaglio prints by Kumi Korf.


***
Casey & Associates at 555 California Street: Tobias Tovera - Transmutation Unfolding.
Comment by AB: Energized fluid abstractions with primordial undertones by Tobias Tovera grace the lobby of the Bank of America Building.
Art by Tobias Tovera.


Tobias Tovera art.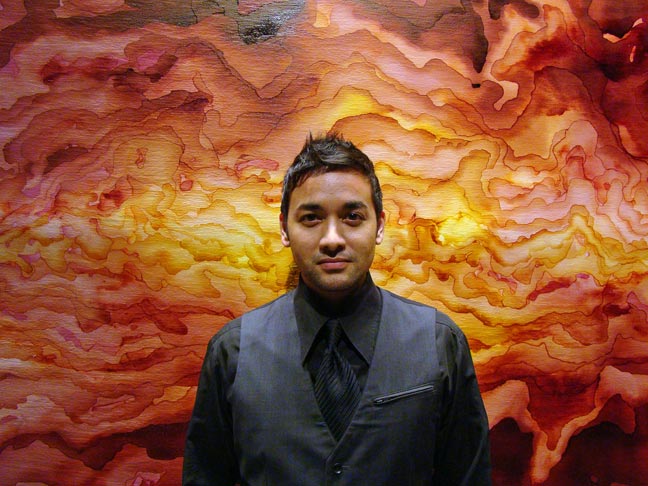 Tobias Tovera in front of his art.


***
NOMA Gallery: Peggy Cyphers and Joshua Churchill - Until the Bright Logic is Won Unwishpering as a Mirror is Believed.
Comment by AB: The concept for the exhibition derives from Hart Crane's poem "The Legend" and references "the use of metaphors to transform elements from chosen surroundings into mystic possibilities." If I recall correctly, Joshua Churchill's sound installation is sourced from happenings in the immediate vicinity of the gallery while his cryptic interpretive C-prints transmogrify a range of subject matters including but not necessarily limited to landscapes, people, architectural elements, and the like. Peggy Cyphers' passionate and dynamic paintings, in contrast, are ornithological in origin. Worth a perusal.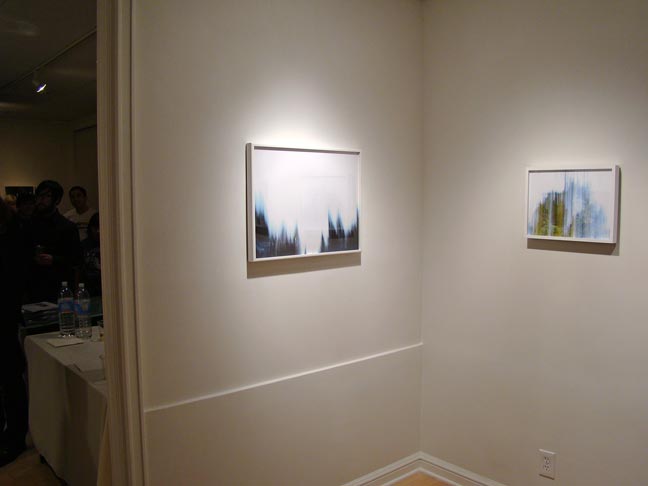 C-print art by Joshua Churchill.


Joshua Churchill and his photography.


Paintings by Peggy Cyphers.


Peggy Cyphers and her art.


Art by Peggy Cyphers.


***
666 Gallery: ETERNAL BEAUTY REST, the observation and classification of phantasmal specters and the interdimensional experience - Jason Vivona.
Comment by AB: The cat's out of the bag and so is pretty much everything else at this totally SRO show.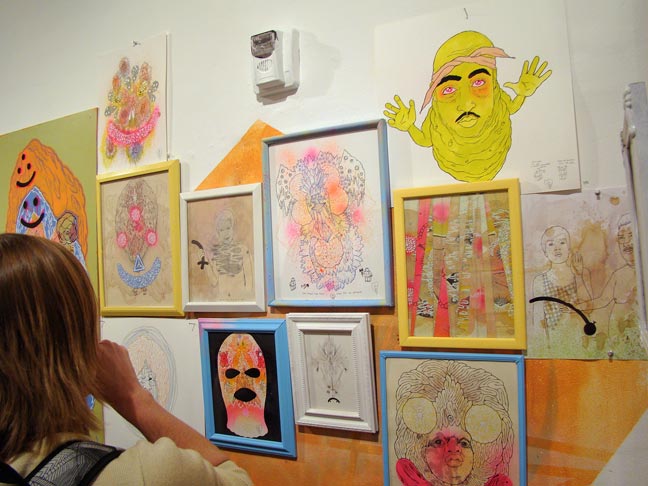 Art by Jason Vivona.


Jason Vivona art.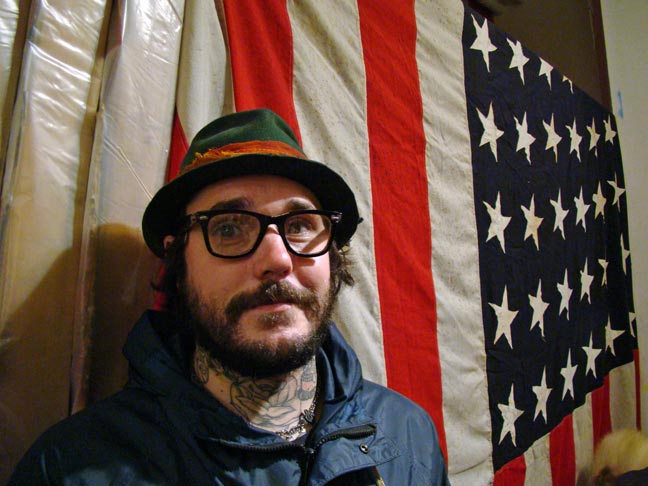 Jason Vivona artist.


Art by Jason Vivona.


Art by Jason Vivona.


Relative density.


***
1AM Gallery: Tabi Tabi Po.
Artists: Angry Woebots, Stuter, gaNyan, Marikina, Gem Mateo, CeCe Carpio, Pancho Abalos, Mark Canto, Miguel (Bounce) Perez, Darvin (Boohi) Vida , England Hidalgo, Jerrell Conner, Nic Cowan, Andre Sibayan, Ciriaco Sayoc II, J2, Marc Aure, Peabe, Marlon Sagana Ingram, Minette Mangahas, Dyno, Christopher de Leon, Cat Chiu Phillips, Isabel (Pepper), Roxas, John Yoyogi Fortes, Allison Torneros, Mel Vera Cruz, Simbulan, Ray Haguisan, Manuel Ocampo, Analog, Boy Agimat, Dex Fernandez, Bru, Nelz Yumul, Katwo Puertollano, Jigger Cruz, Sam Ramos, Okto, Abi Dayacap, Melancholy, Liza Flores, Luis Lorenzana, Jon Jaylo, Mica Cabildo, Bjorn Calleja.
Comment by AB: According to the affidavit, "Tabi Tabi Po is an exploration of Filipino folklore creatures through urban contemporary art," brought to us courtesy of multitudinous Philippine and American artists. The best part? It's also for a good cause with a percentage of sales going to victims of typhoons Ondoy and Pepeng via BAYAN Philippines and BALSA (Bayanihan para sa Sambayanan).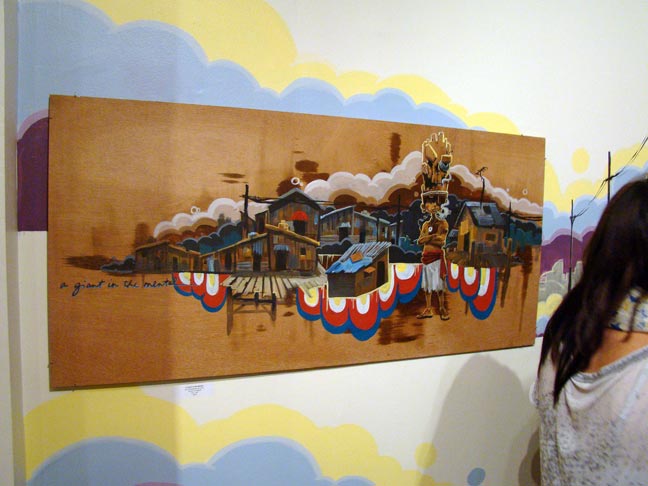 Art at 1AM Gallery.


Art.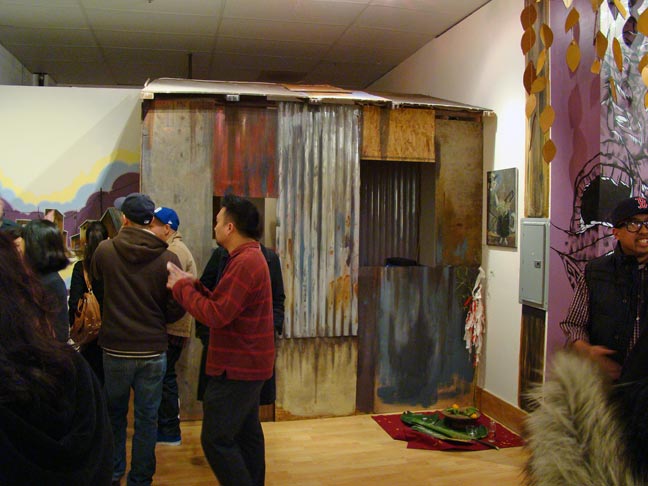 Installation art.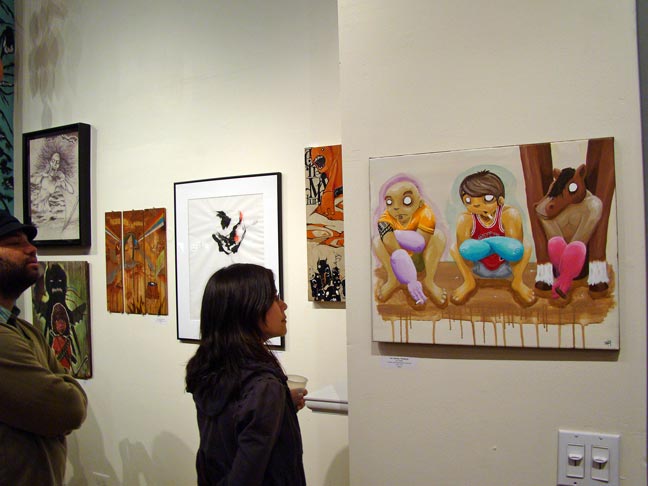 Art.


1AM Gallery art.


Overview.


***
Jancar Jones Gallery: Sean Kennedy.
Comment by AB: So here's the testimony-- "Through a reinvestment of paint with illusionism, the tiles (which serve as receptacles for a variety of painted abstract marks) posit non-objective abstraction as something capable of fluctuation between the supposedly respective realms of high art and commercial design. In this context, the assimilability of certain forms seems to have been prefigured by their lack of representation. In juxtaposition with the suede paintings, whose surfaces might bear traces of similar patterns, these forms are meant to seem highly disposable." Yep, you guessed it. I'm stymied.
How about this idea? Try canning the grandiloquence for a refreshing change of pace and challenge yourselves to explain it in language we can understand... just for fun. No biggie, right? True brilliance lies in the ability to resonate a complicated concept across a wide spectrum of the population-- perhaps even enough to influence the way people think, particularly perhaps even enough to advance the agenda of better living through creative expression.
Meanwhile, back at the gaggle of garble at issue here, I'm gonna let it slide 'cuz I kinda like the art. Los Angeles artist Sean Kennedy pours latex paint to produce a gratifying array of 12 X 12 inch "tiles," a number of which suspiciously mimic linoleum, which he's scattered about the gallery floor. On the walls are three "suede paintings." The frosting on the proverbial cake? $250 per tile and either $400 or $600 for the suedes, depending on size. And that's one affordable buy-in for a dude with apparent potential. Go for it!
Latex paint tile art by Sean Kennedy (looking South).


Latex paint tile art by Sean Kennedy (looking North).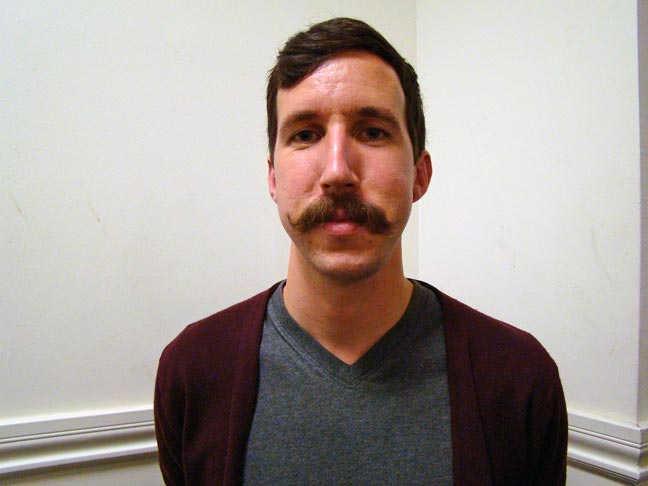 Artist Sean Kennedy.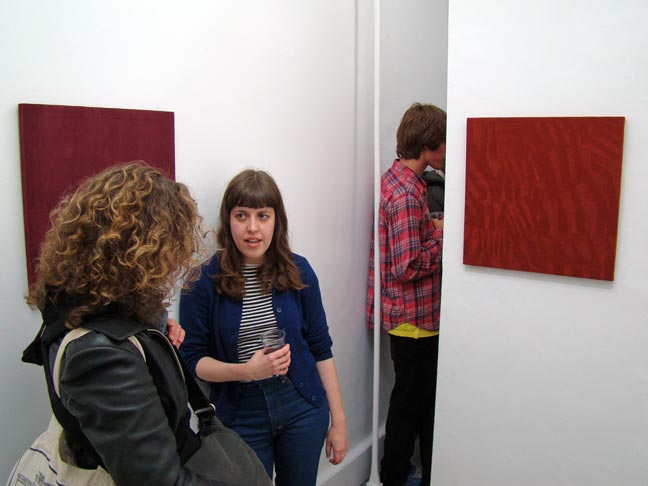 Suede "paintings" by Sean Kennedy.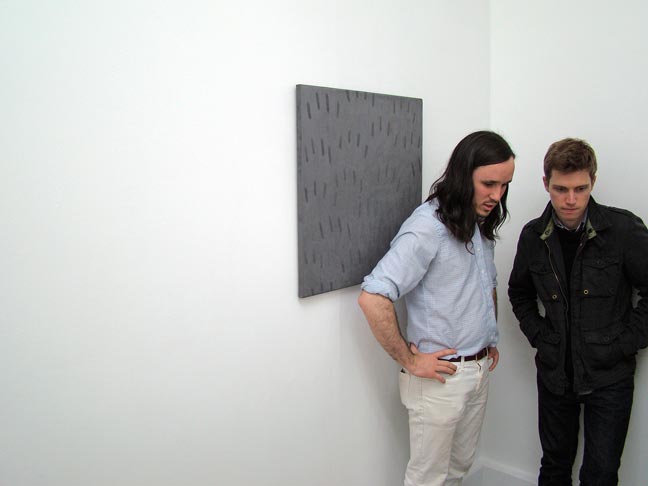 Suede art by Sean Kennedy.


***
31 Rausch Street: Unreal.
Artists: Dana Hemenway, Jasmin Lim, Leah Markov-Lindsey, Kate Stirr. Curated by Dana Hemenway.
Comment by AB: Is it real or unreal? That's the question. The answer? It's sorta some of each depending on how you look at it, I suppose. But one thing's for sure-- nothings over $200 (and starting at only $30). And that's real affordable. My partiality? A porcelain nail by Dana Hemenway.
Porcelain nail art by Dana Hemenway.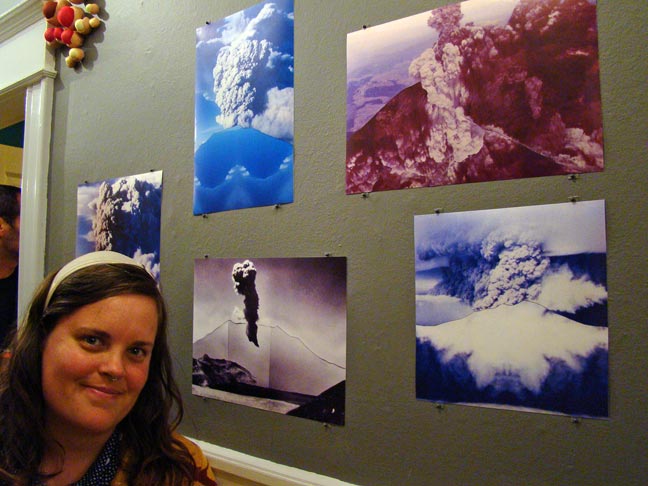 Dana Hemenway and more of her art.


Art.


Art.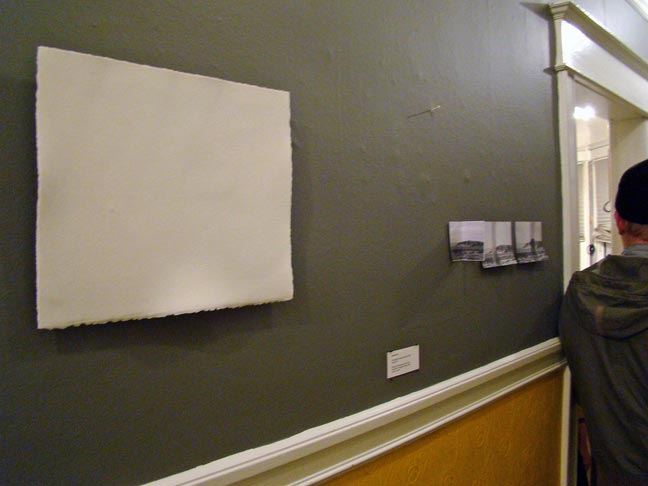 Art.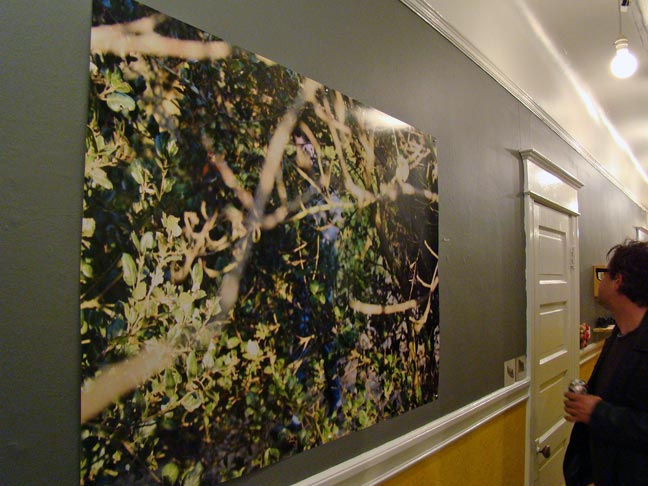 Art.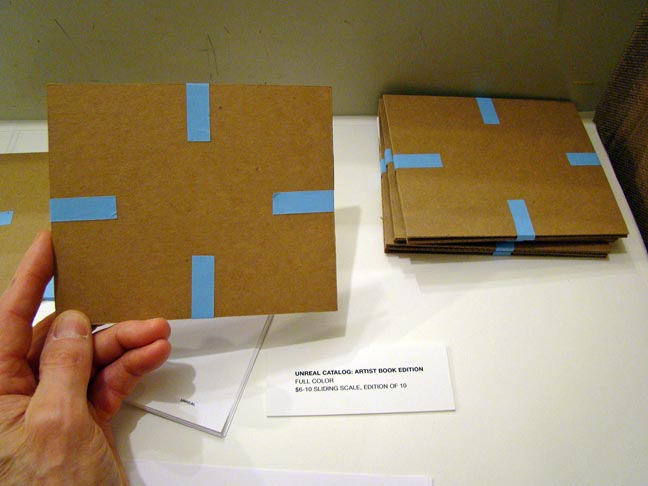 Limited edition show catalog ($6-$10, sliding scale).


***
Workspace Limited: Moonlighting - A Fine Art Reception.
Comment by AB: Raucous one-night group show of art by employees and athletes who work for The North Face with a portion of the proceeds to benefit Bay Area Wilderness Training (BAWT). Yo!
Art (kinda like it).


More art by the same artist in above image.


Art.


Art.


Art.


The basic idea.


***
667 Shotwell and Hallway Projects: Arthur Allan.
Comment by AB: Two hallway galleries in the Mission (via their respective curators Chris Sollars and Brion Nuda Rosch) collaborate to investigate not only each other, but also the neighborhood in between. It's precisely that simple and no more complicated. Oh... almost forgot. For those of you playing the home version, Hallway Projects is the "Arthur" part of the show title, and 667 Shotwell is the "Allan" part. I have no idea what that signifies, but it's integral to the essence.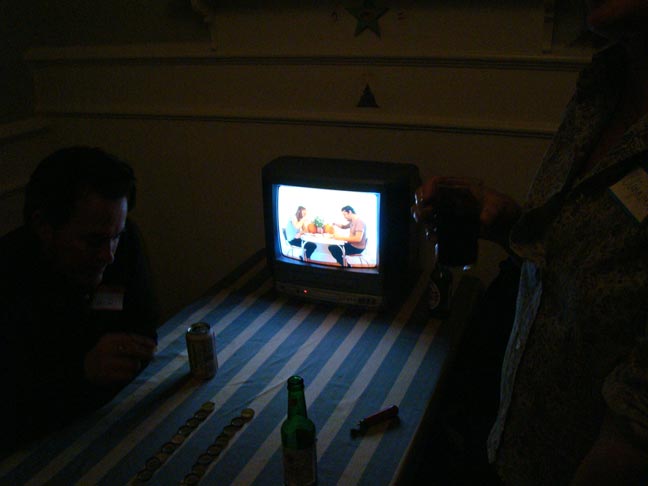 Video art starring Chris Sollars and Brion Nuda Rosch.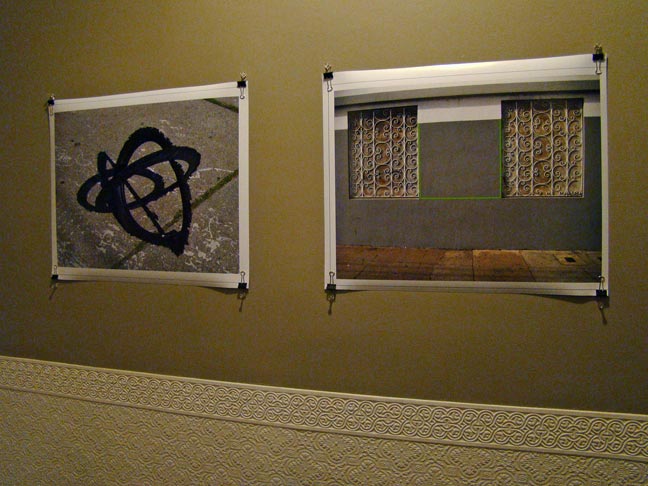 Photography by Chris Sollars.


Out the window video featuring embedded kitty cats in action.


The hallway. And that's what makes it official.


***
Winston Smith's Grant's Tomb Gallery, 50A Bannam Place, San Francisco, CA 94133: Project - Kinkade Cannibalized!
Artists: Tara Evans, Kevin Evans, David Ewald, Richard Fong, Carrie Galbraith, Marsha Grant, Margaret Griffis, Steven Johnson Leyba, Stuart Mangrum, Michelle Mangrum, Suzanne Onodera, Winston Smith, Spence Snyder, Kevin Soderlund. Curated Carrie Galbraith and Kevin Evans.
Comment by AB: Group lampoon venerates the creative (corporate) juggernaut of Thomas Kinkade... IN HELL.
Thomas Kinkade satire art.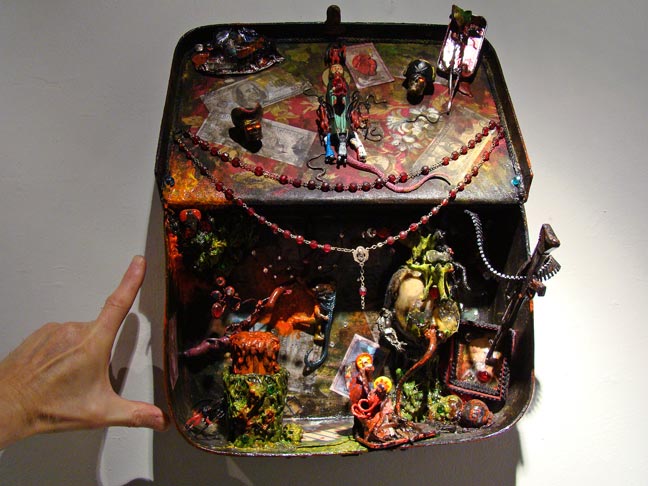 Art.


Thomas Kinkade cheese cleaver art.


Thomas Hussein Kinkade toilet paper art.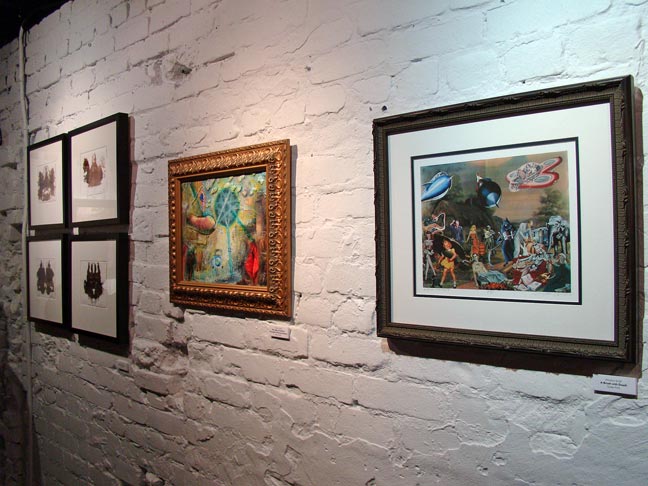 Thomas Kinkade outer limits art.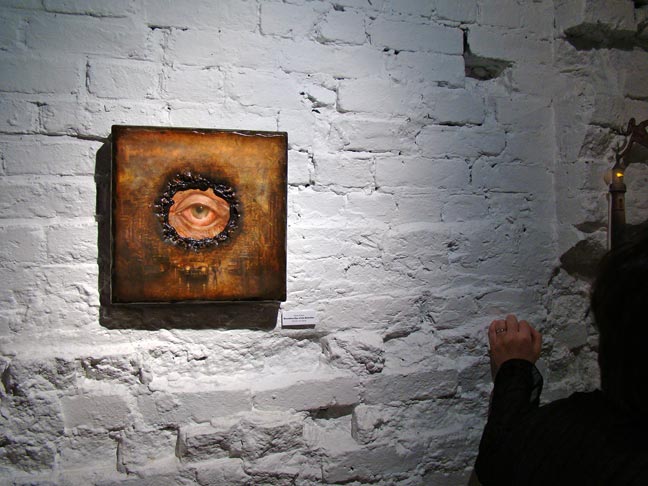 Art.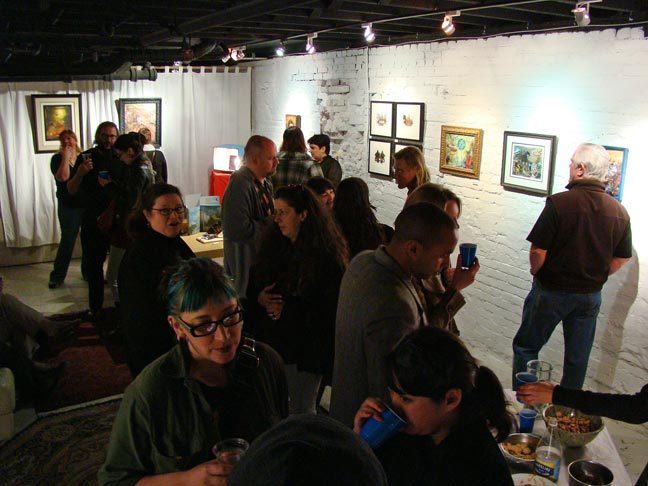 Demographics.


***