LIMN - VISUAL AID - ROOT DIVISION - MISSION COMICS AND ART

WHITE WALLS - GALLERY THREE - SHOOTING GALLERY

GALLERY HEIST - 2ND FLOOR PROJECTS

11.14.09



Limn Art Gallery: Dean DeCocker - High Tide; Stephen Galloway - Roots and Shrubs.
Comment by AB: Clean slick precision streamlined sculptures by Dean DeCocker and a contemplative close-up look at nature by Stephen Galloway. Nicely done and worth a visit on both counts.
Sculptural art by Dean DeCocker.


Sculpture by Dean DeCocker.


Dean DeCocker art.


Dean DeCocker and his sculpture.


Stephen Galloway and his photography.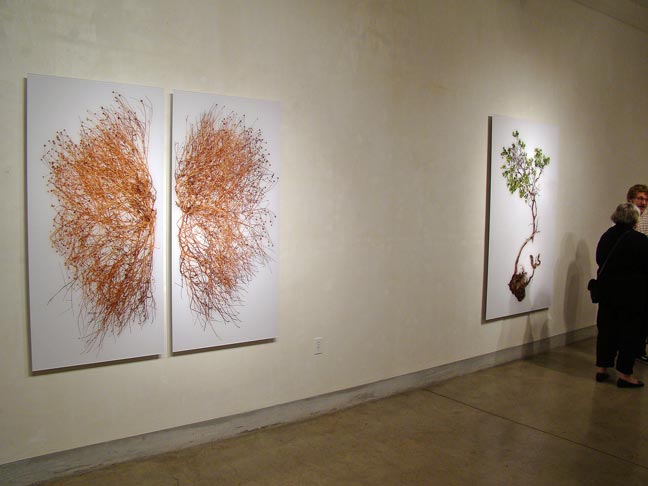 Photographs by Stephen Galloway.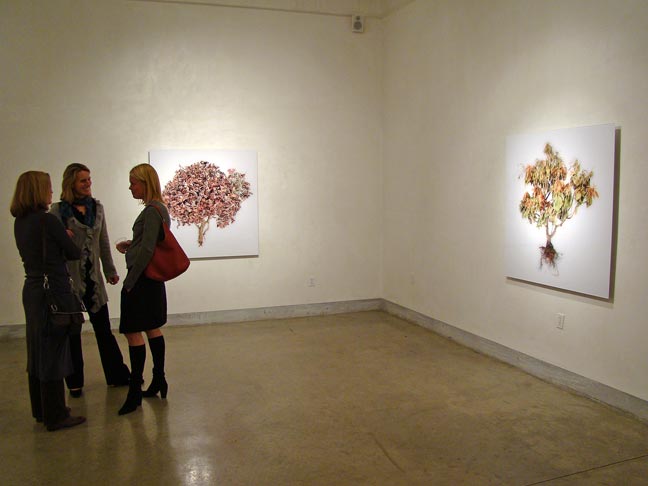 Stephen Galloway photographs.


***
Visual Aid at SOMArts Gallery: Big Deal.
Artists: Timothy Cummings, Enrique Chagoya, Ann Chamberlain, Jeremy Morgan, Rex Ray, Christina Empedocles, Ferris Plock, Deneane Niebergall, Treasure Frey, J. John Priola, Aondrea Maynard, Gale Antokal, Jose Arenas, Lucy Puls, Jennifer Bain, Donald Bradford, Tim Buckwalter, Igor Josifov, Tyrell Collins, Mitchell Confer, David King, Carol Dalton, Kelly Defayette, Saundra McPherson, Beth Edwards, Michael Jang, James Aarons, Mike Kimball, Michael A. Knutson, Chris Leib, Katja Leibenath, Noah Phyllis Levin, Kara Maria, Eileen Starr Moderbacher, Rob Nehring, Minoru Nishiki, Mark Oberlin, Silvia Poloto, Klari Reis, Angie Renfro, Jennifer Starkweather, Inez Storer, Forrest Williams, John Wood, David Hockney, Laura Kimpton, Tim Yankosky, David Huffman, Joel Hoyer, Elliot Anderson, David Ivan Clark, Paul Gibson, Dennis McNulty, Hugo Kobayashi, David Liittschwager, many more.
Comment by AB: Over 600 works of art for sale and plenty of other donated items as well herald the 2009 episode of one of San Francisco's most prodigious fine art fundraisers. The concept? You get your choice of any work of art in the place (except those in the silent auction) for a buy-in of only $160-- and that includes plenty of pretty well-known artists. The beneficiary, Visual Aid, is an organization dedicated to encouraging artists with life-threatening illnesses to continue their creative work. The event is always packed and this year is especially no exception.
Art & attendees at Visual Aid's Big Deal.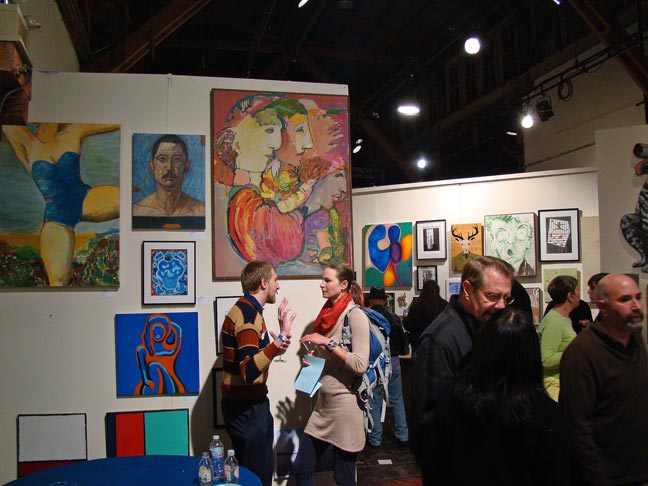 Art & artsters.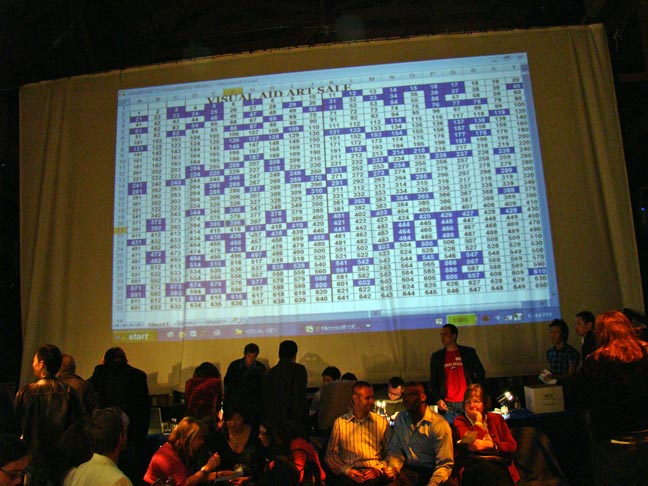 The big board shows what art is gone & what's still available.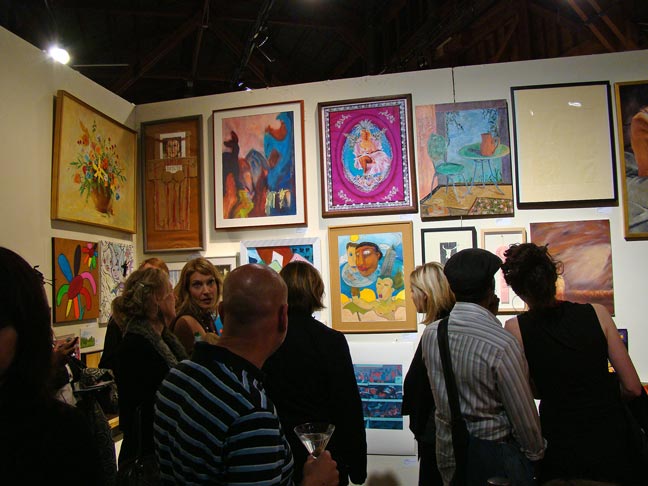 Art & art people at Visual Aid's Big Deal.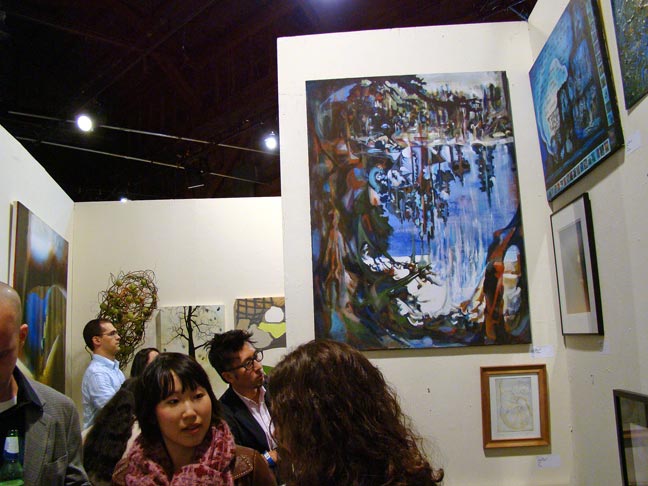 Yet more art and art lovers.


Live auction auctioneer in action.


Auction onlookers and bidders.


***
Root Division: RAW - An Exhibition of New Bay Area Sculpture and Installation.
Artists: Barry Beach, Colby Claycomb, Benjamin Echeverria, Sean Olson, Christophe Piallat, Kit Rosenberg, Brandon Truscott, Jesse Walton, Sarah Willis.
Comment by AB: With several exceptions, this is one of the most slapdash, confounding and just plain lame shows I've had the displeasure to endure in quite some time. What a mess.
This disaster pretty much sums it up.


Massager vibrates aimlessly through wood chips or something...


Baby doll wrapped in cassette tape hangs from the ceiling.


Pointless wooden whatchamacallit (right).


Sculpture.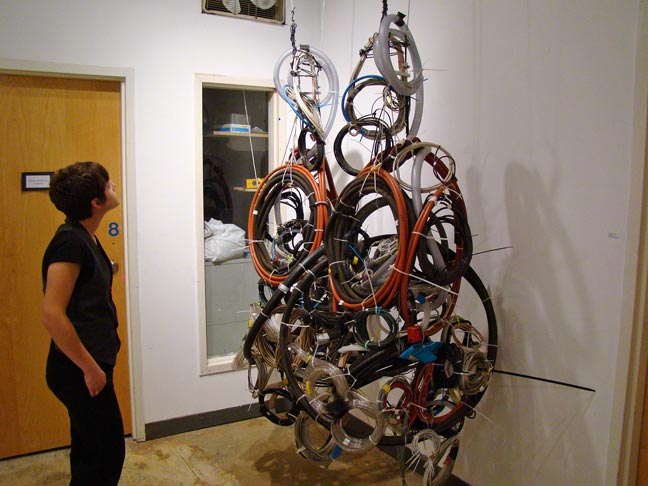 Coiled cable tangle sculpture.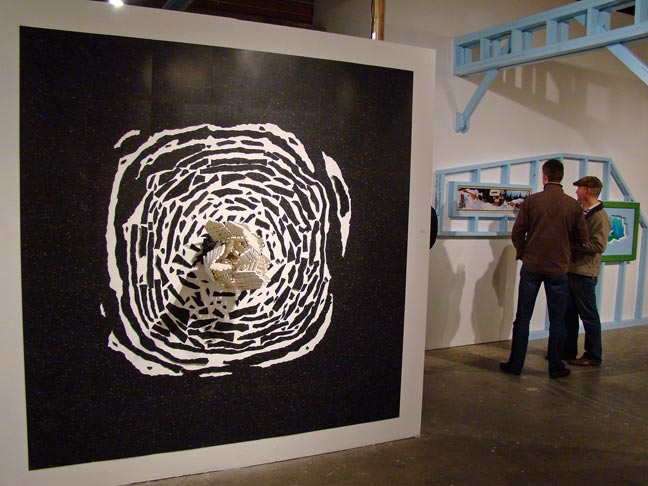 Sculpture.


Sculpture.


***
Mission Comics & Art: In 3D - Anaglyphs by Stan Heller.
Comment by AB: Cherry 3D-glasses art by Stan Heller; some of the sweetest I've had the pleasure of viewing, particularly in terms of their wacky wiggy depth and dimensionality. Heller offers up everything from wall works-- the largest measuring 6 by 9 feet-- to a spiral bound book titled "Not Quite Here." Like it!
3D glasses art by Stan Heller.


3D glasses for viewing art by Stan Heller.


Stan Heller and his art for 3D glasses.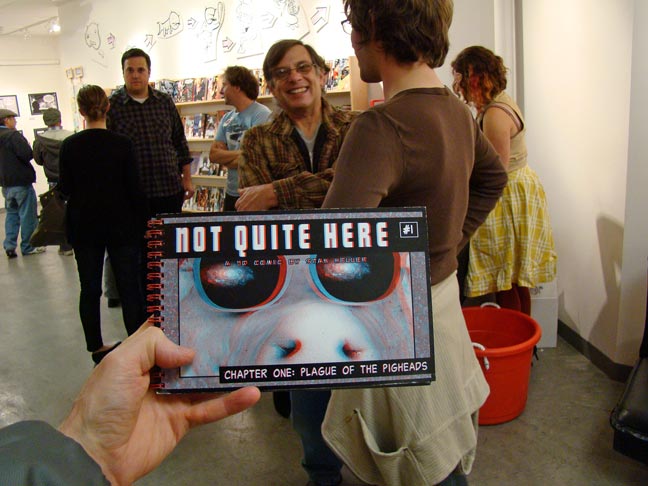 Artistic literature for 3D glasses by Stan Heller.


3D glasses art by Stan Heller.


***
White Walls Gallery: Espo.
Comment by AB: Espo goes deep urban, sourcing the compositions of his high gloss high voltage social, political and class struggle commentaries from mid-20th century advertising, and presenting them against walls dense with floor-to-ceiling tags. In the center of the main gallery stands a stinking two story pile of tread-worn car tires with a quote up top that reads "SO OVER IT," referring to the catastrophic blight on the environment that results from our insane internal combustion engine addiction (and the countless millions of junk tires are only the beginning). To drive home the disaster (pun intended), gallery owner Justin Giarla tells me he'll install the car tire pyramid at the venue of your choice absolutely free of charge. Any takers? Case closed.
Car tire installation art by Espo.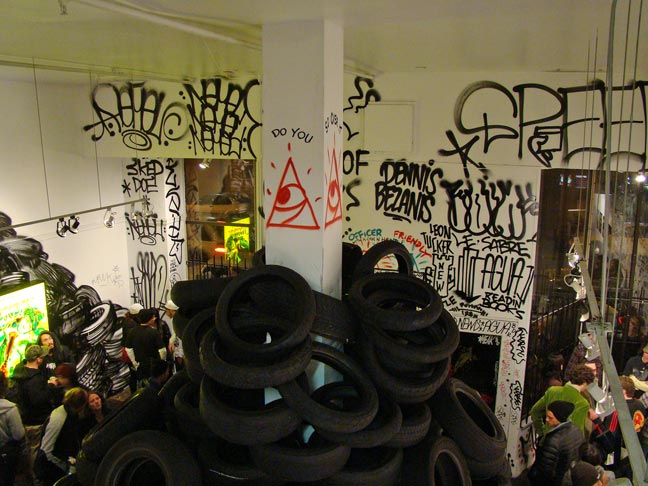 Top of car tire installation art by Espo.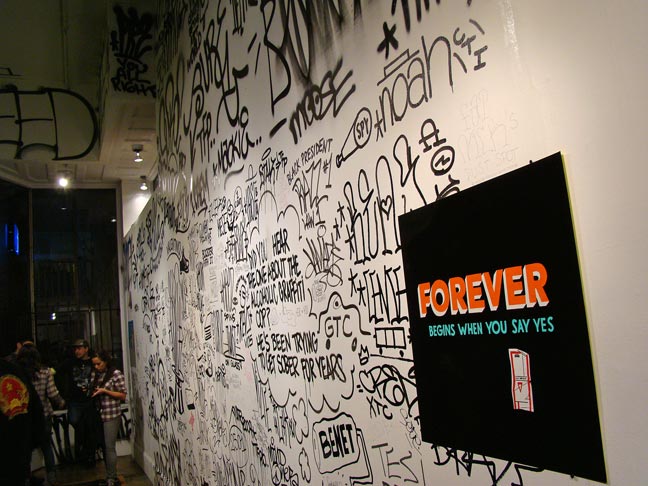 Art by Espo.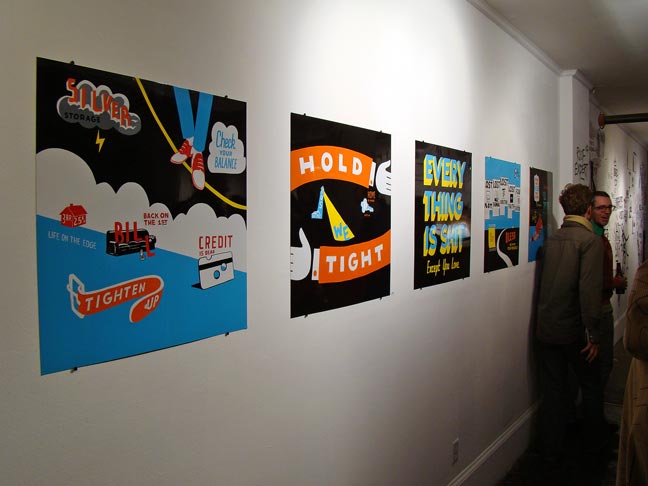 Espo art.


Art in progress by Espo.


Art by Espo.


Population sample.


***
Gallery Three: Erik Foss - Unseen on TV.
Comment by AB: Erik Foss comments in mixed media and collage on all the stuff we don't see on TV, aka the truths about today they don't wanna show you.
Art by Erik Foss.


Erik Foss installation art.


Art by Erik Foss.


Art by Erik Foss.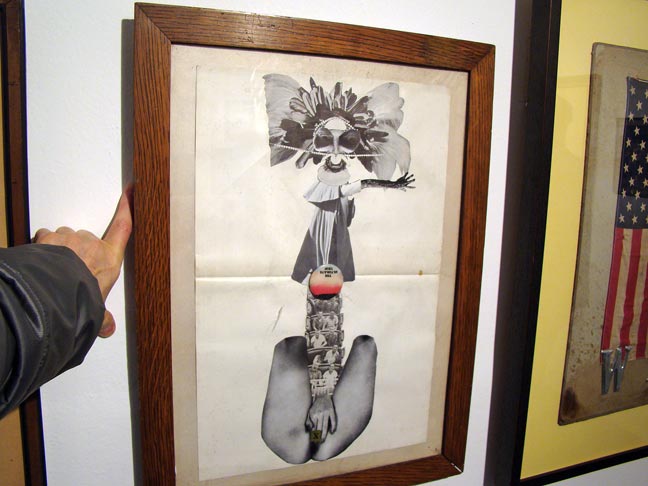 Certainly suggestive art by Eric Foss closer.


Erik Foss out on the ave.


***
The Shooting Gallery: Yumiko Kayukawa - Wild Wild East.
Comment by AB: Yet another eminently imaginative installment of Yumiko Kayukawa's thrilling saga as she transits from dreamscape to dreamscape, facing off against adversaries galore, inevitably to emerge triumphant. Special added bonus-- she knows how to paint.
Art by Yumiko Kayukawa.


Art by Yumiko Kayukawa (like it).


Yumiko Kayukawa.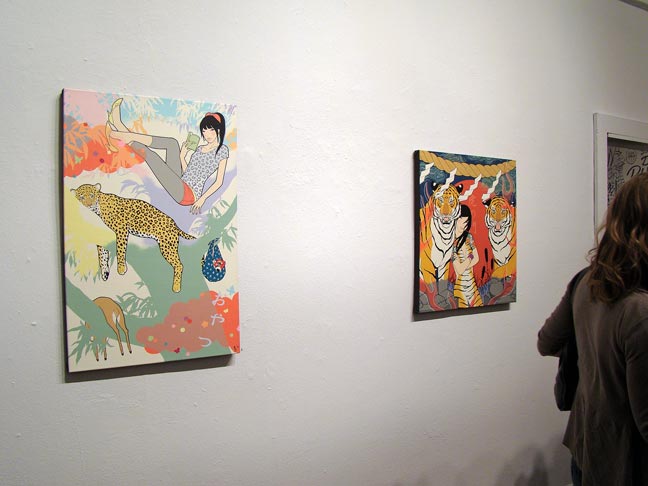 Paintings by Yumiko Kayukawa.


Yumiko Kayukawa paintings.


Art by Yumiko Kayukawa.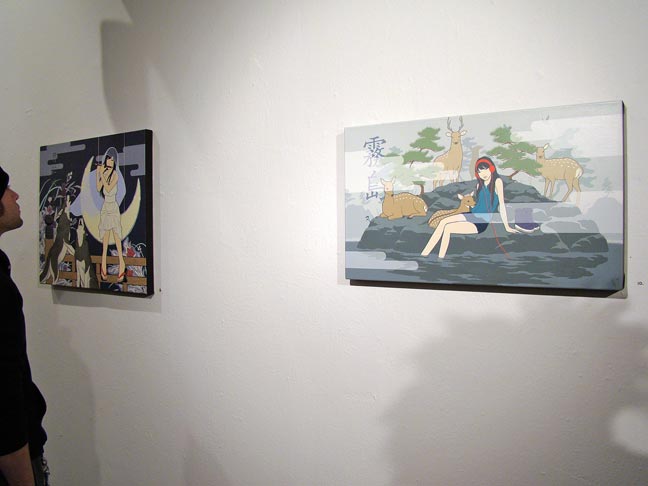 Yumiko Kayukawa paintings.


***
Gallery Heist: Now Or Never.
Artists: Brett Amory, Zach Lewis, Mike Giant, Sylvia Ji, Kevin Taylor, David Young, Adam Caldwell, Ryan De La Hoz, C3, Matt Furie, Aaron Lawrence, Matt Granberg, Skinner, John Wentz, Seth Armstrong, Jessica Trippe, Bryan Dawson, Tahiti Pehrson and Rogelio Martinez. Curated by Julianne Yates and former 111 Minna Gallery Curator, Gabe Scott
Comment by AB: Festive inaugural group show in the space formerly occupied by 20 GOTO 10, now Heist Gallery, features wall-to-wall people and wall-to-wall art in a variety of media ranging in style from urban to lowbrow to newbrow to street.
Art at Gallery Heist - CARS SUCK - it happens in SF first.
Coming soon to a state near you.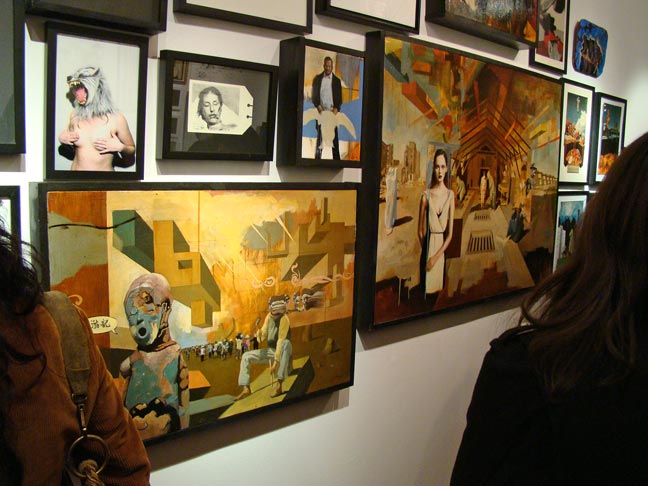 Art by Adam Caldwell (the large paintings).


Curator Julianne Yates and Erik Parra.


Art.


Art.


Altitudinary.


***
[2nd Floor Projects]: Dusty Hayes; Edition by Larry Rinder (limited to 100, signed).
Comment by AB: Multimedia mini-blitz by Dusty Hayes includes a video of Hayes digging himself into a hole, a conjoined agglomeration of children's clothing splayed over a rudimentary wooden armature, fine pencil drawings, mixed media, collage and more. Markedly intriguingly iconoclastic.
Art by Dusty Hayes.


Dusty Hayes and his art.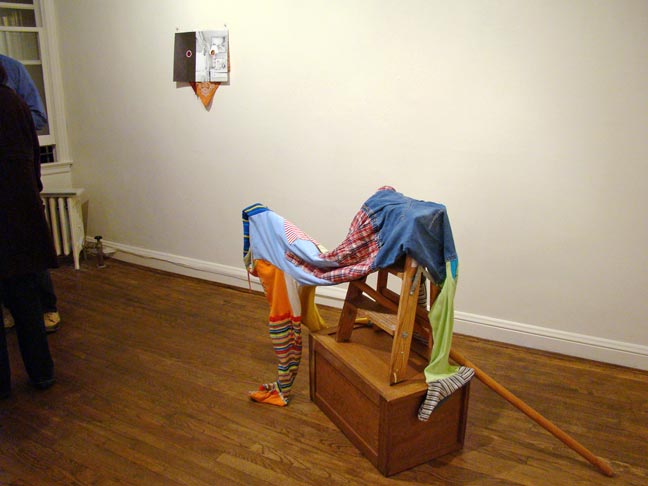 Art by Dusty Hayes.


Dusty Hayes art.


***