DON SOKER - PAULE ANGLIM - FREY NORRIS - FIFTY CROWS

CAIN SCHULTE - ARTUNDRESSED - BAE HOME & DESIGN

11.19.09

(with assistance from RWM)



Don Soker Gallery: Theodora Varnay Jones - Reflections, Small Scale Works.
Review by RWM: Squares in squares sometimes with confrontational colorings, and other times with soothing color schemes. Though not freeform they succeed as abstractions. Here is art with plenty of perpendicular detail and evident industry to display on one's wall.
Comment by AB: Extensive retrospective of the work of Theodora Varnay Jones in a variety of mediums-- minimalist in nature, much of it an intriguing manipulation of industrial elements and construction techniques normally reserved for the functional realm, here dedicated to the cause of art. Stop on by; you won't be disappointed.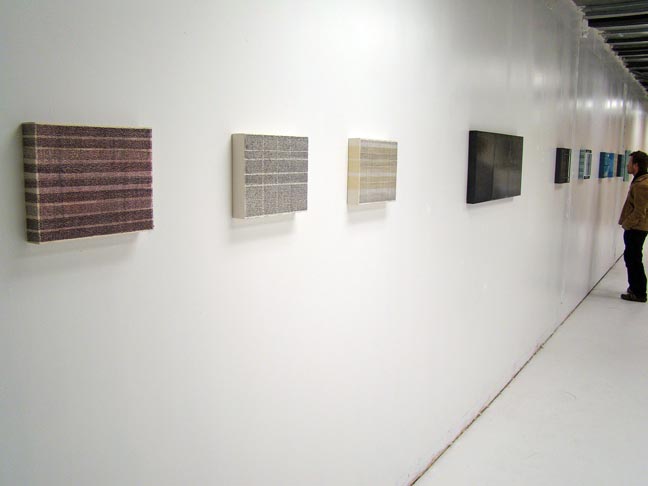 Art by Theodora Varnay Jones.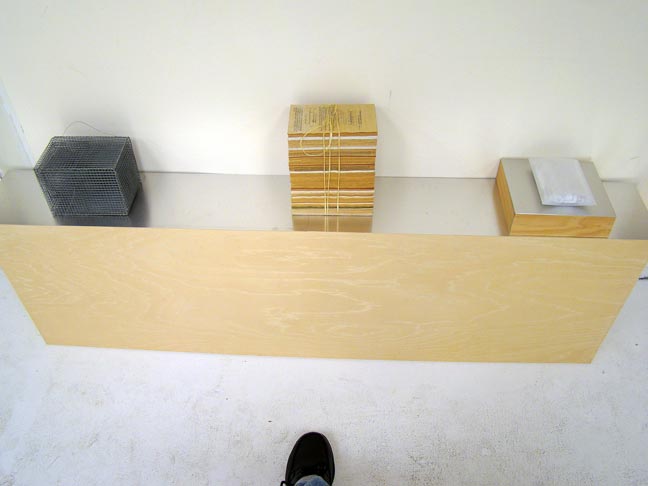 Theodora Varnay Jones art.


Theodora Varnay Jones and her art.


Art closer by Theodora Varnay Jones.


Theodora Varnay Jones art.


Print portfolio by Theodora Varnay Jones.


Theodora Varnay Jones art.


Long view.


***
Gallery Paule Anglim: Tom Marioni; John Cage - Changes & Disappearances.
Comment by AB: The main gallery features repetitive drawings and sculpture by founding member of San Francisco's conceptual art movement, Tom Marioni. In the vestibule are conceptual abstractions by John Cage dating from 1979-82.
Yeh, you're right. I have barely a clue what the deal is here and nowhere near the leisure time to figure it out, but graciously accept the booby prize-- taking solace in the fact that I can't know everything. What's great about art, though, is that you can always enjoy it no matter how much or how little you know-- on your own terms, quietly and in the privacy your own mind. And the more I look at Marioni's repetitive motion drawings, the more I like 'em-- his clean black lacquered sculpture assisting in said appreciation 'cuz it's really well done. As for John Cage, perhaps in another life.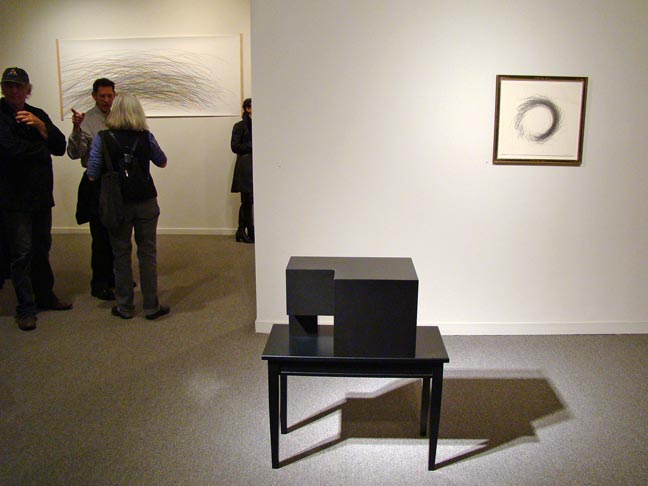 Art by Tom Marioni.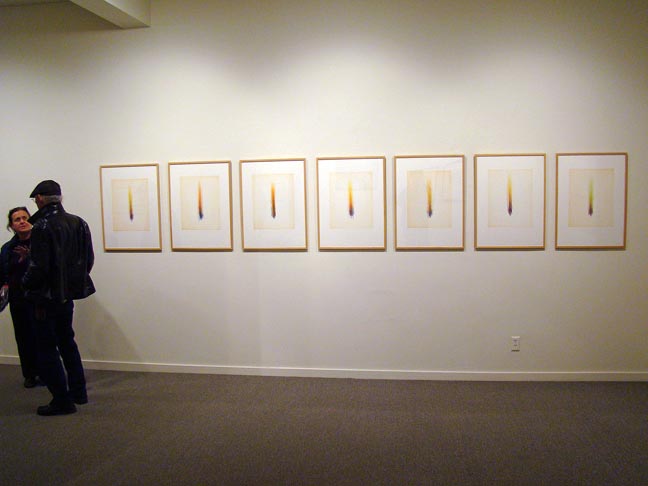 Repetitive motion drawings by Tom Marioni.


Drawing by Tom Marioni in above image closer.


Pinkie cam view of art in above image by Tom Marioni.


Tom Marioni art.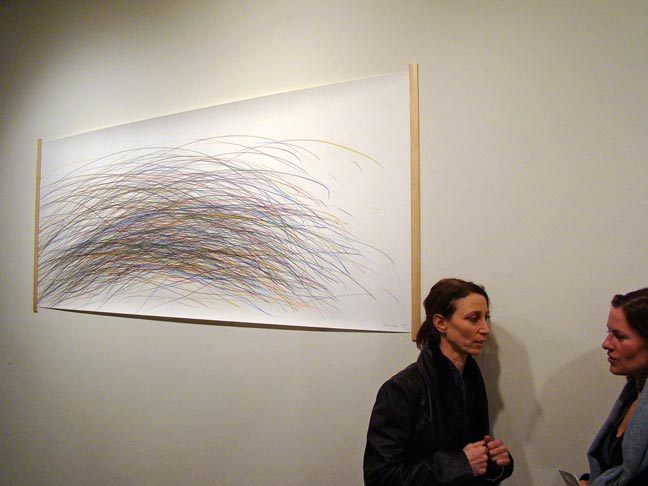 Art by Tom Marioni.


Art by John Cage.


John Cage art.


***
Frey Norris Gallery: Dorothea Tanning - Beyond the Esplanade.
Comment by AB: A fine selection of early surrealist works dating from 1940 to 1965 by significant American modernist Dorothea Tanning. For those of you keeping score at home, Tanning had a solo show at New York's famed Julien Levy Gallery in 1944 was married to Max Ernst.
Art by Dorothea Tanning.


Art closer by Dorothea Tanning.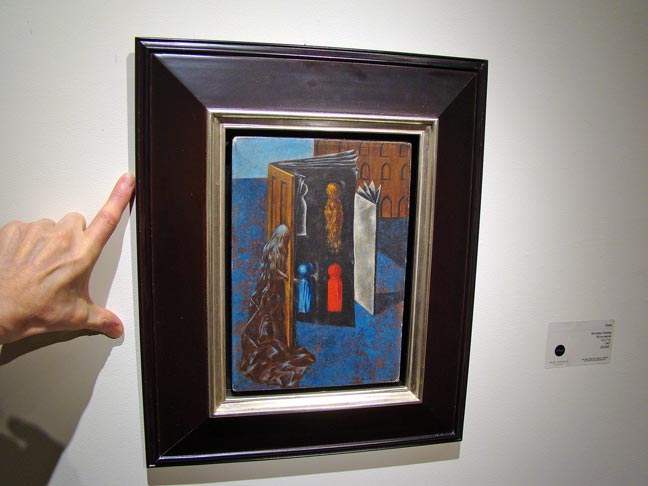 Art closer by Dorothea Tanning.


Dorothea Tanning art.


Dorothea Tanning literature and monographs.


Surrealist paintings by Dorothea Tanning.


***
Cain Schulte Gallery: Justin Quinn - Keep Out This Frost.
Review by RWM: Not obvious to understand, but here are monosyllable abstract works inspired by Herman Melville's Moby Dick. The chosen letter, E, is on top of the sight chart, not a grade. The images play themselves out as either text or spirals, expressions of the subconscious.
Art by Justin Quinn.


Pinkie cam zoom of art in above image by Justin Quinn.


Justin Quinn pencil drawing.


Art by Justin Quinn.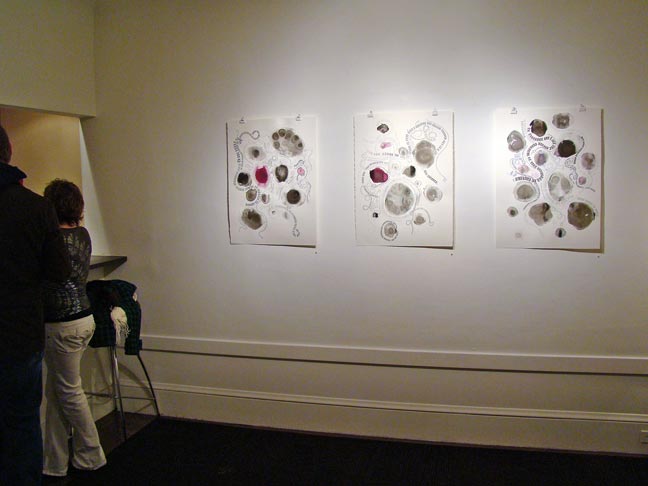 Art by Justin Quinn.


***
ARTundressed at California Modern Gallery: San Francisco International Erotic Art Weekend.
Artists: A.J. Kahn, Aja-ann Trier, Albicocca, Alisa Gabrielle, Angelina Cardone, Art Van Kampen, ARTIME, Arznix, Ashleigh Hobson, Beatrix Susan, Bodyscapes, Brian Mackey, Carolyn Tillie, Chainsaw Chuck, Charly B., Chris Riccardo, Chris Spence, Christopher Finch, Cynthia Robinson, Daniel Lovely, Dano, Dave Levingston, David Goldner, David Willson, Davide Valente, Dawn Graham, Derol Caraco, Dirk Westphal, Ed Meredith, Edgar G, Enrique Foto-grafx, Eric Collins, Eric Wallis Rico, Eric Walton, Erotic Artist, Eva Fellner, FIFTYTHREE, Fiona Stephenson, Flex Maslan, Francesco D'Isa, Garry Walton, Gary Breckheimer, Gerard Vachez, Gianluca Mattia, Gilberto Giardini, Giuseppe Petrilli, Greg Rosky, Hajo Horstmann, Hans-Peter Muff, Hassan Hilliard, Hataiiia, Hawaiian Bryan Hey, HEvers, Icon Art Image, Insomniac Studios, Izabela Rajska, Jackson Photografix, Jared Gilbey, Jaroslaw Kukowski, Jay Mueller, Jeff Faerber, Jim Young, Johnny Naked, Jorge Herrera, Jovelyn Roden, Katrine Neoromantika, Keith Banham, Keith Mueller, Ken Villeneuve, Kimi Summer, Larry Schultz, Laurence Gartel, Lawrence Northey, Leon Grossman, Lipstik, Liquid Mojo, Lisa Scholder, Lisolette Gilcrest, Liz Mares, Lourdes Fernandez, Marc Debauch, Mary Webster, Megh, Mel Gama, Michael Berkowitz, Michael Breyette, Michael Rosen, Mike Cavanaugh, Miss H of California, Nancy Peach, Nathan Strausse, Nicholas Romero, Paulino, Peter Keresztury, Remy Audette, Renzo Razzetto, Richard Gravis, Richard Baer ChauDavis, Richard Gower, Rico Mejia, Rob Robi, Robert Babylon, Rock Cox, Rod Macdonald, Roderick Macdonald, Rory Mahon, Saferine Luxe, Sandra Chang, Sarah Clemens, Sergio Lopez, Sergio Miller, Shawn Fawcett, Shilo McCabe, Sol Lang, Sulimo, T. Tiberius X, Thierry Marcoux, Tim Woodhouse, Tom Hoover, Troy I. Pierce, Victoria Moore, Vladislav Gansovsky, Xonrad.
Comment by AB: The second annual installment of ARTundressed, an erotic art, fashion, music and performance spectacular of extravagantly engorged proportions, kicks off in Miami and progresses through Chicago, Dallas and Los Angeles before climaxing in downtown San Fransisco (it's premier appearance here). If you want to experience the state of the erotic arts courtesy of top domestic and international practitioners, then this is the place to be. This weekend only, but I hear through the grapevine that they'll be back next year. Like it!
FYI, I typically rate shows or venues I've never been to before as "worse than expected," "about as expected," and "better than expected." This one's decidedly better than expected.
Art Undressed erotic art.


Glazed ceramic breast fountain.


Erotic art c/o ARTundressed.


Nancy Peach and her art.


Stunningly realistic sculptures by Peter Keresztury.


Photography.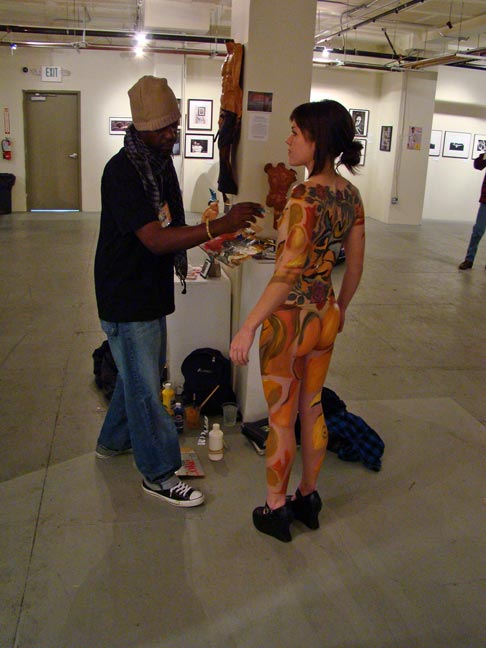 Body painting at Art Undressed.


Erotic art at ARTundressed.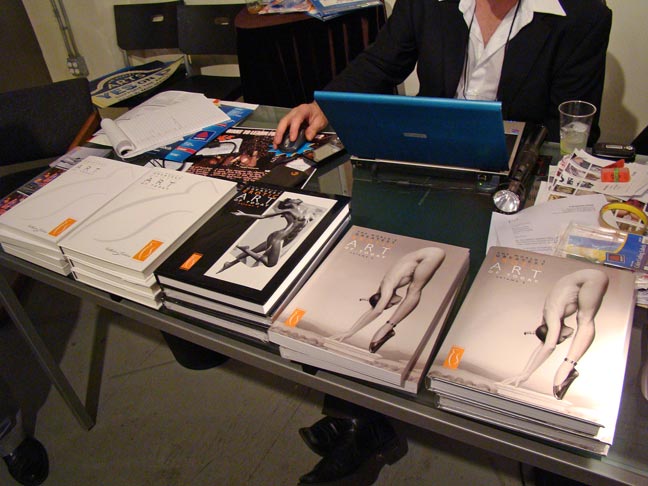 Erotic art surveys available from Erotic Signature.


***
Addendum:
International images by Art Wolfe at FiftyCrows.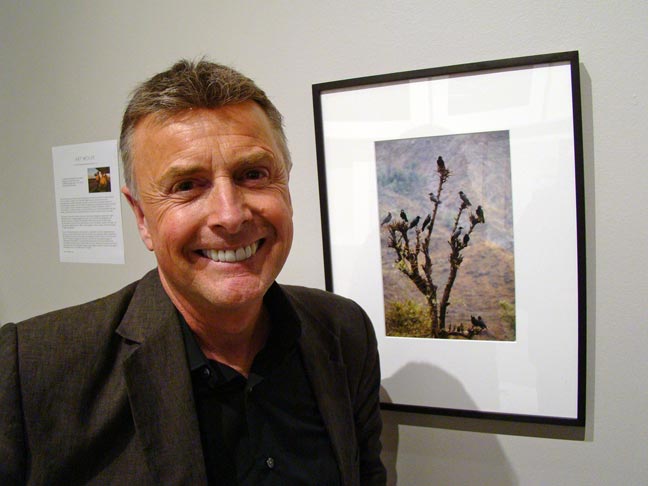 Art Wolfe & photograph at FiftyCrows.


Global photography by Art Wolfe at Fifty Crown.


Marilynne Morshead & her photgraphy at Bae Home & Design.

.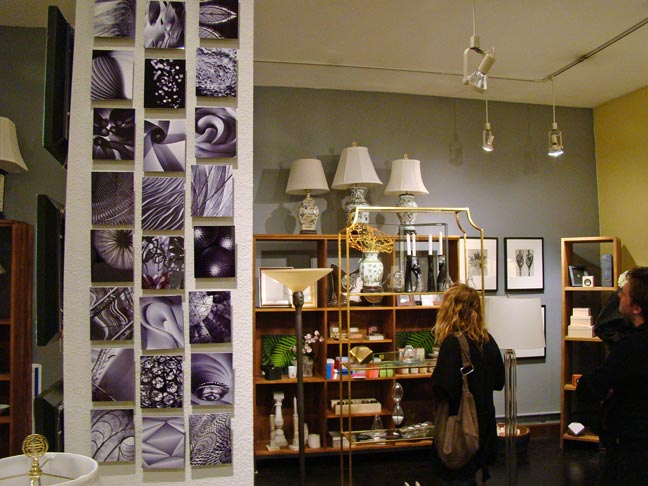 Photographs by Marilynne Morshead at Bae Home & Design.


***