OAKLAND ART OPENINGS - ART MURMUR - FIRST FRIDAY

ROCK PAPER SCISSORS - JOHANSSON - HATCH - KROWSWORK

CHANDRA CERRITO - MAMA BUZZ - OLD CROW TATTOO

Reported by Pilar Vree and DeWitt Cheng

12.04.09



Rock Paper Scissors Collective: Home.
Artists: Amy Jean White, Brian Schuck, Brice Ben Hobbs, Clare Szydlowski, Fonda Murray, Greta Aalborg-Volper, Kacie Erin Smith, Kathe Welch, Laura K Alger, Laurel Prieto, Patricia Miye Wakida, Trish Foschi.
Review and images by Pilar Vree: Rock Paper Scissor's First Friday show offers a theme that seems appropriate for the upcoming winter chill and holiday spirit-- home. It doesn't deal with the home that many young artists inhabit today, the room share with other twenty-somethings or dingy studio apartment. Rather, "home" turns out to be something more quaint than that-- large homes with clean kitchens and full stocked larders. This is the home that everyone wants to return to for the holidays.
Art by Clare Szydlowski.


Art by Fonda Murray.


Art by Brian Schuck.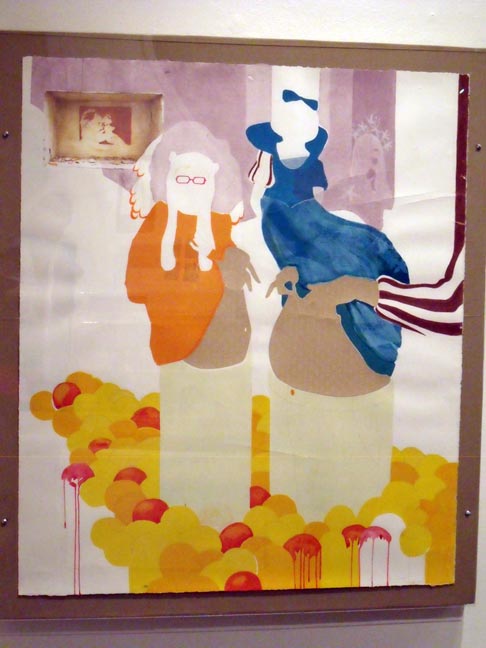 Art by Kacie Erin Smith.


***
Johansson Projects: Earth Engines - Barry Underwood and Oliver DeCicco.
Review and images by Pilar Vree: The latest show at Johansson Projects is full of photographs that juxtapose nature with eerie bursts of light. It conjures thoughts of strange phenomena and ghosts, making the viewer wish that these were freak accidents that just happened to be caught on camera. Of note is a large moving installation that creaks and moves beneath a grassy ceiling.
Installation by Oliver DiCicco.


Art by Barry Underwood.


Art by Barry Underwood.


***
Hatch Gallery: Plot - Ross Campbell and Jeremiah Jenkins.
Review and images by Pilar Vree: An incredibly clever show that touches on the more light hearted, cheeky side of art. Snide social commentary and catty juxtapositions ran rampant in this show. The pieces not only elicit laughter but also prod the audience to think about larger themes than just standard art gallery fare.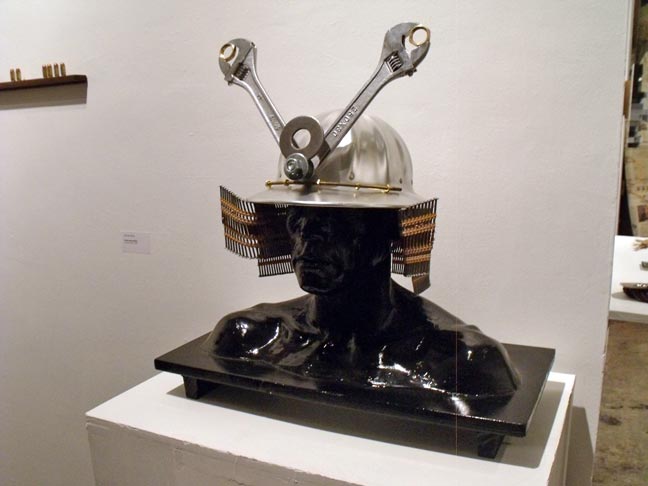 Art by Jeremiah Jenkins.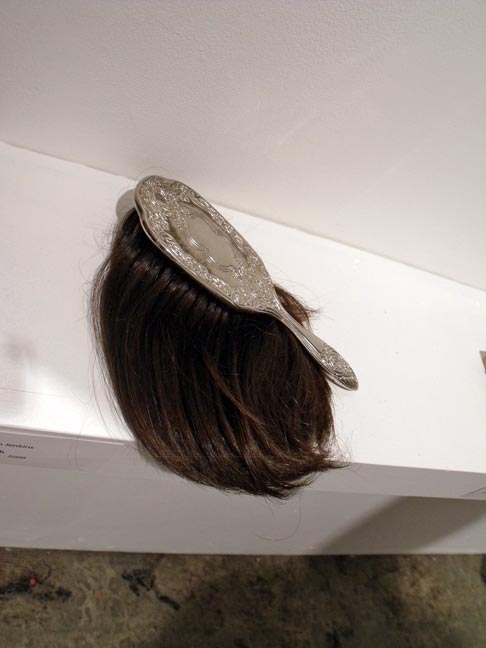 Art by Jeremiah Jenkins.


Art.


Art.


Art by Jeremiah Jenkins.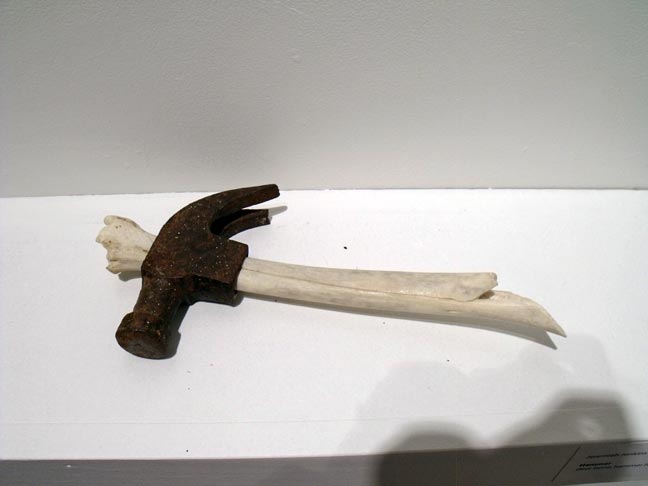 Art by Jeremiah Jenkins.


***
Krowswork: As X Approaches Infinity.
Review and images by DeWitt Cheng: The long, labyrinthine, multicameral space formerly known as Esteban Sabar Gallery and, later, Fort Gallery has morphed into two spaces. The 23rd Street entrance now leads to Chandra Cerrito Contemporary (open now, but closed for further renovation in January), relocated from the West Grand Avenue digs it shared with Mercury 20; ›accessible via a new side entrance is Krowswork, a new video and photography gallery and project space run by Jasmine Moorhead, who comes to the Bay Area from NYC. Krowswork's inaugural show, occupying two gallery rooms, a project room and the video room (which, furnished with old church pews, accommodates thirty), features works by Austin Muller, Nate Boyce, Jason Livingstone, Kaliptus, Aaron Oldenbourg, Sabine Gruffat, Usama and Kristie Alshaibi, Volkan Ergen, Torsten Zenas Burns, Animal Charm, RKDB, Gigi Gatewood, Adam Wier, Walker Dukes, Lauren Orchowski, and Paula Catao. I'm here before the event actually gets going, so there are no silhouetted heads, as usual; nor can I manage to get decent shots of the videos.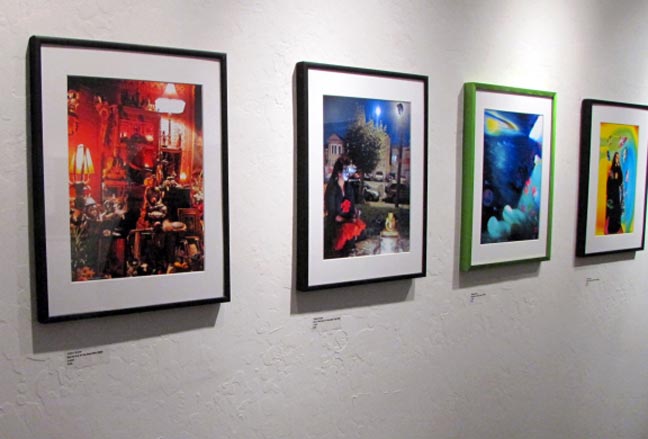 Walker Dukes photos.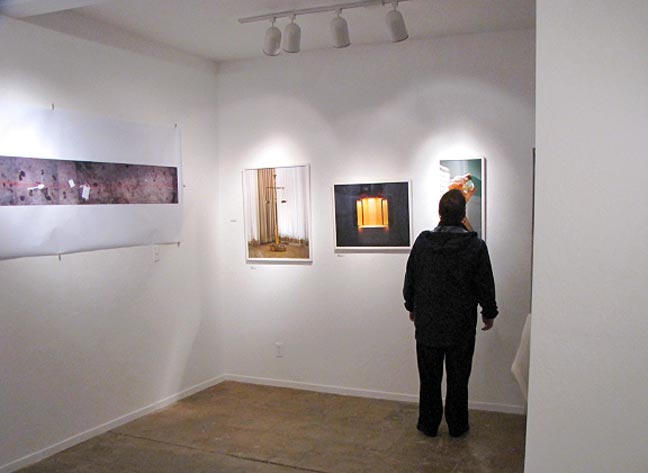 Photos by Adam Wier and Gigi Gatewood.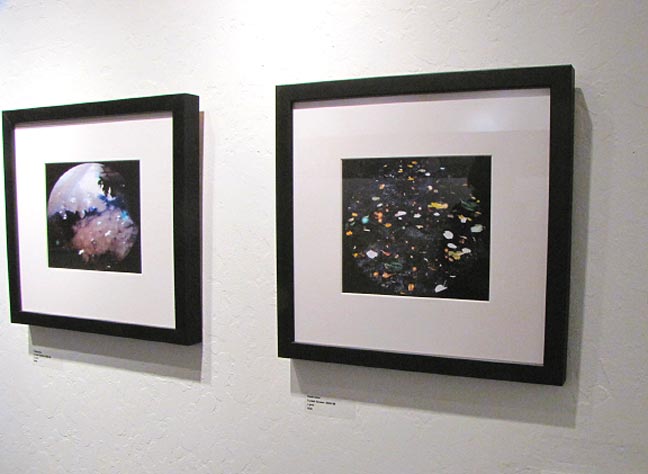 Photos by Paula Catao.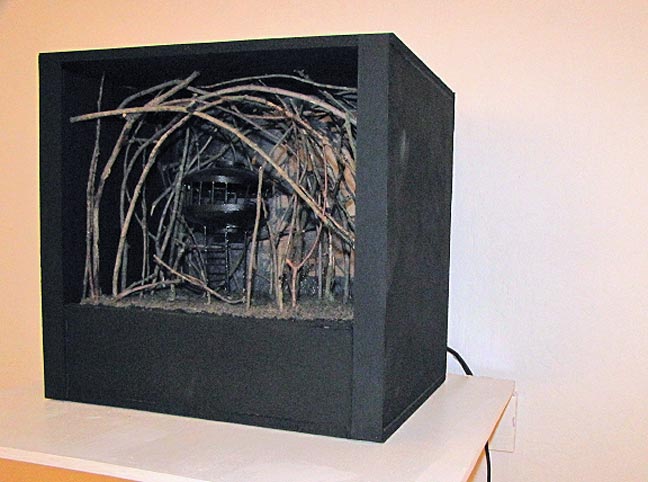 Sculpture by Lauren Orchowski.


Photos by Gigi Gatewood.


Print by Adam Wier.


Jasmine Moorhead with art by Adam Wier.


The Walker Dukeses.


***
Chandra Cerrito Contemporary: The Maker Faire.
Artists: Xylocopa (Michele Lanan and Andrew Waser), Scott Gasparian, Jenny Hart, Flaming Lotus Girls.
Review and images by Pilar Vree: Formerly one half of Fort Gallery, which was previously Esteban Sabar, Chandra Cerrito's opening at this new location in the epicenter of Oakland's First Friday offers art that is accessible to a wide audience. The gallery features art that is part of the Maker Faire-- a convention that is dedicated to DIY crafts, at-home technology and miscellaneous mischief of that sort. The art reflects these themes, with a Pollock-esque canvas painted by a robot, laser cut wood blocks and a glowing Buddha. It's an excellent decision for a growing gallery to have such a viable show right in time for the holidays.
Art by Xylocopa (Michele Lanan and Andrew Waser).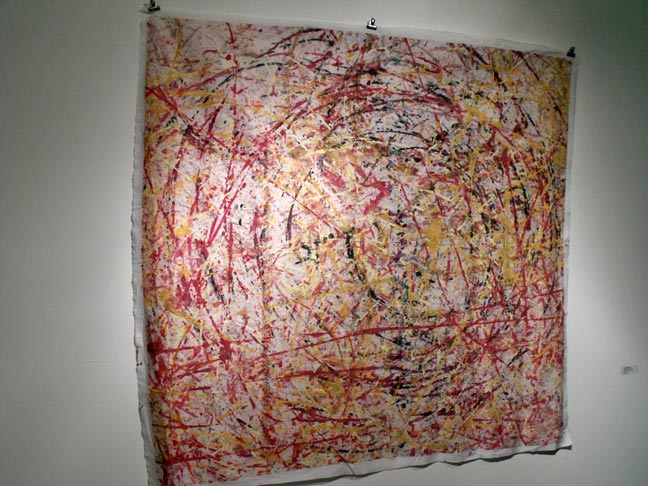 Art.


Robot Painting by Kris DeGraeve.


Art by Jenny Hart.


***
Mama Buzz Cafe: We Share the Same Stomach - Maria Michaels.
Review and images by Pilar Vree: Here is an earthy show that brings the viewer back to the essence of art-- storytelling. It's full of rugged sculptures of heads that twist and turn in conversation, ignorant of the people who swarm around them and in another world. One wonders what strange things they're saying to each other. A large sculpture stands by the front entrance, almost guarding a telephone that advertises by telling stories of the street.›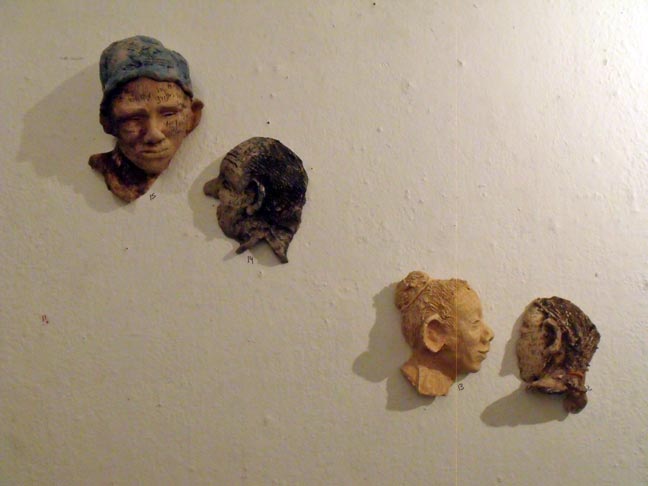 Art by Maria Michaels.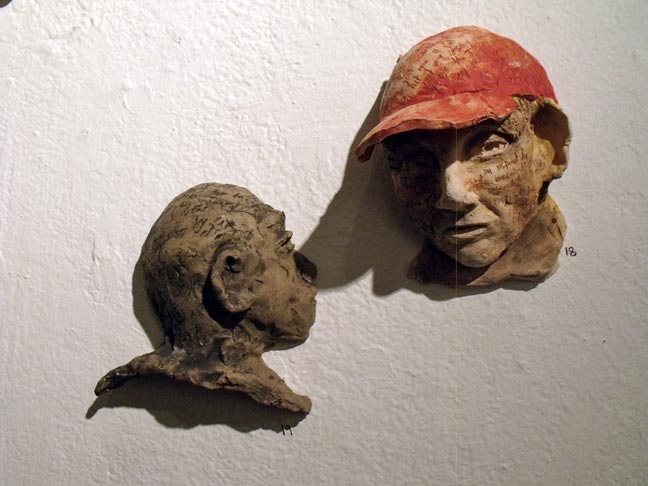 Maria Michaels ceramic art.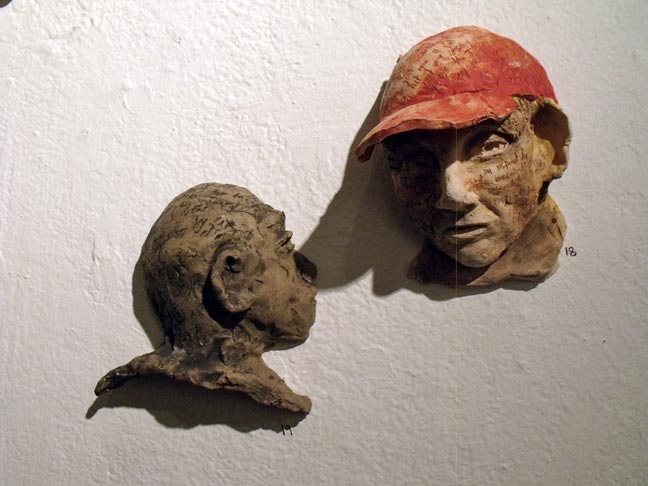 Ceramic art by Maria Michaels.


***
Old Crow Tattoo: Fin - AKO, John Arnold Felix and Robert Burden.
Review and images by Pilar Vree: The latest show at Old Crow Tattoo combines size, grandeur, color and mischief to an enticing effect. The show contains both large scale pieces that pay homage to cultural icons such as G.I.Joe, and small beautifully colored artworks that seem almost whimsical. A back room holds a more mischievous installation, with a mannequin dressed as a graffiti artist and a decaying urban undertone.
Installation by John Arnold Felix.


Art by John Arnold Felix.


Art by John Arnold Felix.


Art by Robert Burden.


Art by Robert Burden.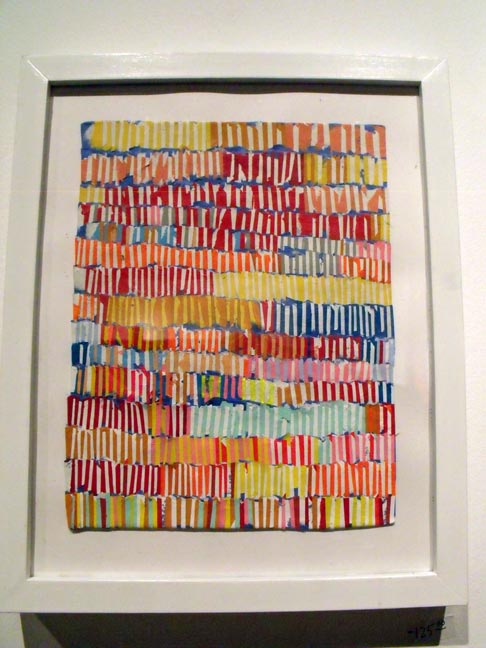 Art by AKO.


Art by AKO.


***
Addendum: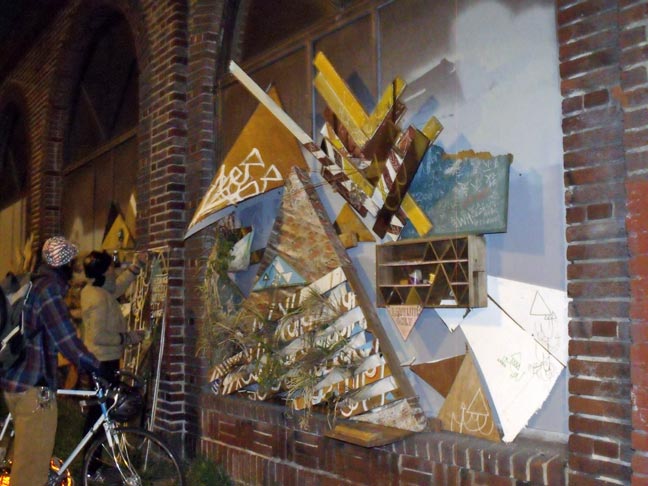 Continuously growing art installation down the street from the main galleries.


***