GRAY AREA - ARTZONE 461 - PORTO FRANCO ART PARLOR

GALERIA DE LA RAZA - QUEENS NAILS - PEANUT - STUDIO GALLERY

12.05-06.09

(with assistance from Geoff Smith and RWM)



Gray Area Foundation for the Arts: Seaquence.
Review and images by Geoff Smith: The Seaquence exhibit, a project exploring interaction and collaboration through visual, music and social web technologies developed by Gray Area gallery resident artists Gabriel Dunne, Ryan Alexander and Daniel Massey, opens at the gallery tonight. The Gray Area Foundation for the Arts (GAFFTA) is a San Francisco-based nonprofit dedicated to building social consciousness through digital culture. Gallery director Josette Melchor founded the original Gray Area gallery in 2005, producing events in Los Angeles and San Francisco through 2008. GAFFTA was formed in September 2008 and the current gallery at 55 Taylor St in San Francisco opened in October 2009.
According to the gallery, "Seaquence is a social music project that allows people to create and consume short musical compositions in a unique interactive online environment. The musical patterns in Seaquence are represented as biologically-inspired life forms which are both heard and seen. Different musical sounds in each composition are visualized as unique character traits in each life-form. In addition to navigating and exploring through this field of micro compositions and sequences, users can also create, publish and share 'Seaquences' of their own via the native sequencer and synthesizer tools." Following the installation at the Gray Area gallery, it is intended that Seaquence will go live online via a dedicated, publicly accessible website.
Seaquence appears to be only partly operational at the time of the opening. There are several computer terminals set up where users can construct their own on-screen "life forms" and accompanying "music." A room off to the side contains some electronic equipment with an extensive array of red-lit buttons where some people seem very intent on demonstrating and pushing them with a high degree of seriousness, no doubt intended to either now or later cause some effect or another on the "life forms" and "music" displayed on the screens in the main space. Unfortunately I'm unable to coax anyone away from the goings-on inside this side space to enlighten me any further on the status, intent, future plans, etc, of Seaquence.
On poking around further I do meet mixed-media artist Alphonzo Solorzano in his studio space at Gray Area and he's quite friendly and cooperative but unfortunately not directly involved with Seaquence; he, like me, is also unable to get the attention of anyone else that is involved. No doubt they're all very busy answering questions from others in the "red-buttons" room. I finally figure out how to use one of the terminals to produce the intended results on my own. I have to admit that without the help of expert explanation the whole experience reminds me very much of early day experimentation with video games such as Pong and Space Invaders using Commodore computers, although I'm sure these media artists have access to much more formidable current technology. Presumably the December 5th show is only the first step in Seaquence's evolution.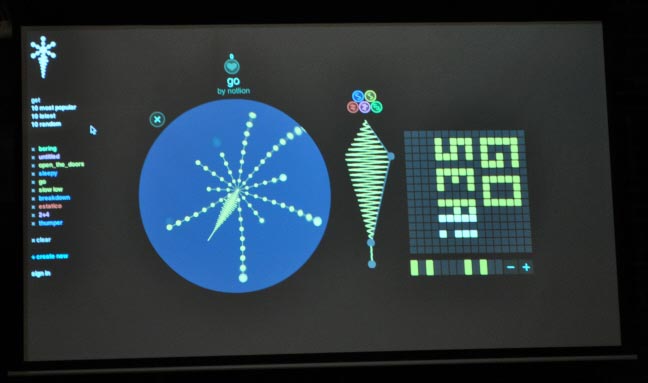 Large wall screen- main dashboard for creating life form images and music.


The hallowed side room with the glowing red buttons.


Long view of the gallery (image c/o AB).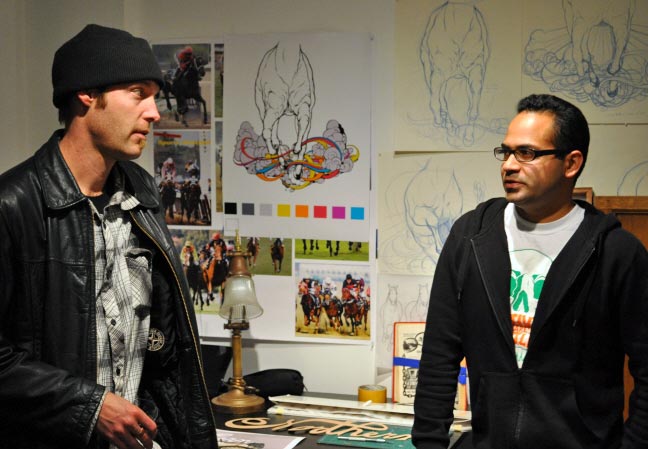 Alphonzo Solorzano (right) and his art.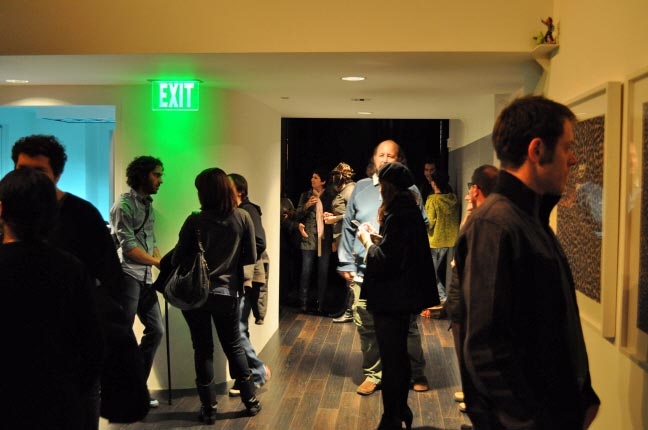 Turnout.


***
ArtZone 461 Gallery: Six Centuries of Printmaking Part 2, 1800s to the Present - Bay Area Figurative Paintings and Drawings.
Review and images by Geoff Smith: Both Six Centuries of Printmaking Part 2, 1800's to the Present, and Bay Area Figurative Paintings and Drawings consist of artworks primarily from the private collection of gallery owner and director, Steven Lopez. Since the gallery opened, partner Eric Koehler has done an excellent job of putting most all exhibited works on the gallery's website, www.artzone461.com.
Six Centuries of Printmaking Part 2 occupies the main gallery space, and includes early 19th century etchings, early color lithographs, vintage posters from around the globe, and contemporary prints by important artists such as Francis Bacon, Pablo Picasso, Jacques Villon, Christopher Brown, Manuel Neri and many others. Also on display are Belle Špoque French posters of the 1890s to Russian propaganda posters from the early 1960s. The number and broad array of prints is impressive but at the same time a bit overwhelming as arranged so closely together on the main gallery wall space. The viewer definitely needs to budget some extra time to work through this extensive collection.
The side gallery features a selection of paintings and drawings by Bay Area Figurative artists from the 1950s to the present. This exhibit showcases work by prominent first generation artists of the movement such as James Weeks, Paul Wonner, W.T. Brown, Manuel Neri, and Nathan Oliveira, as well as a few by more recent Bay Area figurative painters such as Christopher Brown, Gordon Cook, Dennis Hare, Jane Fisher and Kim Frohsin. I enjoy the wide range of works in this exhibit, and am particularly impressed by the newer and more affordable pieces by Kim Frohsin.
Swimmer, 1972, by Christopher Brown.


Yellow Aura, 2003, by Manuel Neri.


Man and Woman, 1966, by Nathan Oliveira.


Theophilus Brown - Self Portrait, 1972.


Manuel Neri, Pink Figure, 1980.


Yoshido Seated, 1988, by Kim Froshin.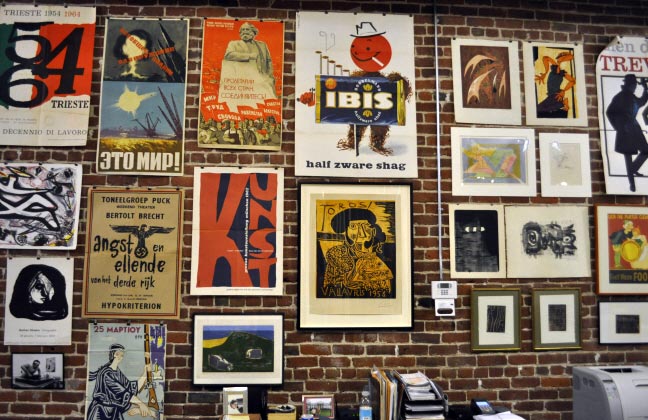 Prints and posters.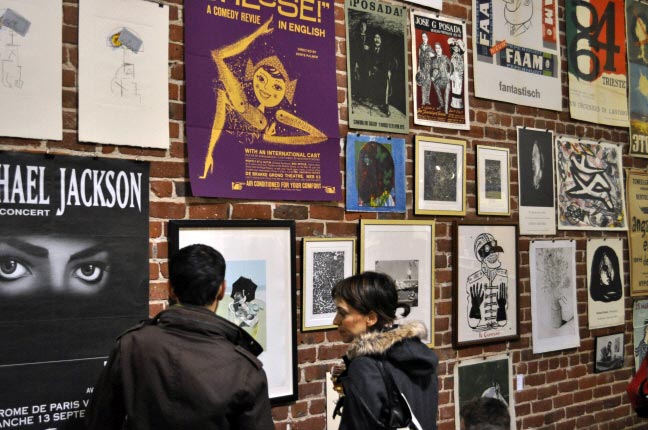 Prints and posters.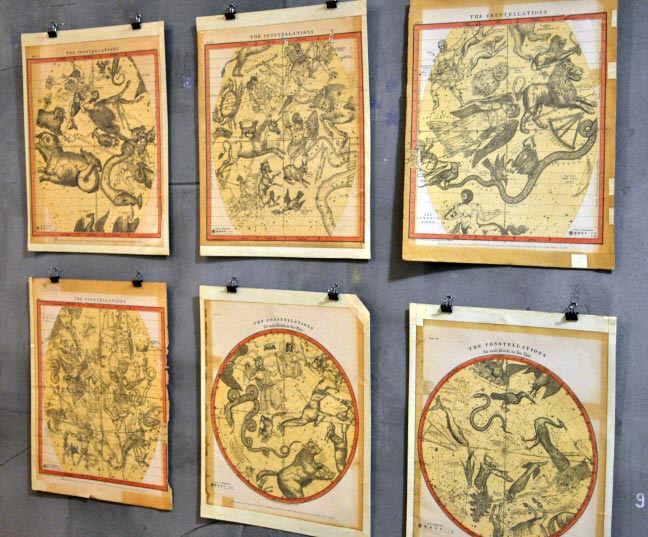 Mid-1800s color engravings of constellations.


***
Porto Franco Art Parlor, 953 Valencia Street, San Francisco, CA 94110: Natasha Dikareva.
Review and images by Geoff Smith: Natasha Dikareva is a Ukrainian-born sculptor who currently resides in San Francisco. This solo show which runs through January 10th, 2010 includes dozens of mostly figurative clay sculpture wall hangings and free-standing pieces. Dikareva has participated in a number of solo and group shows in the United States and abroad, and has received several artist residencies and scholarships. This year she was a recipient of the Leslie Ceramics Award in the 2009 California Clay Competition at Davis, California for her large sculpture, Visceral Attraction. Dikareva was raised in Kiev, and lived and studied in St. Petersburg. She comes from a family that has always been heavily involved in the arts. Her stepfather, Vladimir Dikarev who is also an artist, currently lives and works in St. Paul, Minnesota.
Dikareva's sculpture is influenced by many forces including the work of her stepfather, European Baroque and Art Nouveau architectural styles, classical myths and stories, and the Asian culture and community in San Francisco. In a recent interview Dikareva said, "I believe in the phrase of Dostoevsky, 'Beauty will save the world.' Through my art, I communicate ideas about beauty on many levels, including mythological, philosophical and emotional. I also believe that we seek personal authenticity and grace in life, and we surround ourselves with objects that share these qualities."
Recently she has made numerous clay face masks from live castings of friends and other artists. These masks are enhanced with various additional sculptural shapes and forms according to her thematic vision to produce the final versions.
All works in the show are very high quality clay sculpture in a wide range of forms and subjects that stimulate the imagination-- a treat for the eyes and is highly recommended.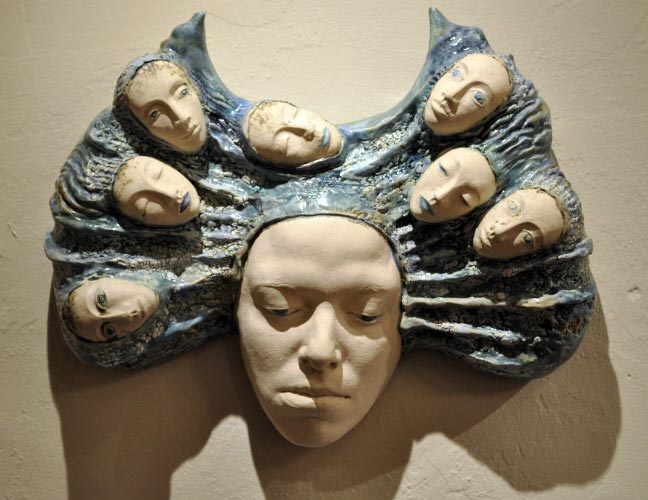 Diosa by Natasha Dikareva.


Swimming to Asia by Natasha Dikareva.


Have an Apple by Natasha Dikareva.


Look What I Got, Doctor! (birds) by Natasha Dikareva.


Looking for the Heart by Natasha Dikareva.


Handyman by Natasha Dikareva.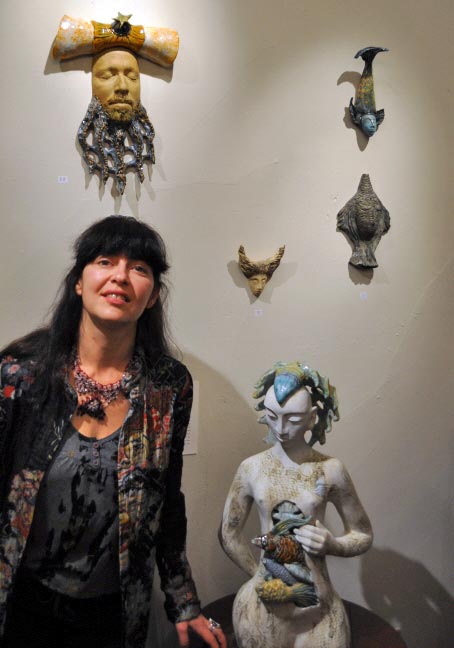 Natasha Dikareva and her sculpture.


***
Galeria de la Raza: Primero la Caja - New Work by Pablo Guardiola.
Comment by AB: Photography, objects and sculptural works by Pablo Guardiola intend to demonstrate that beauty and "poetic language" can be found in ordinary everyday objects.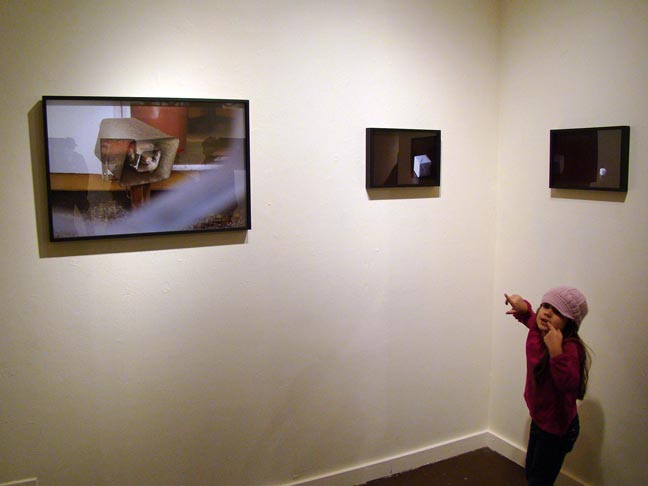 Photography by Pablo Guardiola.


Art by Pablo Guardiola.


Pablo Guardiola art.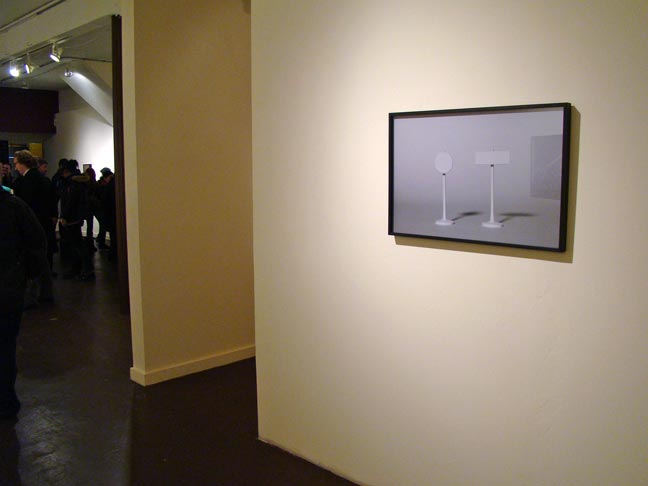 Photograph by Pablo Guardiola.


Art by Pablo Guardiola.


Sculpture by Pablo Guardiola.


***
Queens Nails Projects: Exercises in Seeing.
Artists: Jesse Ash, Francesca Bennett & Nicolas Matranga, Gediminas Atskinas, Darius Miksys, Olivier Babin, Tegan Moore, Nina Beier, Elena Narbutaite, Liudvikas Buklys, Isola & Norzi, David Buuck, Kamau Amu Patton, Deric Carner, Raymond Boisjoly & Ryan Peter, Etienne Chambaud, Mandla Reuter, Brian Clifton, Snowden Snowden, Torreya Cummings, Gareth Spor, Dina Danish, David Stein, Gintaras Didziapetris, Daniel Turner, Rosie Farrell, Freek Wambacq, Daniel Oates Kuhn, Jen Weih, Seth Lower, Christine Wong Yap, Benoit Maire. Curated by the Post Brothers.
Comment by AB: Works by an international smorgasbord of artists comprise this one-night art extravaganza held entirely in the dark. And that, as they say, is that. Fortunately my camera has night vision, so I can at least document something.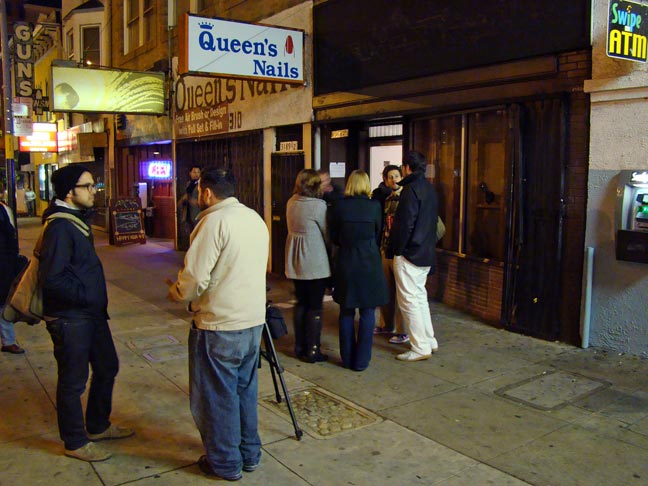 Out front of Queens Nails Projects before the show.


Official opening ceremony in progress.


Champagne christening of the show.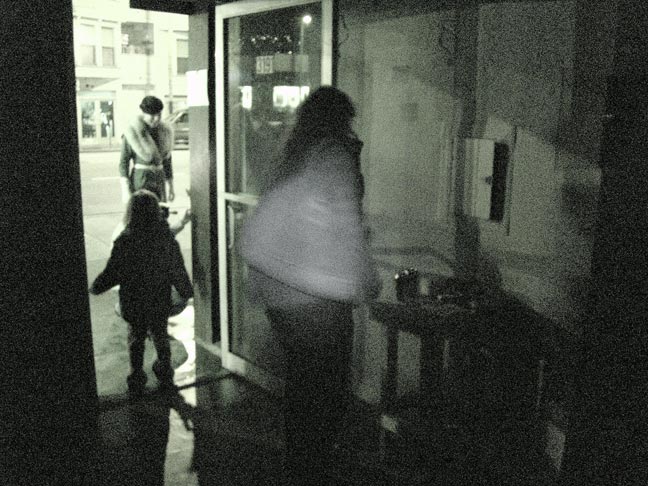 In we go... no lights.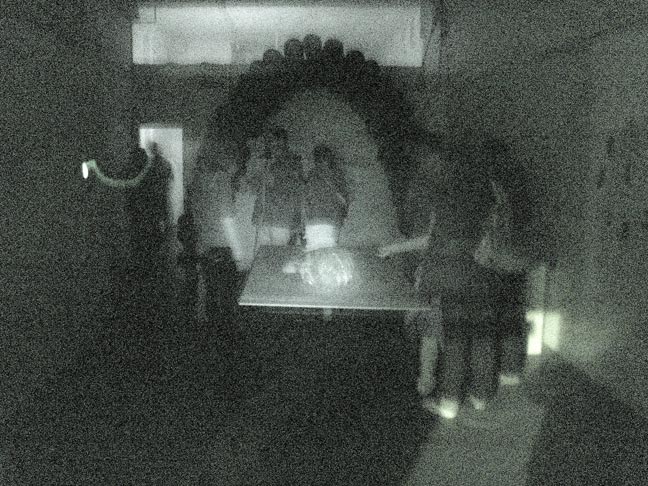 The front gallery.


What you see when you look at the light source on left in above image.


The rear gallery.


***
Studio Gallery: Tiny - Small Pieces Under $400.
Artists: Rab Terry, Brandon Smith, Lark Pien, Greg Gandy, Brian Behnke, Jeremy Mann, Paul Ferney, Scott Grabowski, Bill Dunlap, Sadie Valeri, Anna Conti, Michael-Che Swisher, Sandra Speidel, Michael Loomis, Barbara Kleinhans, Chris Grassano, Kanna Aoki, Sandy Ostrau, Lindsey Kustusch, Linda Olafsdottir, Rachel Gillen, Teerawat Palanitisena, Susan Landor Keegin, Lisa Mistiuk, Ray Bonilla, Tami Sloan Tsark, Alanna Spence Risse, Hsuan-chi Chen, Carol Allen, Roque Ballesteros, Richard Whitlock, Susan Saunders, Michelle Waters, Heather Burton, Janet Seifert, Jean Elston, Jack Baker, Mary Syring, Min Bae, Laura Saunders, Patricia Ancona, Juntae Kim, Dennis King, Christina Goh Williams, Jennifer Wasson, Matias Salas, Tyrone McCloskey, Sung Jae Bang, Jose-Luis Segura, Maeve Croghan, Pasha, Mary Valente, Mei Mei Everson, Kirstine Reiner, Christin Coy, Richard Lindenberg, Ellen Little, Victoria Mimiaga, Sean Ford, Melinda Cootsona, Trevor Smith, Dan Scanlon, Tara Thai, Hilary Mills, Anne Herbst, I-Ling Chiu, Sharon Moreau, Kristen Garneau, Kara Schmidt, Jana Nisbet, Patricia Aveni, Cameron Chun, Phoneticontrol, Laurie Moore, Cathy Ferguson, Sara Mordecai, Michael Rodman, Telopa, James Kroner, Hyeonggon Kim, Reed Slater, GhostBot, Niana Liu, Chiami Sekine, Sofia Harrison, Lola, Josh Coffy, L. Maude Kirk, Haelee, Cathy Coe, Elizabeth Ashcroft, Murphy Adams, Dana Robson, Steve Javiel, Mark Sweeney, Randy Titchenal, Nikki Sims, Andy Gouveia, Camille Andreacchi, David Young V, Jan Weiss, Missy Feigum, Jonqui Albin, Sherwin Viray, Andrew Perry, 3D-Edddy, Richard Benbrook, Art Moura, Charles Sands, Jim Rosenau, Monique Tse, Lily Dang, Linda Braz, Jack Stelnicki, J.B. Lowe, C!nder, Ayu Tomikawa, Alice Gibbons, Linda Pedersen, Barbara Wyeth, Jody McMillan, Woody Miller, Phyllis Rockne, Andrew Leone, Claire Pasquier, Winthrop Prince, Rebecca Peters, Say Oh, Rae Trujillo, Thien Pham, Nicole Andrijauskas, Sookyi Lee, Matt DeLight, Wendy Goldberg, Christine Benjamin, David Garvey, Amy Gitelman, David Fiveash, Brook Jasmine, Sherri Johnson, Rae Ann, Kara Wood, Dan Warfield, Suha Suha, Nancy Christie, Corinna Mori, Lorna Newlin.
Review by RWM, images c/o Studio Gallery: Though tiny, actually small, the multitude of works presented at this show are fascinating. The assembled works deliver a wallop and one can get lost in them individually despite all the other small paintingsÝthat surrounded them. One can tune in and tune out on these pieces upon closer examination. The small paintings are also affordable. You may be drawn close to the wall and may need to squint to fully appreciate, but the journey is worth the effort.
Little art.


Little art.


Little art.


Little art.


***
Addendum: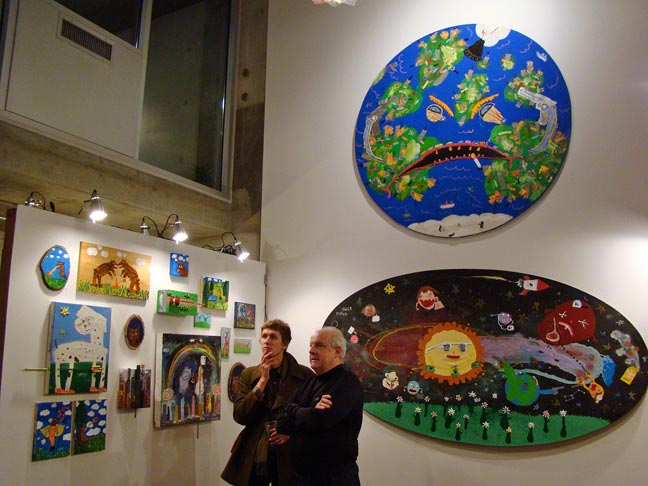 Art by Jordan Bogash & Erlin Geffrard at Peanut Gallery.


More art by Jordan Bogash & Erlin Geffrard at Peanut Gallery.


Affordable art by Jordan Bogash & Erlin Geffrard at Peanut Gallery.


***