GREEN ZEBRA - ART SPACE 712 - SILVERMAN - ROSS MIRKARIMI

LUGGAGE STORE ANNEX - SOMARTS - SF ART EXCHANGE

ADOBE BACKROOM - 63 BLUXOME - MARKET STREET - FIVEPOINTS

(with assistance from Geoff Smith and DeWitt Cheng)

12.11.09



Green Zebra Environmental Action Center: reMake Lounge Launch Party & SCRAP (Scrounger's Center for Reusable Art Parts) Third Annual Art Exhibition - ReVisions, New Creations from Scrap.
Artists: Emiko Oye, Chris Chalmers, Julie Kornblum, Michael Kerbow, Judith Selby & Richard Lang, Aiko Lanier Cuneo, many more.
Comment by AB: 67 artworks from 46 artists challenge viewers to consider the potential for "creative reuse." The verdict? There's plenty more potential where this comes from. Changing the mindset-- that's the key. There are tons of times when we don't really have to throw out the old one and get a new one, even though we do it anyway-- without even thinking most of the time because we've been brainwashed to believe that rampant consumerism is how we actualize our lives. You are what you buy and how often you replace it, right? I don't think so.
Creative reuse - scrap & recycling art.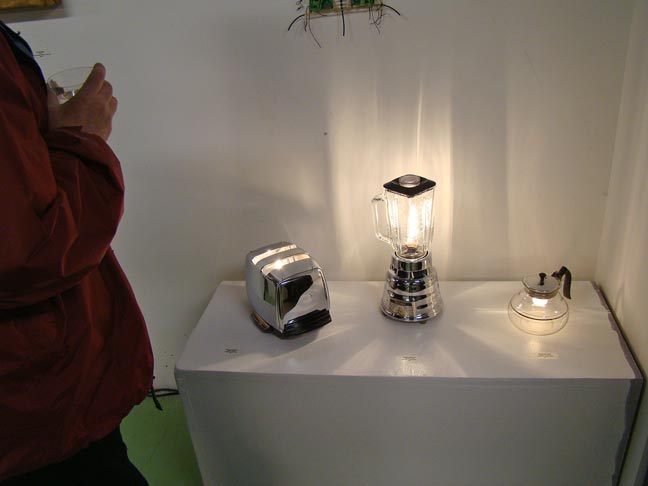 Creative reuse of discarded appliances - like 'em.


The art on the right reminds us all to wipe less.


Creative reuse - scrap & recycling art.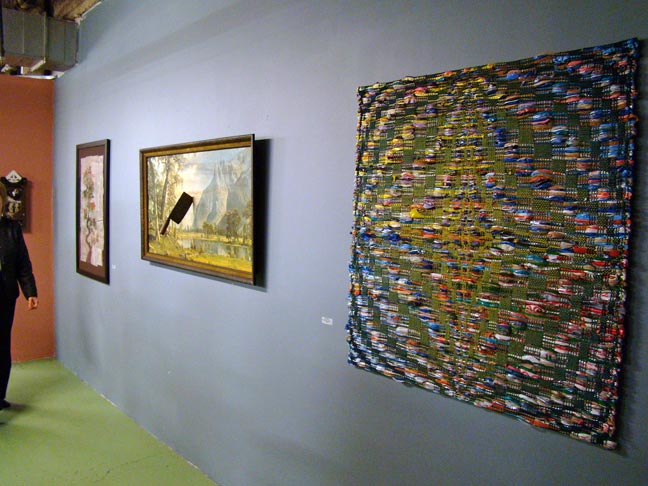 Creative reuse - scrap & recycling art.


Creative reuse - scrap & recycling art.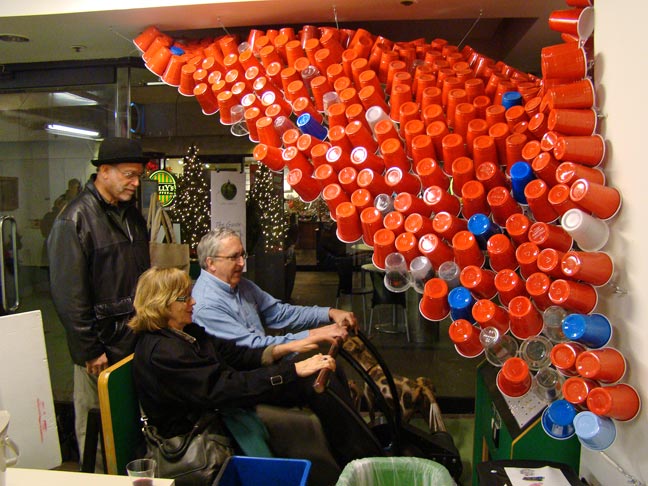 Peddle powered art & way too many used beer cups.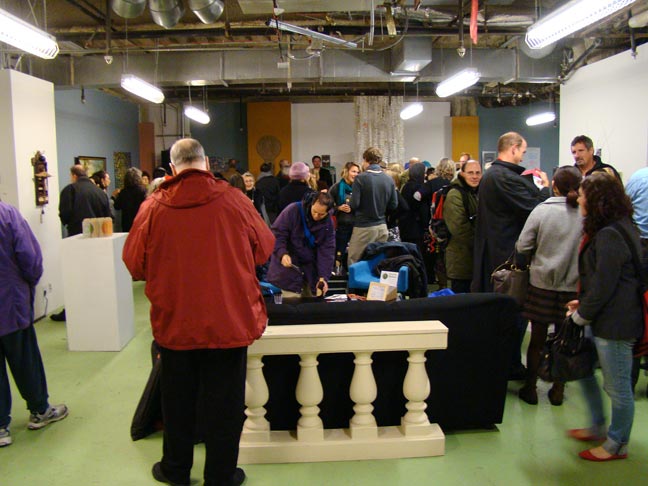 Demographics.


***
Silverman Gallery: Conrad Ruiz - Cold, Hard and Wet.
Comment by AB: Los Angeles artist and 2009 CCA MFA graduate Conrad Ruiz ratchets watercolor to a whole new realm by twisting Hollywood action film chestnuts to dizzying excess. It's like cop one of these big bold spine tinglers and never be bored again. I love 'em. And just in time too, 'cuz they offer up a platinum opportunity for me to hop atop my soapbox about galleries that jack artists' prices ahead of their time. I'm not saying that's the case here, but for a while-- particularly in the years leading up to the Great Economic Calamity-- the practice was rampant. $500 one day; $5000 the next; $50,000 the next. The contemporary art world had gone bonkers. Things have cooled considerably since, but this still happens plenty, let me assure you.
For any artist showing any art at any gallery, there's generally a sensible price structure where everybody makes money, perhaps not max money, but enough. You with me so far? Good. So here, for instance, we have a youngster who certainly appears gifted, but who hasn't been around that long and is basically unproven (I mean the ink on his diploma's barely dry). It's like yep-- he sure nailed it this time. But can he do it again? And again? And again? And... you get the picture... the bottom line being that you can't really compare a promising upstart to a proven artist even though the art may be of "proven artist" caliber, and more importantly, you can't really price him like one either.
Now think about those intrepid collectors willing to take flyers on precocious pups. Do you as the artist or dealer wanna shake 'em down for every last penny? Or do you want to make the prices attractive enough for them to feel good about buying in? Or maybe even-- perish the thought-- like they got good deals? I plead the latter. Plus your number one goal as an artist or a gallery is to get the art out there into the public-- to move the merchandise as they say in the trade-- not to hold it for ransom. Selling out a show is far better than selling nothing, and sometimes that outcome hinges on one variable only-- price.
If young talents turn out to be as good as they appear to be at the outset, then they've got the rest of their lives to rake major moolah. In the meantime, to all you eager artists and gallerists out there chomping to conquer the fiscal stratosphere, maybe instead think about doing the fearless first responders a favor. They deserve something for taking a stand ahead of everyone else... and for giving promising young talents like Conrad Ruiz that all-important wherewithal to continue making art.
And now for the closing benediction: Good show; go see. Like it!
Watercolor art by Conrad Ruiz.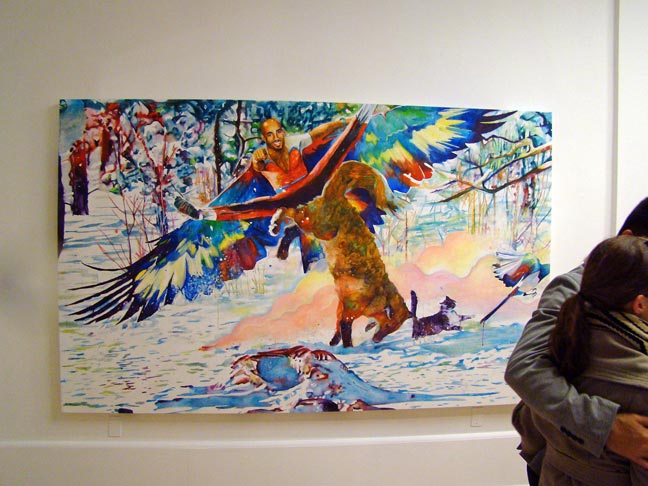 Conrad Ruiz art.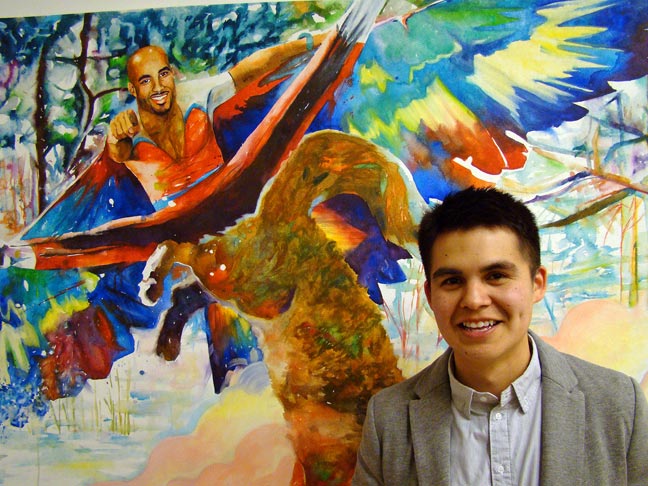 Conrad Ruiz and art in above image closer.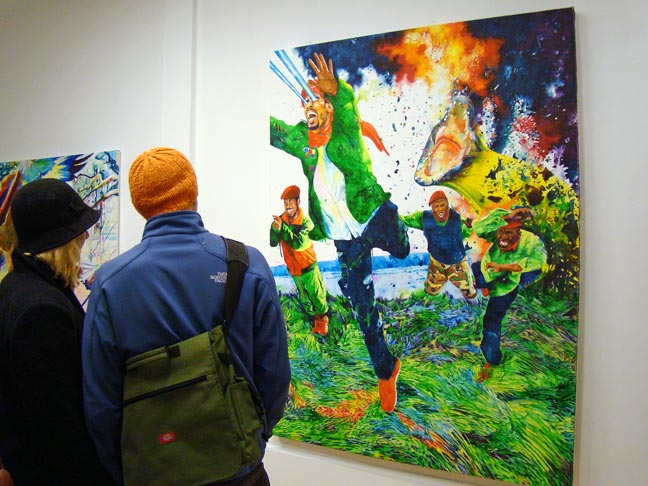 Big bold watercolor art by Conrad Ruiz.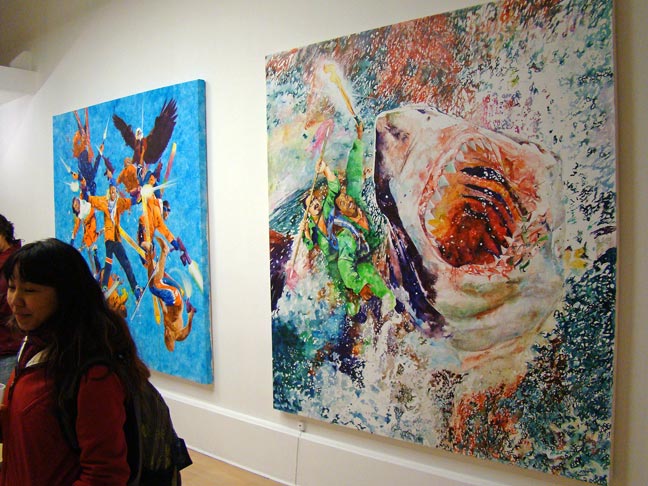 Conrad Ruiz watercolor art.


***
Art Space 712 Gallery: A Holiday Celebration - Form and Color.
Artists: Jose Bedia, Theophilus Brown, Lin Fischer, Jack Freeman, Matt Gonzalez, Wifredo Lam, Hugo Marin, Roberto Matta, Ursula O'Farrell, Gustavo Ramos Rivera, Diane Roby, Alejandro Santiago, Tom Schultz.
Review and images by Geoff Smith: This second floor venue at 712 Sansome Street is a very impressive architectural space with high ceilings, brick walls and wood beams and columns. According to one of the organizers, Anthony Torres, "Art Space 712 is an independent exhibition venue dedicated to exhibiting a range of artworks from around the globe, including Africa, Oceania, and the Americas, with a focus on local and international contemporary and tribal art." Torres says this endeavor is currently not envisioned as a commercial enterprise, but rather as a vehicle to help build a community where artists and collectors can meet, and people can see and support the work being done by the artists. This is a new venue in 2009 and draws on a mixture of the art collections of the venue organizers and other local and international artists. An earlier show in September 2009 entitled "I'll Bet You Can't Paint a Portrait" addressed "The Genesis of Bay Area Figurative Art".
The current show is entitled "A Holiday Celebration - Form and Color". Exhibited artists included in the exhibition are Jose Bedia, Theophilus Brown, Lin Fischer, Jack Freeman, Matt Gonzalez, Wifredo Lam, Hugo Marin, Roberto Matta, Ursula O'Farrell, Gustavo Ramos Rivera, Diane Roby, and Tom Schultz. The show opening was on Friday December 11th and the exhibition continued to be open to the public Saturday and Sunday, December 12-13. After December 13th, visits are by appointment only.
I really like this show a lot - great everything!! Unfortunately I have to leave to cover more openings. For their next opening, I will try not to plan in advance for anything else. My personal favorites are the Alejandro Santiago art (reminiscent of Basquiat), the work by Gustavo Ramos Rivera, Jack Freeman's art and Ursula O'Farrell's figurative work. The very extensive collection of African sculpture is also very exciting. The whole show is highly recommended... but alas is only open for a limited time for private showings.
Alejandro Santiago art (image c/o Geoff Smith).


Art by Felix Macnee (image c/o Geoff Smith).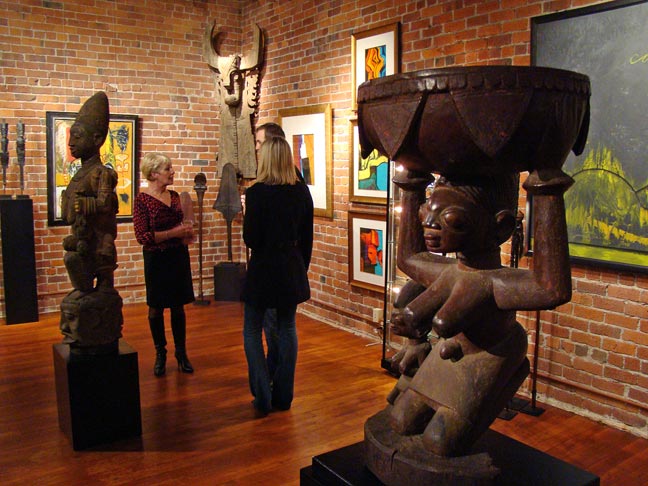 A sampling of the African art collection.


Art by Roberto Matta (right) - Ursula O'Farrell (left).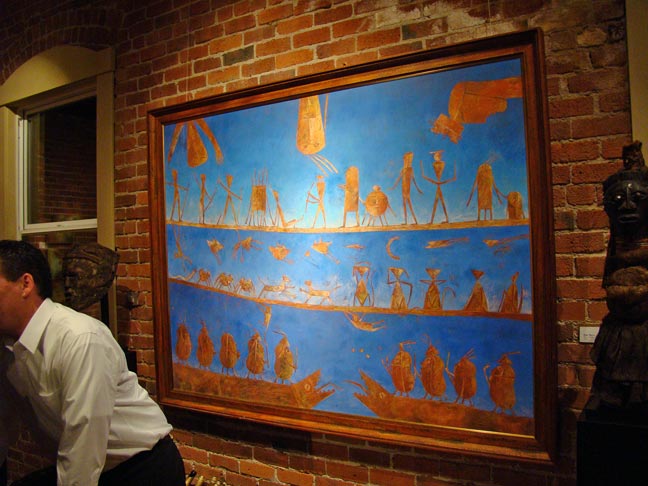 Art.


Lin Fischer and Red Torso, 2009 (image c/o DeWitt Cheng).


Tom Schulz with Untitled 09-4, 2009 (image c/o DeWitt Cheng).


Gustavo Ramos Rivera and his art (image c/o DeWitt Cheng).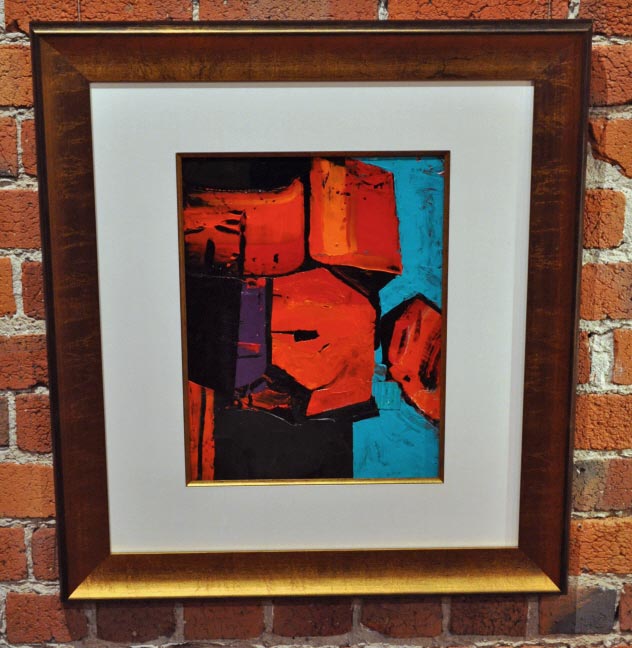 Art by Theophilus Brown (image c/o Geoff Smith).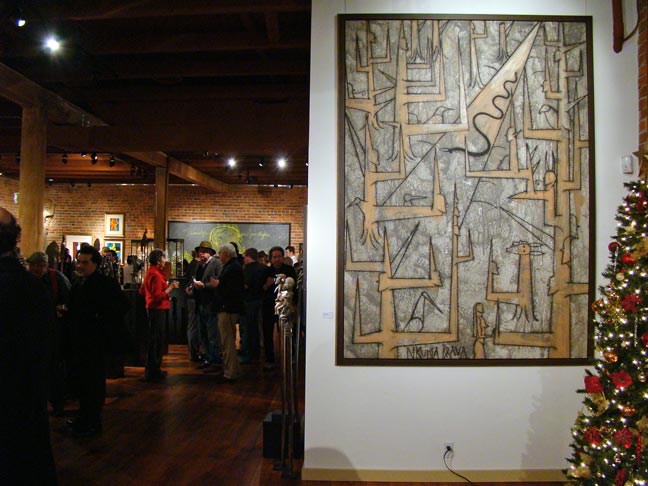 Art by Jose Bedia.


Tunes.


Population sample (image c/o Geoff Smith).


***
Supervisor Ross Mirkarimi: Holiday Art Party.
Artists: Alejandra Campos, Homero Hidalgo, Nining Muir, Christo Oropeza, David Ortiz, George Pfau, Luis Soto, Poonam Whabi, Amy Woloszyn. Curated by Ana Jimenez.
Comment by AB: "Young, up-and-coming San Francisco artists including several artists from the San Pancho Art Collective and the League of Pissed Off Voters."
Art.


Art.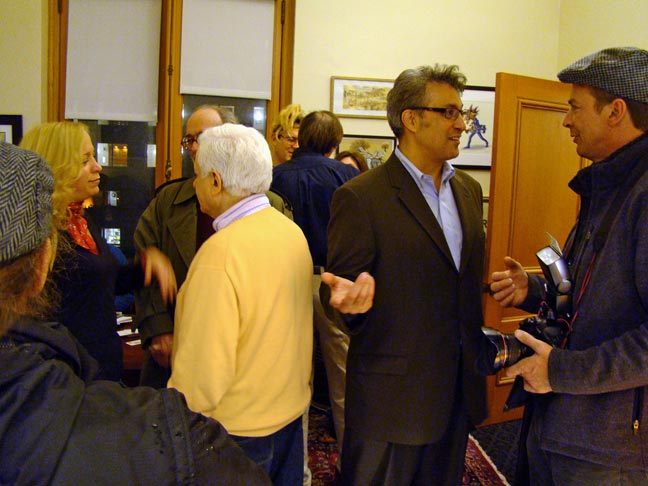 Ross Mirkarimi (gesturing, center right).


Art.


Art.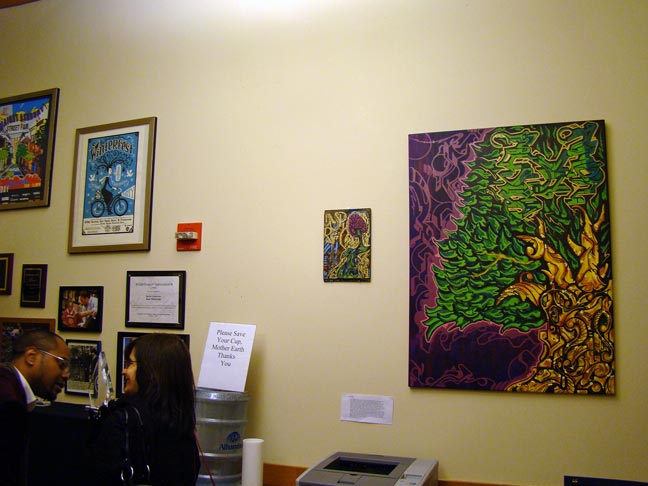 Art.


***
The Luggage Store Annex: Suicide Barrier - Perry Hallinan with Ledoh, Salt Farm, Matt Ogaz.
Comment by AB: A poignant response to life in perilous times. Special added attraction-- Tenderloin National Forest right next door-- a San Francisco marvel.
Installation by Perry Hallinan with Ledoh, Salt Farm & Matt Ogaz.


Tenderloin National Forest looking north.


Tenderloin National Forest looking south.


***
SOMArts Gallery: Invisible Homes.
Artists: X. Man., Claire Jackel, Frida Cano, Carlos Castro, Tyler Cufley, Takehito Etani, Brendan Fernandes, Michael Gavish, Sarah Hirneisen, Eric Reyes Lamonte, Cathy Liu, Lauren Marsden and Josef Jacques (in collaboration), Julio Morales, Crystal Nelson, Nadim Sabella, Hilary Schwartz, Laura Swanson, Migdalia Valdes, Marc Wilwert, Cents Collaborative Project. Curated by Justin Charles Hoover.
Comment by AB: The concept of "home" has been in a continuous state of flux and upheaval over the past couple of years-- for those of us fortunate enough to have one, as well as for those of us who don't. Good show; worth a visit. (Help captioning images would be appreciated - email me.
Mobile domicilic contraption art (sorta like it).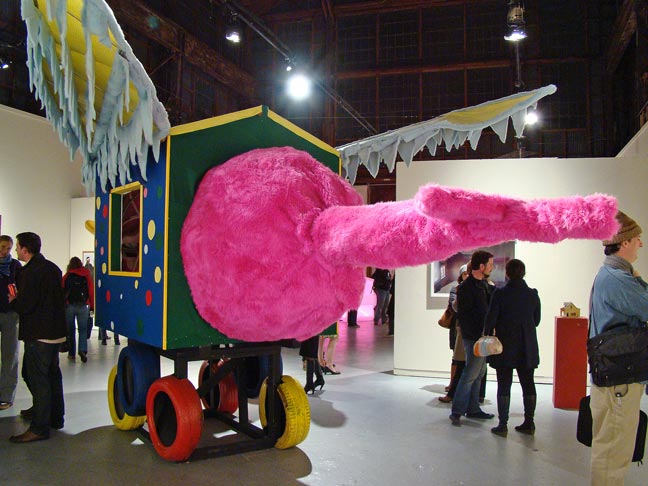 Posterior of mobile domicilic contraption art.


Photography.


Curator Justin Hoover - Alan Bamberger (aka moi).


Art.


Video art - toting a paper mache car through city streets (like it).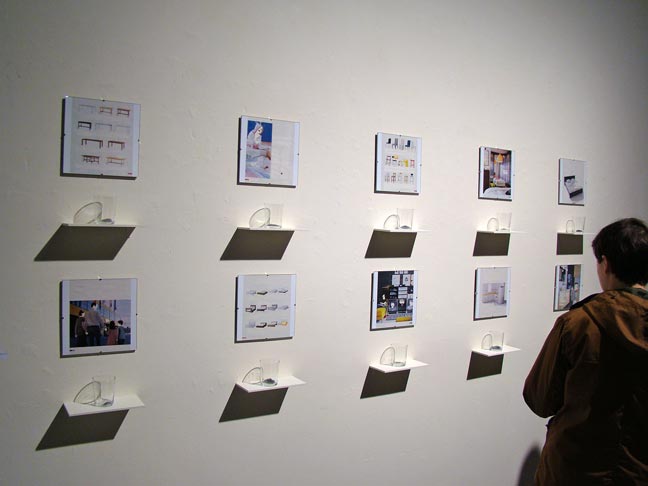 Art.


Installation about homelessness.


Photography.


Paper house whirlwind art.


View upon entering the show.


***
Market Street Gallery: Small Works - Printed Images by the California Society of Printmakers.
Artists: Sandra Beard, Bonnie Randall Boller, Meri Brin, Robert Brokl, Sylvia Buettner, Gary Comoglio, Barbara de Groot, Jessica Dunne, Daisy Eneix, Linda Fillhardt, Joan Finton, Linda Fribley, Jack Jacobson, Aaron Johnson, Dennis Johnson, K Kuster King, Sydell Lewis, Ling Liu, Roberta Loach, Valerie Magee, Kay Marshall, Peter Leone McCormick, Barbara Milman, Donna Orme, Patricia Theobald Payne, Carrie Ann Plank, Jenny Robinson, Deborah Salomon, Robynn Smith, Mercy Smullen, Maryly Snow, Barbara Strikker, Jerry Theobald, Frances Valesco, Lila Wahrhaftig, Linda Yoshizawa.
Review and images by Geoff Smith: This group show features 36 artists and 96 works from members of the California Society of Printmakers, and will be on exhibit through January 2, 2009. The show focuses on smaller works which incorporate hand-pulled (printed) elements as part of the overall images. These images vary widely in subject matter and methods used. Some have digital elements in them, while others use only the traditional, time-honored print media. These include etchings and engravings and other intaglio processes, serigraphs, lithographs, solar prints, photo-print techniques, and relief prints. Most works are priced under $300, and there are also many unframed works included in the exhibition.
One artist I'm familiar with is Jenny Robinson. I have always liked her printmaking work, partially because her subjects are often from within or around London in the UK where I was born, and for me at least, they have dream-like reminiscent qualities about them. Her choice of colors, attention to detail, composition and balance are typically superb.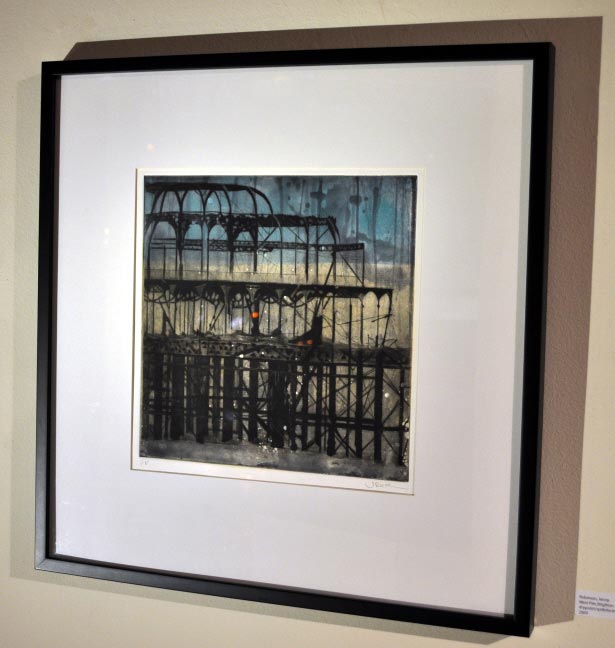 Art print by Jenny Robinson.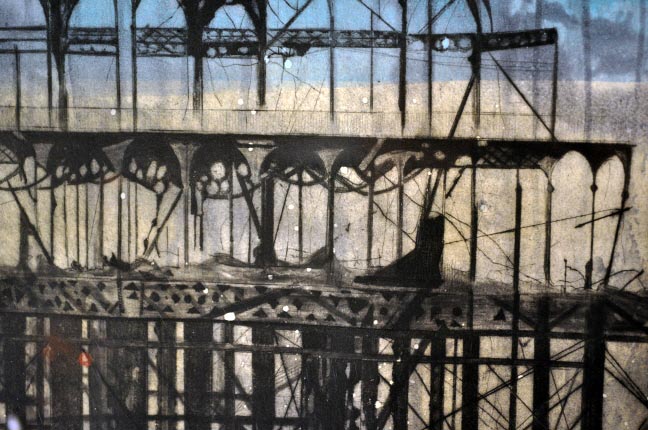 Detail of print by Jenny Robinson in above image.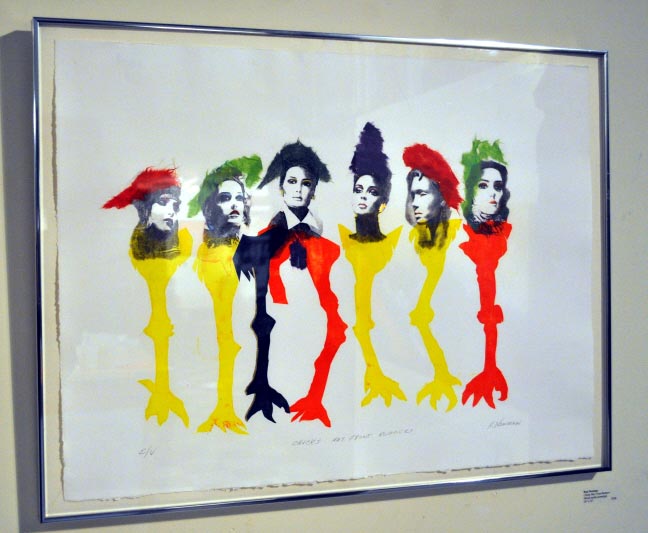 Art by gallery owner Ronald Newman.


Kuba Memory by Peter Leone McCormick, 2009, etching and ink.


Lycian Tomb of Ethanos by Linda Fribley, mixed media & etching, 2009.


Red Lines I by Donna Orme, monotype, and oil pastel, 2006.


Eiffel's Eyeful by Jack Jacobson, aquatint etching, 2009.


***
63 Bluxome Street Gallery: Affordable Art Show.
Artists: Roque Ballesteros, Frank Kozik, Aaron Castro, Clam Lynch, David Choong Lee, Patrick Ma, Jenna Colby, Sho Murase, Sheri DeBow, Isabel Samaras. Audrey Erickson, Erica Steiner, Josh Herbolsheimer, Missy Feigum, Jennie Taylor, Michael Fleming, Kelly Thompson, Lisa Mei Ling Fong, Lil Tuffy Tuffington, Gabriela Halsey, Aiyana Udesen.
Review and images by Geoff Smith: Last summer, this gallery space was created by brothers Clam and Mike Lynch by cleaning out and fixing up a storage area towards the front of the Babylon Burning Screen Printing shop owned by Mike. This show is about the third since the gallery opened. It includes a number of artists featuring affordable local art, and is curated by the brothers Lynch. There is no particular theme to the current show and the art is mixed in type and quality, however, it is affordable, and I particularly like the work by Hugh Leeman and Sheri Debow.
Founder, curator and artist Clam tells me the gallery will soon have its new website up and running and already has three new shows planned for February, March and April 2010 featuring artists Audrey Erickson, Aiyana Udesen, Rouque Ballesteros, Michael Fleming and others. I suggest you put this new gallery on your watch list.
Comment by AB: Affordable alert! All art priced $20-$200. Yo!
Art by Josh Herbolsheimer.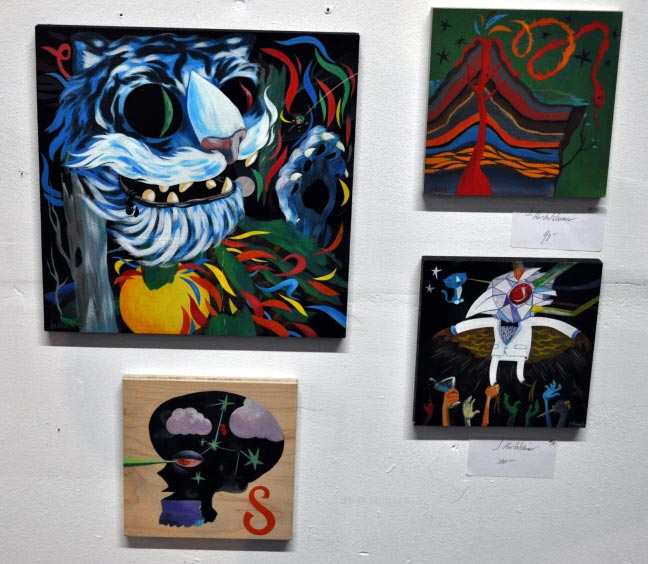 More art by Josh Herbolsheimer.


Art by Hugh Leeman.


Clam Lynch and, to the left, his art (image c/o AB).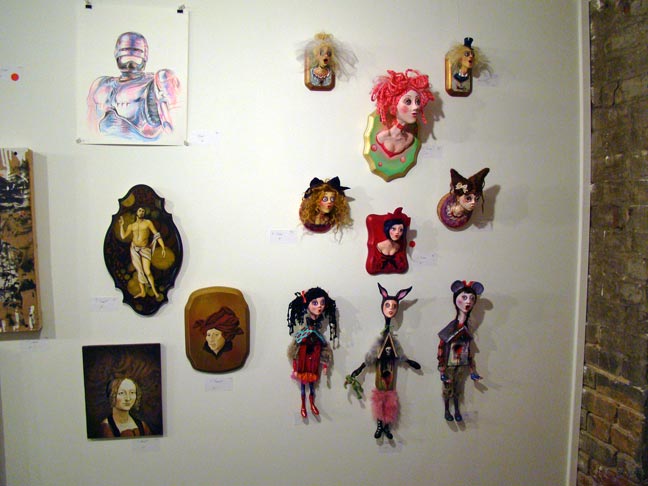 Eerie doll art by Sheri Debow, right (image c/o AB).


Art by Sheri Debow closer.


Art by Sheri Debow closer.


Narwall by Clam Lynch (top right).
Other art (left to right) - Erena Shimoda, Wendy Shapirom Bonnie Atkinson.


Circumstance (image c/o AB).


***
Fivepoints Arthouse: Aesthetic Anarchy - Where Artists Curate the show.
Review and images by Geoff Smith: Fivepoints Arthouse is an artist-run alternative space that seeks to challenge traditional notions of the creative space including how work is selected and displayed. They recently moved from their former location in North Beach to a new location in the SOMA district at 72 Tehama Street near 2nd Street, one block south of Howard Street. Apart from holding art shows, they are continuing their Monday movie night and Wednesday night social studio space activities at the new location.
The format for the current "Aesthetic Anarchy" show allows interested artists to show up the night before the December 11th opening and submit their work without curatorial review. The artists decide what to exhibit, where their pieces go, and how to hang it themselves. According to venue owner/organizer Jason Bryan, participation is decided on a first come first served basis, and submissions are limited to one piece per artist.
Frankly, given the seeming possibility for real anarchy with this approach, I am amazed at how many pieces in totally different styles I found personally appealing and of excellent quality. Perhaps this says as much about issues with the normal approach to curating and organizing shows than anything else. In any case, congratulations to Fivepoints Arthouse for taking a chance and succeeding. There are a considerable number of artists participating and I'm not sure I see them all, but I particularly like the work by Dan Cope, Anna Efanova, Resh Sandhu, Barb Traub, Sarah Pedlow, Paul Konzen, Weiyan Ma, Howard Whitehouse and Richard Linder.
Blue Girl by Barb Traub.


Budapest Metro with Stitching by Sarah Pedlow.


Strangers by Paul Konzen.


Woman & Glasses by Weiyan Ma.


Mobacracy by Howard Whitehouse and Richard Linder.


Detail of Mobacracy by Howard Whitehouse and Richard Linder.


Terra Bird by Resh Sandhu.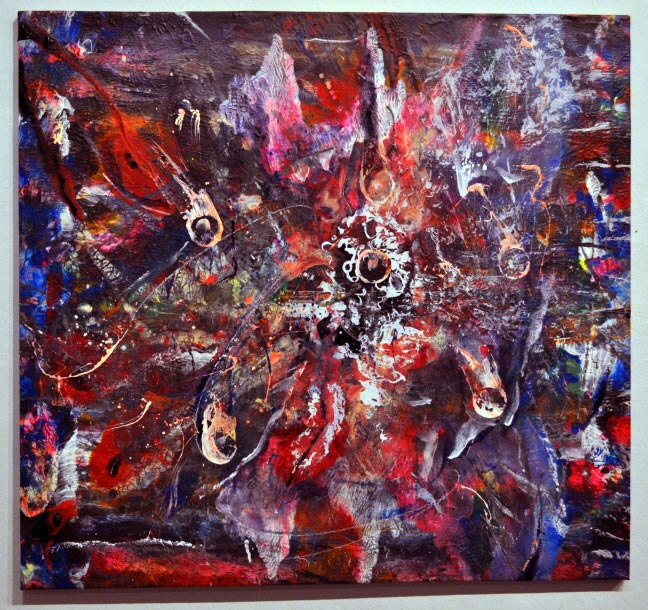 Magenta Gazelle Fatigue by Dan Cope.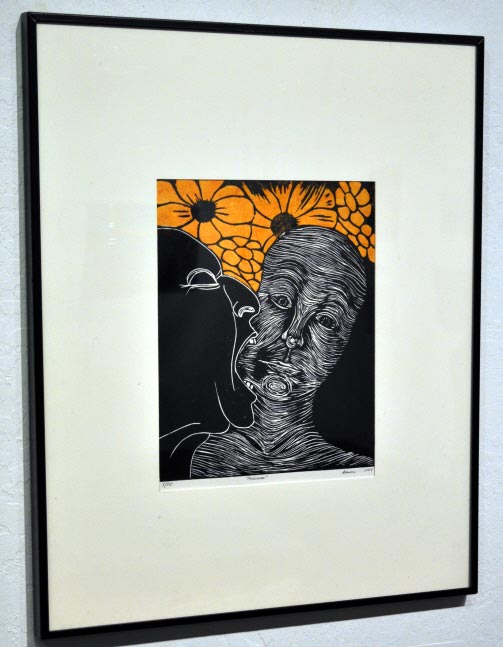 Possession by Anna Efanova.


***
Addendum:
The Art of Prince by Anthony Malzone at San Francisco Art Exchange.


Anthony Malzone's Art of Prince at San Francisco Art Exchange.


Art of Prince by Anthony Malzone at San Francisco Art Exchange.


Turnout for The Art of Price at San Francisco Art Exchange.


Oppobrium, installation by Toban Nichols at Adobe Books Backroom Gallery.


One more from Toban Nichols' Oppobrium at Adobe Books Backroom Gallery.


***