HOSFELT - MARX & ZAVATTERO - NEEDLES & PENS - ARTISTS ALLEY

ROOT DIVISION - QUEENS NAILS - SHOOTING - GALLERY THREE

WHITE WALLS - MEDICINE AGENCY - FEMINA POTENS

(with assistance from Harry J. Johnson and RWM)

12.12-13.09



Hosfelt Gallery: Arngunnur Yr - Distant; Nelleke Beltjens - Apparently.
Comment by AB: Raw expansive oil on panel Icelandic landscape paintings by California resident and Iceland native Arngunnur Yr evolve into abstracts when you zoom in for a textural inspection. Nelleke Beltjens's intense meta-punctilious and painstaking drawings are definitively about the process. Sans context, your dinner guests will be left scratching their heads, though then again, they may well be anyway. On second glance, Beltjens' imagery reminds me a bit of those starling swarms you see on the news from time to time. One thing for sure-- she's dedicated to the cause, and there's plenty to be said for that.
Art by Arngunnur Yr.


Painting by Arngunnur Yr.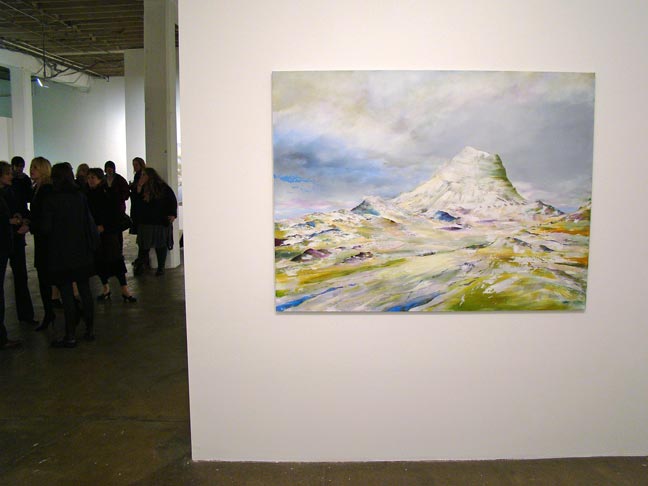 Arngunnur Yr art.


Art by Arngunnur Yr.


Art by Nelleke Beltjens.


Nelleke Beltjens art.


Pinkie cam detail of art by Nelleke Beltjens.


Nelleke Beltjens art.


***
Marx & Zavattero Gallery: Situation Critical - Taravat Talepasand.
Comment by AB: Iranian-American artist Taravat Talepasand uncompromisingly essays on what it's like to be from there and live here, not only in attempts to reconcile various disparities within herself, but also hopefully to bring us all ever so incrementally closer together. These days, one can only hope that such noble endeavors are still possible. Pretty potent stuff. Worth a look.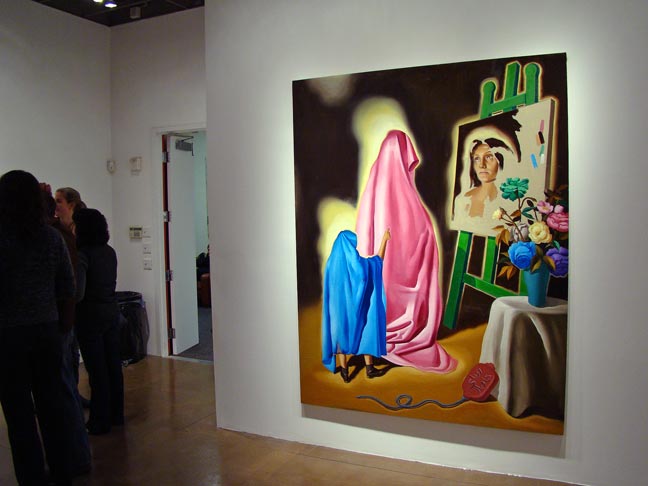 Art by Taravat Talepasand.


Taravat Talepasand art.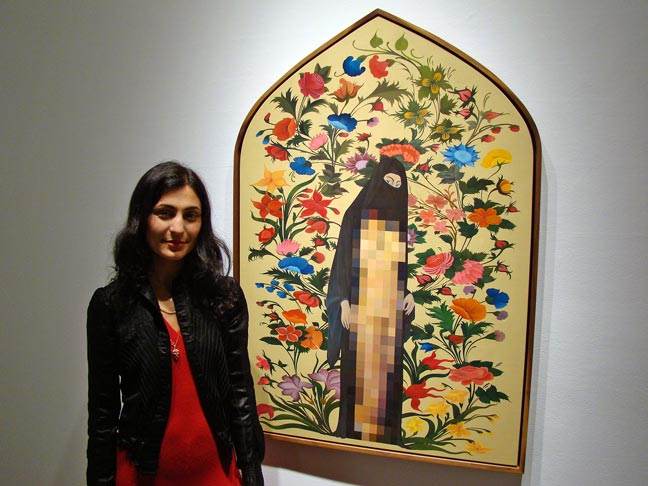 Taravat Talepasand and her art.


Art by Taravat Talepasand.


Painting and drawing by Taravat Talepasand.


Long view.


***
Needles & Pens: ~ 25¢ ~ A 2010 Calendar Release & Art Exhibition by Sara Thustra.
Comment by AB: Classic Sara Thustra hootenanny features vending machines that dispense art for-- you guessed it-- 25¢.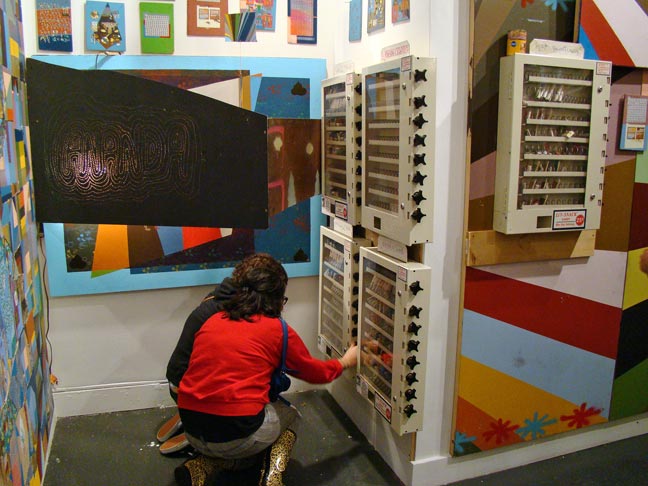 Art & art dispensing vending machines by Sara Thustra.


Art by Sara Thustra.


The big picture - art by Sara Thustra.


***
Root Division: The UndeR 100 H Sale.
Artists: Carlo Abruzzese, Aerosthetiks, Myla Baker, Will Barclift, Bathing in Luxury, Elisheva Biernoff, Nicholas Bohac, Elizabeth Cayne, Alice Clemans/Wayward Seamstress, Coma and Cotton, Curlew Artisan Candles, The Crow's Nest, Lauren Davis, Claire Droney, Minh Duong, Estudio Martita, Adam Friedman, Erin House, Peter Jacques, Funky Lotus Jewelry, Avy Jetter, Margo Jones, KennaKristine, Nicholas Kulick, Kendra Renee Lawrence, Gabrielle, Lessard/Mangosteen Jewelry, lookwhatimade, Dana Levitt, Michelle Mansour, Vanessa Marsh, Michele de la Menardiere, Randall Miller, Deneane Niebergall, Ramekon O'Arwisters, Phoenix Zoellick / Pixiebird, Kendra Renee Jewelry Design, Rebecca Richards, Megan Patrice Riley, Daphne Ruff, Maureen Shields, Jamie Spinello, Lauren Summers, Blake Tucker, Ben Venom, Jen Waldhaus/REVERE Collection, Keef Ward, Laurie Wilson.
Comment by AB: Art, craft and goodies galore are for sale at this one-night holiday gift acquisition extravaganza. And get this-- nothing over $100. My faves? Cloudscapes by Vanessa Marsh and paintings with collage by Maureen Shields.
Cloudscape art by Vanessa Marsh.


Paintings with collage by Maureen Shields.


Art.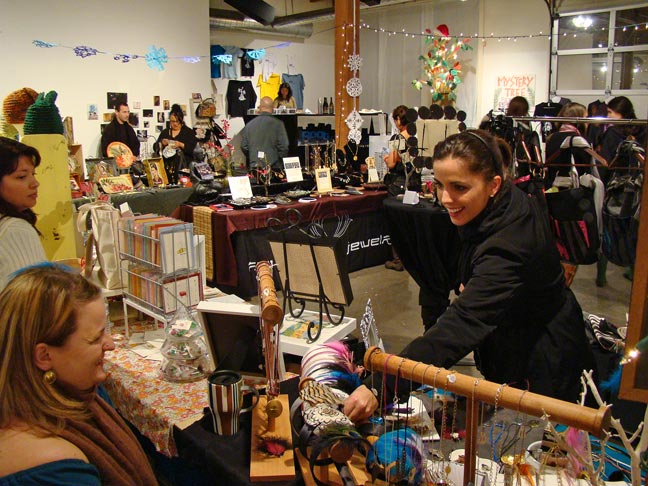 The basic idea.


***
Queens Nails Projects: Back to Front - Luke Butler, Christina Empedocles, Jason Kalogiros, Maggie Preston.
Comment by AB: A modest yet quality exhibition showcasing the artists who work in the studios at the back of the Queens Nails Projects. The zenith? A killer wax pencil drawing of hummingbirds by Christina Empedocles.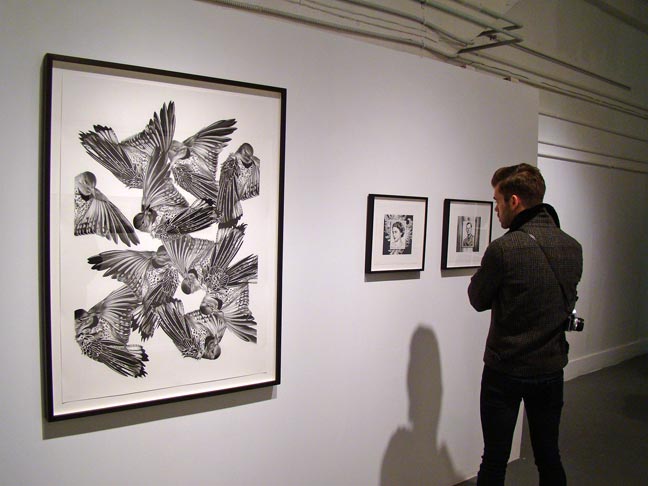 Hummingbirds & other art by Christina Empedocles (pick).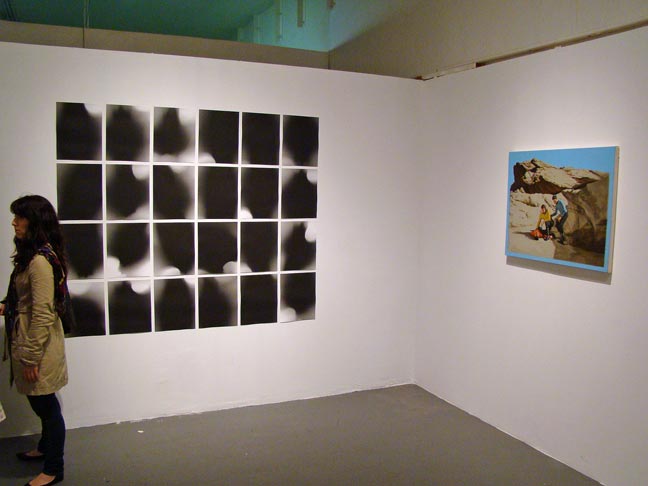 Art by Luke Butler, right - Jason Kalogiros, left.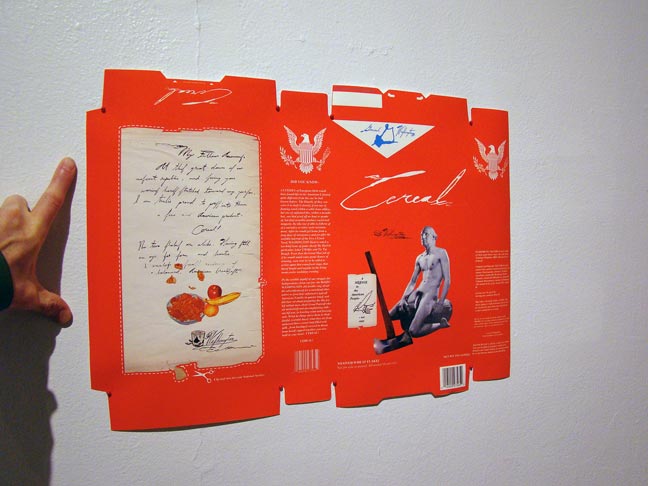 Digital montage by Luke Butler.


Photography by Maggie Preston.


Census.


***
The Shooting Gallery: Lifetime Companions - New works by Travis Louie.
Comment by AB: Travis Louie continues to amaze with his seemingly sedate plays on classic Victorian portraiture, but which upon inspection range from curious to peculiar to outlandish to completely bizarre. But wait; there's more. Louie includes detailed written descriptions of each and every one of his subjects. Yo! The dude is in a class by himself. Like 'em.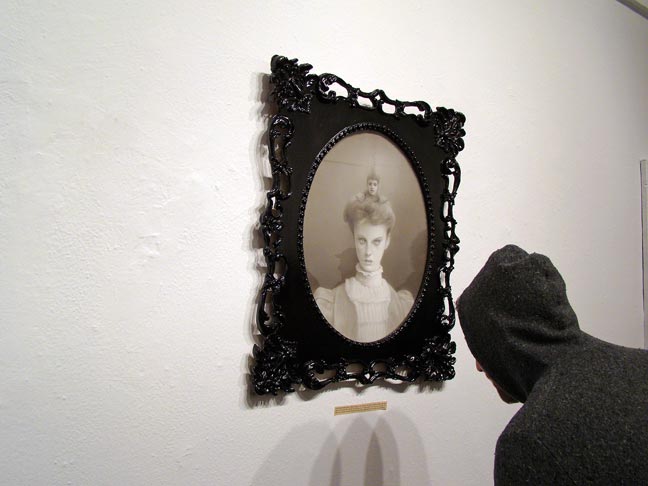 Art by Travis Louie.


Art by Travis Louie.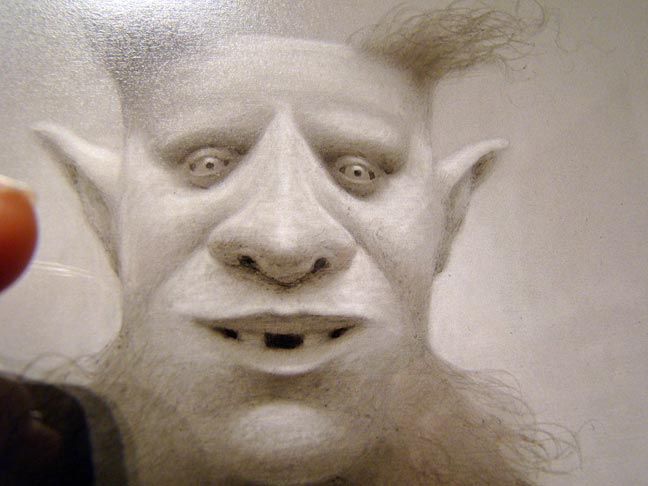 Pinkie cam detail of art in above image by Travis Louie.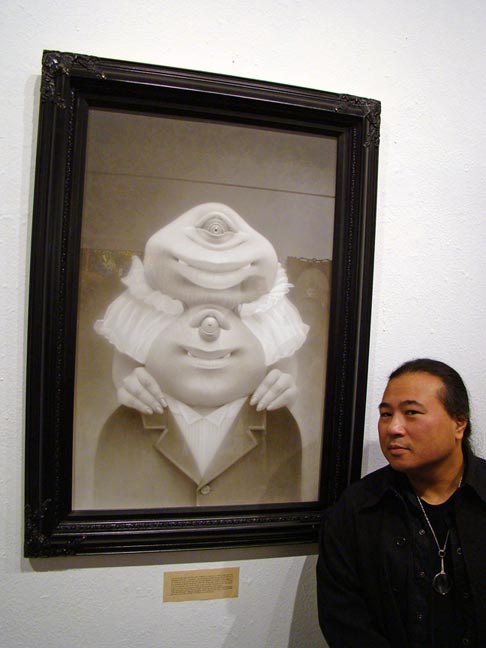 Travis Louie and his art.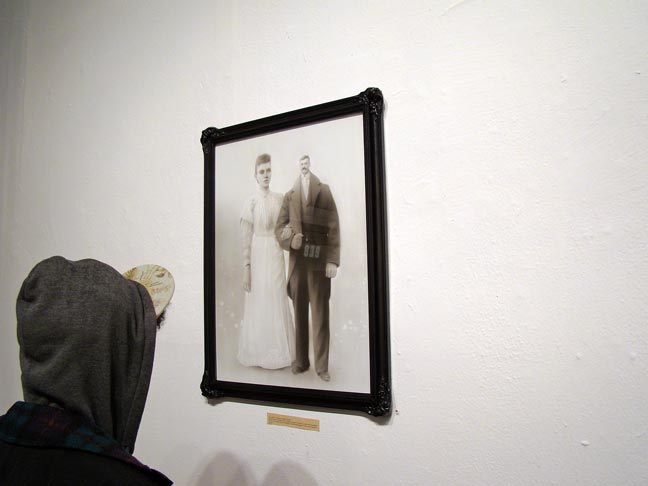 Travis Louie art.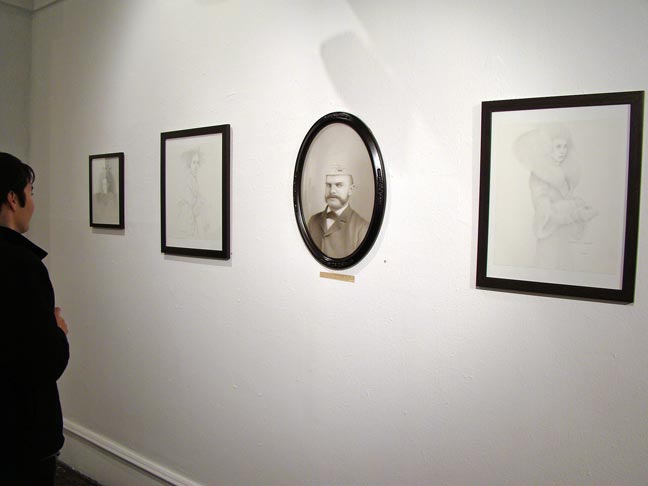 Art by Travis Louie.


Art by Travis Louie.


***
White Walls Gallery: Winter Group Show - New works by over 30 Artists.
Artists: Kill Pixie, Alex Kopps, Greg Gossel, Cody Hudson, Katy Horan, Rich Jacobs, Thomas Campbell, Ernesto Yerena, Timothy Karpinski, Nas Chompas, Mark Warren Jacques, Erik Foss, D Young V, Antistrot, Aaron Nagel, Robert Burden, Becca, Casey Gray, Lance Strongheart, Joshua Petker, Henry Gunderson, Anthony Lister, Mercedes Heinwien, Clayton Brothers, Akira, Mike Shine, Phillip Lumbang, Fanee, Shepard Fairey.
Review and images by Harry J. Johnson: Akira Beard is one of the 30 artists exhibiting at the White Walls gallery. He lives in the Sunset District and works part time with Art for Elders, which offers art experiences to older adults. He received his BA in 2004 from the Academy of Art in Fine Art, Painting and Drawing and has returned there to teach fashion illustration.
His 10 small framed mixed media works are displayed in two stacks of five. "These are from my reflections and deconstruction of culture, juxtaposing one area of culture to another," says Beard. "That's why I placed a necktie on the Jimi Hendrix image, who was really more of a free spirit." He adds that sometimes young artists have to take day jobs that require wearing more formal attire and are refocused on everyday employment, which can take them away from their work in fine art, sometimes completely.
Using the image of Albert Einstein, Beard has painted a t-shirt with the word POP. "Einstein was very focused, more inside than outside-- he lived up to his capabilities," said Beard. "He didn't focus on being cool, he consistently wore one type of clothing style. If he would have tried to be cool he may have not have reached potential." This relates to young people today, he continues, and about how they don't reach their potential, being distracted with iPods and other popular trends.
Philip Lumbang is showing three works and one collaboration at White Walls, two of which have sold. He lives in Los Angeles and studied graphic design at the San Francisco Art Institute. "I grew up in front of TV and was influenced by Hanna-Barbera. I've drawn everything from robots to Ninja warriors," Lumbang tells me. His works have simple images of Yogi Bear, with LA and San Francisco baseball logos on their shirts.
"I paint the bare minimum and very bold in gouache on watercolor paper." says Lumbang. "I created this one on plywood because I like working with raw materials-- painting on plywood is sort of like painting on art."
Lumbang also collaborated on a work with fellow artist Ernesto Yerena called 'Gamas, Bear of the Dead.' "I sent out templates to other artists, which is a good artistic way to collaborate, but I received just one response, from Yerena. He used a Day of the Dead theme." Yerena also has three other pieces in the exhibit. Lumbang adds that he met Yerena while working at the Obey Giant art studio in San Francisco, which produced the well known Obey posters, posted rent-free around the city. The studio is known mainly for Shepard Fairey, a prolific artist who produced the famous Obama posters for the 2008 Presidential election. Fairey also has two pieces in the White Walls show.
Philip Lumbang and his art.


Akira Beard adjacent to his art.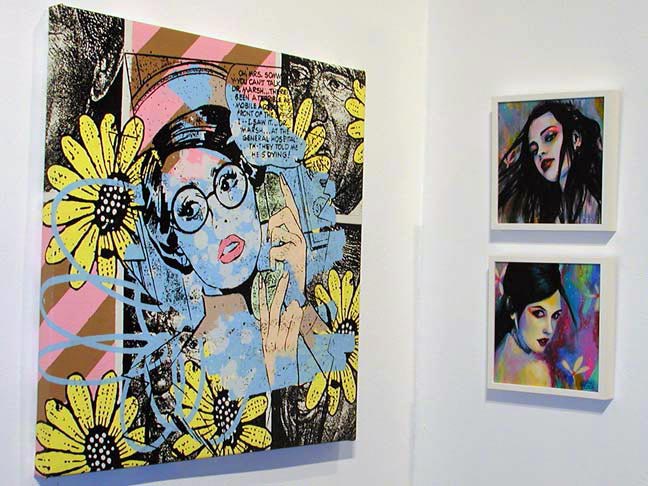 Art by Greg Gossel, left - Joshua Petker, right.


Art by Ernesto Yerena.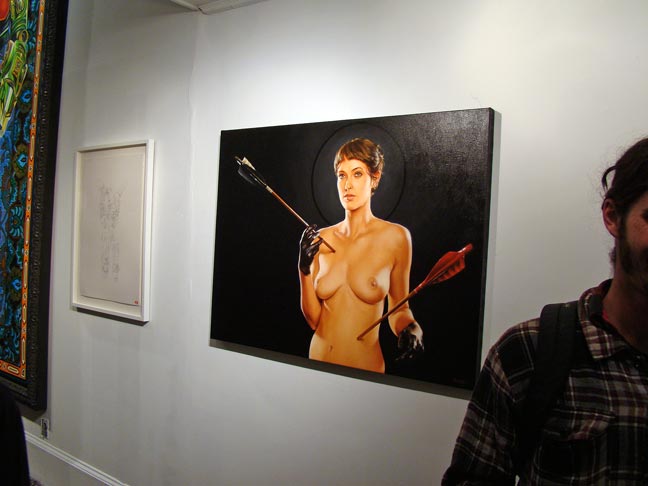 Aaron Nagel nude art (image c/o AB).


Big-ass droid art by Robert Burden (image c/o AB).


Art (image c/o AB).


***
Gallery Three: Sweatin' to tha Oldies - New works by Fanee.
Review and images by Harry J. Johnson: Gallery 3's show, Sweatin' to tha Oldies, is composed of small framed works depicting erotic images of women. This is the second solo show by Fanee, a local artist who lives in The Mission. The works are based on photos that have been removed from porn and fashion magazines, outlined in black ink and further illustrated using oil-based pens. These provocative mixed media works have penned messages written directly on the photos, in English with some Spanish, partially based on '50s to '70s pop music oldies and other suggestive themes.
"I used to enjoy the oldies, but had lost interest until a friend got me listening again," says Fanee. Samplings of the text written on the arms, legs and other body parts of the female images are: "My world is empty without you, babe," "I wanna give you my gato peligroso [dangerous cat]," "He'll have a dipstick of fun" and "This year my gift is in my stockings ... Feliz Navidad." The artist, who hails from Indianapolis, adds "I fell in love with the Hispanic culture when I lived in the Pilsen district of Chicago. I have drawn since I was a kid, with my parents' encouragement." She attended Parsons art school in Manhattan, later at earned a BFA from Chicago School of the Art Institute and now works as a production artist for a prominent advertising agency.
Art by Fanee.


Art by Fanee.


Fanee and her art.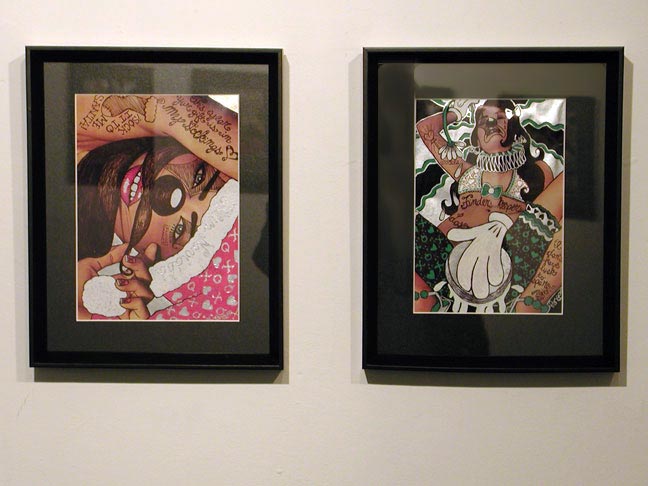 Art by Fanee.


Art by Fanee (image c/o AB).


Stairway up to Gallery Three (image c/o AB).


***
Medicine Agency: Mandala Grin Jigsaw Puzzle Release - Ron English.
Comment by AB: According to the proclamation, "Tools of the Trade" presents this 24 by 24 inch 1000-piece jigsaw puzzle with art by "one of the greatest American artists of all time," Ron English. As if that's not enough, he's arted up an entire wall of the gallery with his rendition of Picasso's Guernica. Special added bonus-- English is here in person signing and inscribing all purchases.
Jigsaw puzzle with art by Ron English.


Ron English, right.


Ron English fashion and other merchandise.


Demographics with Guernica revamp by Ron English.


Ron English Guernica revamp closer.


***
Femina Potens: Sexecology - Making Love with the Earth, Sky and Sea - Annie Sprinkle and Elizabeth Stephens.
Review by RWM: How wondrous, fun, and visual. On display is a wonderful new and sexy perspective which posits that Nature should not be viewed as a dangerous "Other" or as an overworked "Mother," but instead as a lover. The Sexecology Movement will gain followers and not necessarily notoriety. The shy may be inhibited by some of the brash revelations shared here, but here is a new alternative inroad in our relationship with the Natural World. Not quite holy, but instead expressive and more interactive. Paintings, photographs, and collages are displayed-- some pretty erotic. Thank you Annie Sprinkle, Elizabeth Stephens, and Femina Potens for making this alternative possible and fun.
Sorry-- no pics.


***
Addendum:
Vera Arutyunyan, exhibiting here at The Artists Alley, tells me her prices skyrocketed after her show at the Louvre. Curious about that statement, I do a quick online search and find a poster for sale on eBay advertising a show of Arutyunyan's art from June 6-7, 2009 at place called "Carrousel du Louvre," a large mall beneath the Louvre Museum. (They're not affiliated with the Louvre Museum, but apparently you can see the base of the Pyramide du Louvre from one wing of the shopping center). Case closed.


***