***

Get your art fix fast: Instagram @alanbamberger
***
Untitled, San Francisco at The Palace of Fine Arts: Untitled Art Fair 2018
Exhibitors: Allouche Gallery, Andrew Kreps Gallery, Anglim Gilbert Gallery, Anita Beckers, Artadia, Artists' Television Access, Aural Galería, Berkeley Art Museum and Pacific Film Archive, Casemore Kirkeby, Catinca Tabacaru | New York - Harare, CCA Wattis Institute for Contemporary Arts, Chambers Fine Art, Chinese Culture Center of San Francisco, Clima, David Zwirner, DENK Gallery, Denny Gallery, Eduardo Secci, Eric Firestone Gallery, Fort Gansevoort, Freight + Volume, Galerie Richard, GAVLAK INSTITUTO DE VISIÓN, Interface, Jane Lombard Gallery, Jenkins Johnson Gallery, Kunsthall Stavanger, Luis De Jesus Los Angeles, MKG127, moniquemeloche, narrative projects, NF/ NIEVES FERNANDEZ, OCHI PROJECTS, onestar Paris, Overduin & Co., Piero Atchugarry, PRIVATEVIEW, Prosjektrom Normanns, R/SF projects, re.riddle, Rogaland Kunstsenter, SOMArts Cultural Center, Southern Exposure, The Hole, Tina Kim Gallery, Todd Merrill Studio, Traywick Contemporary, Workshop Residence, Zilberman Gallery.
Comment by AB: So OK. Here's the deal. Art fairs are not about Show & Tell; they're about Show & Sell. No matter what the art fair or where it is, galleries participate for one main reason... to sell art. They are not there for entertainment purposes only; they are not charitable organizations; they are not museums; they are not chat rooms; they are businesses. Selling art is how they survive. If they don't sell art, they can't survive. Are you with me so far? Good.
Galleries that participate in art fairs invest thousands, tens of thousands, or sometimes even more dollars than that. The more ambitious and adventurous among them are willing to travel many thousands of miles in order to exhibit at art fairs around the world. Preparations include making travel and hotel reservations, car and van rentals, figuring out local transportation, planning meals, learning to navigate unfamiliar places, and much more. They carefully select whatever art they think will do best at the fair, deal with insurance and customs requirements, professionally pack and ship everything, unpack it when it arrives, hang or display it for however long the fair lasts, take down whatever's left when the fair ends, repack it, ship it back home, unpack it and put it back into stock (aka a whole lotta hard labor).
Working an art fair is a grueling experience from beginning to end. The rigorous schedules and long hours are intense, strenuous, exhausting and require huge amounts of energy, planning, dedication, focus, interpersonal interactions and more. In spite of all this, galleries that do art fairs believe so deeply in the art and artists they represent that they move forward regardless. They feel that collectors the world over not only deserve to see that art and get to know the artists, but also have opportunities to buy. Through it all, they hope and pray that they'll generate at least enough in the way of sales during an art fair to break even. For those of you keeping score at home, breaking even at an art fair is generally considered good.
Now if we here in San Francisco ever expect to become a national or international art center, we'd better start supporting our art fairs. That means buying art. Galleries that don't turn profits don't come back. Art fairs that can't attract enough participating galleries evaporate as well. It's that simple and no more complicated. Galleries and art fair producers both here and abroad believe in our city, our region and our people. Perhaps it's time to start believing in them back.
If we don't, we'll continue to have exactly what we've been having for way too many years now-- a revolving door of art fairs and exhibitors that try us once or maybe twice, never to return again. San Francisco's future as an art hub depends on the people who live here. One successful art fair begets another and another and so on... to the point where galleries the world over will eagerly anticipate the next exciting opportunity to strut their stuff in our hometown. That would be nice, wouldn't it? Sure beats the alternative.
The same goes for supporting our area galleries by the way, but that's another story. Maybe next time.
Oops. Got a little sidetracked there. The second installment of Untitled, San Francisco was every bit as good as the first, maybe even better. Once again, we had an opportunity to see art, artists and galleries from around the world that we rarely have a chance to experience. Looking forward to installment #3 next year. And now for the visuals...
Art by Johnny Abrahams at The Hole - Untitled, San Francisco 2018.


John Marriott sculpture at MKG127 - their art catered to tech buyers.


Cosmic Joan Brown art at Anglim Gilbert.


Remarkable hand-embroidered "painting" by Kyungah Ham at Tina Kim.


Pinkie cam detail of art in above image. Love it.


100% Oscar Murillo art at David Zwirner.


Acrylic painting by Oscar Murillo at David Zwirner (about 23 by 47 inches).


Brendan Fernandes blank black book installation at moniquemeloche.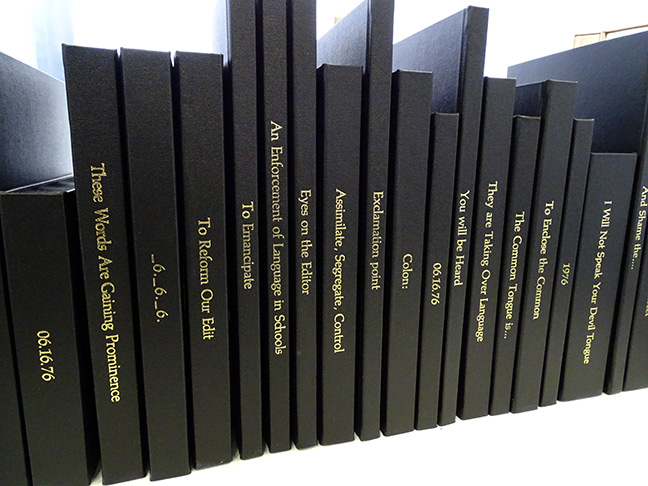 Detail of book art above - inspired by 1976 South African student protests.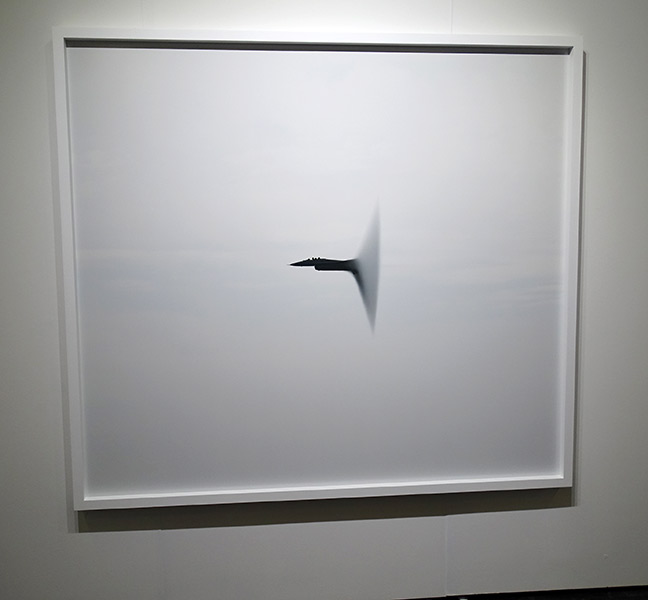 Art by Andrea Galvani at Eduardo Secci. Like it.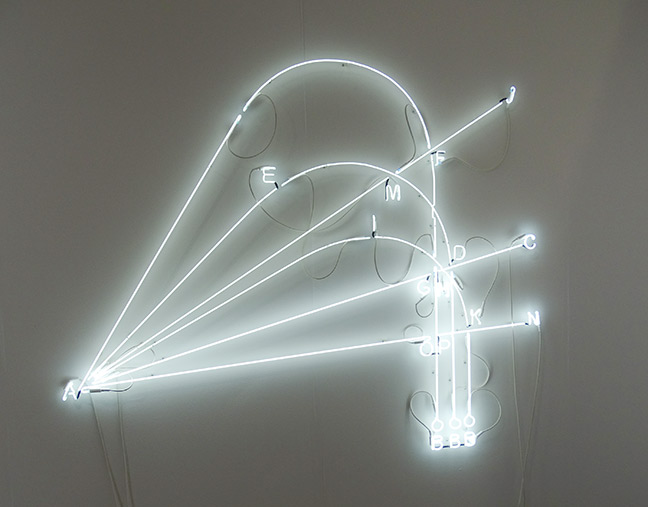 Neon art by Andrea Galvani at Eduardo Secci. Like it.


Paper plant, vase & edibles installation by Daniel Gordon at onestar press.


Detail of art in above image. Nicely done.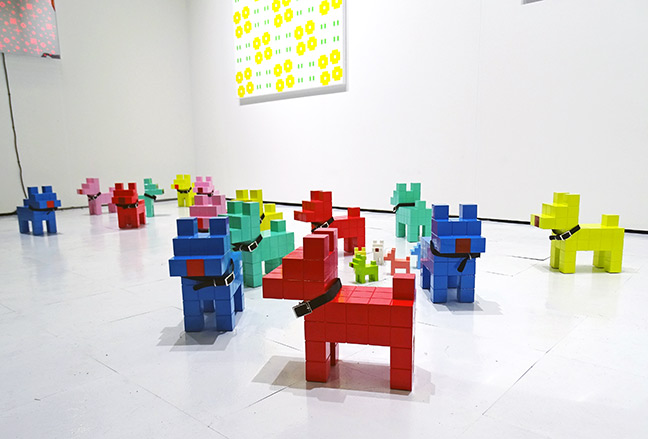 Cubic arf art by Shinji Murakami at Catinca Tabacaru.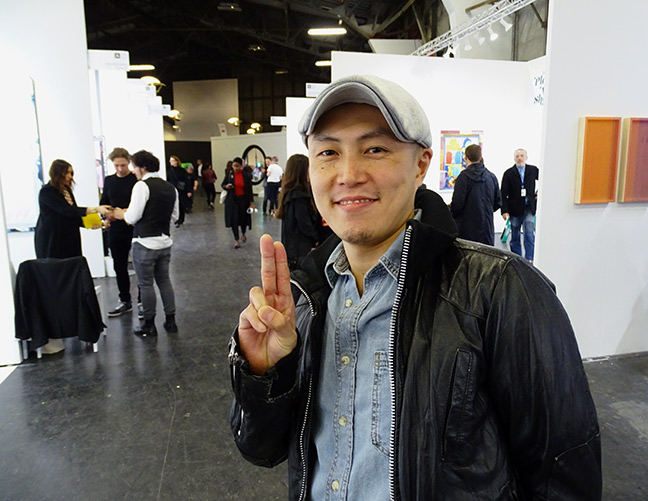 Shinji Murakami at Untitled, Art - San Francisco 2018.


L-R, art by Howard Kanovitz & Joe Overstreet at Eric Firestone.


Contemplation station by Hadar Kleiman at R/SF Projects.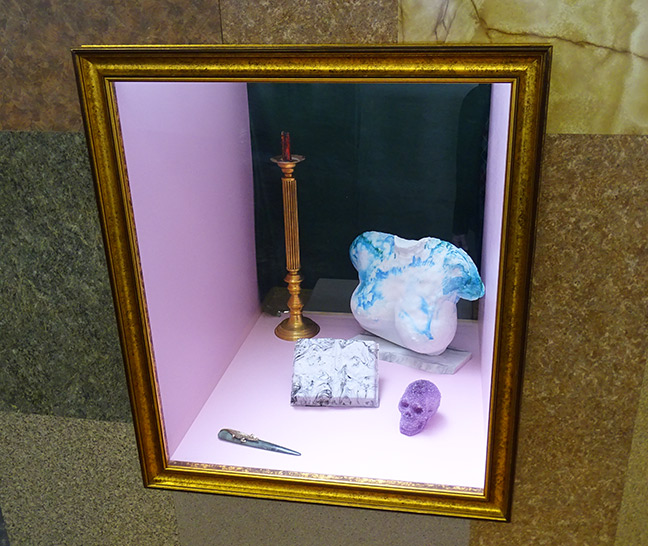 Detail of installation in above image.


L-R, art by Carl Fudge & David Ryan at Galerie Richard.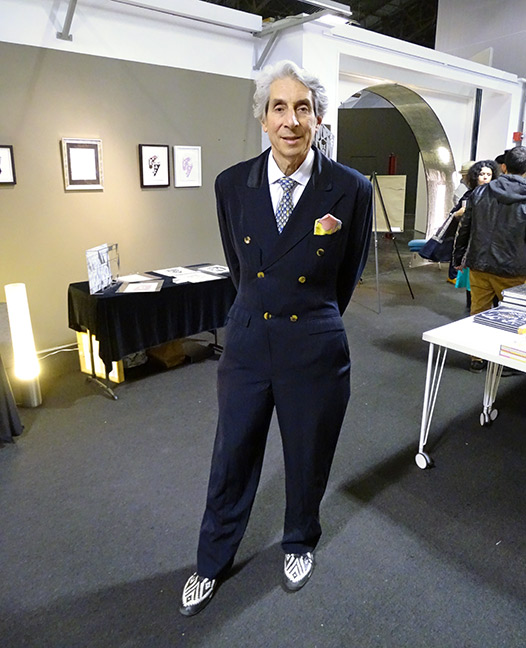 Artist Perrin Lam sports a vintage one-piece John Paul Gaultier suit.


Sculpture by João Maria Gusmão & Pedro Paiva at Andrew Kreps.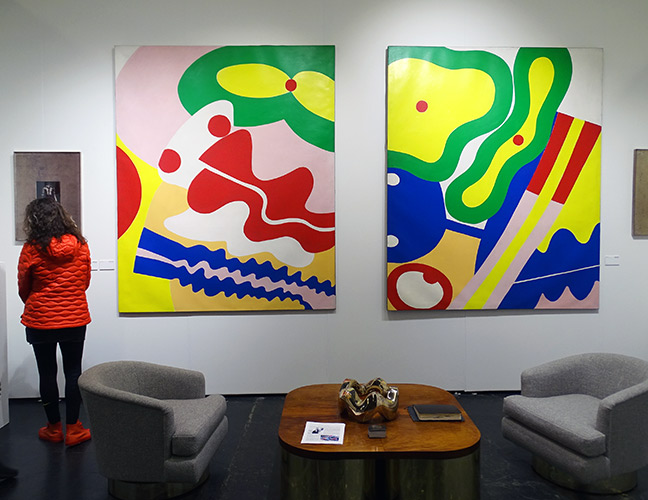 Art by Knox Martin at Todd Merrill.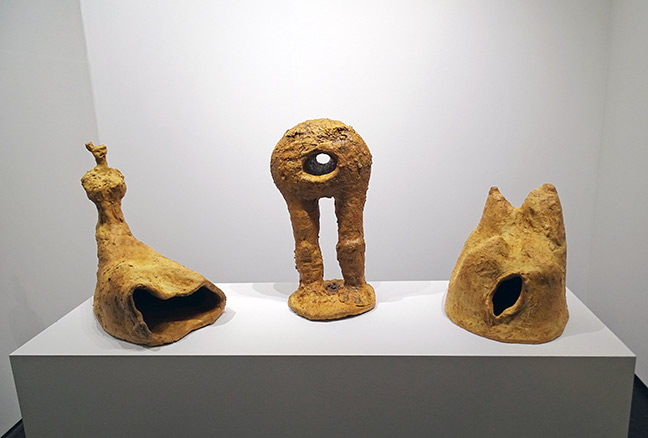 Earthy art by Odd Sama at Rogaland Kunstsenter.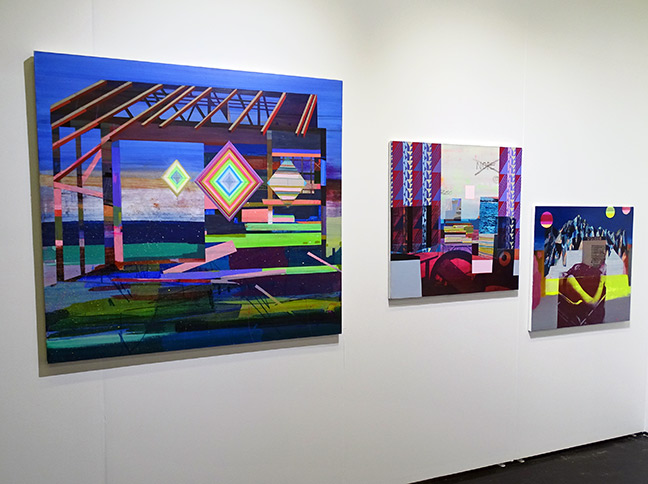 Kristen Scheile art at Freight & Volume.


Statistical sample - Untitled Art Fair, San Francisco 2018.


***