<< Back to San Francisco Gallery Openings Reviews
Upcoming San Francisco Gallery Openings Calendar >>
***

Get your art fix fast: Instagram @alanbamberger
***
Fog Design + Art at Festival Pavilion, Fort Mason: 2016 Preview Gala
Exhibitors: ADN Galería, México City; Altman Siegel Gallery, San Francisco; Anthony Meier Fine Arts, San Francisco; Cristina Grajales Gallery, New York; Crown Point Press, San Francisco; David Gill Gallery, London; David Kordansky Gallery, Los Angeles; David Zwirner, New York; Demisch Danant, New York; Edward Cella Art + Architecture, Los Angeles; Fraenkel Gallery, San Francisco; Friedman Benda, New York; Galerie kreo Paris; Geoffrey Diner Gallery, Washington, DC; Gladstone Gallery, New York; Haines Gallery, San Francisco; Hosfelt Gallery, San Francisco; Hostler Burrows, New York; Industry Gallery, Hollywood; Jason Jacques Inc., New York; Jessica Silverman Gallery, San Francisco; John Berggruen Gallery, San Francisco; Lebreton Gallery, San Francisco; MACCARONE, New York City; Magen H Gallery, New York; Maison Gerard, New York; Marian Goodman Gallery, New York; Matthew Marks Gallery, New York; Obsolete / SLETE Gallery Culver City; Ornamentum, Hudson; PACE ART + TECHNOLOGY, Menlo Park; Patrick Parrish Gallery, New York; R & Company, New York; Ratio 3, San Francisco; Reform Gallery, Los Angeles; Rena Bransten Projects, San Francisco; Salon 94, New York; Seomi International Los Angeles; Sienna Patti, Lenox; Todd Merrill Studio Contemporary, New York; Wexler Gallery, Philadelphia; Winston Wächter Fine Art, Seattle; Yossi Milo Gallery, New York.
Comment by AB: Fog Design + Art started out as pretty much of an equal balance between fine and decorative arts. Now art seems to have taken over, and the number of exhibitors to have at least doubled, every last one of them quality. The upshot? The fair is better than ever, definitely worth attending, and a great opportunity to see top-shelf works of art, design, furnishing and decoration rarely displayed and available for purchase right here in good old Ess Eff.

Goran Djurovik art at Obsolete / SLETE at Fog Design + Art (like it).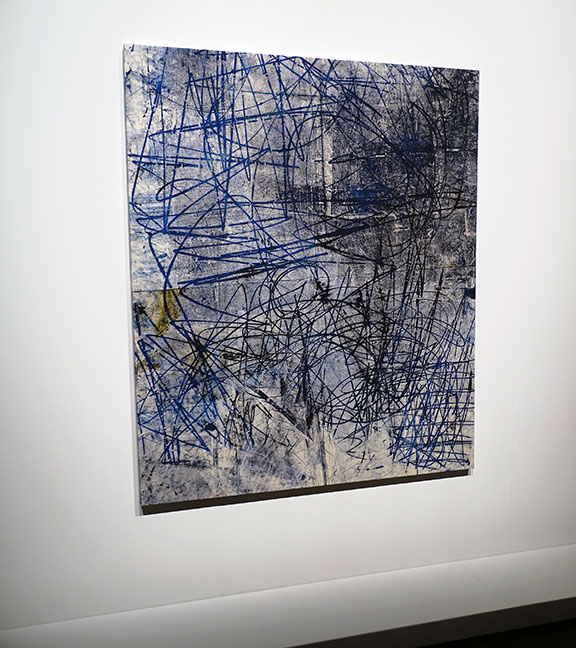 Art bo Oscar Murillo at David Zwirner.


Vik Muniz photo blow-up collage at Rena Bransten Projects.


Golden Gate Bridge collage by Vik Muniz in above image closer (like it).


Non-functional sculpture by Tom Sachs at Salon 94 (like it).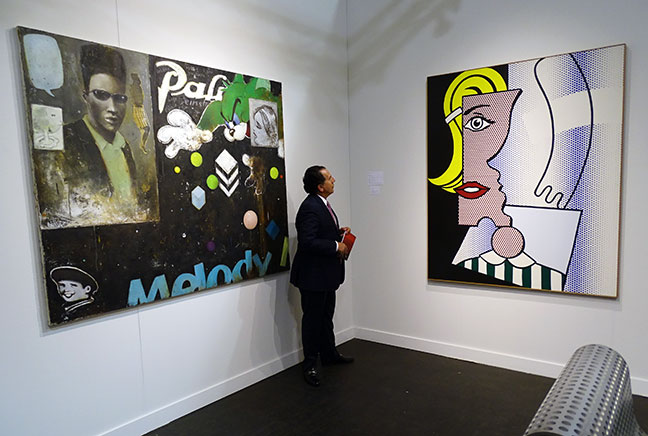 L-R, art by Ransome Stanley & Roy Lichtenstein at Geoffrey Diner.


Woven art by Alighiero e Boetti at Gladstone Gallery.


Pinkie cam detail of woven art in above image (well done).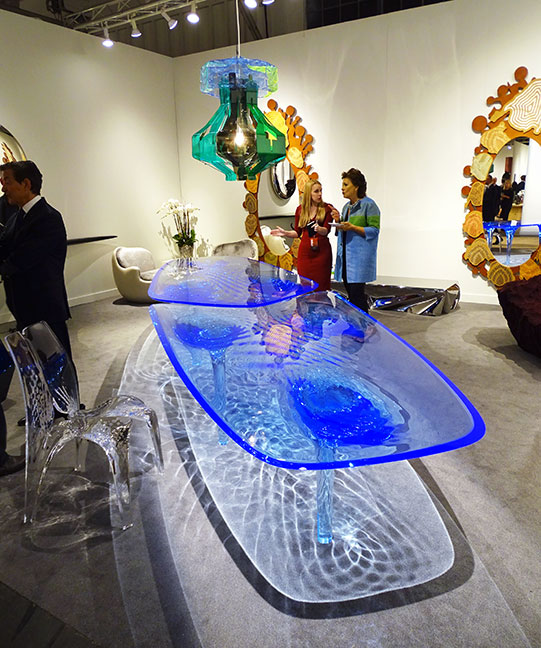 "Liquid glass" dining table looks like water - Zaha Hadid at David Gill.


Urban-themed ceramics by Robert Lugo at Wexler.


Over-the-top silver mosaic armchair by Alessandro Mendini at kreo.


Detail of sumptuous armchair in above image (limited edition of 8).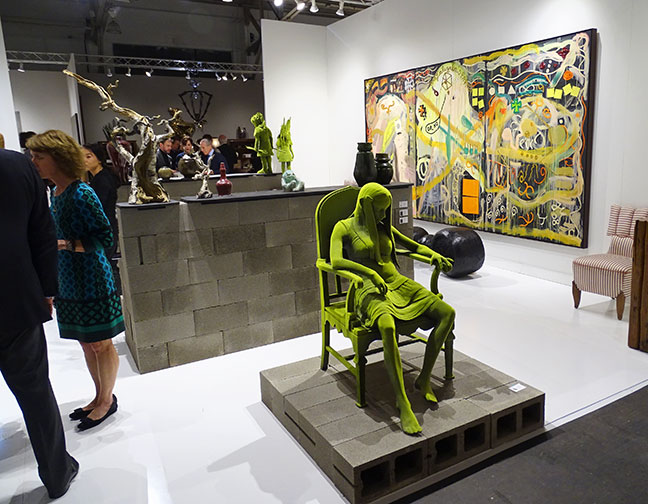 Green lady by Kim Simonsson, painting by Jonathan Meese at Jason Jacques.


Tear-off tab flier immortalized by Nicole Wermers at Jessica Silverman (nice).


De Stijl updates by Suzanne Blank Redstone at Jessica Silverman (like 'em).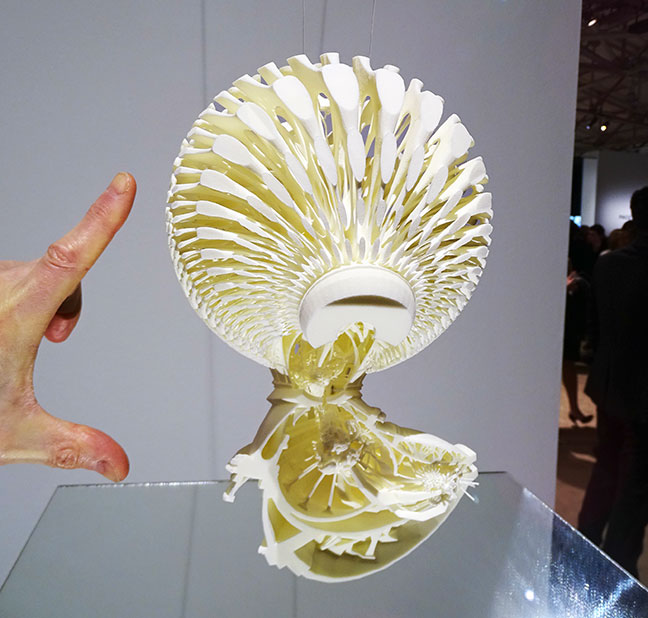 Impressive laser cut sculpture by Tobias Klein at Industry Gallery.


Colorful columns by Annie Morris at Winston Wächter.


Exceptional attendance - Preview Gala at Fog Design + Art.


***