***

Get your art fix fast: Instagram @alanbamberger
***
FOG Design+Art at Fort Mason Center, Festival Pavillion:
Exhibitors: Altman Siegel, Andrew Kreps Gallery, Anthony Meier Fine Arts, Berggruen Gallery, Blum & Poe, CONVERSO, Crown Point Press, David Gill Gallery, David Zwirner, Demisch Danant / Luxembourg & Dayan, Fergus McCaffrey, Fraenkel Gallery, Gagosian, Galerie Chantal Crousel, Gallery FUMI, Gladstone Gallery, Haines Gallery, Hauser & Wirth, Hosfelt Gallery, Hostler Burrows, James Cohan, Jason Jacques Gallery, Jenkins Johnson Gallery, Jessica Silverman Gallery, KARMA, Kasmin, kurimanzutto, Lebreton, Lehmann Maupin, Levy Gorvy, Luhring Augustine, Magen H Gallery, Marian Goodman Gallery, Matthew Marks Gallery, Mercado Moderno, Nathalie Karg Gallery, Nicholas Kilner, Pace Gallery, Patrick Parrish Gallery, Paula Cooper Gallery, Perrotin, R & Company, Ratio 3, Reform/The Landing, Sarah Myerscough Gallery, Sprüth Magers, Tina Kim Gallery, Volume Gallery.
Comment by AB: The good news at FOG Design+Art this year is really good, namely that with each consecutive iteration, more and more top-tier art galleries are setting up shop and displaying their wares. Putting on my art analyst hat for a moment, and knowing galleries as I do, the only logical conclusion I can come to is that word is out among dealers in high-end art that San Francisco is worth paying attention to, from a bottom-line perspective in particular. I'm also thinking that the days of the patrician class going to major art centers to buy the good stuff at major galleries may well be on the wane, and that those galleries are beginning to see the wisdom of vice versa-ing the process and making occasional appearances here.
Of course it doesn't hurt that all proceeds from the opening night Preview Gala (which I hear was absolutely packed) go to support the San Francisco Museum of Modern Art's "groundbreaking exhibitions and education programs," and that museum staff and patrons turn out in force. So for those who believe they might benefit either socially or pecuniarily from hobnobbing with the nobs, this is the place to do it. As for the rest of us, this is an opportunity to see more quality art in one place, and available for purchase, than anywhere else at any other event or at any other time of year in town. As for you design mavens, both postwar and contemporary, there's no shortage of exceptional examples on exhibit for you to peruse as well, including fine furnishings, glass, ceramics, lighting, decorative objects, and more.
For you art historians keeping score at home, here's my coverage of the first FOG Design+Art fair at Fort Mason Festival Pavillion in 2014.
And now for the newsreel...

Intergalactic artscape by Anika Yi at Gladstone Gallery.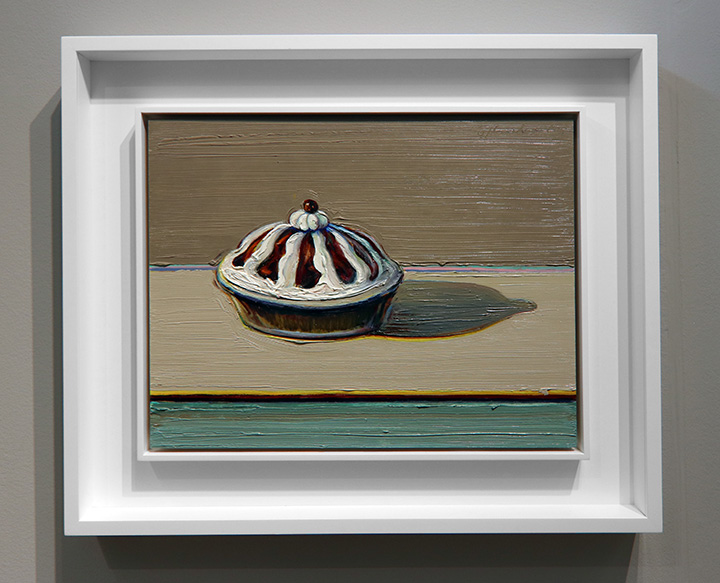 Sweet treat soliloquy by Wayne Thiebaud at Gladstone Gallery.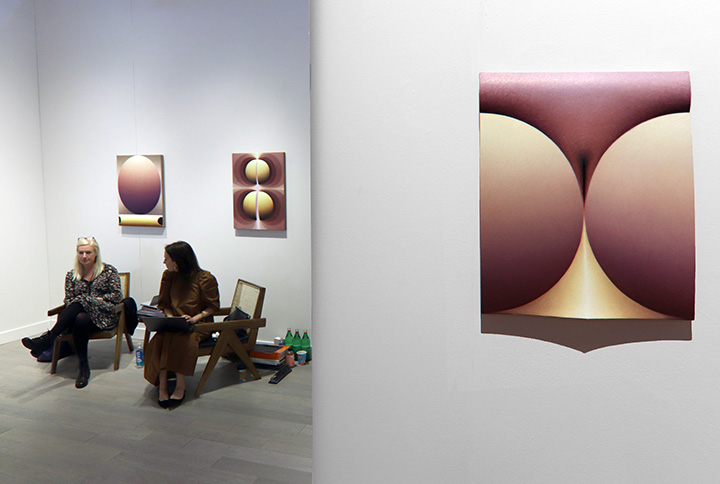 Pregnancy-inspired topographical paintings by Loie Hollowell at Pace.


Bronze breast by César, wool & rubberband wall works by Sheila Hicks, Mixed-media collage by Enrico Baj at Demisch Danant.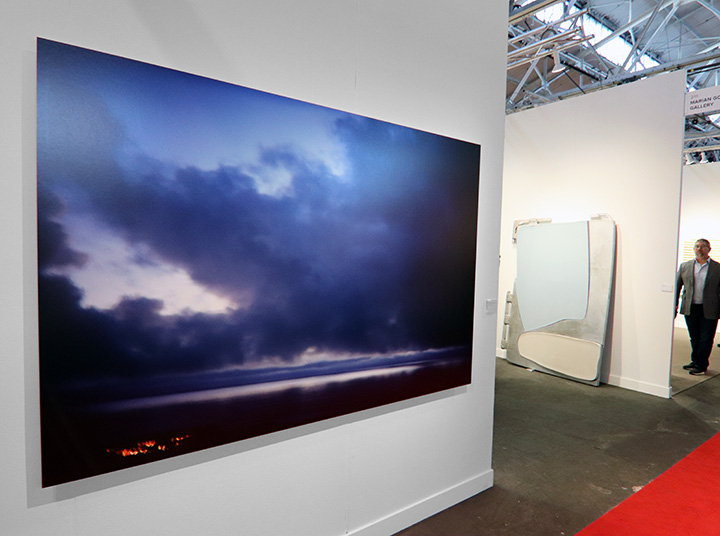 L-R, Nan Goldin photo & a Nairy Baghramian leaner at Marian Goodman.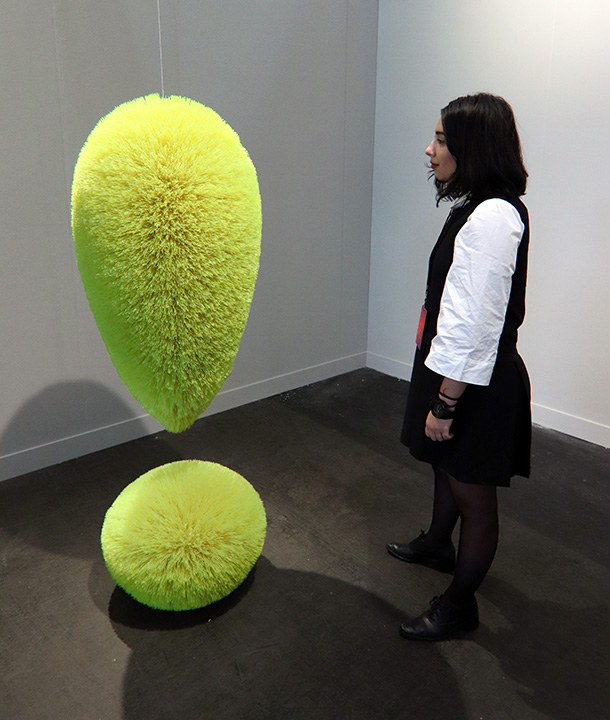 Plastic bristles embedded in mahogany forms by Richard Artschwager at Sprüth Magers (with volunteer graciously providing perspective).


Remarkably precise assemblage of seashell cross-sections by Rowan Mersh at Gallery FUMI.


Pinkie cam detail of seashell assemblage in above image.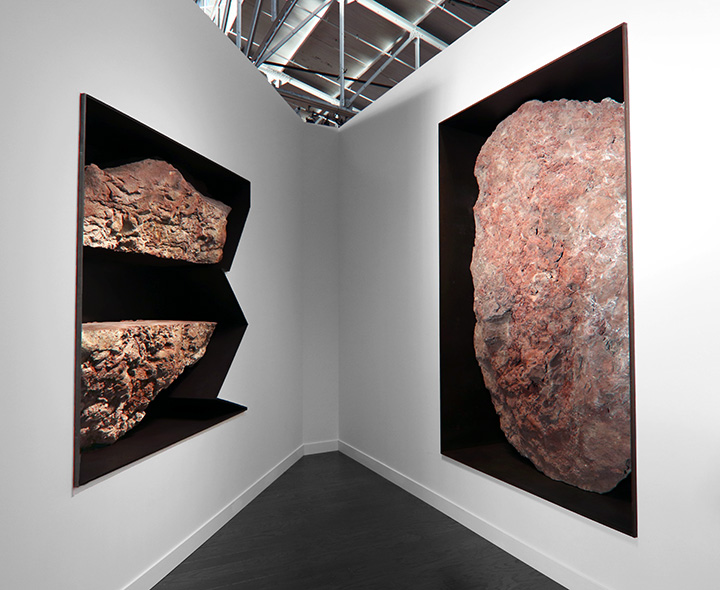 Imposing volcanic rocks set into the walls c/o Michael Heizer at Gagosian.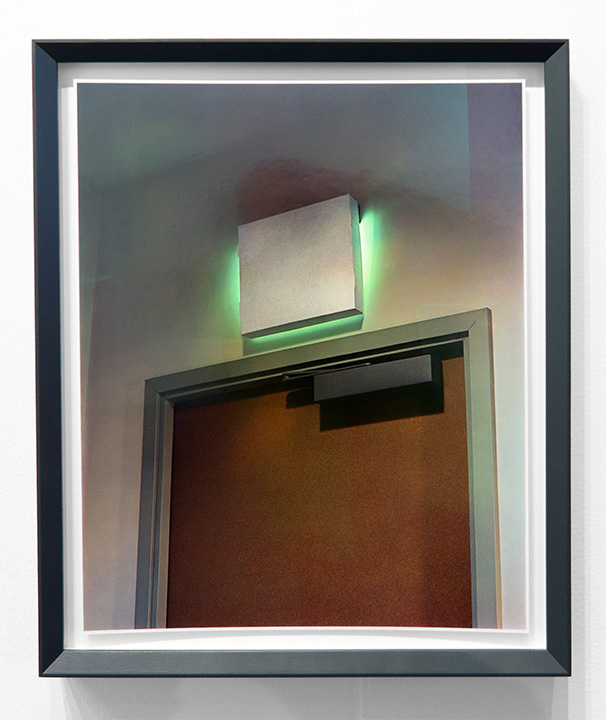 Thomas Demand photograph at Matthew Marks.


Fine and decorative arts at Nicholas Kilner.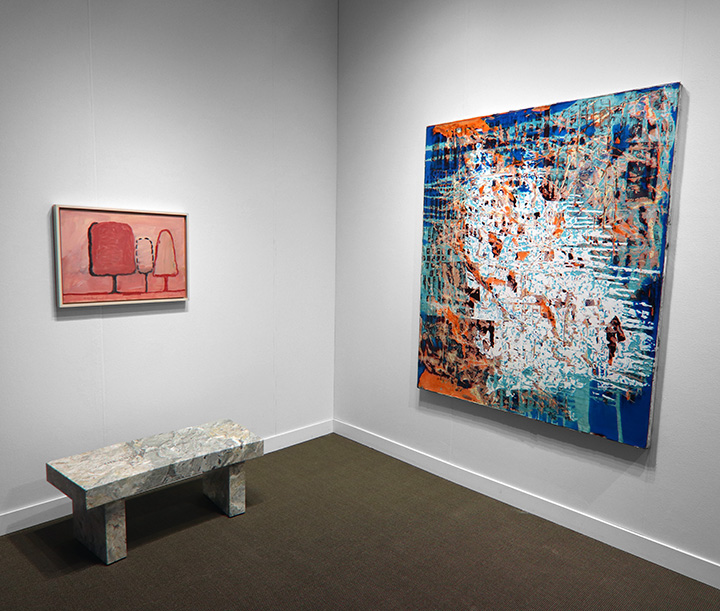 L-R, Jenny Holzer bench, Philip Guston & Mark Bradford paintings at Hauser Wirth.


Clean spare style at Tina Kim Gallery.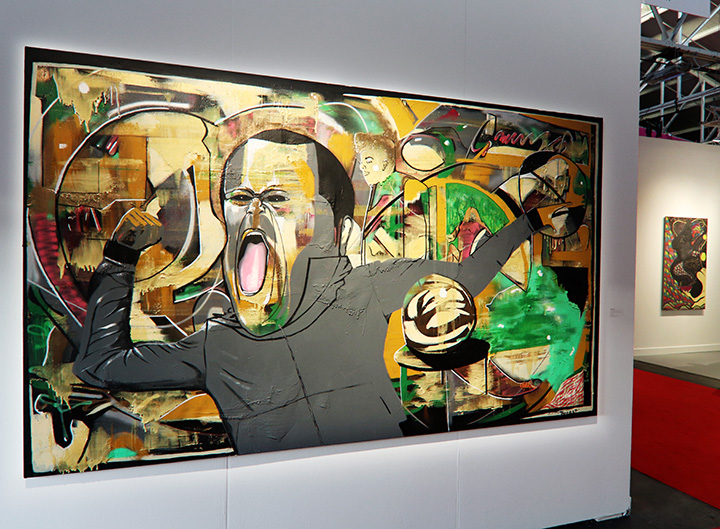 "Rise & Revolt" by Forrest Kirk at Nathalie Karg.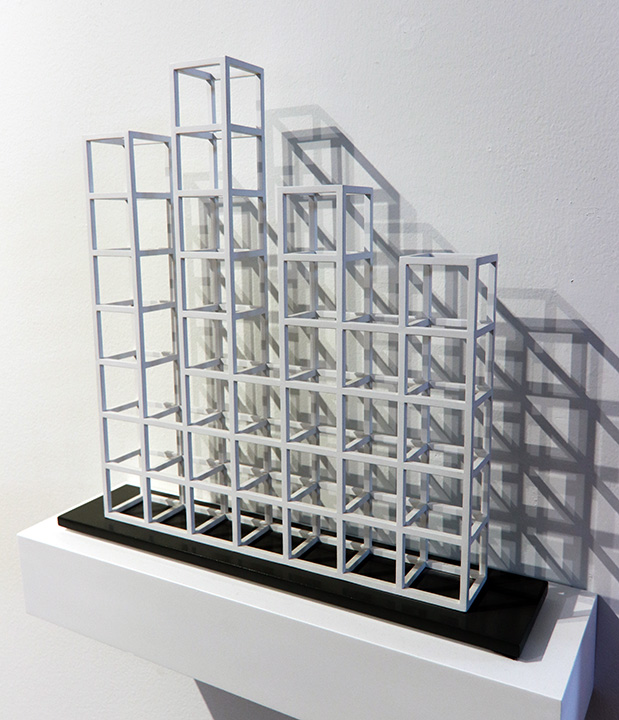 Sol Lewitt wood construction (about 20" high) at Paula Cooper.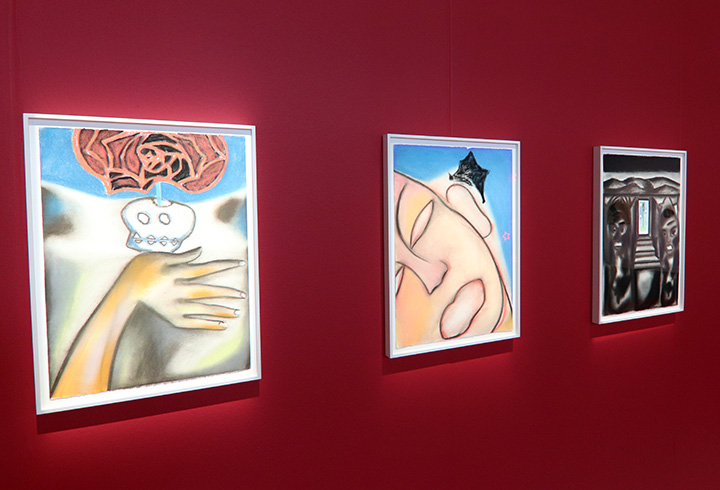 Francesco Clemente at Lévy Gorvy.


Fine and decorative arts options at Hostler Burrows.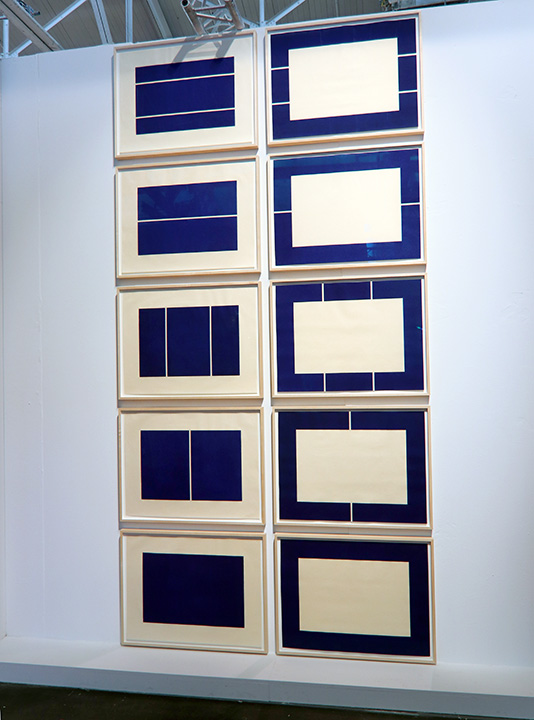 Set of 10 Donald Judd woodcuts from 1988 at David Zwirner.


Wolfgang Tillmans still-life at David Zwirner.


Floors, walls, furnishings and art at David Gill.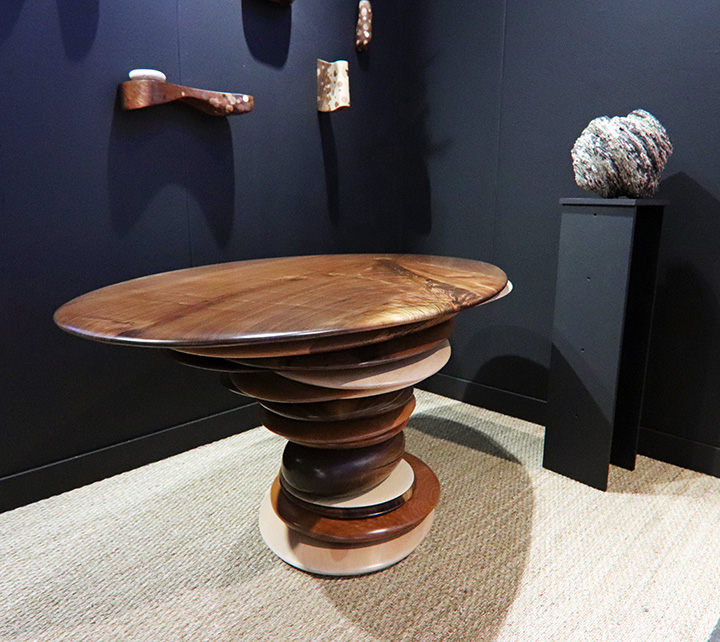 "Skipping Stone Game Table" by Christopher Kurtz, stonewar sculpture on pedestal by Luke Fuller at Sarah Myerscough.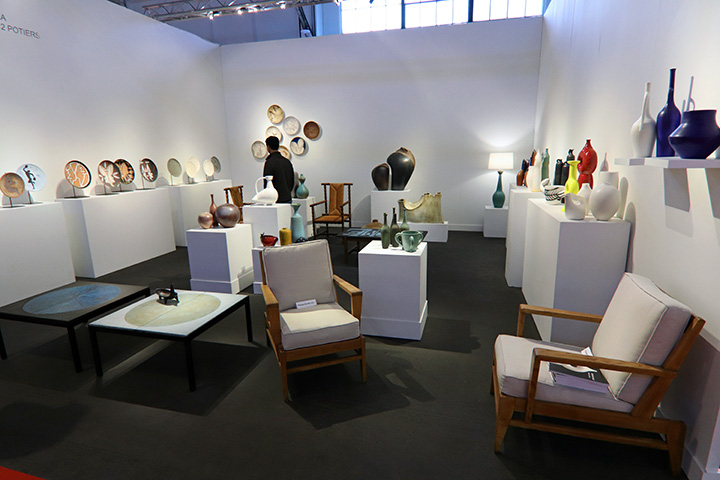 Ceramic-palooza at Lebreton.


***