***

Get your art fix fast: Instagram @alanbamberger
***
UNTITLED, ART 2020 at Fort Mason, Festival Pavillion
Exhibitors: Alexandre Gallery, BEERS London, Peter Blake Gallery, Lars Kristian Bode, Rutger Brandt Gallery, Rena Bransten Gallery, Rebecca Camacho Presents, Chambers Fine Art, Chinese Culture Center of San Francisco, Catharine Clark Gallery, Creativity Explored, CULT Aimee Friberg Exhibitions, Stephen Daiter Gallery, Luis De Jesus Los Angeles, Denny Dimin Gallery, Dolby Chadwick Gallery, Federico Luger (FL GALLERY), Fiumano Clase, FOR-SITE Foundation, Fort Gansevoort, Freight + Volumem, Geary, Asya Geisberg Gallery, Anglim Gilbert Gallery, GINSBERG, Kristin Hjellegjerde Gallery, Nancy Hoffman Gallery, Edwynn Houk Gallery, Elizabeth Houston Gallery, Hutchinson Modern, Lyndsey Ingram, Charlie James Gallery, Galeria Kogan Amaro, LnS GALLERY, Jane Lombard Gallery, MAKASIINI CONTEMPORARY, Max Estrella, Maybaum Gallery, MKG127, Charles Moffett, Moskowitz Bayse, Night Gallery, Gallery Wendi Norris, Nunu Fine Art, ESPACIO NANCARROW O'GORMAN x, CLANDESTINA, Osnova gallery, Over the Influence, POLÍGRAFA OBRA GRÁFICA, Pontone Gallery, re.riddle, Galerie Nicolas Robert Michael Rosenfeld Gallery, Diane Rosenstein Gallery, Royale Projects, MARC STRAUS, SVA Galleries, PATRICIA SWEETOW GALLERY, Syntax Gallery, UPFOR, Winston Wachter Fine Art, Zidoun-Bossuyt Gallery, Zipper Galeria. Books & Editions: Dilalica, FAMILIA EDITIONS, KultProekt Gallery, MOREL BOOKS, RITE Editions, TBW Books
Comment by AB: This fair is a bit of a hunt & peck as far as finding true love is concerned. With a little bit of everything on display and in no particular order, you really have to pay attention and carefully peruse every booth. The good news? Rest assured that those who persevere will be generously rewarded. From rare and historic to just plain fun, I saw plenty of the good stuff courtesy of an international roster of quality exhibitors. And now for the newsreel...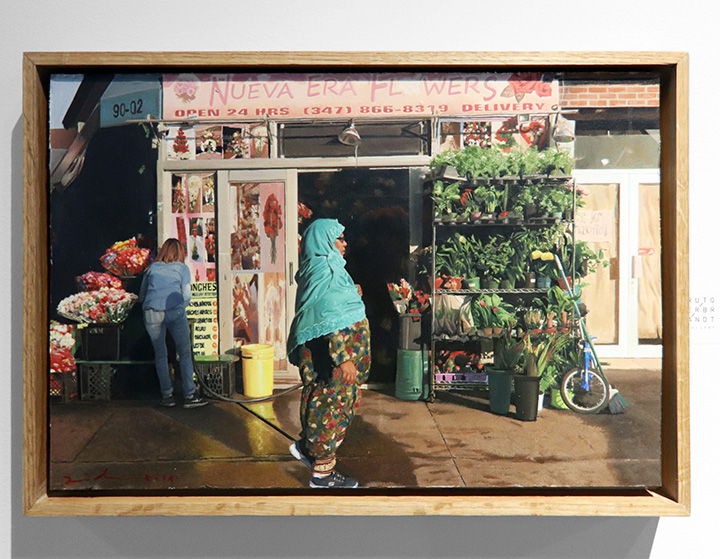 Small format photorealism by Yigal Ozeri at Rutger Brandt - like 'em.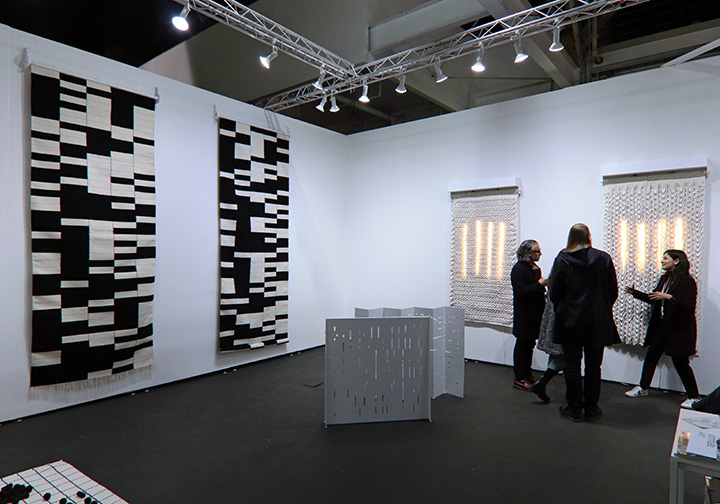 "Data Digital Codes" weavings (right) by Amor Muñoz at ESPACIO NANCARROW O'GORMAN x, CLANDESTINA.


Elaborate permeating installation by Janaina Mello Landini at Zipper Galeria - nicely done.


L-R, art by June Edmonds & Peter Williams ("Incarceration") at Luis de Jesus.


Little gems by Mai Ta at SVA Galleries.


Pinkie cam detail of art by Mai Ta in above image at SVA Galleries.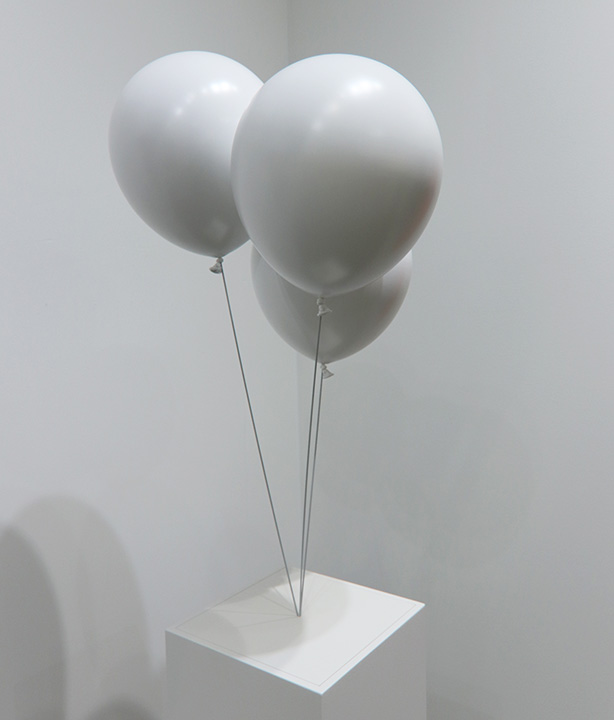 Steel, fiberglass & magnet balloon sculpture by Jiru Geller at Makasiini Contemporary.


"I Been Rebuked & I Been Scorned (Solid as a Rock)" by important Los Angeles artist Charles White, 1954 at Michael Rosenfeld. Wolff crayon and charcoal on illustration board, POR - love it.


The chimerical color palette makes my day - Andy Dixon at Beers London.


Emil Alzamora "Pieta IV" (left), Pablo Atchugarry sculptures (foreground), Choi Soowhan LED Laminate waterfall art at Pantone.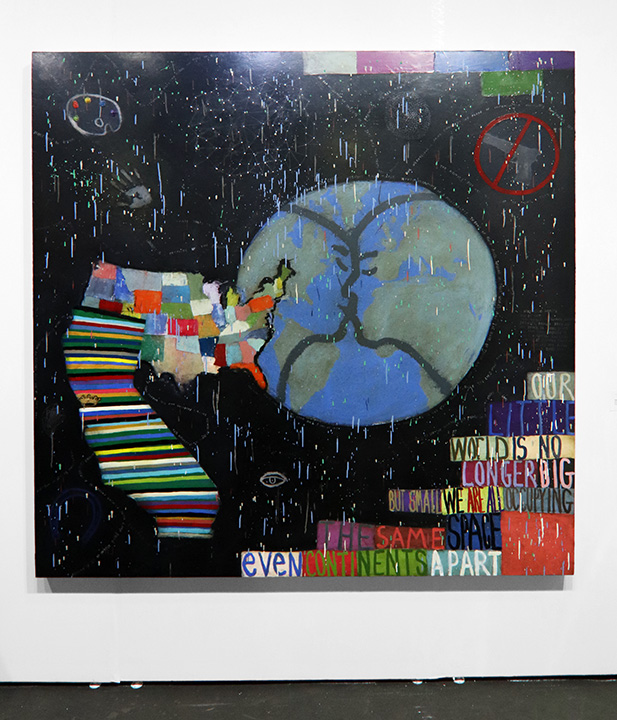 Sumptuous Squeak Carnwath painting at Jane Lombard.


Exceptional glazed earthenware figures by Claire Partington at Winston Wächter.


Claire Partington glazed earthenware art closer at Winston Wächter.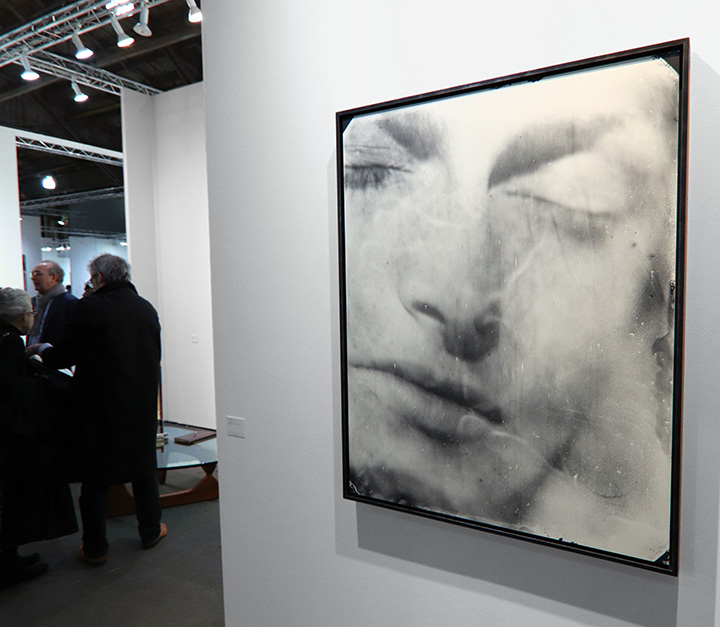 Sally Mann photography at Edwynn Houk.


Imaginative outdoor scene by Matthew Pillsbury at Edwynn Houk.


Precision sculptures by Tony DeLap at Peter Blake.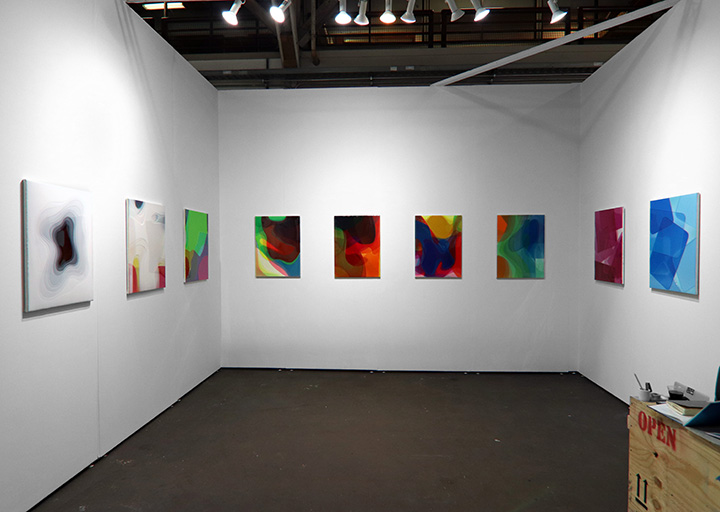 Epoxy adventures by Peter Zimmerman at Nunu Fine Art.


Emil Alzamora isobar portraiture at Pantone.


Pinkie cam detail of Emil Alzamora art in above image at Pantone.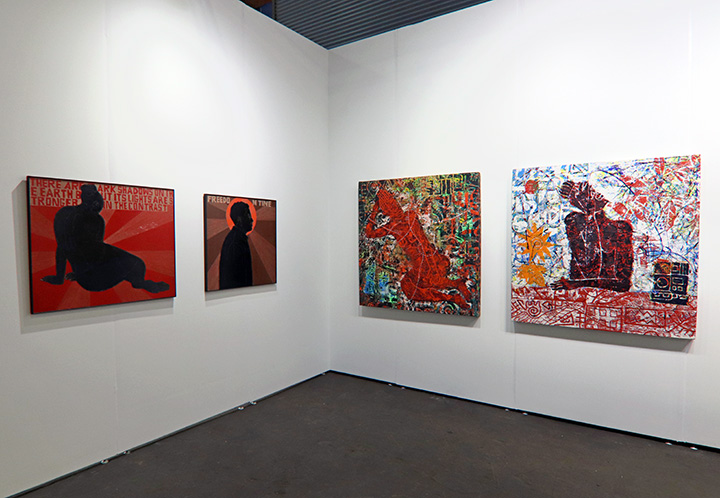 L-R, art by Ephrem Solomon & Gerald Chukwuma at Kristin Hjellegjerde.


William T Williams art at Michael Rosenfeld. $225K each.


***