***

Get your art fix fast: Instagram @alanbamberger
***
Untitled Art Fair 2019 at Pier 35
Exhibitors: 500 Capp Street Foundation, Andrew Kreps Gallery, Anglim Gilbert Gallery, Artadia, Asya Geisberg Gallery, Baert Gallery, Berkeley Art Museum & Pacific Film Archive, BLAIN|SOUTHERN, Bortolami, Catharine Clark Gallery, Chambers Fine Art, Charlie James Gallery, Charles Moffett, Chinese Culture Center of San Francisco, Christine Park Gallery, Cindy Rucker Gallery, David Zwirner, De Buck Gallery, Denny Dimin Gallery, Eduardo Secci, Edwynn Houk Gallery, ESPACIO MINIMO, ESPAI TACTEL, FIVE CAR GARAGE, FOR-SITE, Fort Gansevoort, Freight+Volume, GALERIA ENRIQUE GUERRERO, Galerie Nicolas Robert, Gallery Wendi Norris, Garis & Hahn, Geary Contemporary, Jenkins Johnson Gallery, Koenig & Clinton, LEFEBVRE ET FILS, Luis De Jesus Los Angeles, MAKASIINI CONTEMPORARY, MARC STRAUS, Mariane Ibrahim Gallery, Maybaum Gallery, MKG127, Moskowitz Bayse, Nancy Hoffman Gallery, Neumann Wolfson Art, NUNU FINE ART, OCHI PROJECTS, onestar, Paris, Polana Institute, Polígrafa Obra Gràfica, re.riddle, Royale Projects, Sapar Contemporary, SVA Galleries, TARA x Yamini Nayar, Tina Kim Gallery, UNIX Gallery, Winston Wächter Fine Art, Yve YANG, Zevitas Marcus.
Comment by AB: If you're tired of seeing the same old art by the same old names, then this is the fair for you. A quality roster of international exhibitors focuses on how good it is rather than who did it. My favorite kind of art. Affordable options too. How many more reasons do you need to put next year's exciting episode on your art calendar? I'm already looking forward to it. In the meantime, here's a scintillating array of what you might have missed...

Jumbo photo by Catherine Wagner at Anglim Gilbert - Untitled, Art.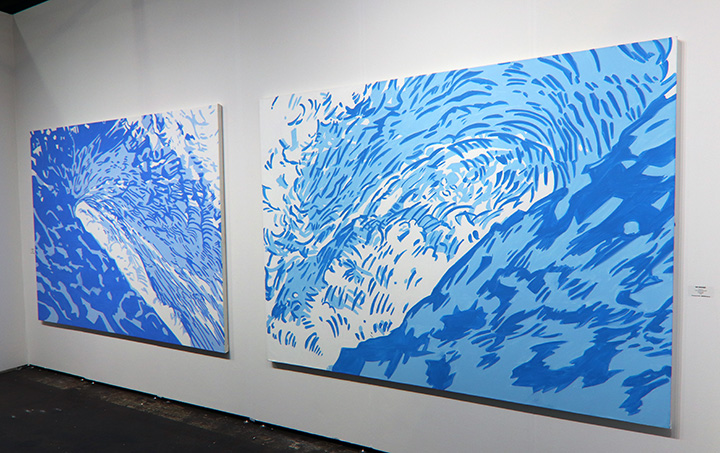 Cool calm blue art by Roy Fowler at Fort Gansevoort.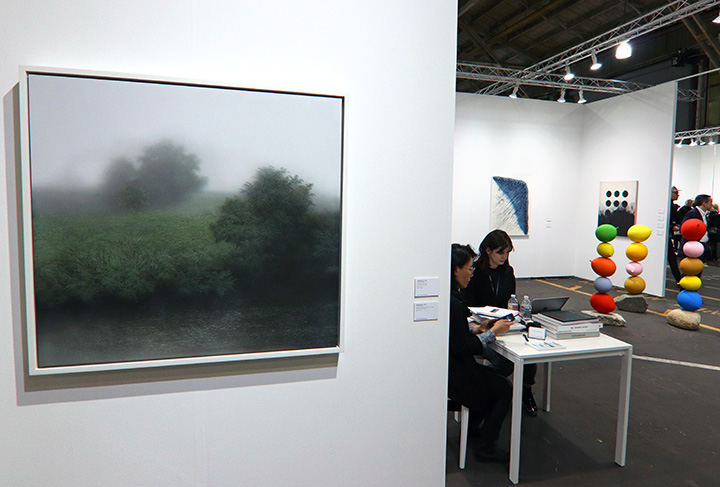 Verdant tranquility - painting by Kibong Rhee at Tina Kim.


Art by Alison Blickle at Five Car Garage.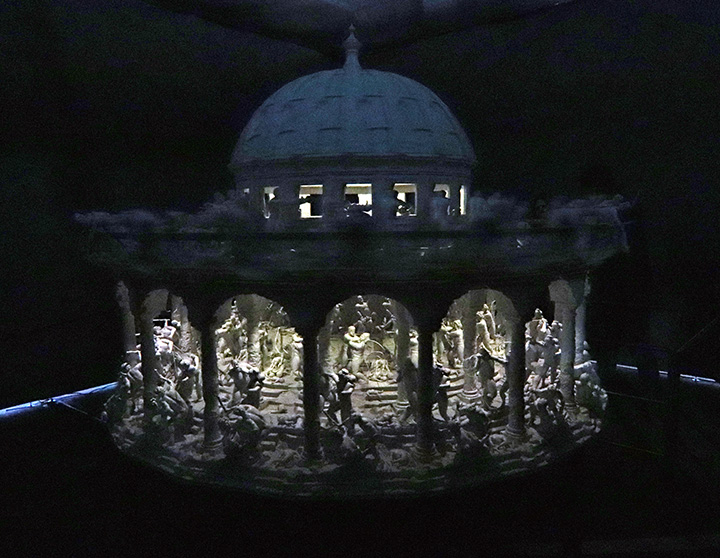 Fascinating zoetrope-style 3-D animation, "All Things Fall" by Mat Collishaw.


Graceful undulating art by Hang Chun Zhang at Chinese Cultural Center, SF.


Detail of art in above image - like it.


Psychedelic handmade carpets by Faig Ahmed at Sapar Contemporary.


Amorphous forms by Marcela Zacarias at Sapar Contemporary.


Sculptural snacktime art by Roula Partheniou at MKG127.


Art in above image closer.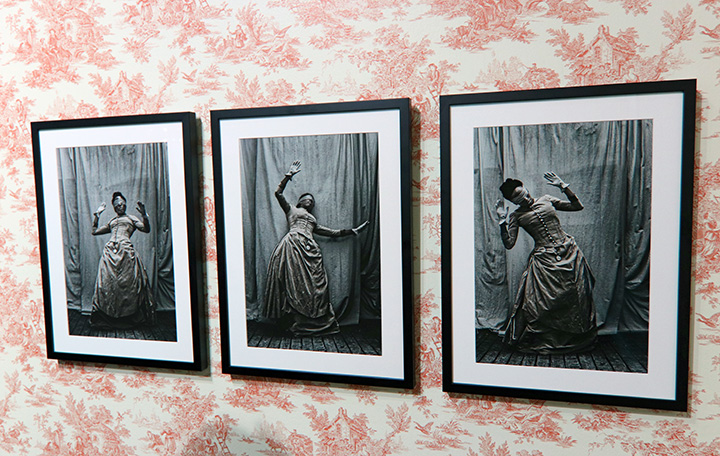 Intriguing figure photography by Ayana V Jackson at Mariane Ibrahim.


Prismatic stratification art by David Allen Peters at Royale Projects.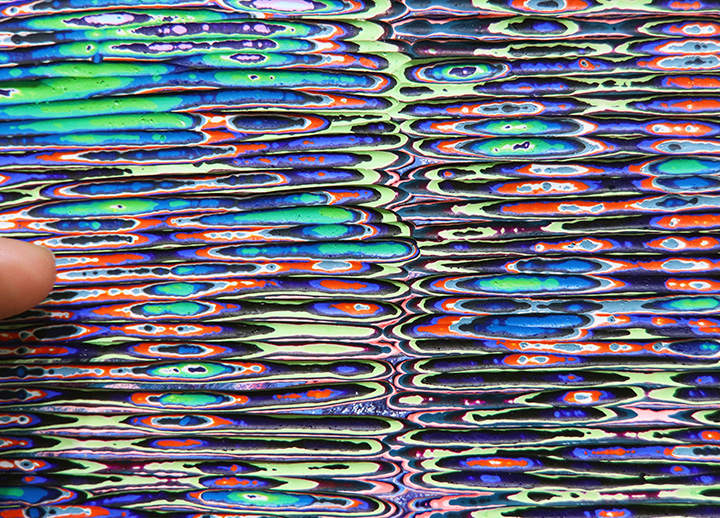 Pinkie cam detail of art in above image - nicely done.


Mysterious manipulated scenarios by Jasper de Beijer at Aysa Giesberg.


Produce collage by Daniel Gordon at onestar/Three-Star.


Daniel Gordon paper collage closer - like it.


Citra Ganesh storytelling in prints at Wendi Norris.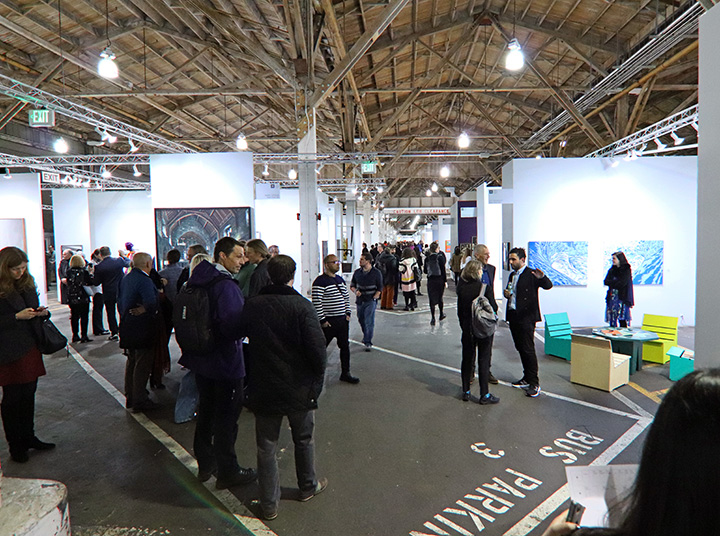 Long view - Untitled Art Fair 2019 at Pier 35, San Francisco.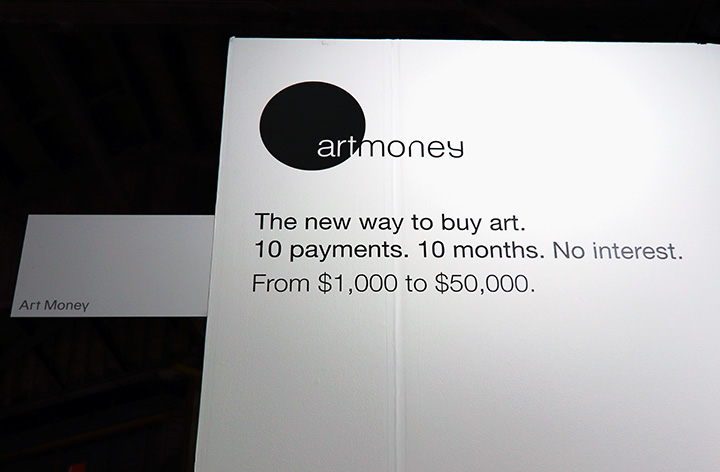 They got one thing right - No interest.


Art by Giuseppe Stampone at Eduardo Secci.


Perfect blend of color & texture by Britton Tolliver at Luis de Jesus.


Central Valley expanse, photography by Philip-Lorca diCorcia at David Zwirner.


One more long shot for the road. See you next year, Untitled Art Fair.


***