***

Get your art fix fast: Instagram @alanbamberger
***
Hashimoto Contemporary: Jeremiah Jenkins - Everything Must Go
Comment by AB: Awards for absurdities, capitalist lures, shattered ceramics, "Enough is Enough" bricks, and bronze free shoes on the street epitomize the topsy-turvy world of Jeremiah Jenkins. Seems like our day-to-day lives make sense, but Jenkins presents a compelling case to the contrary.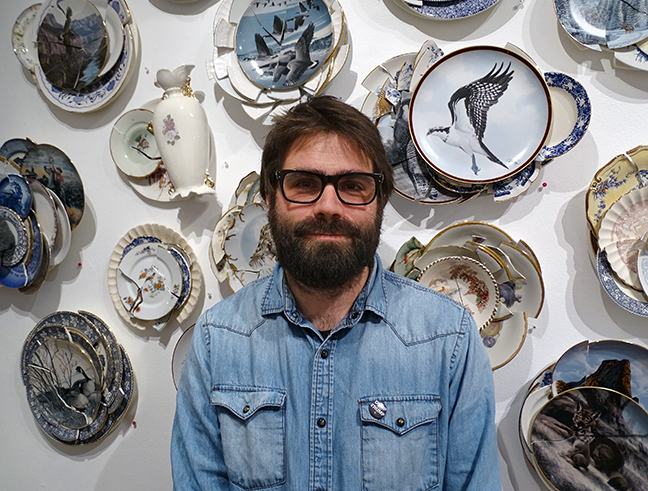 Jeremiah Jenkins and his art at Hashimoto Contemporary.


"Enough is Enough" brick sculptures by Jeremiah Jenkins.


Preposterous trophy art by Jeremiah Jenkins.


Award for absurdity by Jeremiah Jenkins.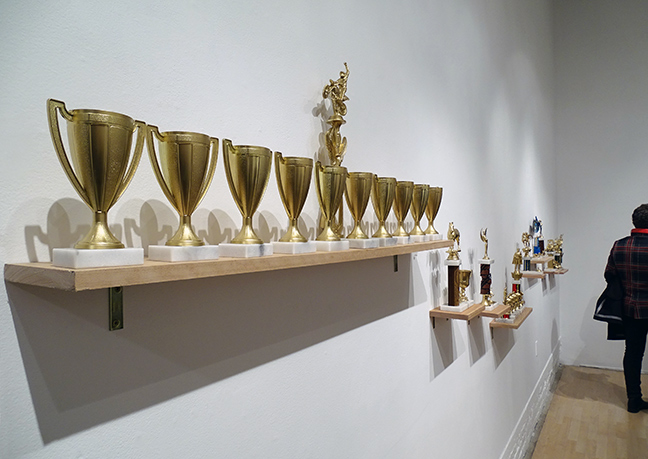 Wall of accomplishment art by Jeremiah Jenkins.


Capitalist lure art by Jeremiah Jenkins.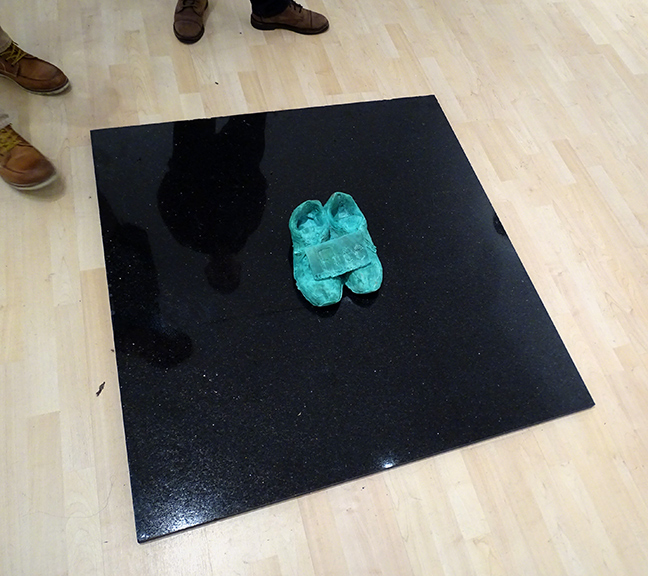 Bronze sculpture of free shows by Jeremiah Jenkins.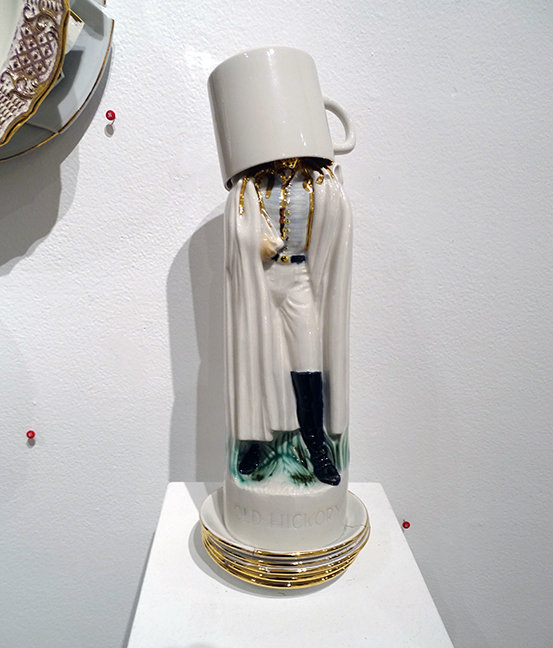 Nonsensical ceramic art by Jeremiah Jenkins.


Installation view - Jeremiah Jenkins art show at Hashimoto Contemporary.


***
Spoke Art Gallery: Miyazaki - An Art Show Tribute
Artists: Eric Althin, Zard Apuya, Ana Aranda, Ryan Berkley, Laura Bifano, Eric Bonhomme, Ivonna Buenrostro, Rovina Cai, Elsa Chang, Tracie Ching, JAW Cooper, Rhys Cooper, Deangus, Emily Dumas, Jonathan Edwards, Tom Eglington, Jayde Fish, Monica Garwood, Sam Gilbey, Greg Gossel, Gina Hendry, Justin Hilgrove, Kevan Hom, Jackie Huang, Yumiko Kayukawa, Steve Kim, Cuddly Rigor Mortis, Jon Lau, Nan Lawson, Carrie Liao, Keith Lin, Adam Lister, Sergio Lopez, Felt Mistress, Ashley Mackenzie, Kemi Mai, Samantha Mash, Jose Mertz, Guillaume Morellec, Fumi Nakamura, Jeany Ngo, Chelsea O'Byrne, Kat Philbin, Corinne Reid, Allison Reimold, Matt Ritchie, Yohan Sacre, Leonardo Santamaria, Charles Santsoso, Chris Skinner, Annie Stegg, Meghan Stratman, Christopher Uminga, Edwin Ushiro, Lauren YS, Adam Ziskie.
Comment by AB: Tribute to the films of Japanese film-maker and animator Hayao Miyazaki.

Art by Justin Hilgrove at Spoke Art Gallery.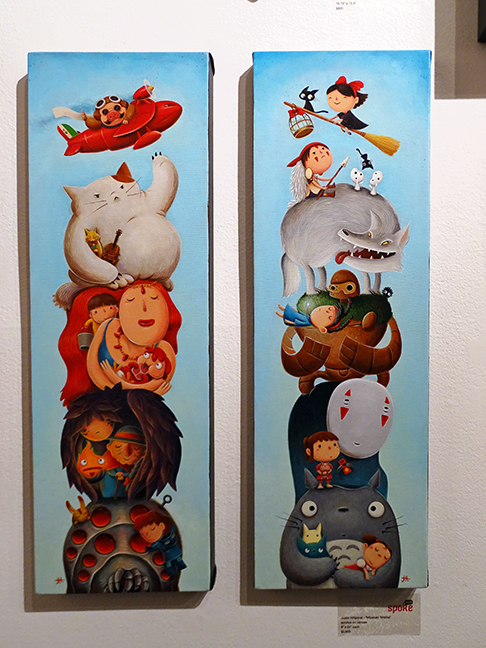 Eric Bonhomme Hayao Miyazaki homage art.


L-R, art by Matt Ritchie and Greg Gossel.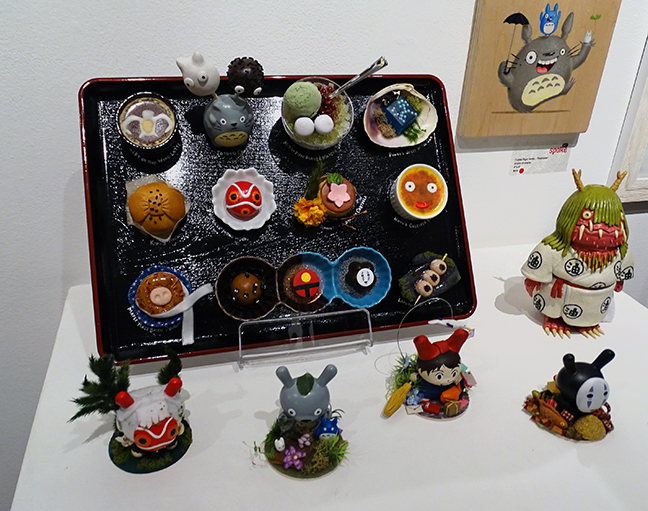 Art by Zard Apuya.


Leonardo Santamaria art.


Relative density - Hayao Miyazaki tribute show at Spoke Art Gallery.


***
Arc Gallery: Death of a Clown
Artists: David Avery, Jonathan Barcan, Art Hazelwood, Golbanou Moghaddas, Patrick Piazza, Eric Rewitzer, Jenny Robinson, Patricia Rodriguez.
Comment by AB: Group show of prints inspired by abandoned amusement parks.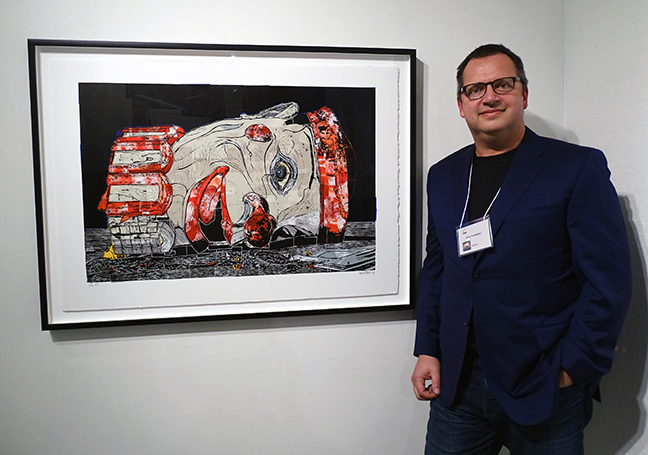 Eric Rewitzer and his art at Arc Gallery.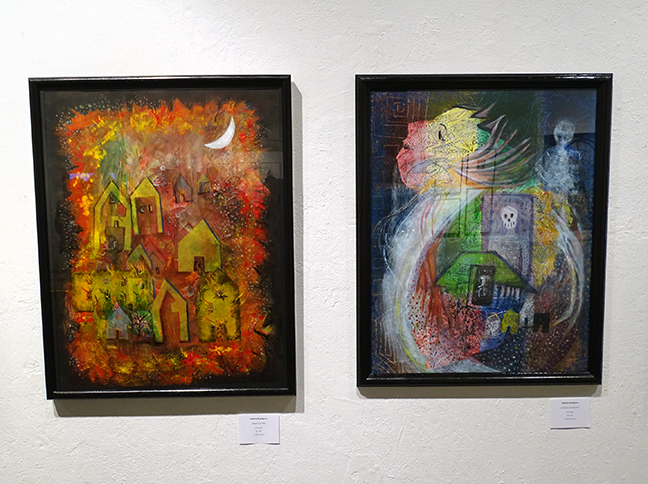 Chagall-style monoprints by Patricia Rodriguez.


Etching by Golbanou Moghaddas up close.


Prints by Patrick Piazza.


Old skool activist Art Hazelwood and his art (we like Art and his art).


L-R, art by Jonathan Barcan and Jenny Robinson.


The basic idea - group print show at Arc Gallery.


***
Atelier Contakos and Gerald W. Cloud Rare Books: Didier Mutei - Acid = Life, Mapping Engraving in the USA.
Comment by AB: Survey of work by Didier Mutei, aFrench artist, engraver, printer, publisher and book maker. For those of you keeping score at home, he runs the longest surviving printing atelier in France, founded in the 18th century. The star of the show is a work called The United States of Acid, envisioned by the artist as being run by history's greatest artists, thinkers, scholars and superheros. Uh... OK. Good art nevertheless.

United States of Acid by Didier Mutei at Atelier Contakos.


Individual US of Acid etchings cut to make composite art above (like 'em).


Didier Mutei print art.


Antique-style map art by Didier Mutei.


Etching art in above image closer.


***