***

Get your art fix fast: Instagram @alanbamberger
***
Modernism Gallery: Gottfried Helnwein - Red Harvest
Review by DeWitt Cheng: Modernism inaugurates its new Ellis Street gallery with "Red Harvest," a group of large mixed-media paintings by the Austrian artist Gottfried Helnwein. The title, crime-fiction fans will recognize, comes from Dashiell Hammett's 1923 novel, establishing the pulp-detective genre. Helnwein sees Hammett's writing in visual terms-- "bright, blinding lights and long dark shadows: the literary version of Chiaroscuro"; I see Helnwein's dramatic style as related to Caravaggio's vehemently theatrical brand of Counter-Reformation baroque, but cooler in emotional tone, a bit more detached, in keeping with the current Zeitgeist; his work, which derives from photos, and marries digital technology to virtuosic oil painting, could be likened to movie stills from umade movies, linking them with the staged, costumed photos of Cindy Sherman, and the current ascendancy of alternate facts and fake news. One senses the artifice of his works; the images are clearly based on posed studio shots; clearly not documentary images, artistically interpreted, as in Goya's etching series based on the Napoleonic wars in Spain, The Disasters of War.
Yet the same human wolfishness (I use the term imetaphorically, animal-rights folks!) is clearly on Helnwein's mind, and has been throughout his career. The critic Peter Selz wrote, years ago, "He is a politically committed artist ... and in his case, you get more than what you see. His work, in a multiplicity of media, manifests Nietzsche's assertion that 'Authenticity of the creative artist can supply meaning to the despair and absurdity of existence.''" Five of the eleven works on view, indeed, refer directly to Goya's heartbreaking indictments of both the French invaders/liberators and the Spanish victims/resistance. Helnwein's "The Disasters of War 49" depicts a young girl, brightly lit, against a black background, aiming an assault rifle, while Goya's depicts a woman bringing food to the destitute. Helnwein's " Disasters... 48" and "Disasters... 50" depict a similar young girl, dressed in a white trench coat, her face bandaged, sporting a military firearm or armband, while Goya's respective versions show a huddle of slaughtered bodies on a hillside, encountered by a survivor, and men carrying of a dead woman while her little daughter follows, weeping, her fists in her eyes-- an unforgettable image of 'collateral damage.' Two of the paintings are entitled "Murmur of the Innocents," referring to Herod's execution of possible upstart messiahs, and a host of Renaissance paintings deploring the massacre-- often given contemporary settings and costumes. The other four paintings represent vastly enlarged heads of young girls, large--eyed, and either gazing directly at us as if in reproach, or with eyes lowered or closed, or unfocused, in shock.
In 2004, when Helnwein was accorded a large and well-attended solo show at the Legion of Honor, the director of that museum, Harry S. Parker, III, wrote: ""For Helnwein, the child is the symbol of innocence, but also of innocence betrayed. In today's world, the malevolent forces of war, poverty, and sexual exploitation and the numbing, predatory influence of modern media assault the virtue of children... What makes Helnwein's art significant is its ability to make us reflect emotionally and intellectually on the very expressive subjects he chooses. Many people feel that museums should be a refuge in which to experience quiet beauty divorced from the coarseness of the world. This notion sells short the purposes of art, the function of museums, and the intellectual curiosity of the public... It s not only the right but the responsibility of the museum to present art that deals with important and sometimes controversial topics in our society"
Comment by AB: What do you get when you combine innocence with violence? This. Makes you think about where we've gone wrong. It really does. Good show. For those of you playing the home game, these arresting images are called "mixed media (oil & acrylic)." Upon close inspection they appear to be digital images, possibly hand highlighted with oil & acrylic paints. Definitely worth seeing regardless of what you call them. Tonight is Modernism's grand opening at their beautiful new location.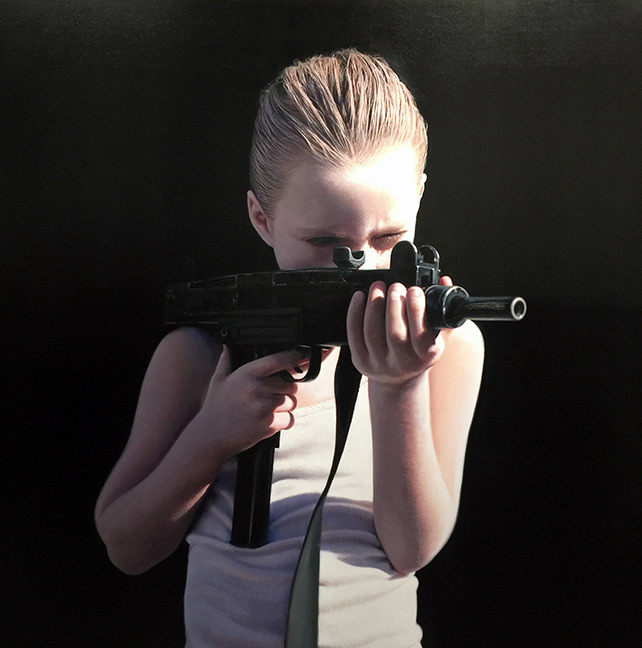 Close-up of art by Gottfried Helnwein at Modernism Gallery - intense as can be.


Art by Gottfried Helnwein.


Gottfried Helnwein innocence meets violence art.


Kenneth Baker makes an appearance.


Gottfried Helnwein art.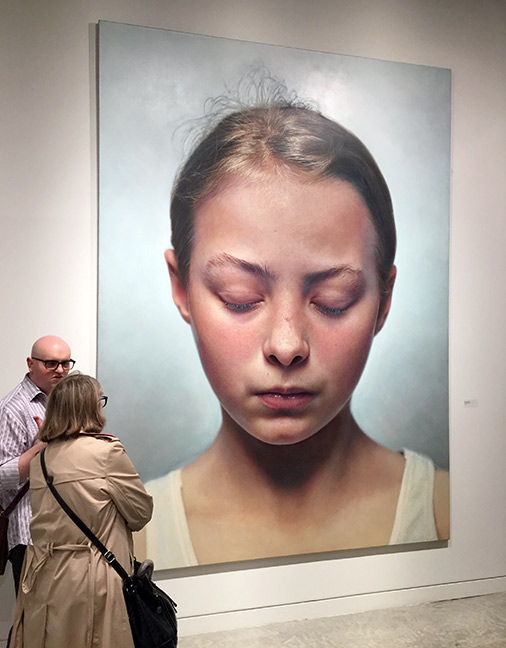 Impressive art by Gottfried Helnwein.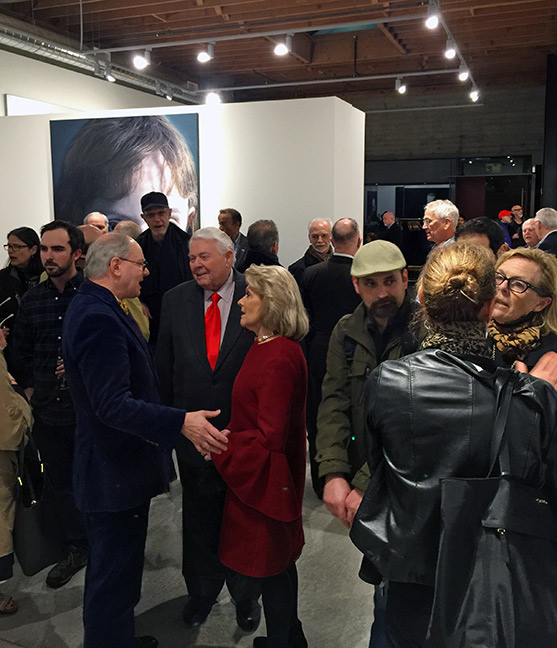 Relative density - Gottfried Helnwein art show at Modernism Gallery.


***
Tribal & Textile Art Show at Fort Mason: Preview Gala 2017
Exhibitors: ACdR Conservation LLC - Art Conservation de Rigueur, Amyas Naegele Fine Art, Anatolian Picker, Andres Moraga, Art For Eternity - Howard Nowes, Art of the South Seas, Arte Primitivo Gallery, ATADA, Arthur W. Erickson, Inc., Brandt Asian Art Ltd., Brant Mackley Gallery, Brian Nault, Bryan Reeves, Buffalo Barry's Indian Art, C.G. Knapton Ltd, Caravanserai Ltd., Cayuse Western Americana , China Travel & Art, Chinalai Modern, Chinalai Tribal Antiques, Ltd., Chris Boylan - Oceanic Art, Dancing Threads, Dave DeRoche, Dimondstein Tribal Arts, DS Fine Art, Diptych Fine Arts, Emmanuel Ameloot, Ernie Wolfe Gallery, Farrow Fine Art Gallery, Peter Pap, Fernandez Leventhal Gallery, Friends of Ethnic Art, Galen Lowe Art & Antiques, Gebhart Blazek, Hagop Manoyan LLC, HALI Publications Ltd., Huber Primitive Art, Hunt Fine Arts, Hayden & Fandetta Books, Ignacio A. Villarreal, IndoArts, James & Lin Willis Tribal Art, James Stephenson African Art, Japon Gallery , Jeff Voracek Native American Art, Jewels, Joe Loux Asian & Tribal Art, Joel Cooner Gallery, John Molloy Gallery, John Ruddy Textile Art, Joyce Ertel Hulbert Textile Conservation , KR Martindale Gallery, Krzysztof Musial, Lao Design, Leonard Kalina Fine Arts, Louis Nierijnck, Marc Assayag African & Oceanic Art, Marcus Raccanello Tribal Art, Marion Hamilton, Mark A. Johnson Tribal Art, Mark Eglinton Tribal Art, Michael Evans Fine Art, Michael Hamson Oceanic Art, Miranda Crimp , Morgan Oakes Tribal, Nasser & Co., Objects Of Bright Pride, Oumar Keinde African Art, Patrick & Ondine Mestdagh, Peter Michael Boyd, Plum Blossoms Gallery, Primary Source, Powers Fine Arts, Robert Morris Fine Art, Roger Bourahimou Tribal Art, Rosebud Gallery, Rudolph Smend, Splendors of the World - Hawaii, Sundog Fine Art, Tahoe Rug Studio / George Postrozny, Taylor A. Dale Tribal Art, Tenaza Tribal, Thomas Murray, Tribal ART Magazine, Trotta-Bono Contemporary, Vicki Shiba, Victoria Roberts, Wayne Heathcote, Wesley Marquand Books, William Siegal Gallery, Wounaan Rainforest Baskets, Zena Kruzick Tribal Art, Zentner Collection.
Comment by AB: Every February, top dealers and galleries from around the world specializing in the arts of Asia, Oceania, Africa, and Native American and Latin American indigenous peoples assemble here in water-logged San Francisco to put on one of the best art shows of the year. This is your one and only chance (without having to hop on a plane) to see a massive selection of the finest in ethnographic arts including wood and stone carvings, metalwork, sculptures, paintings, baskets, textiles, jewelry, pottery, weapons, clothing, and much more. The show is not to be missed if you have any interest in these types of artifacts at all... and even if you don't, there's so much to see, learn and appreciate... starting here in the present and travelling back through the centuries. Dont' miss next year's.

South Pacific ethnographic art at Michael Evans Fine Art.


African art at RB Gallery.


Important 19th century rug collection at Peter Pap.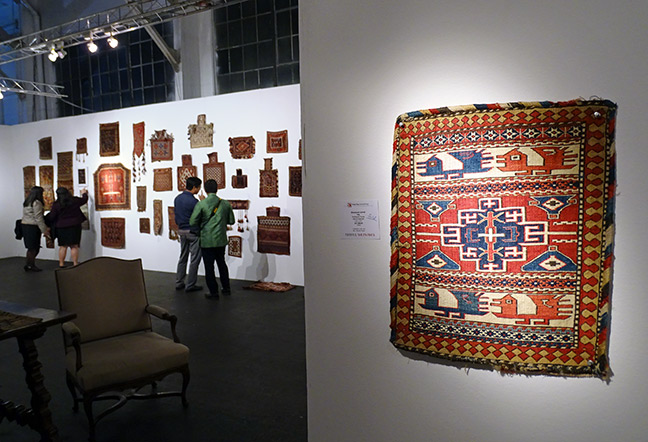 Peter Pap rug collection (the one at the right sold for $37500).


Wood carvings at Bonhomme - Tribal & Textile Art Show at Fort Mason Center.


Art by Kenyan artist Joseph Mbatia Bertiers at Ernie Wolfe Gallery.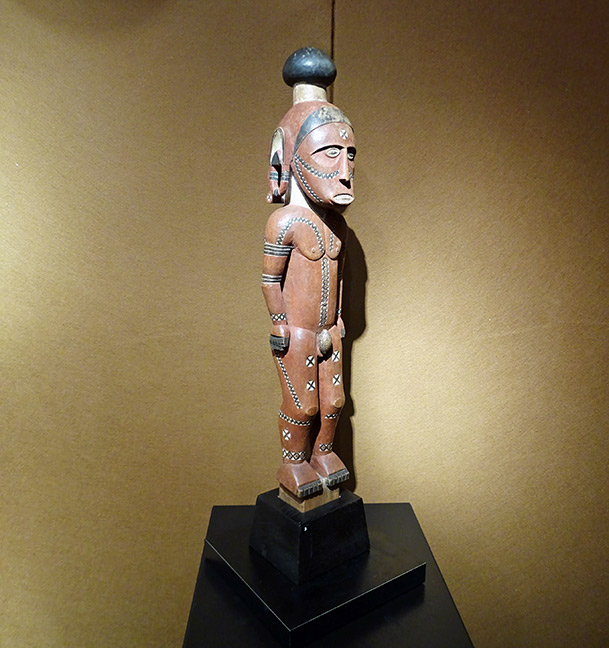 African wood sculpture at Wayne Heathcote.


Vintage Hawaiian-American ethnographic art, I guess, at Rosebud.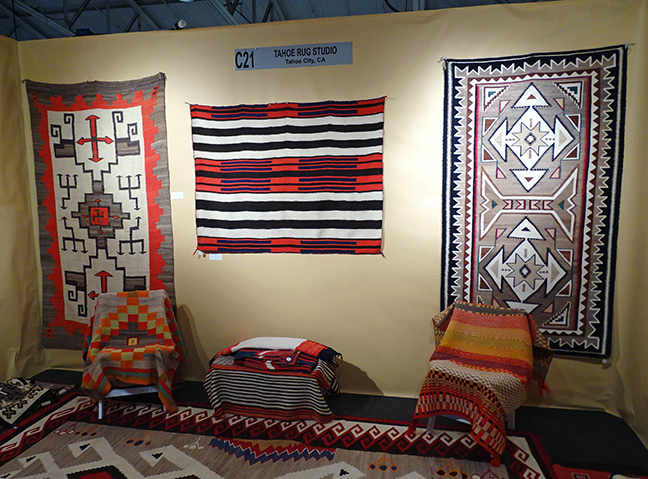 Native American rugs at Tahoe Rug Studio.


Native American baskets at Andres Moraga - Tribal & Textile Art Show.


Pinkie cam detail of basket in above image.


Carved sculpture at Taylor A. Dale Tribal Art.


Asian arts at Hillgrove.


Native American beaded bags at Buffalo Harry's.


Kachina dolls at Buffalo Harry's.


Ethnographic art at Farrow.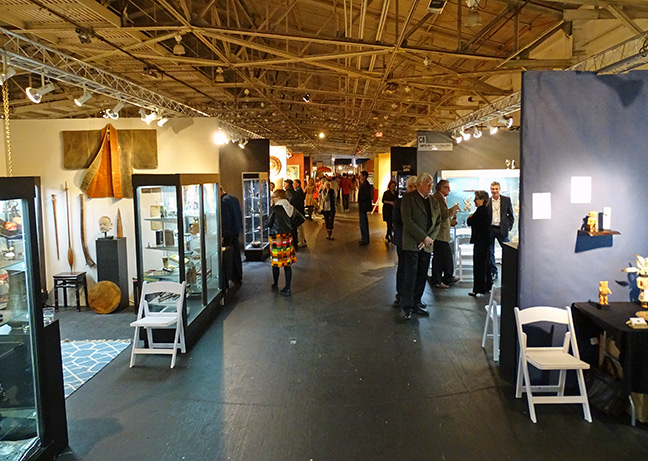 Floor plan - Tribal & Textile Art Show at Fort Mason Center.


***
Andrea Schwartz Gallery: Piero Spadaro - Razzle Dazzle
Comment by AB: Glitter me chipper and sparkle me sprightly.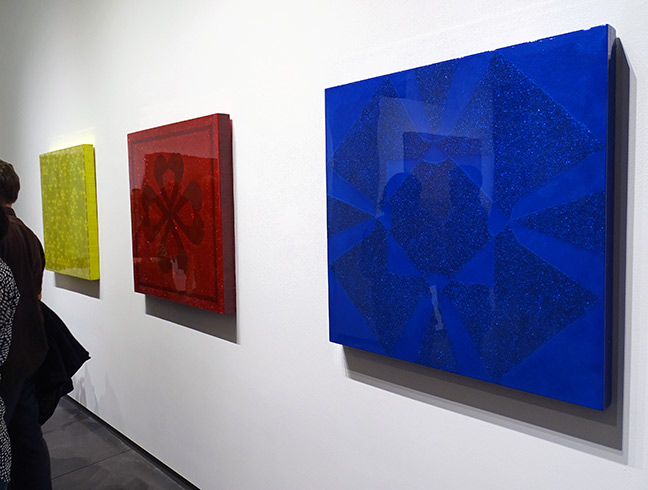 Glitter & resin art by Piero Spadaro at Andrea Schwartz Gallery.


Textured paint and resin art by Piero Spadaro.


Detail of art in above image.


Piero Spadaro and his art at Andrea Schwartz Gallery.


Art by Piero Spadaro.


Piero Spadaro art.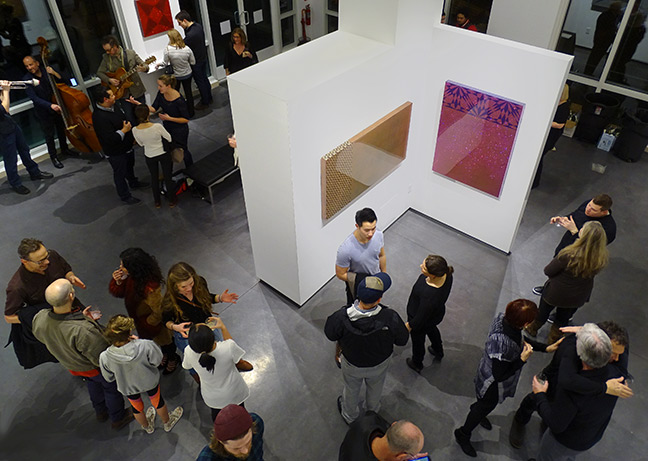 Aerial - Piero Spadaro art show at Andrea Schwartz Gallery.


***