***

Get your art fix fast: Instagram @alanbamberger
***
Yerba Buena Center for the Arts: Lynn Hershman Leeson - Civic Radar
Comment by AB: An over half-century retrospective of art by Lynn Hershman Leeson is conclusive proof of her incredible vision, range and versatility. The emphasis is on photography, video, audio and installation... but plenty of works in other mediums are on display as well. Best show I've seen here in a while. Don't miss it. Rich, diverse and rewarding.

Art by Lynn Hershman Leeson at Yerba Buena Center for the Arts.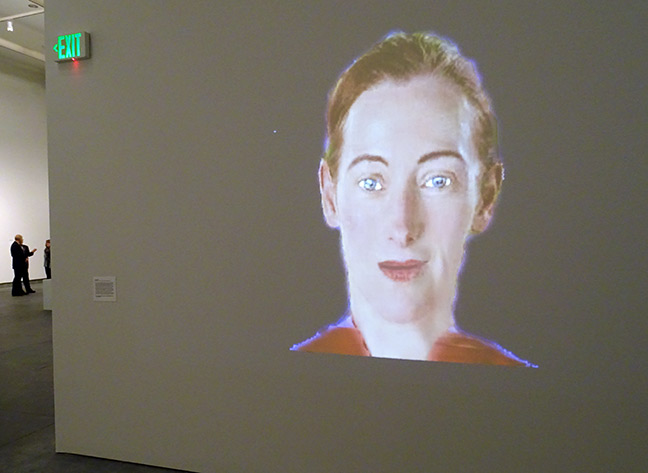 Eerie talking automaton projection by Lynn Hershman Leeson.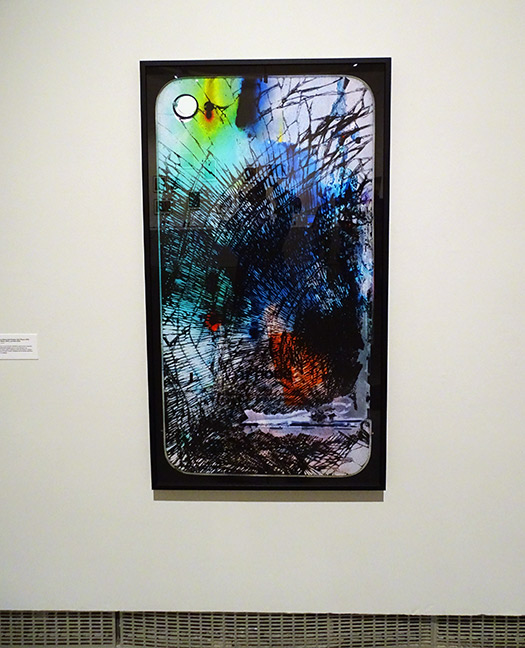 Destroyed cell phone found after a Trayvon Martin riot.


Target installation by Lynn Hershman Leeson.


Lynn Hershman Leeson multimedia art.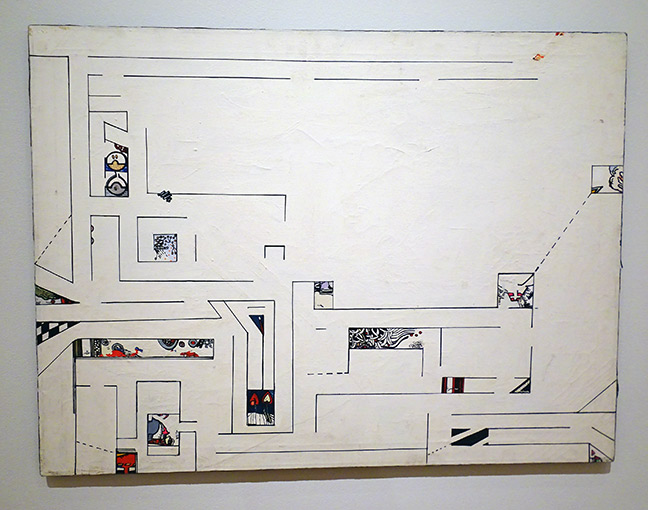 Painting by Lynn Hershman Leeson from 1964.


Detail of art in above image.


Paper installation & a display case of ceramics in the back.


Ceramic art by Lynn Hershman Leeson in above image closer.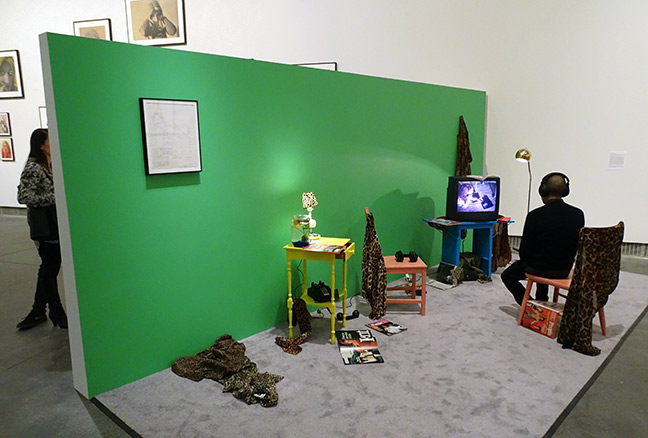 Audio/video installation by Lynn Hershman Leeson.


Lynn Hershman Leeson manipulated images.


One small section of the Lynn Hershman Leeson retrospective exhibition.


Photographs in above image closer.


Installation about genetic research and modification by Lynn Hershman Leeson.


Detail of installation in above image.


***
Museum of Craft and Design: Felt Decoded - Wool, Nature's Technology; Wendy Maruyama - The wildLIFE Project
Comment by AB: In the main gallery, learn about the beauty and versatility of wool and felt, with a focus on the work of Janice Arnold. In the side gallery, Wendy Maruyama's art and installations point up the importance of preserving our endangered species, particularly elephants. Head on over and check it out.

Today's lesson? Wool at Museum of Craft and Design.


Felt furniture and art by Janice Arnold.


Various examples of felt.


Learn about the history and traditions of wool here.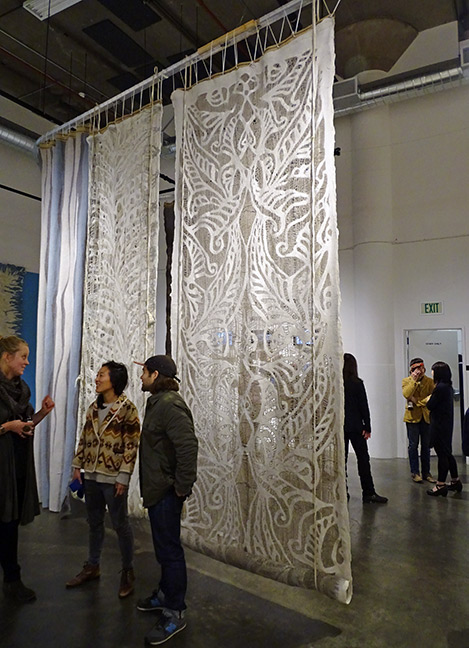 Wool wall hangings.


Art and installation about elephants by Wendy Maruyama.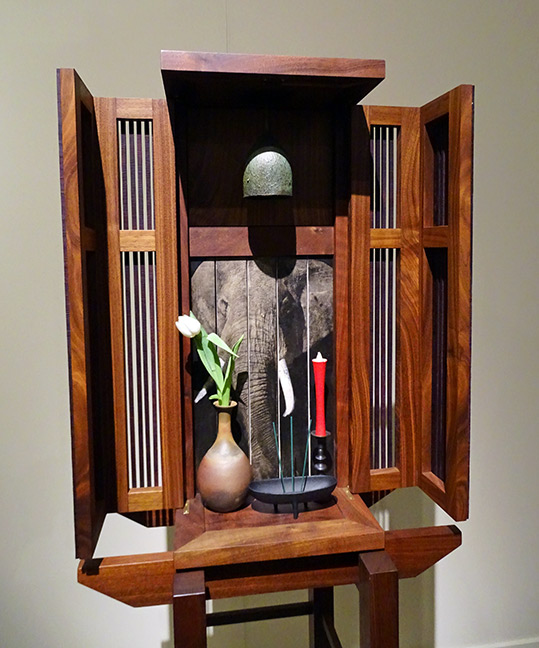 Altar dedicated to elephants by Wendy Maruyama at Museum of Craft and Design.


***
The McLaughlin Gallery: Read Between the Lines - Visual Abstraction. Curated by Karen Gutfreund
Artists: Carla Goldberg, Karen Gutfreund, Daniel Healey, Michelle Mansour, Rosalio Vargas.
Comment by AB: Group show. "Each of these artists explore the manipulation and analysis of reality in the realm of their unique, artistic expression."

Michelle Mansour and her art at The McLaughlin Gallery.


Art by Rosalio Vargas.


Carla Goldberg art.


Art in above image closer.


L-R, art by Rosalio Vargas and Karen Gutfreund.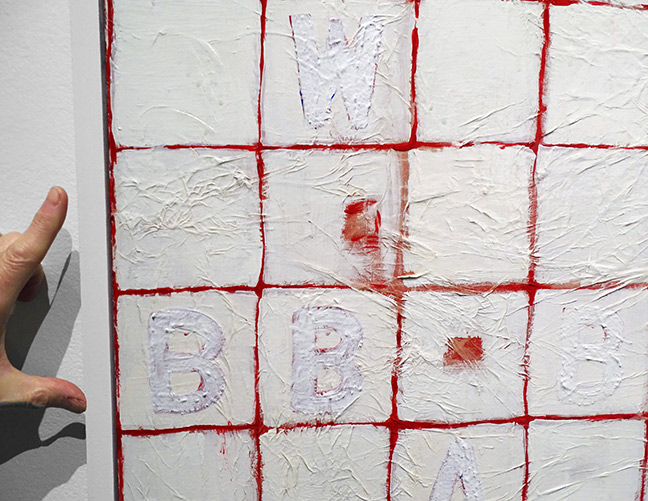 Karen Gutfreund art in above image closer.


Art by Karen Gutfreund.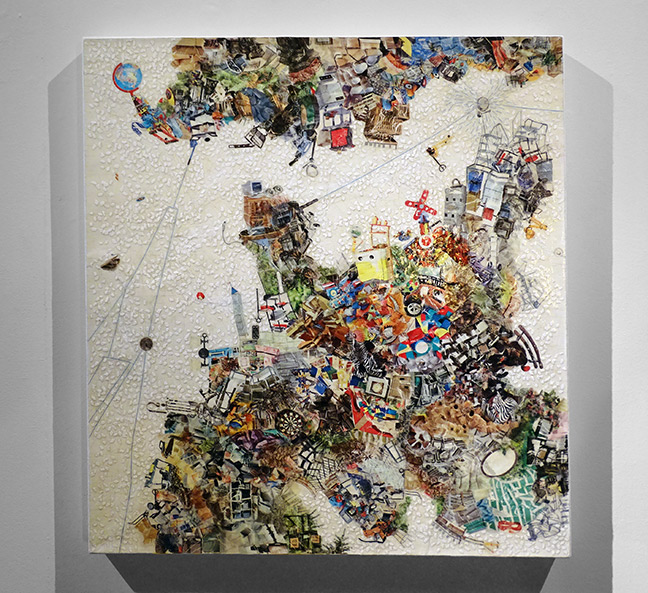 Art comprised of rubbings from merchandise catalogues by Daniel Healey.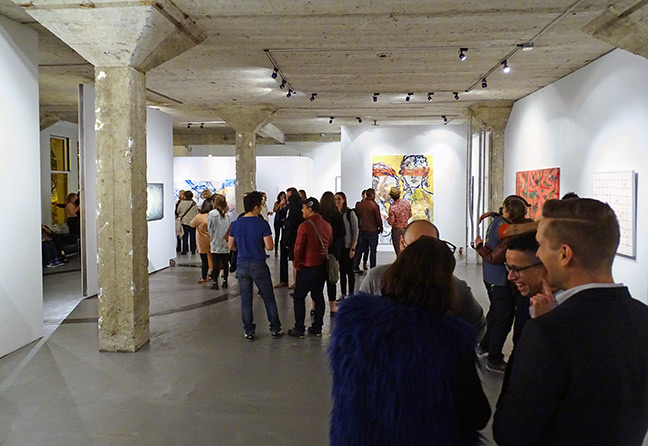 Attendance figures - group art show at The McLoughlin Gallery.


***
On the Edge 7 at SOMArts: Erotic Photography Exhibition
Photographers: Ronnie Olson, Filiberto Avilla, Peter Keresztury, Michael Rosen, Yancy Mendoza, John Stekl, fotografie randall, Milan Sabata, Chris Madsen & Burning Paper Hearts, Mark Yugen, Vlad Kenner, Rich Cirminello, Davian Jones, Xiao Xu, Courtney Campbell &Sparx Photography, Joseph Philipson, Gregory Manning, Breathless Exposure, Tywest, Nudefy Me, Cowboy Dave Photography, Eric Debris, Craig Colvin.
Comment by AB: In this annual erectile fest, photographers from around the country gather to exhibit all manner of erotic images. Wish I could show you everything, but I can't. See you here next year.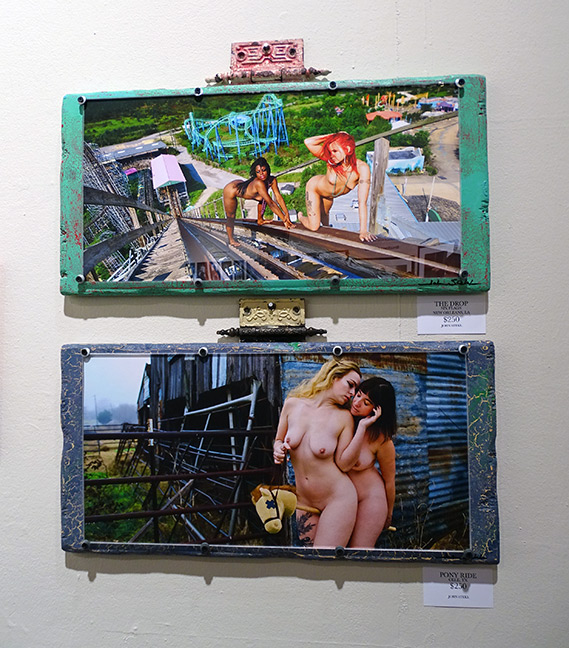 Nudes in ruins - photographs by John Stekl at On the Edge 7 at SOMArts Gallery.


Photography by Michael Rosen.


Portraits of sex workers by Vlad Kenner.


Photograph by Milan Sabata.


Classic pinup imagery by Xiao Xu.


Artist, photographer and show producer Peter Keresztury.


Eric Debris erotic photography.


Figural imagery by Craig Colvin.


Demographics - On the Edge 7 erotic photography show at SOMArts Gallery.


***
Art Primo: Polo_Cutty - #IsItYou
Comment by AB: Master of the meme and other urban observations by Polo_Cutty. There's a panel discussion going on, so... limited images.

Art by Polo_Cutty at Art Primo.


Polo_Cutty meme art.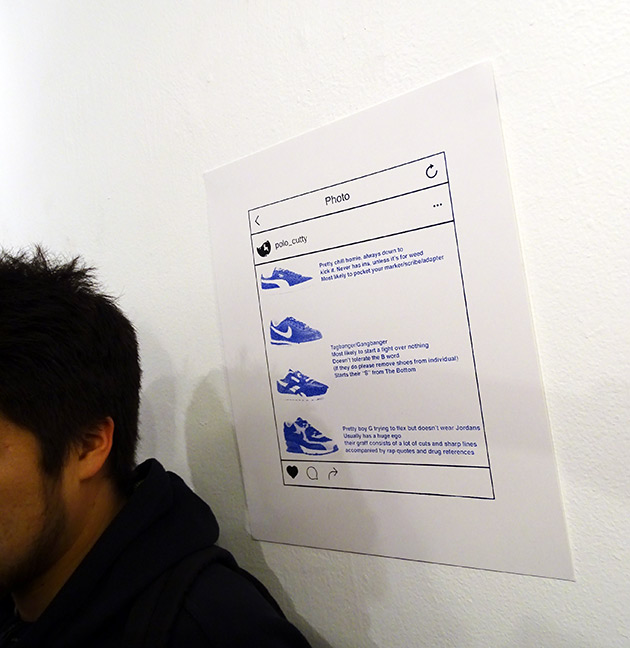 Urban observation art by Polo_Cutty.


Andres Guerrero (left) moderates the panel discussion at Art Primo.


***