***

Get your art fix fast: Instagram @alanbamberger
***
Superfine Art Fair at Gallery 308, Fort Mason Center for Arts & Culture: Opening Night
Comment by AB: Nicolas Maximillion Jimenez, Crystal Ma, 917 Fine Arts Gallery, James Miille, TAUNES BUNNY, Kate Razo / Alley Cat Books/Galería, HUE Gallery of Contemporary Art, Rob Anderson Installation, COMPASS, Gallery 1202, Angela White, MG Stout, Stephanie Maclean, Joan Scheibel, Evan Keeler-Wolf Fine Art Photography, Jessica Ruth Freedman, Marine Strage, Francesca Saveri, Olena Vasylevska, Abigail Lee Goldberger, Patricia Dinu, David Disko, Eugene Rodriguez, Rachel Wolfe-Goldsmith, Jo Beth Wharton, Melissa Ayr, Katherine Filice, BLECHMEKI, Cindy Jian, Cynthia Nouhra, Valerie Auersperg, Art House SF, Art Attack SF, Minesh Kher, Leslie Morgan and Saundra McPherson, Kaleen Cameron, Jessica von Essen, Sicerra, Darnel Tasker, Caryl C. Gordon, Heather Wright, Anca Photography, Alan Mazetti, Charlie Flowers, Adreon Lewis, Mihail Kivachitsky, Topher Straus, Eric Saint Georges.

Comment by AB: Remember when we used to have art fairs? In case your memory's getting hazy, here's a look back at San Francisco's recent (though it seems like eons ago) Superfine Art Fair. The fair is without question the most eclectic assemblage of exhibitors I can recall, a mix of both artists and galleries from across the country and internationally as well. On display was a rather entertaining array of everything including paintings, works on paper, photography, sculpture, collage, mixed media, digital works, and more.
Participants as well as attendees were younger for the most part, and I got the impression that pretty much anyone who was serious about getting their art in front of the public had a chance to show. Interestingly, all they had to do to apply was provide their name, email and Instagram Handle. Booth prices were reasonable ranging from $2000 - $4000 on average.
Meanwhile back at the opening, the place was packed and I did see a smattering of red dots throughout. Prices were surprisingly reasonable-- a refreshing change of pace-- with some art priced as low as little as a few hundred dollars. A special added bonus for me was that every booth's sign included their Instagram username, something that made me very happy (no wasting time searching when posting pics on IG). I have absolutely no idea why more art fairs don't do this. I haven't heard much about how participants fared in terms of overall sales, so any exhibitor who would like to fill me in is more than welcome to do so. And now for the highlight reel...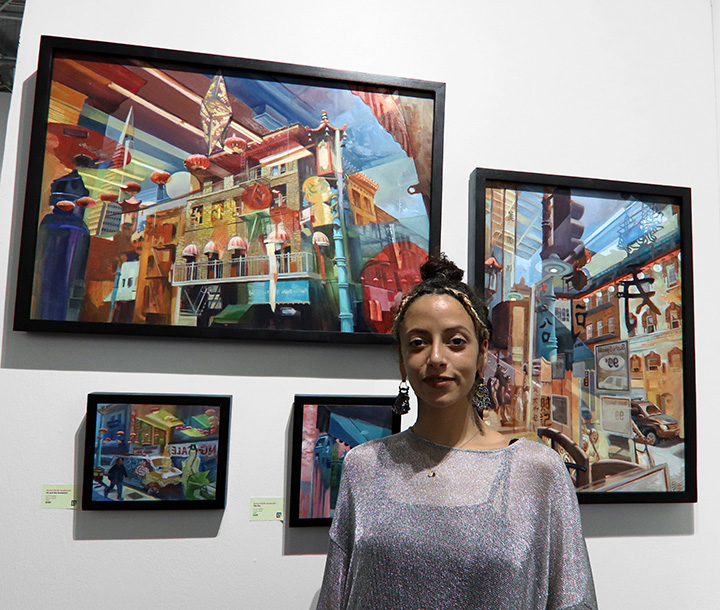 Rachel Wolfe-Goldsmith and her complex urban scenes - nicely done.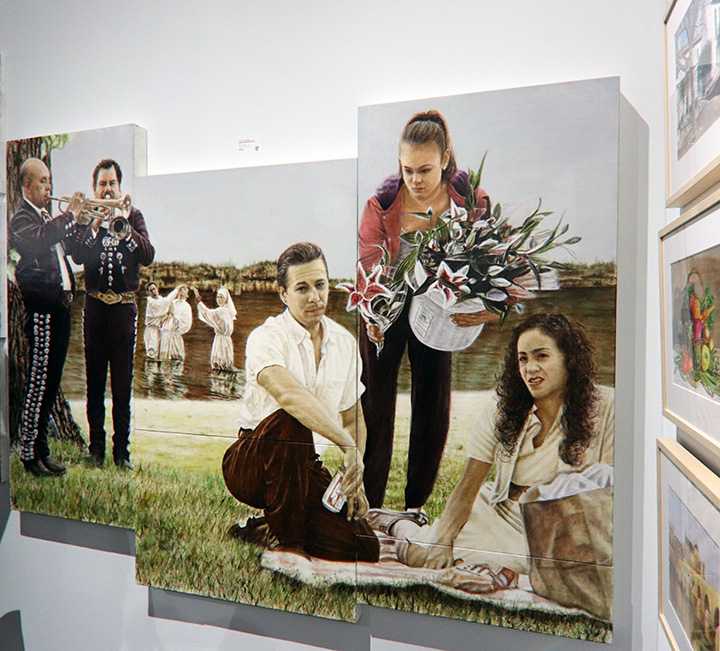 Multi-canvas genre scene by Eugene Rodriguez at Superfine Art Fair.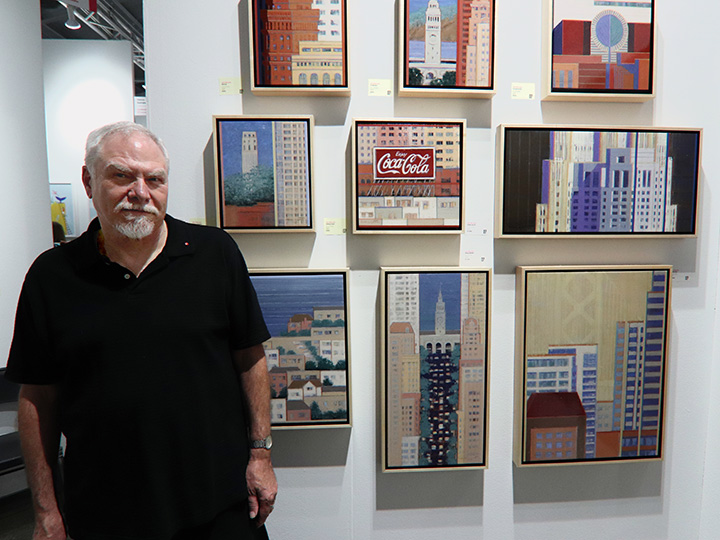 Alan Mazetti and his San Francisco city scenes.


Town and country art by Topher Strauss at Superfine Art Fair, Fort Mason Center.


Jo Beth Wharton and her mixed-media collage.


Pinkie cam detail of collage work by Jo Beth Wharton.


Semi-abstracted night scenes painted by Charlie Flowers.


Photographs of vintage ceramics by collaborative duo BLECHMEKI.


Art by Lobsang Durney (upper right) and Albena Vatcheva at Max Khusid's (pictured right) Art House SF.


Patricia Dinu and her photography at Superfine Art Fair, Fort Mason Center.


More photography by Patricia Dinu.


Superfine Art Fair view at Gallery 308, Fort Mason Center.


Crystal Ma and her intriguing fluid abstractions.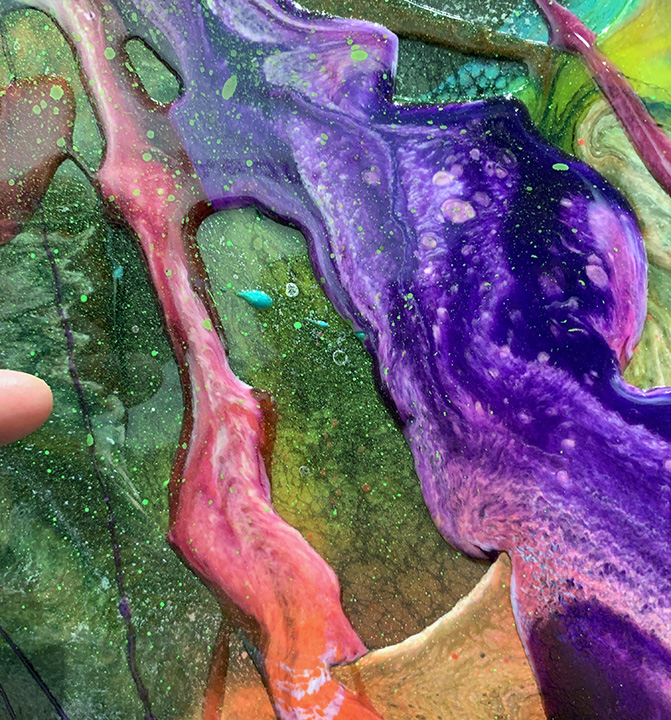 Pinkie cam detail of Crystal Ma art in above image.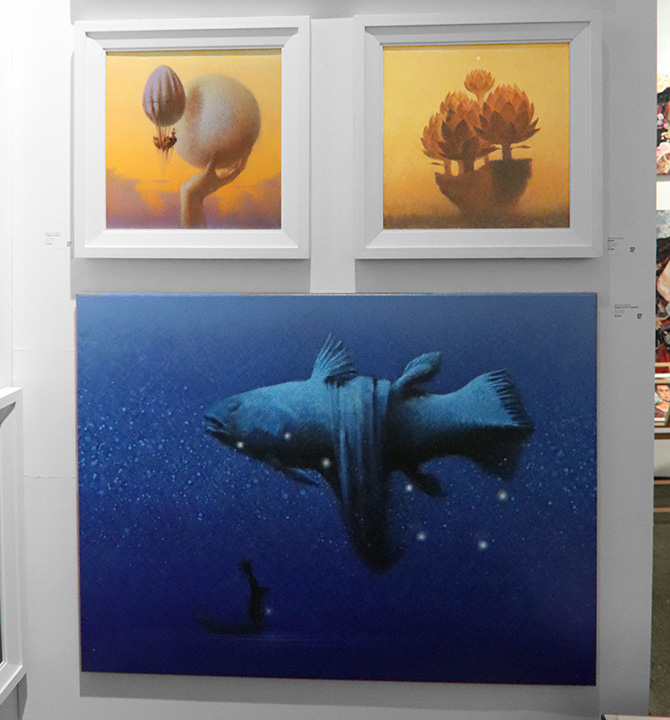 Mysterious blue fish and more by Mihael Kivachitsky.


California hill scenes by Stephanie Maclean.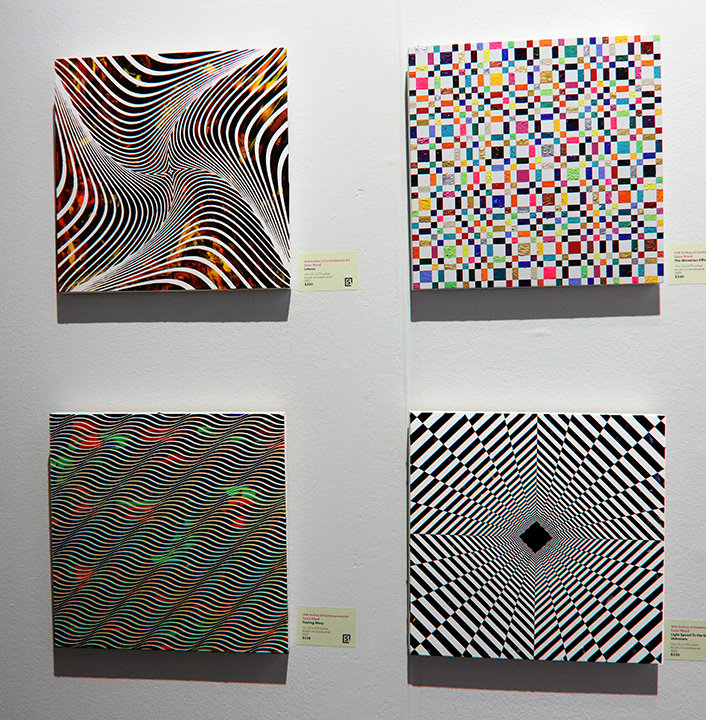 Affordable Op Art by Jean Ward, c/o HUE Gallery.


Landform amalgams by David Disko.


Navigating the Superfine Art Fair, Fort Mason Center, San Francisco, CA.


***