***

Get your art fix fast: Instagram @alanbamberger
***
Bass & Reiner Gallery: Divided Attention - Trevor Goosen and Charlie Leese
Comment by AB: Perhaps pseudo-functionality is the watchword here. Hermetic wall works by Trevor Goosen conceal secrets just beneath the surface, while Charlie Leese defies gravity with his levitated chains. Nicely done and worth a visit.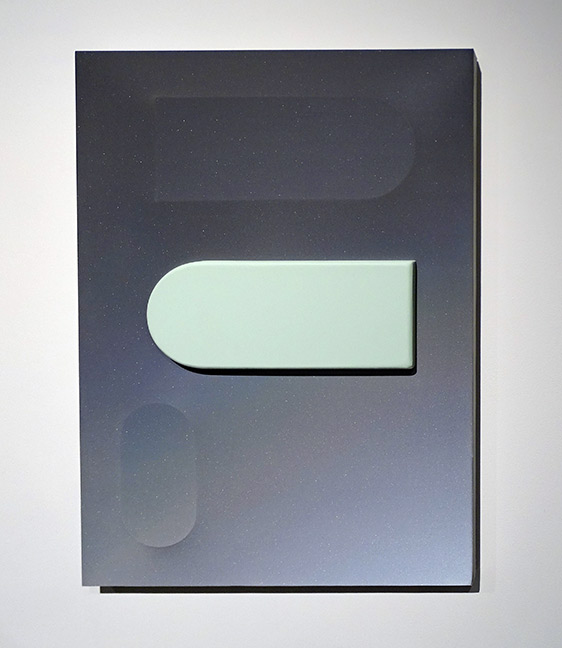 Art by Trevor Goosen at Bass and Reiner Gallery (kinda like it).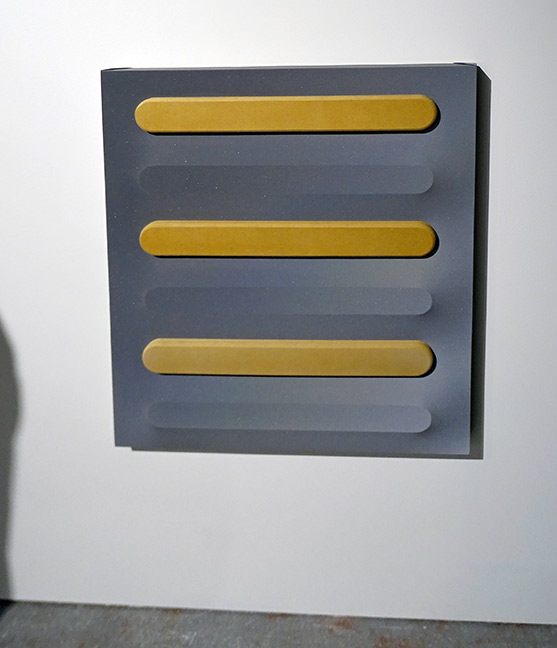 Trevor Goosen art with action beneath the surface.


Art by Trevor Goosen.


Heavy-duty sculpture by Trevor Charlie Leese.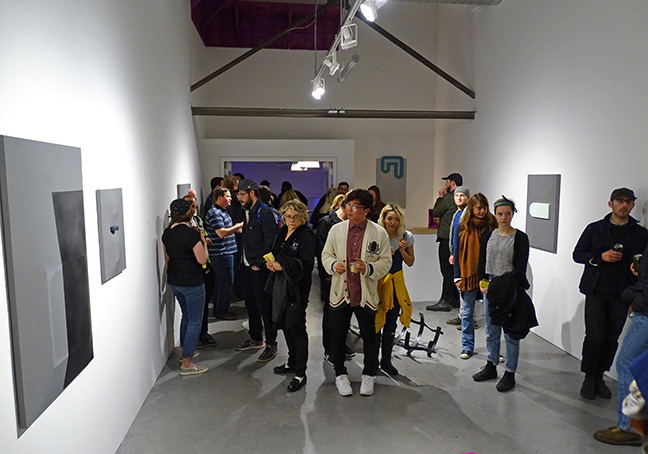 Long view - Trevor Goosen and Charlie Leese at Bass & Reiner Gallery.


***
Themes + Projects: Tom Sandonato - Passages; Contained Radiance - Laddie John Dill
Comment by AB: In the main gallery, meticulous mixed-media works with thoroughly worked surfaces by Tom Sandonato incorporate everything from masonite to steel. Downstairs, Laddie John Dill generates a meditative experience with glass, light and sand.

Tom Sandonato and his art at Themes and Projects.


Art by Tom Sandonato.


Tom Sandonato art with thorough surface work.


Light sculpture by Laddie John Dill.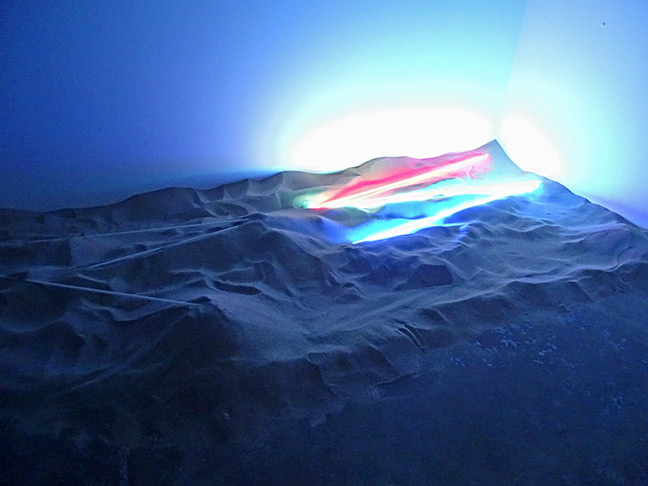 Laddie John Dill art.


Tom Sandonato & Laddie John Dill at Themes + Projects.


***
Luna Rienne Gallery: March Forth!
Artists: Adam Gray, Andy Stattmiller, Brett Crawford, Chris Stokes, Daryll Peirce, David Chacon, Ferris Plock, Kevin Taylor, Leon Loucheur, Nate1 Tan, Reuben Rude, Robert Bowen, St. Monci, t.w.five, Ursula Young.
Comment by AB: A gentle reminder to get active and stay that way. A percentage of sales will benefit the Immigration Legal Resource Center.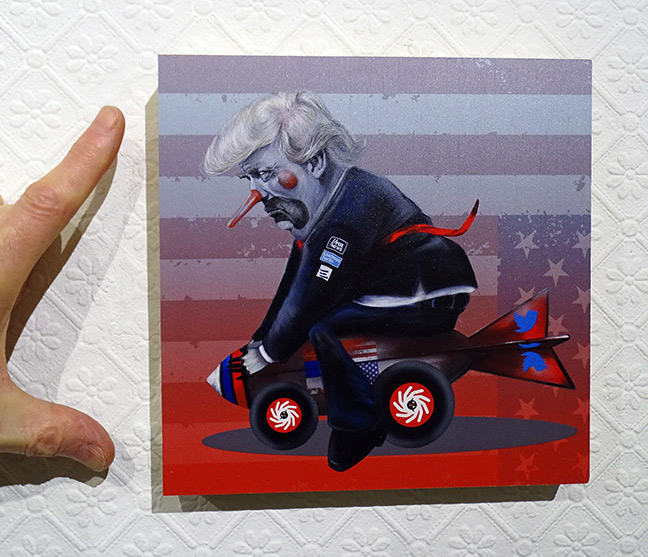 Little cutie pie - art by Brett Crawford up close at Luna Rienne Gallery.


Art by t.w.five.


Queasy uneasy feeling art by Kevin Earl Taylor art.


Art by Robert Bowen.


Daryll Peirce art.


Group art show about the new world order at Luna Rienne Gallery.


***
Juan R Fuentes Gallery: Creation and Resistance - Printmaking in Dark Times. Curated by Juan Fuentes & Art Hazelwood.
Artists: David Avery, Alexandra Blum, Chamuco Cortez, Kate Laster, Fernando Marti, Golbanou Moghaddas, Emmanuel Montoya, Malaquias Montoya, Patrick Piazza, Jos Sances, Veronica Solis.
Comment by AB: Remember the days of, "Give me your tired, your poor, your huddled masses yearning to breathe free"? What the hell happened?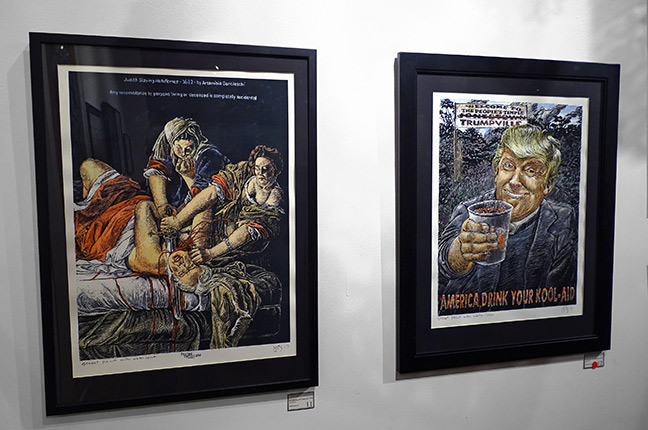 Limited edition prints by Jos Sances at Juan R Fuentes Gallery.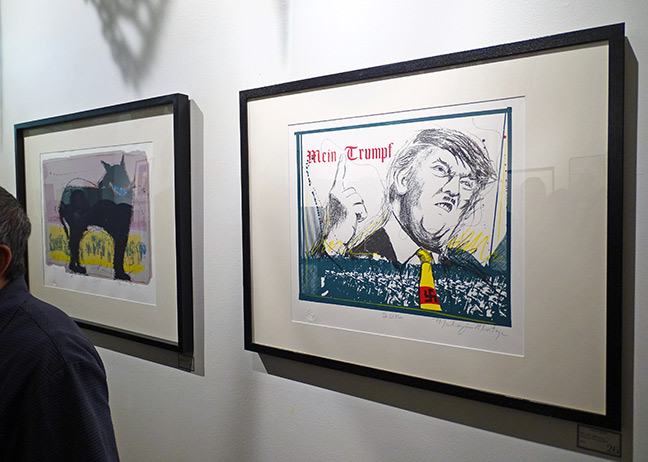 Malaquias Montoya art.


Prints by Patrick Piazza.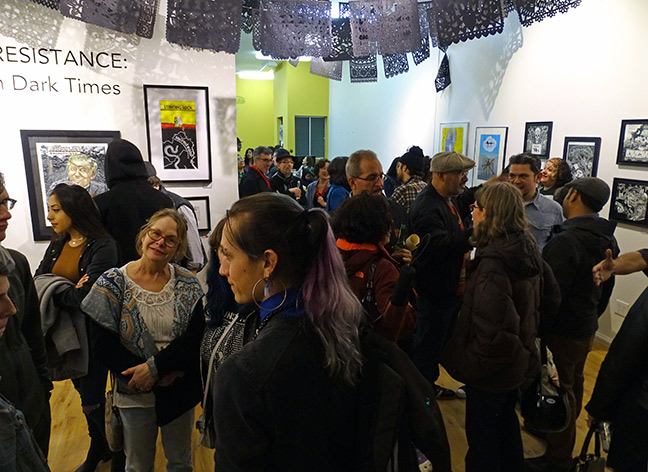 Relative density - "Resist" group print show at Juan R Fuentes Gallery.


***