***

Get your art fix fast: Instagram @alanbamberger
***
Catherine Clark Gallery: Borderline - Chester Arnold
Comment by AB: Aesthetic observations on our chronic border wall follies. Great Wall of China II... here we come! Or don't we? Litter, graffiti, deterioration, heartbreak and sorrow included at no extra charge. Always good. Definitely recommended.

Border wall art by Chester Arnold at Catharine Clark Gallery.


Art by Chester Arnold.


Chester Arnold border wall art - small, medium and large. Take your pick.


Art in above image closer.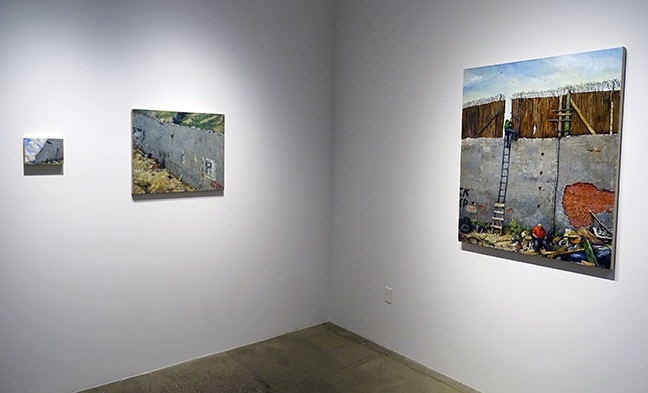 Art by Chester Arnold.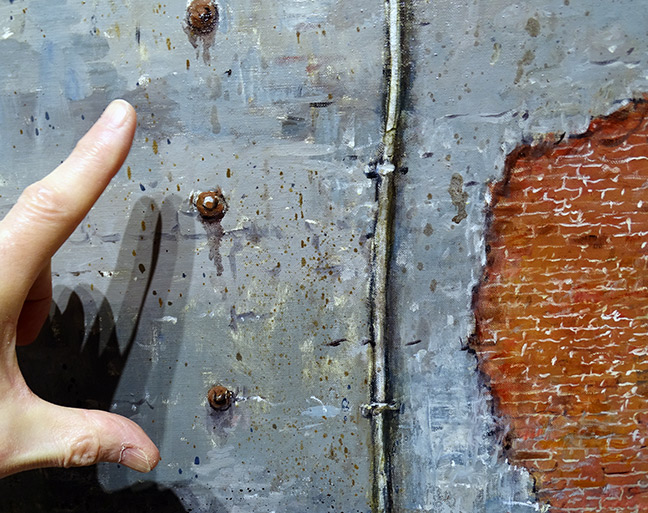 Detail of art in above image.


Border wall art by Chester Arnold closer (like it).


***
Anglim Gilbert Gallery: Under Way - John Beech
Comment by AB: Take whatever remnants and leftovers you find languishing around the studio and cobble 'em into an art show. It's that simple and no more complicated. Worth checking out.

John Beech and his sculpture at Anglim Gilbert Gallery.


Flip side of sculpture in above image.


Art by John Beech.


If the front's not working for you, use the back - John Beech art.


Large painting by John Beech.


Dancing cheek-to-cheek - art by John Beech.


Long view - John Beech art show at Anglim Gilbert Gallery.


***
Luna Rienne Gallery: Year Of The Dog - Michael Gillette
Comment by AB: Michael Gillette imagines what rock stars, plants, subculture signifiers and more might look like as dogs, and then brings those imaginings to life for our edification and entertainment.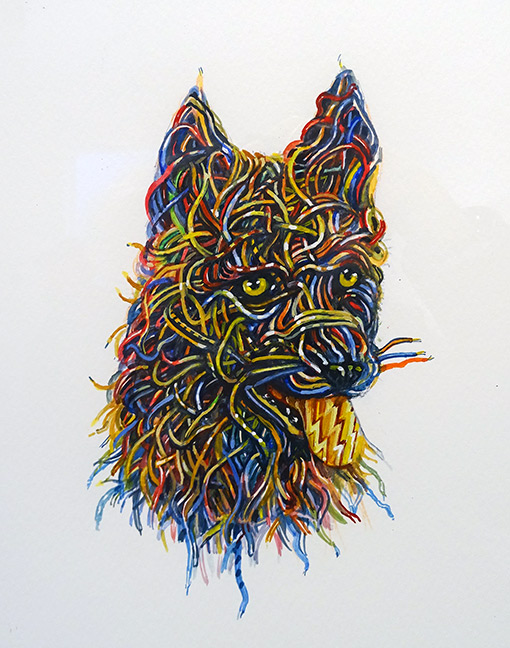 Arf art by Michael Gillette at Luna Rienne Gallery (nicely done).


Duck tail dog - art by Michael Gillette.


Michael Gillette and his art at Luna Rienne Gallery.


Garden variety dog - Michael Gillette art.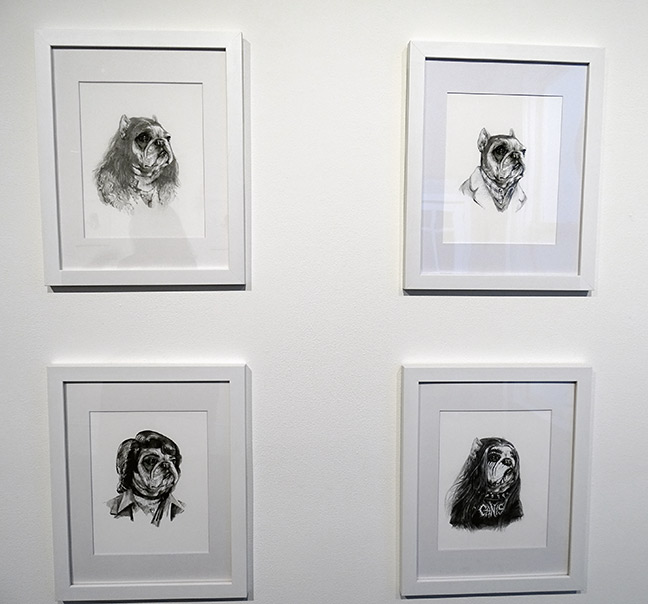 Canine characterizations by Michael Gillette.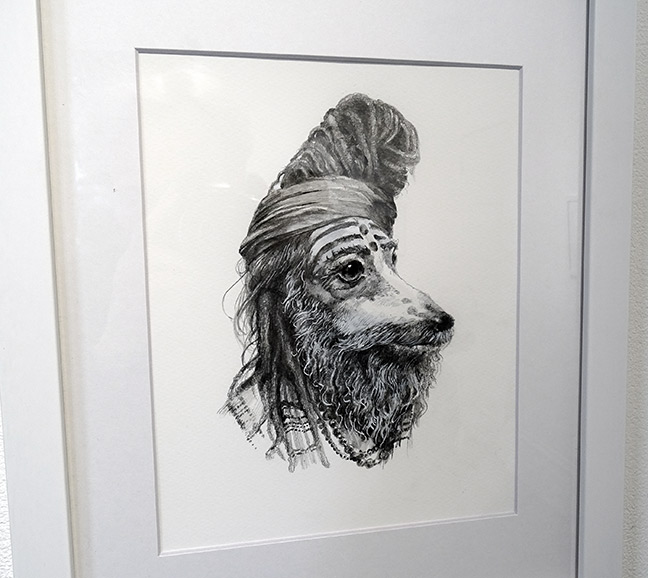 Art by Michael Gillette.


***
ArtSpan at SOMArts: Benefit Art Auction 2018
Artists: Amy Ahlstrom, Silvi Alcivar, Elizabeth Ashcroft, Jason Astorquia Sinclair, Ned Axthelm, Suzy Barnard, Norm Bartlett, Ray Beldner, Jennifer Berkowitz, Richard Bolingbroke, Spencer Aldworth Brown, Simona Hristoforova Bunardzhieva, Helen Scheuer Cohen, Linda Colnett, Sugabus Media, Colette Crutcher, Herb Dang, Andreina Davila, Flora Davis, Renee DeCarlo, Robin Denevan, Monica Denevan, Denise Dmochowski, Miles Epstein, Su Evers, Nina Fabunmi, Scott Fin, Jon Fischer, Rebecca Fox, Janey Fritsche, Joan Karissa Gallego, Annie Galvin, Marissa Geoffroy, Ariel Gold, Rinat Goren, Heiko Greb, Jane B. Grimm, dk haas, Marc Ellen Hamel, Colette Hannahan, Todd Hanson, Mark Harris, Audrey Heller, Dianne Hoffman, Lutz Hornischer, Robert Howard, Phillip Hua, Brian Huber, David L Hughes, Scott Idleman, Clint Imboden, Shane Izykowski, Martine Jardel, Steve Javiel, Philippe Jestin, Eric Joyner, Andrzej Michael Karwacki, Josh Katz, Gillian Keller, Mike Kimball, Sasinun Kladpetch, David Louis Klein, John Kraft, Michael Krouse, Carol Kummer, Linda Larson, Katja Leibenath, Bonnie Levinson, Catherine Mackey, Camila Magrane, Kathleen Maley, Kay Marshall, Alan Mazzetti, Michael McConnell, Saundra McPherson, Salome Milstead, Leslie Morgan, Paul Morin, John Musgrove, Jeffrey Nemeroff, John Nieto, Sean O'Donnell, Sylvia Paret, Silvia Poloto, Megan Posas, Matthew Priest, Lucky Rapp, Eric Rewitzer, Fernando Reyes, Ariel Rho, William Rhodes, Susan Richardson, Carol Rienecker, Thomas Risser, Heather Robinson & Joshua Coffy, Karl Roeseler, Sawyer Rose, Tachina Rudman-Young, Harumo Sato, Irene Schlesinger, Greta & Manu Schnetzler, Valerie Scott, Larraine Seiden, Maureen Shields, Kim Smith, Cat Sommer, Susan Spies, Stephanie Steiner-Jacobi, Talavera-Ballon, Justin Teisl, Samanta Tello, Margaret Timbrell, Randy Titchenal, Victoria Veedell, Sylvia Vientulis, Nikki Vismara, Melissa Wagner, Jenny M.L. Wantuch, Kay Weber, Rodney Weiss, Aynur Girgin Westen, Nathalie A. Whisman, Ealish Wilson, Termeh Yeghiazarian, eElos, Yelena Zhavoronkova, Rachel Anne Znerold, Elena Zolotnitsky.
Comment by AB: The annual ArtSpan fundraiser auction gets better and better, not only in terms of the quality of work up for bids and the wall-to-wall attendance, but more importantly, in terms of financial participation and support. The event raised a record-breaking $275,000! At the top of ArtSpan's things-to-do list for 2018 is the creation and development of their future headquarters and exhibition space, the Onondaga Art Center in The Excelsior. Time to make this happen, y'all! The support that ArtSpan provides to the San Francisco art community year after year cannot be overstated.

Art by Phillip Hua at ArtSpan annual fundraiser auction.


Print by Eric Rewitzer - Salesforce Tower get's circumcised.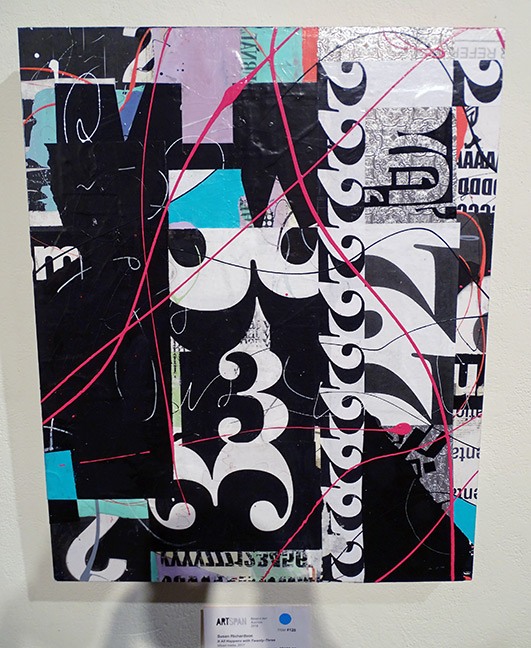 Numerical art by Susan Richardson.


Colorful geometric construction by Mike Kimball.


Romance of faraway places - Monica Denevan photography.


Blossoming yardstick art by Clint Imboden.


Fantasy mixed-media collage art by Maureen Shields.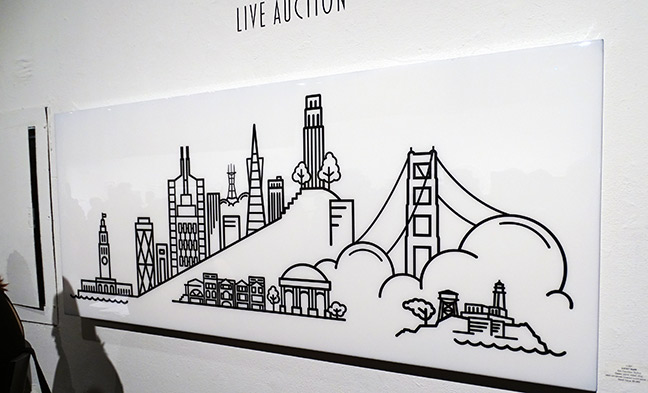 Resin-coated skyline art by Lucky Rapp auctioned for a hefty $12K.


Labyrinthine art by Brian Huber.


Textural diversity art by Richard Bolingbroke.


Wood sculptures by Heiko Greb.


New Age lady ceramic by Colette Crutcher.


Randy Titchenal art.


Action at the auction - no room to move at ArtSpan's annual fundraiser.


***