ANDREA SCHWARTZ - THEMES & PROJECTS - SPOKE ART

PATRICIA SWEETOW - JACK FISCHER - GALLERY 16

NANCY TOOMEY - 111 MINNA - SENATOR SCOTT WEINER

MIRUS - MARTIN LAWRENCE - ERIC QUEZADA CENTER

04.04-14.18



Make the most of your art show openings. Click Here.
***

Get your art fix fast: Instagram @alanbamberger
***
Andrea Schwartz Gallery: Alex Couwenberg - Chevrons

Alex Couwenberg and his art at Andrea Schwartz Gallery.


***
Themes + Projects: Pavlina Ecclesiarhou - Epitaphs and Silent Stories

Pavlina Ecclesiarhou and her photography at Themes and Projects.


***
Spoke Art Gallery: Heaven of Many a Tangled Hue - Chuck Sperry

Chuck Sperry and his screenprint art at Spoke Art Gallery.


***
Patricia Sweetow Gallery: Gail Wight - Scenic Overlook

L-R, Gail Wight and her shell art assisted by gallery owner Patricia Sweetow.


***
Jack Fischer Gallery: Lou Beach - Riot Rumphaus

Lou Beach and his curious collage art at Jack Fischer Gallery.


***
Gallery 16: Semiprecious - Adriane Colburn

Adriane Colburn and her meticulous sculpture at Gallery 16.


***
Nancy Toomey Fine Art: Eric Butcher - Artificial Light

Eric Butcher and his art at Nancy Toomey Fine Art.


***
111 Minna Gallery: Last Gasp's 48th Anniversary Group Show

Last Gasp's Ron Turner signs copies of Beyond the Dark Veil, 111 Minna Gallery.


***
Offices of California State Senator Scott Weiner: Nite Life - Twenty-five San Francisco Bay Area Artists
Artists: Joseph Abbati, Nick Aitken, Tim Armstrong, Chad Berwald, Nancy Calef, Dyanna Dimick, Billy Douglas, Suzanne Engelberg, ENTROPY, Nathalie Fabri, Scott Fin, Catherine Gutierrez, Diane Heron, OLE Johnson, Judy Joy Jones, Athena Kim, Rikki List, Chloe Meyer, Stephanie Peek, Myke Reilly, Wendell Shinn, Torrey Spoerer, Deirdre Weinberg, Susan West, Jeffrey Yip.

Tim Armstrong and his art at Senator Scott Weiner's offices.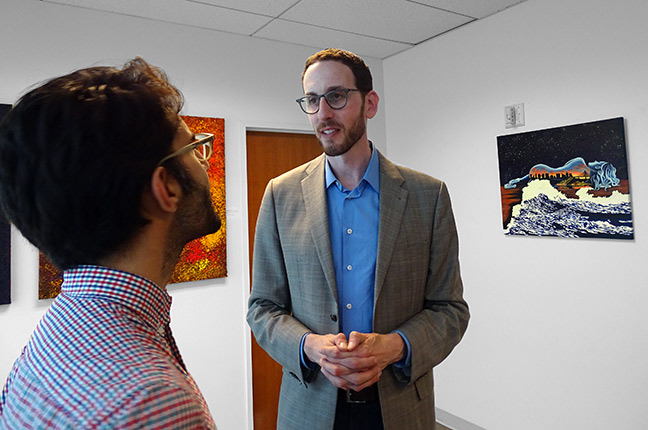 Senator Scott Weiner (center) throws good art shows at his SF offices.


***
Mirus Gallery: Low Bros - 98 Windows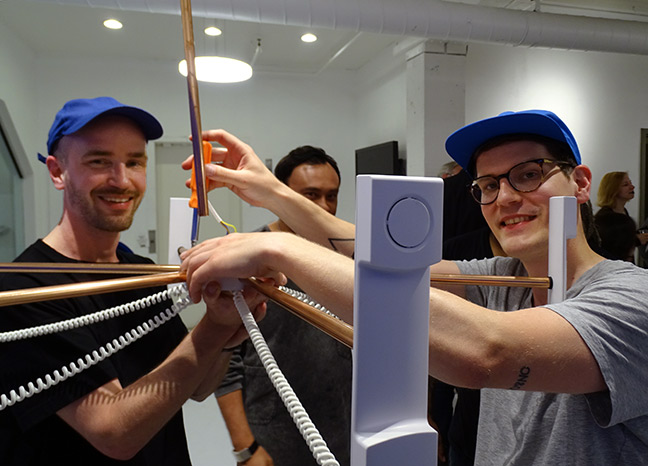 Low Bros Christoph & Florin Schmidt nuance their art at Mirus Gallery.


***
Martin Lawrence Gallery: Pop Illusionist Philippe Bertho

Philippe Bertho and his art at Martin Lawrence Gallery.


***
Eric Quezada Center for Culture and Politics : Broke Art Basel (Nothing Over $100)
Artists: Che Micana, Cory Swenson-Scott, Elly Russell, Emily Kontelis, Izzy Fischer, Jennifer Phan.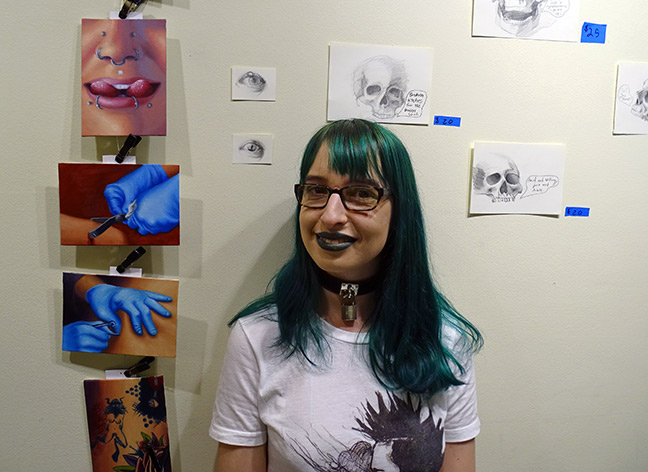 Emily Kontelis and her art at Broke Art Basel (paintings for $50).


Cory Swenson and his art at Broke Art Basel (painting + frame for $45).


Jennifer K Phan and her $100 detailed drawing at Broke Art Basel.


***