***

Get your art fix fast: Instagram @alanbamberger
***
StARTup Art Fair: First Look Preview
Artists: Amy Ahlstrom, Jude Berman, Clovis Blackwell, Barbara Boissevain, Beka Brayer, Juliana Coles, Gail Cooper, Dana DeKalb, Robin Denevan, Tucker Eason, Myra Eastman, Jon Fischer, Jane Fisher, Guta Galli, Charlotta Maria Hauksdottir, Victoria Mara Heilweil, Audrey Heller, Kathryn Holt, Robert Howard, Tang Wei Hsu, Brian Huber, Gary Irving, KyungBae Jeon, Philippe Jestin, Eric Johnston, Kristian Kabuay, Russel Kiehn, Jeemin Kim, Kipaipai Alumni Group, Vanessa Koch, John Kraft, Rich Lanet, Katja Leibenath, Oleg Lobykin, Dan Lythcott-Haims, Emily Maddigan, Camile Magrane, Irina Moldovan, Kenneth Ober, Lily Phan, Tracy Piper, Silvia Poloto, Fernando Reyes, Susan Richardson, Heather Robinson, Frederika Roeder, Eric Saint Georges, Mike Sanchez, Anastasia Schipani, Sahba Shere, Mary K. Shisler, Sicerra, Emanuela Sintamarian, Susan Spies, Christopher Uy, Christine Weir, Keith Wilson, Dan Woodard, Hsi-chi Wu, Sara Zielinski, Elena Zolotnitsky, Root Division, ArtSpan, Three Point Nine Art Collective.
Comment by AB: A juried selection of artists sell direct to the public at San Francisco's hip mid-century modern Hotel Del Sol. For the most part, each artist has an entire room to show their work, while several artists share. A wide range of creations are on display from gumdrop pop to sequined taxidermy to traditional portraits and figures. Mediums include painting, sculpture, photography, assemblage, fabric art, photography, digital art, and more. The best part? Meeting artists in person and speaking with them about their art firsthand. Nothing beats that.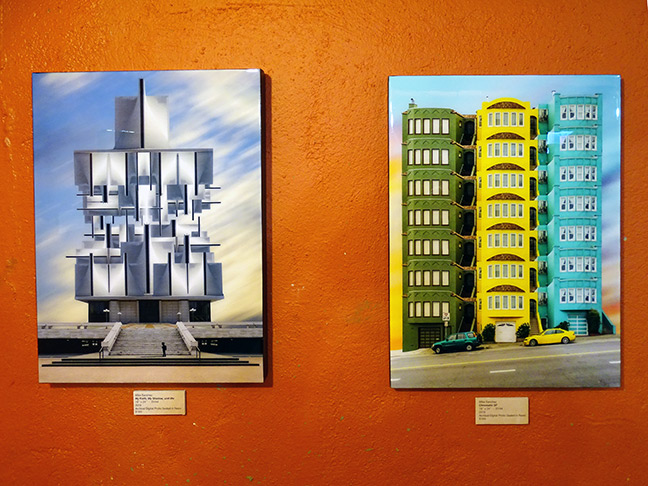 Quirky riffs on San Francisco architecture by Mike Sanchez.


Art by Tucker Eason at StARTup Art Fair.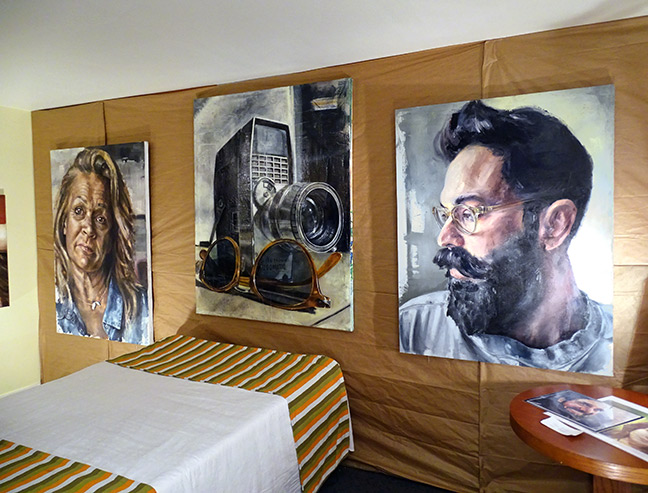 More Tucker Eason art.


Jane Fisher and her art at Hotel Del Sol.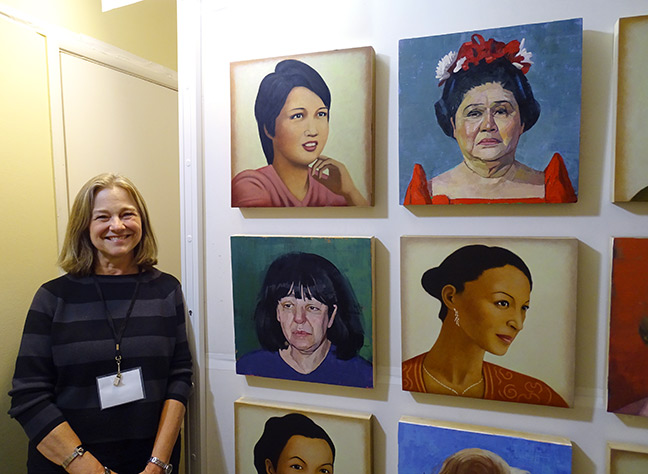 Dana De Kalb with and her and Jane Fisher's "Despot Housewife" portraits.


Art you can listen to - "Turntable Drawings" by Jon Fischer & Danny Clay.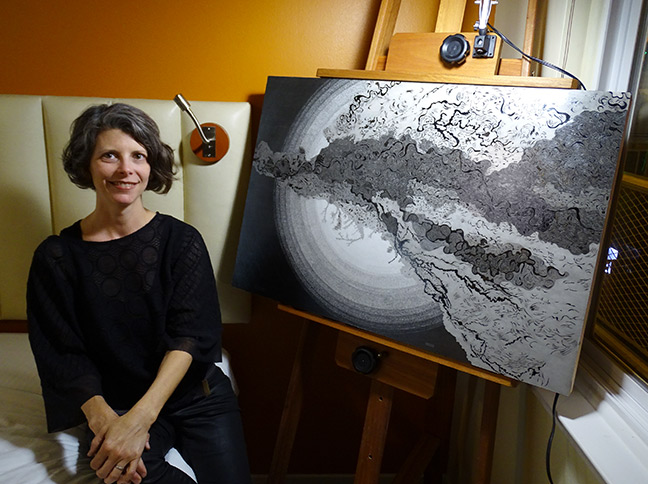 Christine Weir tells me this graphite drawing took several months to make.


Sculptural installation by Dan Woodard. No, I didn't ask.


Emanuela Sintamarian and her assiduous abstractions.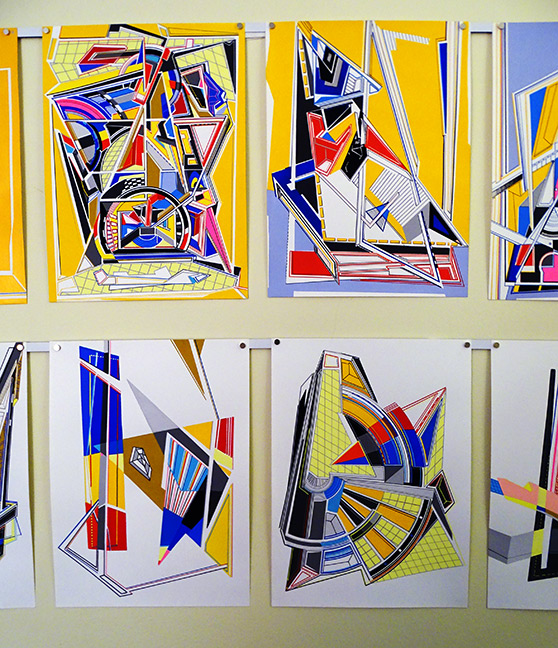 Art by Emanuela Sintamarian closer.


Amoebic sculptures by Oleg Lobykin at StARTup Art Fair.


Gumdrop pop by Sicerra at Hotel Del Sol.


Alien horizons by Robin Denevan.


Gothic photography by Gary Irving.


Katja Liebenath and her art at StARTup Art Fair.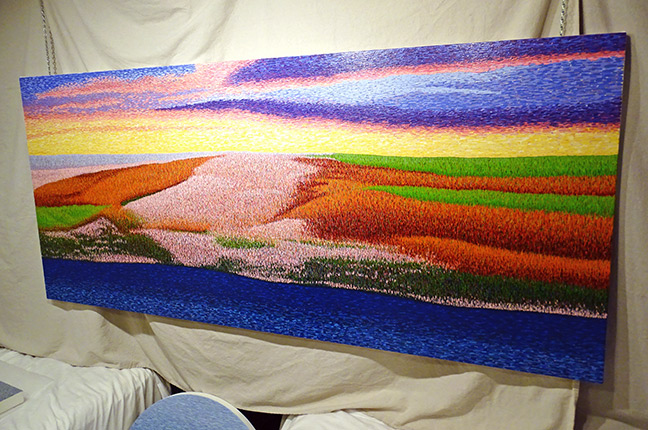 Rigorous visionary art by Kenneth Ober.


Pinkie cam detail of Kenneth Ober art. That's a lotta work.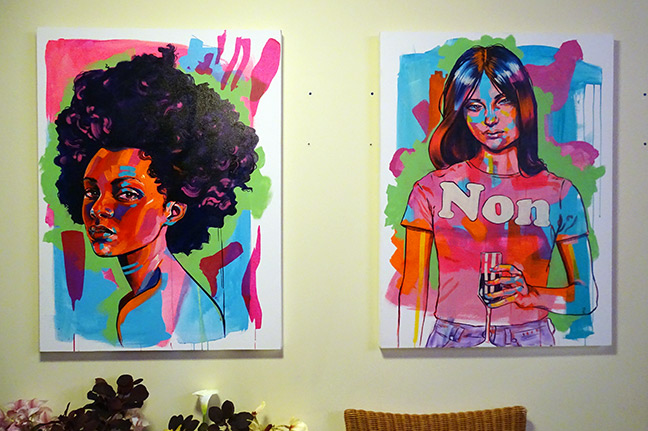 Uneasy portraiture by Tracy Piper.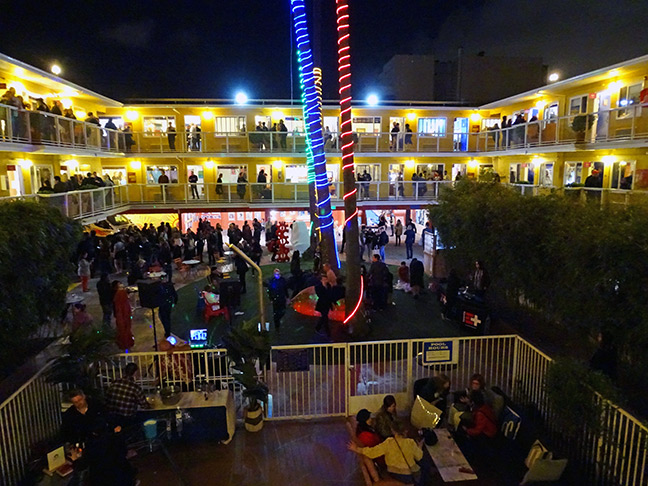 The basic idea - StARTup Art Fair at Hotel Del Sol. Fun!


***