***

Get your art fix fast: Instagram @alanbamberger
***
Ever Gold [Projects]: Petra Cortright - Zero-Day Darling
Comment by AB: According to the preamble, what we have are unique "digital paintings created from a single master file of internet-sourced imagery." But isn't a painting a work of art that's actually painted with paint by a painter? Sorry, but I'm not buying this de facto "it is because we say it is" definition. Hacking through the hocus-pocus is no cakewalk, but from everything I'm reading, these appear to be original digital compositions created on a computer, printed by an inkjet printer in editions of one, and that's that. They're admirably composed, executed and impressive to behold; no argument there. But c'mon. Stop messin' with lingo and tell it like it is. Good show worth seeing regardless of what anyone says you're looking at.

Art by Petra Cortright at Ever Gold Projects.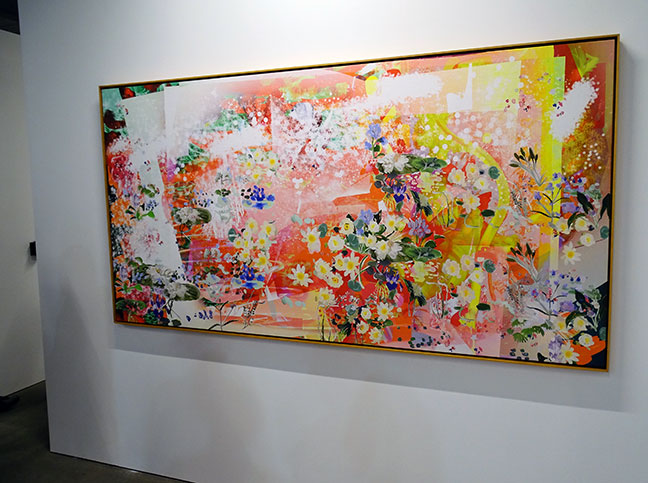 Unique digital composition by Petra Cortright.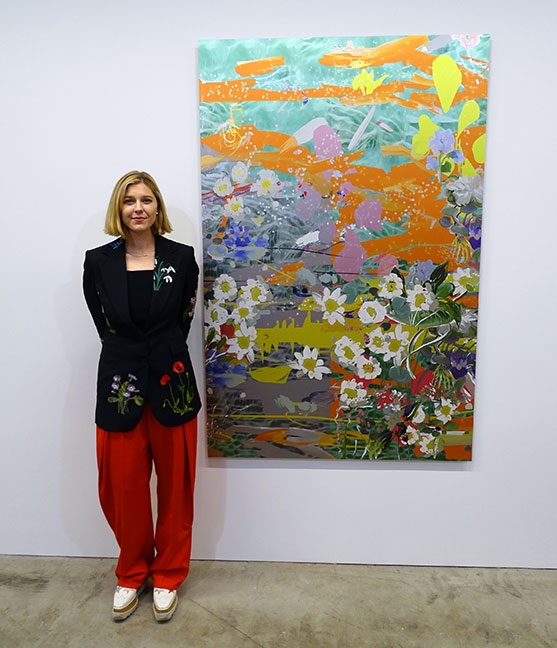 Petra Cortright and her art at Ever Gold Projects.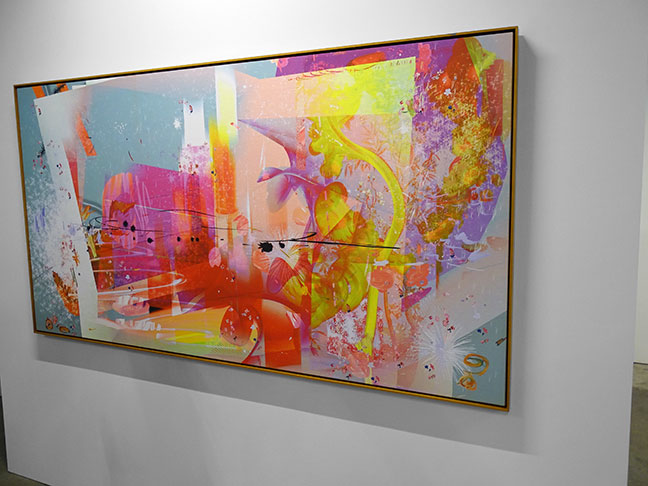 Art by Petra Cortright.


Demographics - Petra Cortright art show at Ever Gold Projects.


***
Casemore Kirkeby: New Material
Photographers: Kenta Cobayashi, Motoyuki Daifu, Fumiko Imano, Yoshi Kametani, Momo Okabe, Hiroshi Takizawa, Naohiro Utagawa, Daisuke Yokota.
Comment by AB: Innovative takes on photography by eight Japanese photographers. Stop on by.

Photographs by Hiroshi Takizawa at Casemore Kirkeby.


Photography by Kenta Cobayashi.


Kenta Cobayashi and his photograph above closer at Casemore Kirkeby.


Art by Naohiro Utagawa.


Daisuke Yokota photographs.


Not sure who this one's by.


Photographs in above image closer.


Relative density - group photography show at Casemore Kirkeby.


***
Rena Bransten Gallery: John Preus - New Works
Comment by AB: Artful wood and sculptural pieces by John Preus have a utilitarian flair. Noting the superior quality of the work, I ask him if he does this sort of thing for a living in the real practical world and not surprisingly, he says yes. Check it out.

Art by John Preus at Rena Bransten Gallery.


Pinkie cam detail of art in above image.


Apparently functional sculptures by John Preus.


John Preus and his art at Rena Bransten Gallery.


Expertly collaged "wood paintings" by John Preus.


Art in above image closer.


Fine and functional art by John Preus at Rena Bransten Gallery.


***
Themes + Projects: Carine Magescas - La Plage Blanche
Comment by AB: The show's title translates as "The White Beach" which is exactly precisely on the money considering the imagery. In fact, they're Carine Magescas' manipulated photographic translations of Northern California beaches.

Carine Magescas and her photography at Themes + Projects.


Altered photographs by Carine Magescas.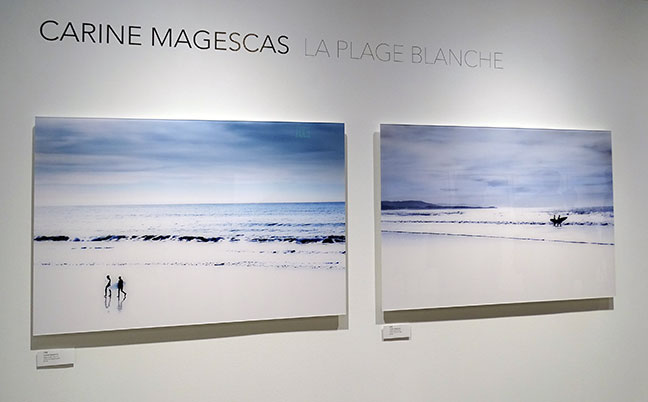 Carine Magescas beach scene photography.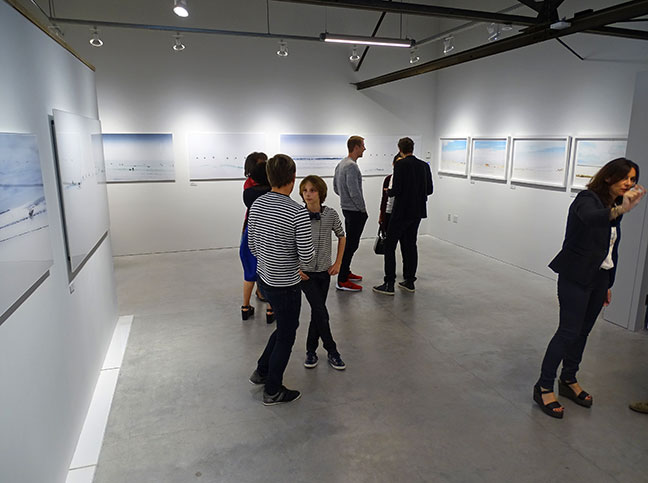 Overview - Carine Magescas photographs at Themes + Projects.


***
The Luggage Store Gallery: Welcome to the Left Coast
Artists: Adam Feibelman, Ala Ebtekar, Alan Gonzalez, Amy Trachtenberg, Amy Vasquez, Ben Venom, Brett Goodroad, Carolyn Jean Martin, Cate White, Channing Morgan, Chelsea Wong, Chris Johanson, Christine Shields, Christo Oropeza, Delfina Piretti, Daniel Mendoza, Dustin Fosnot, Felix Macnee, Frohawk Two Feathers, Gabby Miller, Gina Contreras, Grant Gutierrez, Greg Goldman, Gustavo Ramos Rivera, Isaac Vazquez Avila, Kate Rosenberger, Jenny Sharaf, Joey Enos, Johanna Jackson, Johanna Poethig, John Held Jr., Justin Hager, Kevin Earl Taylor, Kristine Reano, Lawrence Ferlinghetti, Luis Pinto, Madeline Rose Carter, Marcela Pardo, Maria Capron, Mario Ayala, Megan Leppla, Michael Krouse, Michelle Guintu, Miram Stahl, Nicholas Torres, Patrick Martinez, Paul Gibson, Paul Spencer, Rich Foneca Daigle, Rigo 23, Rene Yanez, Ryan Shaffer, Ryan Zweng, Rye Purvis, Saber, Sahar Khoury, Spencer Davie, Tamsin Smith, Taravat Talepasand, Terry Hoff, Tim Diet, TW5, Una Ryan, William Emmert, Yarrow Slaps, Zach Hangauer
Comment by AB: Counterculture devotionals like this used to be the order of the day in meta-progressive Ess Eff. These days they're becoming rarer and rarer. Cherish 'em while we still got 'em... and that goes double for The Luggage Store.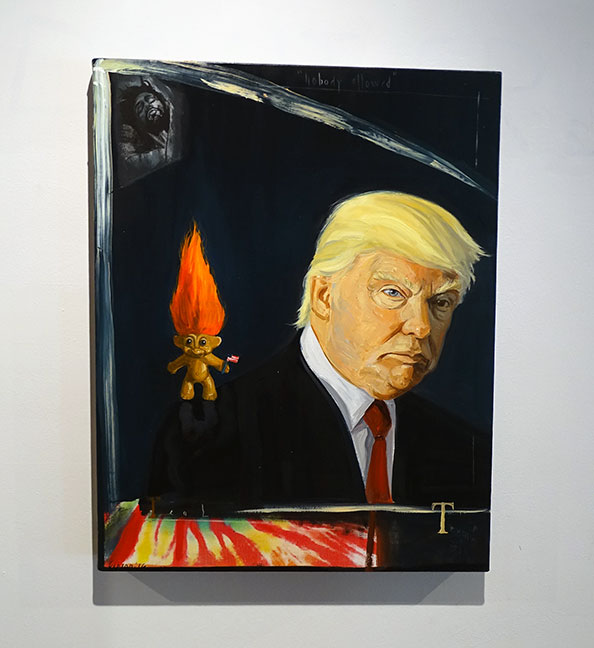 Ominous Donald art at The Luggage Store group show.


Serigraphs of hundreds on canvas.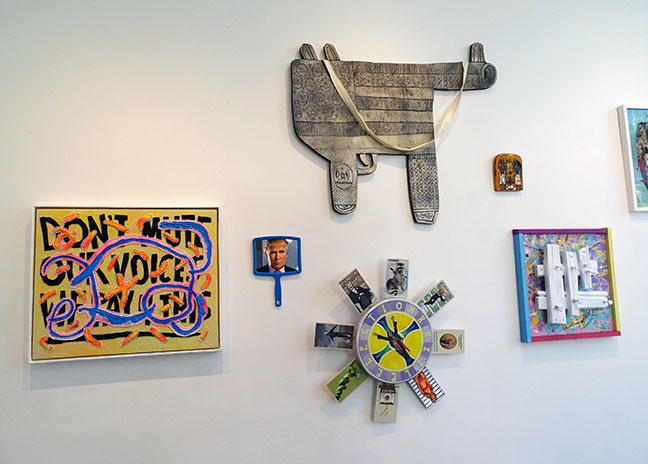 Art by Ferris Plock (top center), Joey Enos (lower right).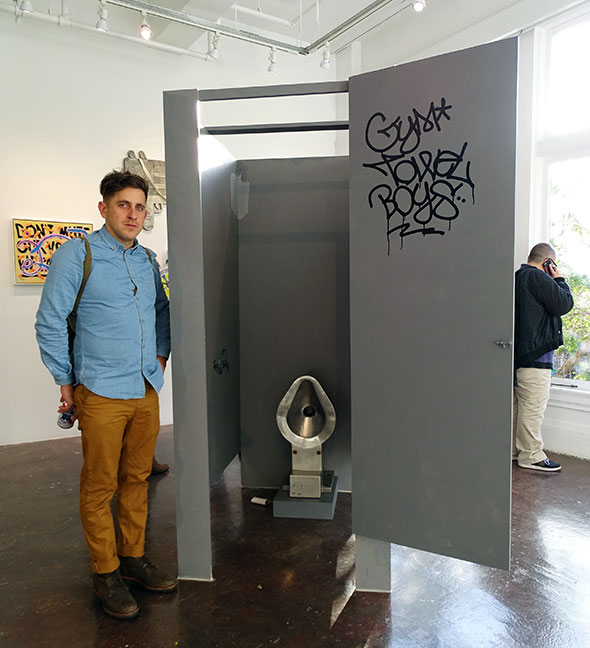 Nicolas Torres and his art/installation at The Luggage Store.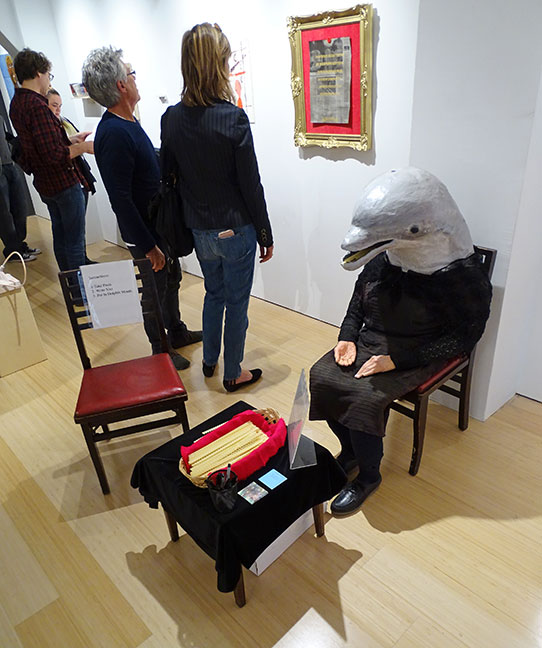 Write your sins on pasta and put it in the dolphin's mouth.
I have no idea what it means, but I love it.

Lawrence Ferlinghetti art.


Art by Michelle Guintu (upper right).


Group art show - Welcome to the Left Coast at The Luggage Store.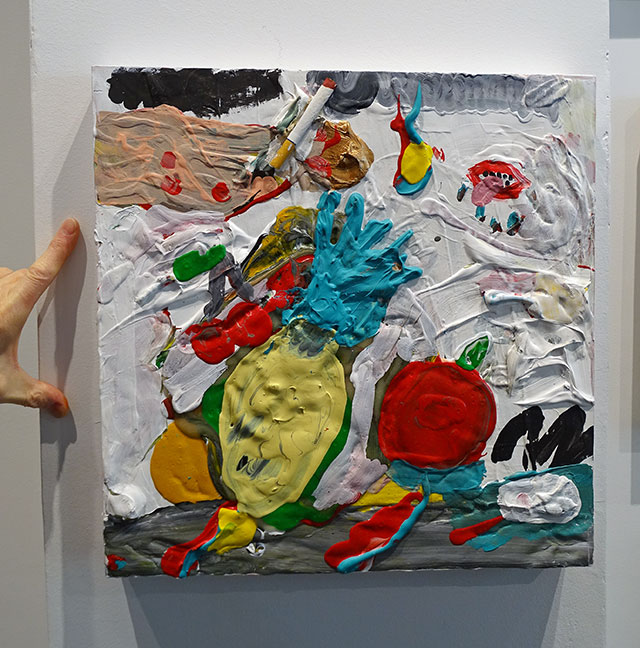 Impasto art with embedded cigarette up close.


Long view - group art show at The Luggage Store Gallery.


***