***

Get your art fix fast: Instagram @alanbamberger
***
Minnesota Street Project: After Pop Life curated by Glen Helfand; Life After Prince by Kevin Killian
Artists: Sadie Barnette, Paulina Bercynski, Libby Black, Rebeca Bollinger, Bonanza, Luke Butler, Maria Guzman Capron, Veronica de Jesus, Didi Dunphy, O.M. France, James Gobel, Daniel Green, Rachel Harrison, Cliff Hengst, Scott Hewicker, David Huffman, Geoff Kaplan/General Working Group, Kevin Killian, Laura Hyunjhee Kim, Jason Lazarus, Rodney McMillian, Kori Newkirk, Adam Novak, Jennie Ottinger, Erika Ranee, Rex Ray, Yukari Sakura, XUXA SANTAMARIA, William Scott, Tamra Seal, Jenny Sharaf, Wayne Smith, Sarah Thibault, Lava Thomas, Gina Tuzzi, Anne Walsh, Jenifer Wofford, Marilyn Wong, more.
Comment by AB: Kind of a satire, kind of a tribute, all about Prince and all good.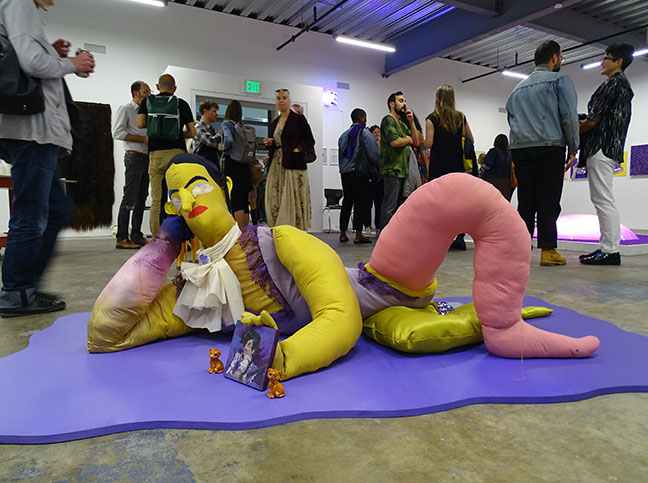 Art about Prince at Minnesota Street Project.


Prince portrait art by William Scott (right).


Illuminated art with purple turf by Tamra Seal.


Vertical fur - Prince homage group show curated by Glen Helfand.


Purple upholstered deck art by Didi Dunphy.


Author, poet and playwright Kevin Killian with portrait of The Man.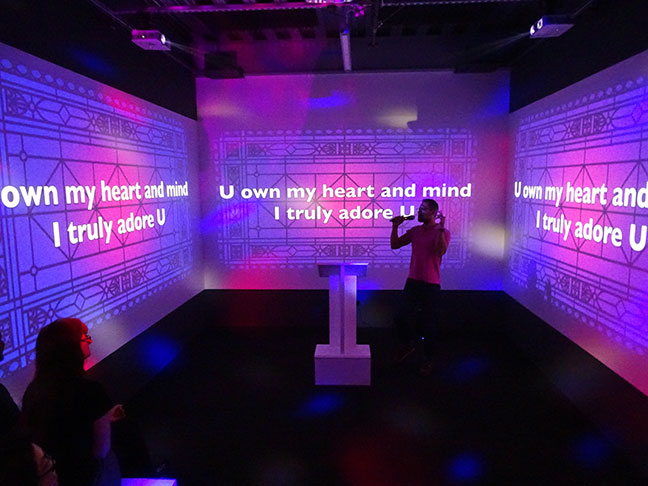 Prince Karaoke Chapel by Jenifer K Wofford.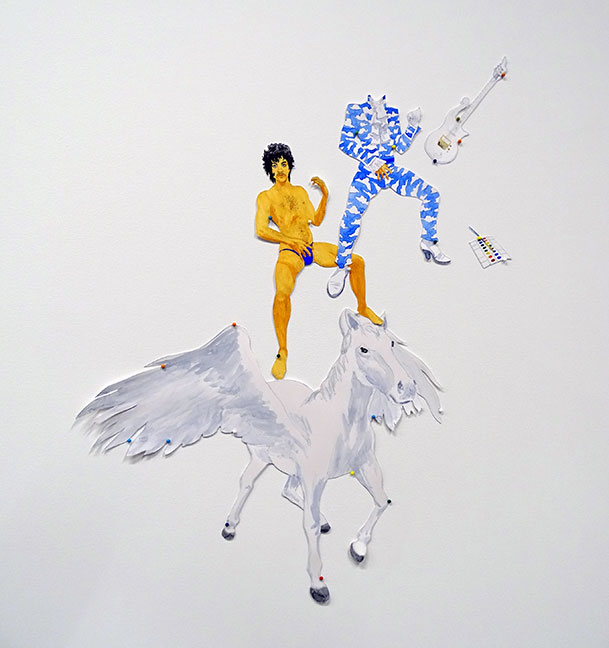 Lighthearted art about Price.


Wall of art homaging Prince.


***
Casemore Kirkeby: Todd Hido - Intimate Distance
Comment by AB: Todd Hido's images never fail to draw you in, dare you to figure them out and solve their riddles. There's always a mystery, a backstory, something missing, something unclear... and that's the allure. Good show; go see.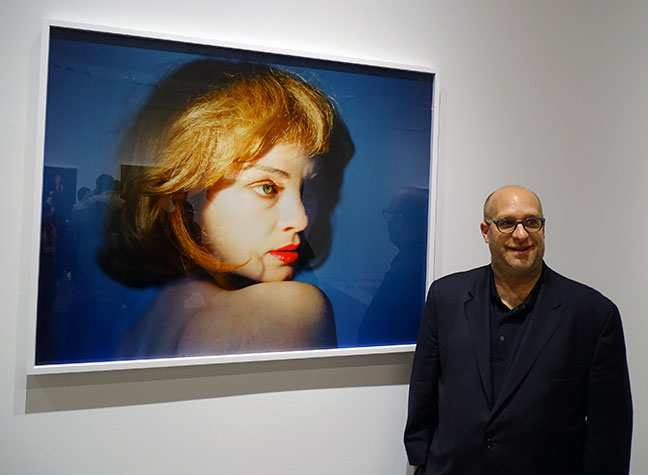 Todd Hido and his photography at Casemore Kirkeby.


Atmospheric imagery by Todd Hido.


Photographs by Todd Hido.


Todd Hido photographs.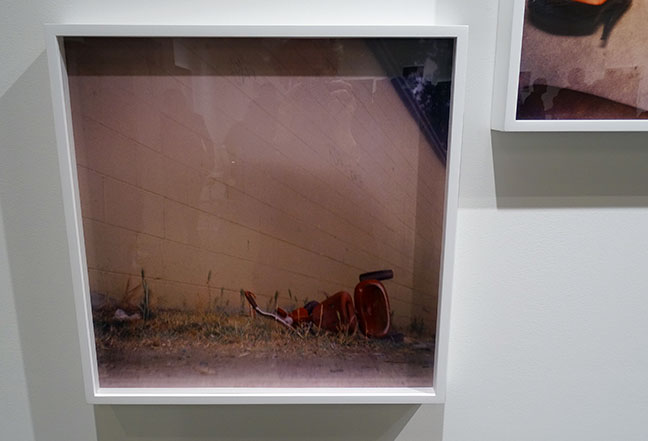 Photograph by Todd Hido closer.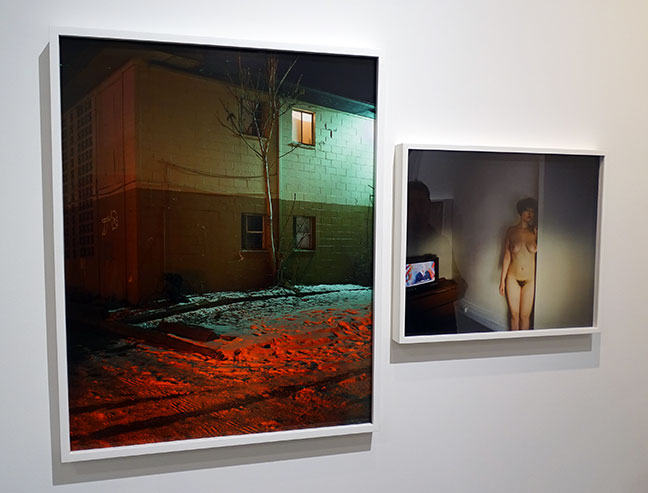 Todd Hido photography.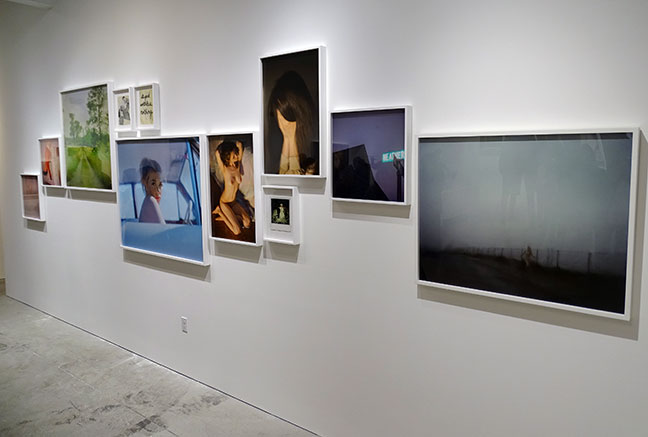 Photograph installation by Todd Hido.


Demographics - Todd Hido photography show at Casemore Kirkeby.


***
Jack Fischer Gallery at MSP: Kirstine Reiner Hansen - reconfigurator
Comment by AB: A riff & a twist on Francis Bacon.

Art by Kirstine Reiner Hansen at Jack Fischer Gallery.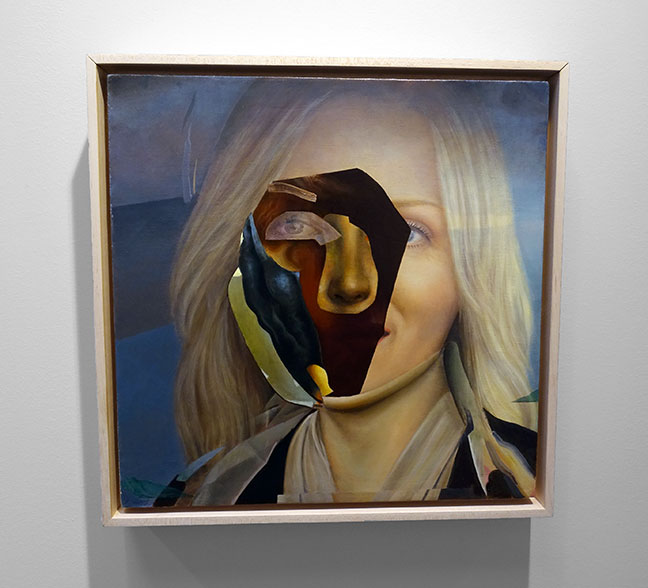 Art in above image closer.


Kirstine Reiner Hansen and her art at Jack Fischer Gallery.


Portrait art by Kirstine Reiner Hansen up close.


Long view - Kirstine Reiner Hansen art show at Jack Fischer Gallery.


***
Guerrero Gallery: Landfill/Bedrock
Artists: Thomas Campbell, Maria Guzman Capron, Richard Colman, Michael Dotson, Joey Enos, Sam Friedman, James Gobel, Rebekah Goldstein, Sarah Hotchkiss, Malcolm Kenter, Greg Lamarche, Caroline Larsen, Danielle Lawrence, Lana Licata, Marcela Pardo, Hilary Pecis, Cleon Peterson, Ben Quinn, Josh Reames, Megan Reed, Laura Rokas, Tosha Stimage, Maryam Yousif.
Comment by AB: Bedrock is stable; landfill can be iffy. Kind of like the ups, downs and sideways-es artists experience during the course of their careers. As for the artists in this show, here's where they are today. Tomorrow and tomorrow and tomorrow, we'll have to wait and see.

Art by Cleon Peterson up close at Guerrero Gallery.


L-R, art by james Gobel & Thomas Campbell.


Classy chalice art by Sarah Hotchkiss.


Art by Richard Colman (left).


Art by Danielle Lawrence up close.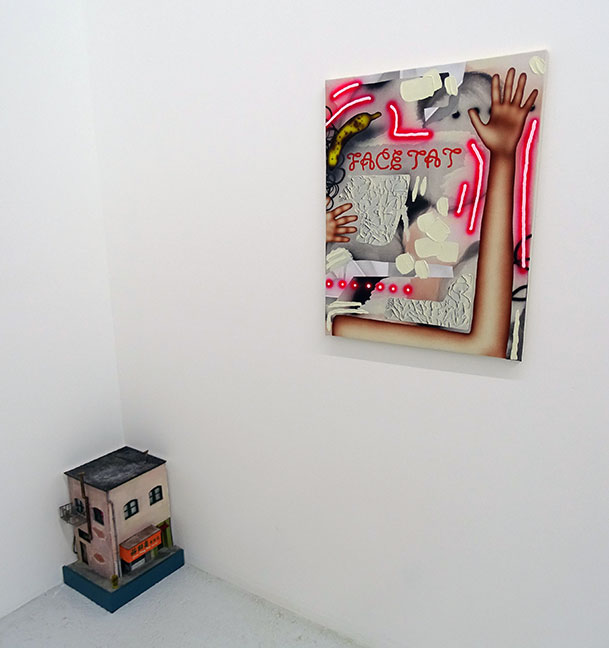 L-R, art by Malcom Kenter and Josh Reames.


L-R, art by Sam Friedman and Lana Licata.


Wall art by Sam Friedman - sculpture by Megan Reed.


***
Campfire Gallery: Heidi McDowell - Window Seat
Comment by AB: Views out the windows of cars & planes. Sometimes nothing can look pretty good. Nicely done. Stop on by.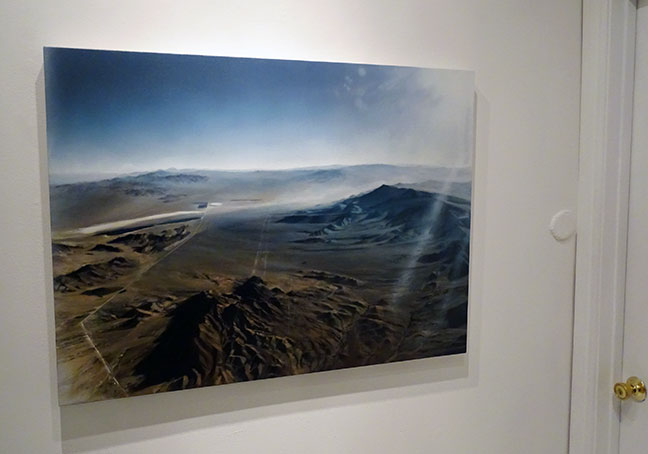 Art by Heidi McDowell at Campfire Gallery.


Art by Heidi McDowell.


Heidi McDowell and her art at Campfire Gallery.


Cirrus clouds & vapor trails - art by Heidi McDowell.


View out the car window - art by Heidi McDowell.


***
Harvey Milk Photo Center: The Art of Fire Fighting the Beast - Photographs of San Francisco Firefighters at Work
Photograhers: Michael Macor, Santiago Mejia, Mike Kepka, Amy Osborne, Paul Chinn, Joshua LaCunha.
Comment by AB: Photographs of San Francisco firefighters on the job, up close and personal. Just in case you don't appreciate what they do enough already. Remarkable.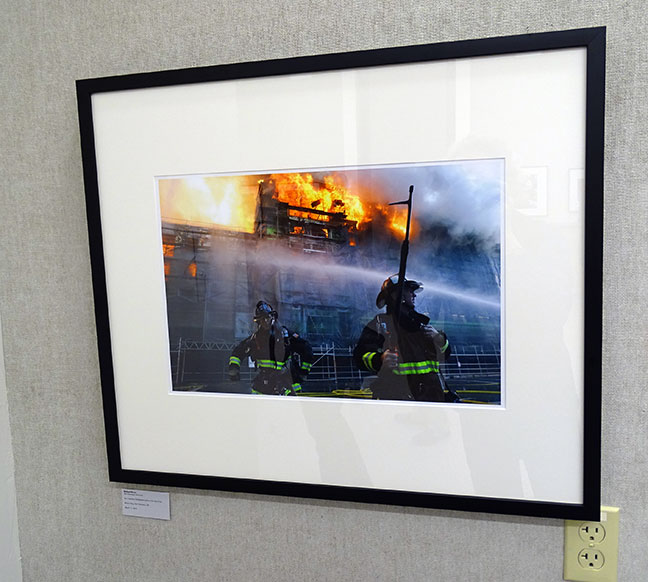 San Francisco firefighters at work.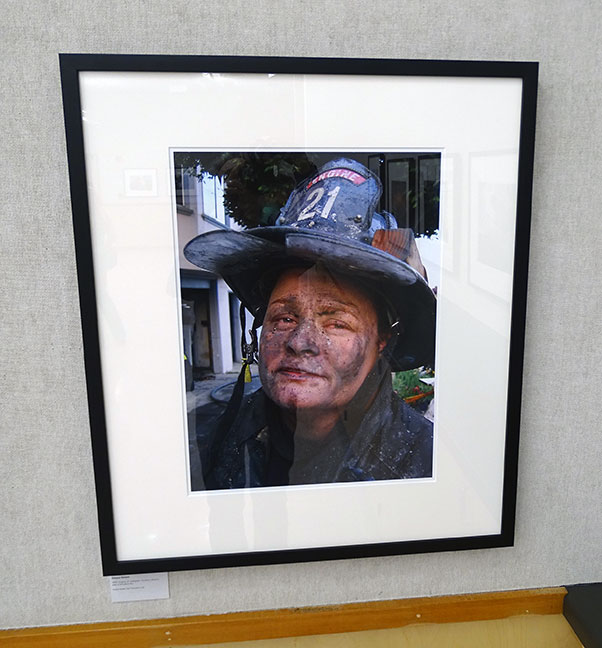 Portrait of a San Francisco firefighter on the job.


Firefighters doing what they have to do every single day of the year.


A true tribute to San Francisco firefighters.


The job of fighting fires in San Francisco in order to keep us all safe.


Tintypes of San Francisco firefighters by Jushua LaCunha.


***
Modern Eden Gallery: Beautiful Bizarre Presents Femme to Femme Fatale - The Feminine in Contemporary Art
Artists: Brian Viveros, Caia Koopman, Leilani Bustamante, Jennybird Alcantara, Philip Munoz, Fin Dac, Minjae Lee, Redd Walitzki, Handiedan, Conrad Roset, Mab Graves, Pamela Wilson, Troy Brooks, Saturno Butto, Sandra Chevrier, Sarah Joncas, Derek Gores, Tatiana Suarez, Edith Lebeau, Chris Berens, Chie Yoshii, Jaclyn Alderete, Tran Nguyen, Hannah Yata, Alessandra Maria, Dorielle Caimi, Michael Foulkrod, Sergio Lopez, Jana Brike, Alex Garant, Jasmine Becket-Griffith, Camilla d'Ericco, Pippa McManus, Erin Anderson, Joshua Lawyer, Tracy Lewis, Chris Guest, Young Chun, Ania Tomicka, Graeme Balchin, Kate Zambrano, Cate Rangel, Bec Winnel, Menton3, Marie Larkin, Kelsey Beckett, HUSH, Vanessa Dakinsky, Helice Wen, Daniel Bilodeau, Glenn Arthur, Sam Wolfe Connelly, Lauren Brevner, Julie Filipenko, Sheri DeBow, Colin Christian, Mahlimae, Julia deVille, Popovy Sisters, Christy Langer, Zoe Williams, TriffonyArtwork.
Comment by AB: Like the title says, the feminine in contemporary art. Smaller format works for the most part.

Painting with comic book collage by Sandra Chevrier at Modern Eden Gallery.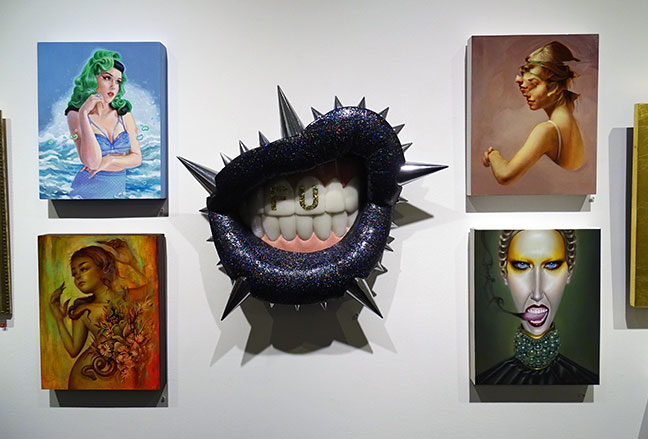 Art by Colin Christian (center).


Art by Troy Brooks in above image closer.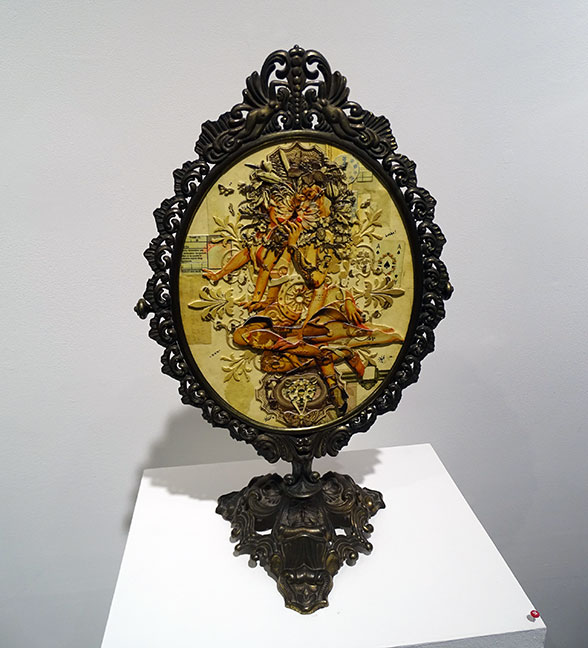 Collage art by Handiedan.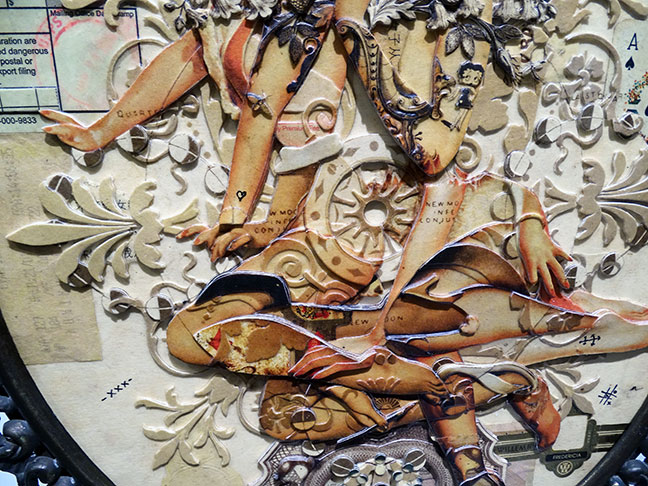 Detail of art in above image.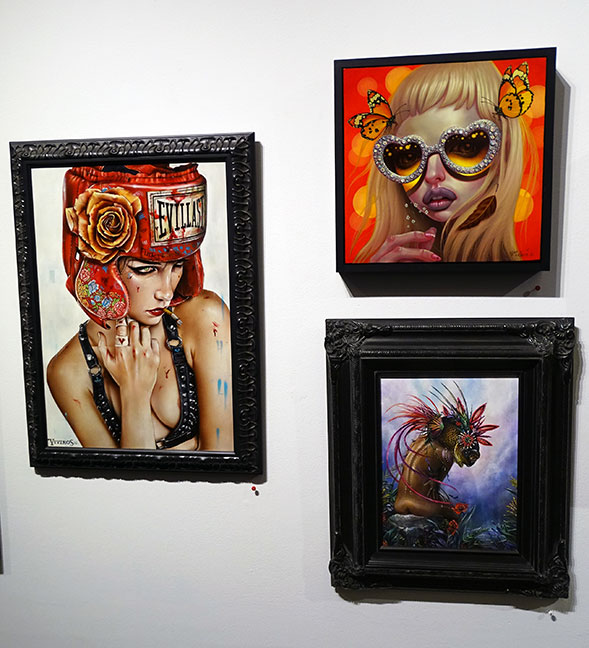 Clockwise from left, art by Brian M Viveros, Young Chun & Hannah Yata.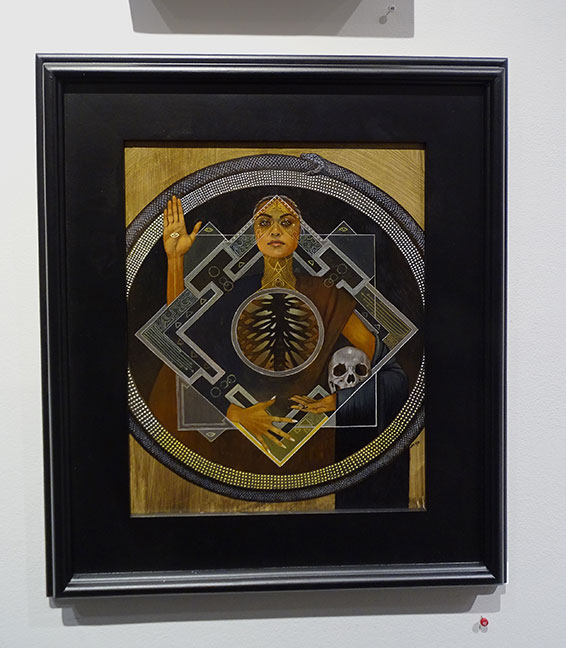 Art by Leilani Bustamante.


Relative density - group art show at Modern Eden Gallery.


***