***

Get your art fix fast: Instagram @alanbamberger
***
The San Francisco Fall Art & Antiques Show: 2018 Preview Gala
Exhibitors: Aedicule, American Garage, Antique American Wicker, Arader Galleries, Carlton Hobbs LLC, Charles Plante Fine Arts, Clinton Howell Antiques, Daniel Stein Antiques, Inc., Daphne Alazraki Fine Art, David Brooker Fine Art, De Angelis, Dinan & Chighine, Earle D. Vandekar of Knightsbridge Inc., epoca, Finnegan Gallery, Foster Gwin Gallery, Galen Lowe Art & Antiques, Gallery 925, Guy Regal Decorative & Fine Art, Hayden & Fandetta Books, Haynes Fine Art, Henry Saywell, James Sansum Fine & Decorative Art, Janice Paull, Jayne Thompson Antiques, Jeff R. Bridgman American Antiques, Jesse Davis Antiques, Joel Cooner Gallery, Kentshire, Lawrence Jeffrey, Los Angeles Fine Art Gallery, Lotus Gallery, Milord Antiques, MODERNISM Inc., Montgomery Gallery, The Orange Chicken, Patrick & Ondine Mestdagh, Peter Fetterman Gallery, Peter Finer, The Philadelphia Print Shop West, Rainforest Baskets, Roberto Freitas American Antiques & Decorative Arts, S.J. Shrubsole, Il Segno del Tempo Srl, Steinitz Gallery, Sue Ollemans Oriental Art, Tony Kitz Gallery, Trinity House Paintings, Yew Tree House Antiques, The Zentner Collection, Inc.
Comment by AB: Now in its 37th year, The San Francisco Fall Art & Antiques Show was once just the Fall Antiques Show. Over the years, it has gradually morphed into a bountiful blend of both art and antiques, spanning antiquities to Postwar and modern, exhibited by a select cull of international dealers. Like a treasure hunt, you never know what you'll find. Options include paintings, sculptures, furniture, decorative arts, rugs, arms & armour, ethnographic arts, commercial and advertising memorabilia, maps, prints, rare books, photographs, and much more. And it's all the best. Don't miss it. It only comes around four days a year.
And of course the over-the-top opening night Preview Gala benefitting Enterprise for Youth is in full bloom. Without question one of the best art parties of the year. Food, beverage and socialites galore. Wanna see a small smattering what you're missing if you stay home and molt? Here you go...

Bernard Steinitz brings fully furnished rooms all the way from Paris.


American flags and banners c/o Jeff R Bridgman.


L-R, Gottfried Helnwein, Damian Elwes & Judy Dater at Modernism Inc.


Max Todt painting at Haynes Fine Art priced at $13,790.


Pinkie cam detail of art on above image.


Postwar modern furnishings and decoration at De Angelis.


Wall of woolwork or "woolie" ships at Earle D Vandekar.


Pinkie cam detail of weaving in above image.


Collages by Sausalito artist Jean Varda at Foster Gwin (like 'em).


Antique Palissy ware at Jessie Davis Antiques, London.


Fine antique wicker c/o Antique American Wicker of Nashua, NH.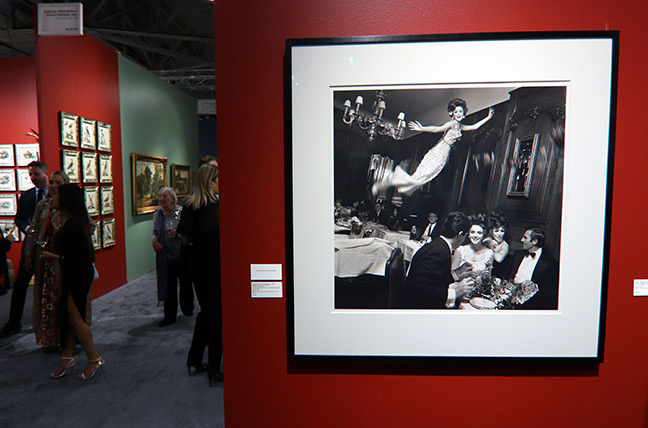 Photograph by Melvin Sokolsky at Peter Fetterman, $35K.


Rare Chinese Luohan Root Bed at The Zentner Collection, $700K.


Bronze cabinet by Paul Evans circa 1960 from Milord Antiquities, $56,500.


L-R, Alissa Ford, Director of California and Western Art at Heritage Auctions with intern Grace Harford.


Sculpture of man in armour on horseback circa 1850 at Peter Finer, $80K.


Fine antique garden furniture and ornaments at Finnegan Gallery.


Small Calder-esque sculptures by Adam Henderson at Charles Plante, $1200 each.


Plenty to choose from at David Brooker Fine Art.


L-R, Edward Redfield ($365K) & Milton Avery ($185K)) at Roberto Freitas.


Commercial & advertising memorabilia at American Garage.


Art by Andre Brasilier at Trinity House, $140K.


Paintings and ceramic art at The Orange Chicken.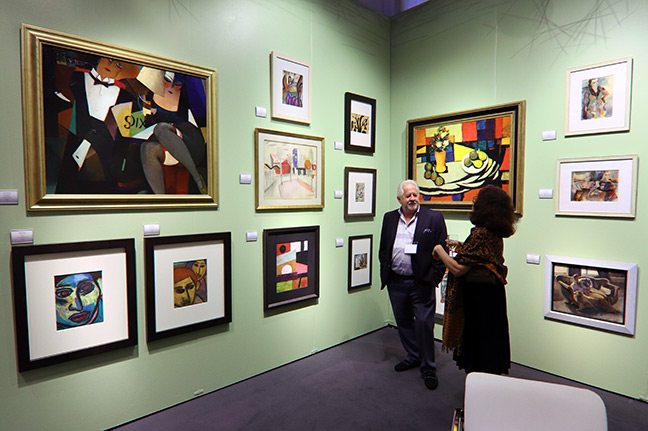 Mostly modern paintings at Los Angeles Fine Art Gallery.


Preview Gala in progress. A party to end all parties!


***