***

Get your art fix fast: Instagram @alanbamberger
***
ArtPoint at Legion of Honor: James Tissot - Fashion & Faith
Comment by AB: What better way to experience and enjoy a major museum exhibition than after hours in a cocktail party setting hosted by ArtPoint, a group of young professionals that supports the Fine Arts Museums of San Francisco. Among other activities, the organization hosts fundraising events, exhibition-related lectures, gallery parties, and museum galas. You might think about joining. Membership is very affordable at only $50 more than a standard museum membership. And I can testify that their social events in museum settings are THE BEST.
As for the highlight the night, James Tissot aka Jacques Joseph Tissot (1836 - 1902) was perhaps best known for his portrayals of French fashion and high society during the second half of the 19th century. While the Impressionists were rocking the art world with their revolutionary new techniques, Tissot focused on more traditional representational painting as he chronicled lives of the privileged in decidedly romanticized ways. His sumptuous detailed works document social scenarios of the time in ways that photography could not possibly achieve. Among his finest works are aristocratic family portraits and stylishly attired young women and men engaged with one another in opulent festive scenes.
The extensive exhibition spans the artist's entire career and includes 60 paintings as well as drawings, prints, photographs, and cloisonné enamels. All works will be on display through February 9, 2020.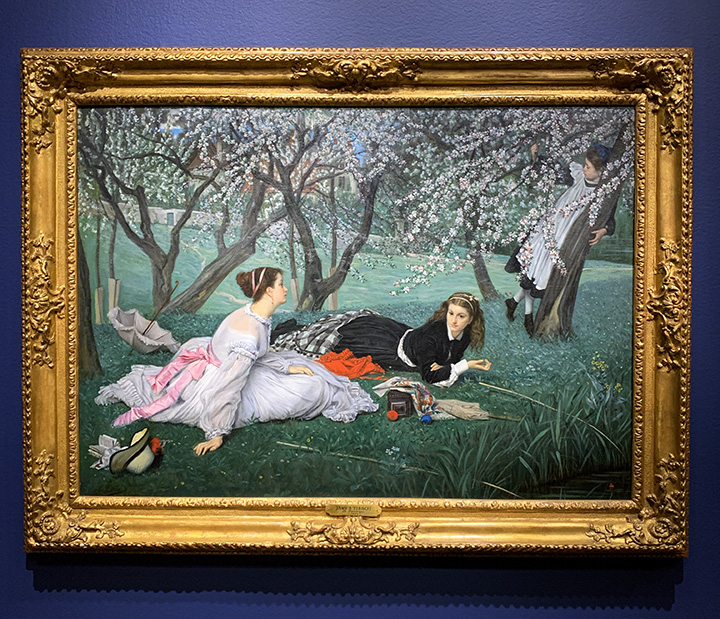 Art by James Tissot at the Legion of Honor c/o ArtPoint.


Gathering on the yacht by James Tissot.


Appreciating the art of James Tissot at an ArtPoint cocktail party.


Family portrait by James Tissot at the Legion of Honor.


Family portrait pictured above in context at the James Tissot exhibition.


The exhibit takes up multiple galleries.


Circus action by James Tissot at Fine Arts Museums of SF.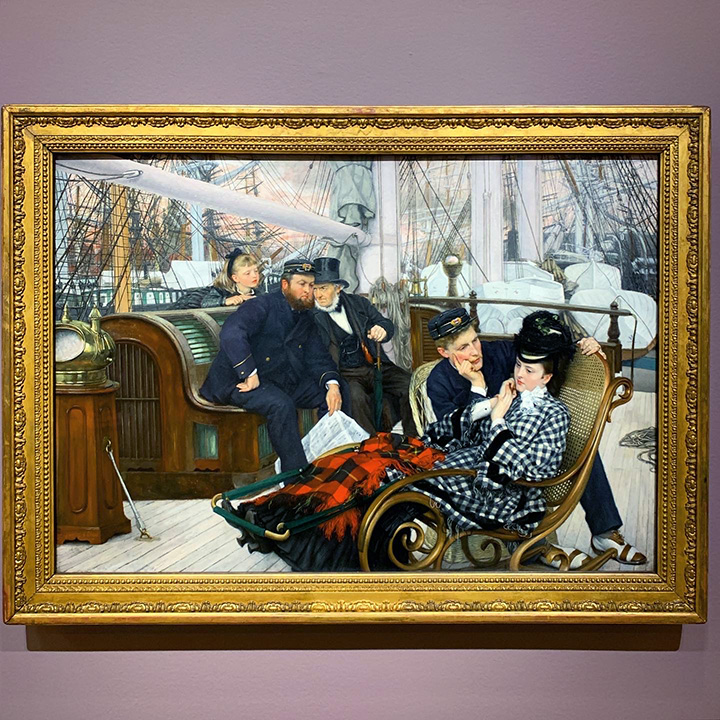 Notice the complexity of rigging in the background - James Tissot art.


Portraits by James Tissot - cocktail party event c/o ArtPoint.


Taking a break from the show to socialize in one of the Rodin galleries.


Socializing in the old days c/o James Tissot.


What's more over the top? The frame or the fashion?.


Enjoying the art in a completely relaxed atmosphere.


Pinkie cam detail of an incredible gouache and graphite work on paper.


High fashion and style of the day by James Tissot at Legion of Honor.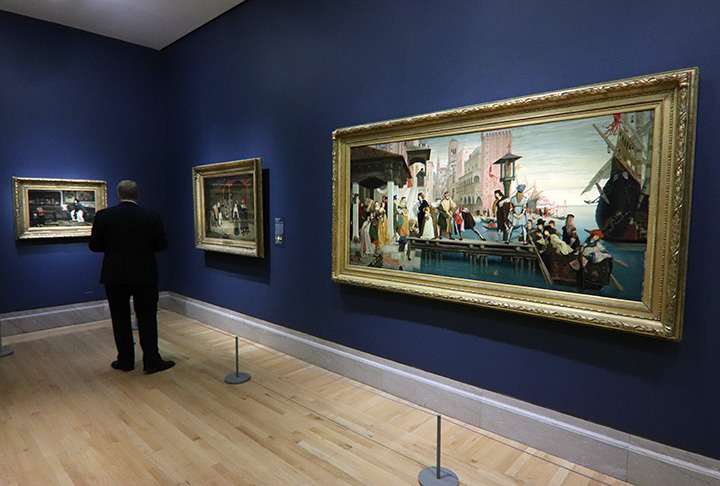 Earlier work by James Tissot - cocktail party c/o ArtPoint.


Another gallery filled with James Tissot masterworks.


***