***

Get your art fix fast: Instagram @alanbamberger
***
SF Camerawork: Photography and Video Retrospective of the Recology Artist in Residence Program
Artists: Miguel Arzabe, Jeremiah Barber, Bill Basquin, Phil Bonner, Kristin Cammermeyer, Michael Damm, Patrick Haywood, David Hevel, Jamil Hellu, Matthew Gottschalk, Robin Lasser, Ma Li, Jenny Odell, Paula Pereira, Kate Rhoades, Don Ross, Jeremy Rourke, James Sansing, Chris Sollars, Nomi Talisman, Banker White, Noah Wilson.
Comment by AB: Survey of original video and photographic works that have been produced by Recology artists in residence, photo and video documentation of residency programs, and discarded photographs and videos that have been rescued, rediscovered, rejuvenated or otherwise transformed into art. Stop on by. Fun show.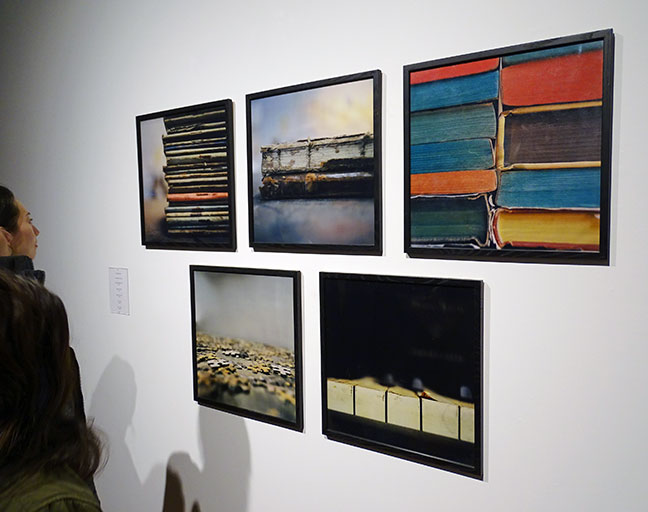 Discard still-life photography by Noah Wilson c/o Recology at SF Camerawork.


Still from rapid-action hat switch video by Jamil Hellu (like it).


Yet another one of many hat switches from video by Jamil Hellu.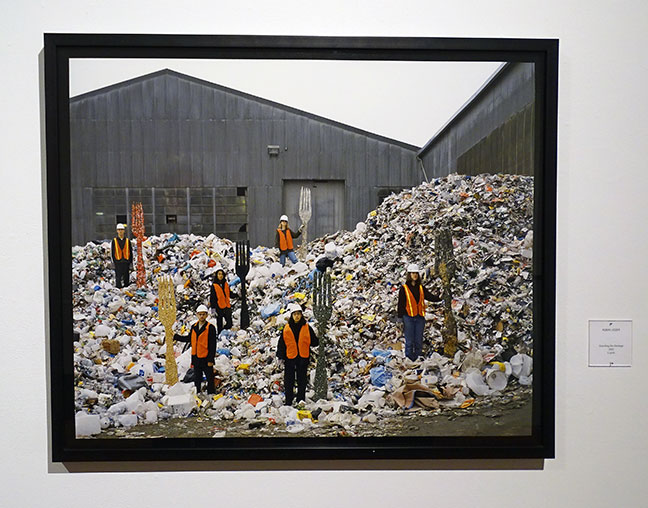 Photograph by Robin Lasser - guardians of the garbage.


Altered found photographs by James Sansing.


Photographs with missing subjects in above image closer.


Things people throw out sorted and organized by Jenny Odell.


Revived vintage slides enlarged by Nomi Talisman at SF Camerawork c/o Recology.


***
SOMArts Gallery: Touch On - Aesthetics in the Art, Politics and Ontology of Touch
Artists: Craig Calderwood, Erica Dixon, Render Fruit, Xandra Ibarra, Aron Kantor, Damien Moreau, Ramekon O'Arwisters, Yetunde Olagbaju, Brontez Purnell, Manuel Solano, Robbie Sweeny, Virgie Tovar, Courtney Trouble.
Comment by AB: How many different ways can we reach out and touch one another? For a start, this many...

Cascade of collaborative crochet c/o Ramekon O'Arwisters at SOMArts Gallery.


Collaborative crochet art in above image closer.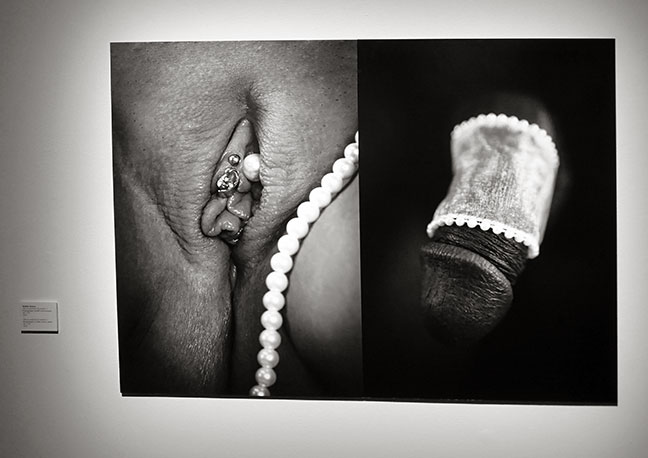 Genital portraiture by Robbie Sweeny.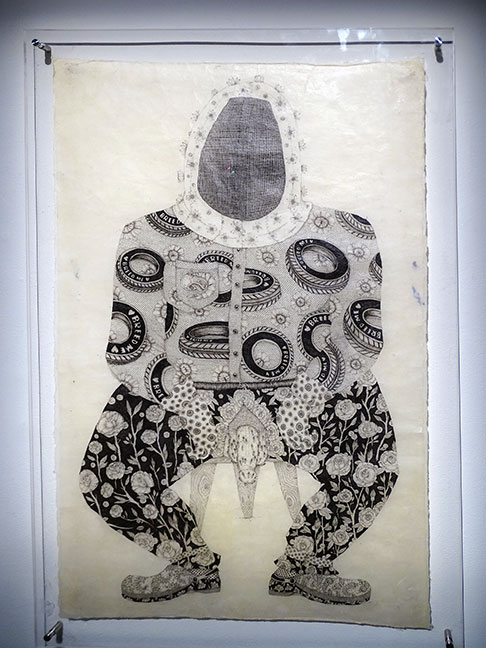 Elaborate mixed-media & ink drawing by Craig Calderwood.


Detail of art in above image.


Installation by Courtney Trouble.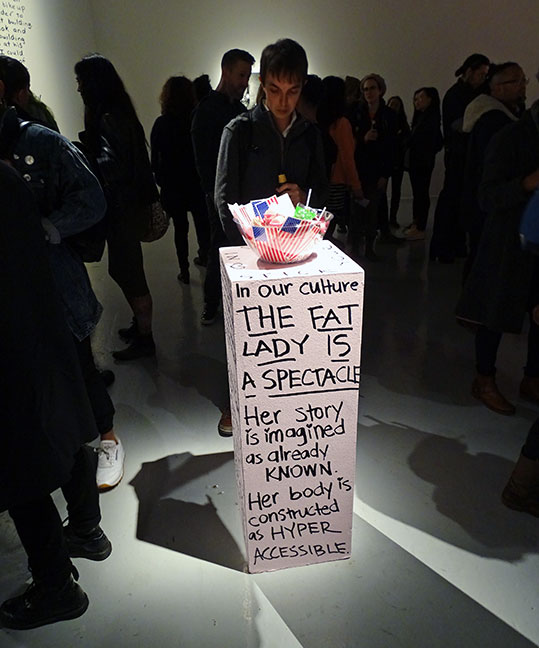 By Virgie Tovar. Is it art? Or something else?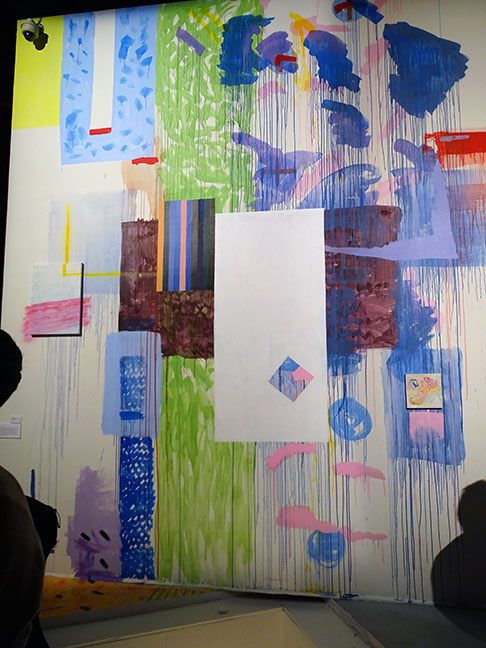 Abstract mural by Erica Dixon at SOMArts Gallery.


***
Ramon's Tailor: Anne Beck and Michelle Wilson - The Rhinoceros Project
Comment by AB: Commentary on endangered and vanishing species using the Rhinoceros from Albrecht Durer's 1515 woodblock as the vehicle to send the message.

Replication of Durer's rhinoceros by Anne Beck & Michelle Wilson.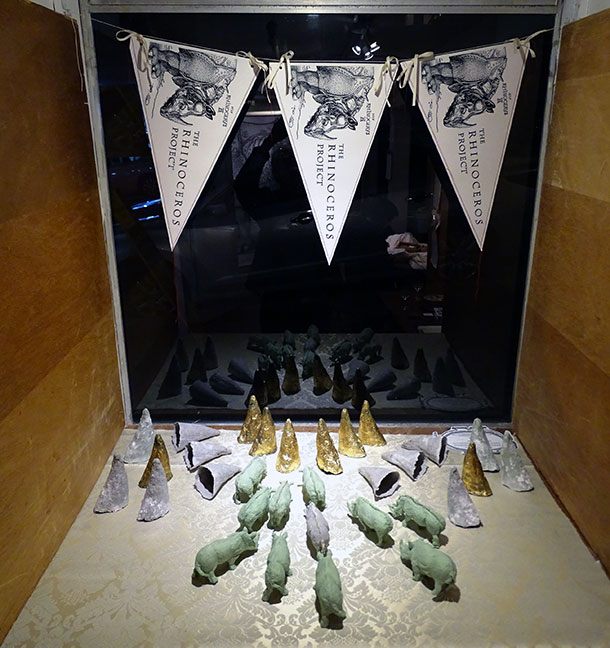 Front window installation by Anne Beck & Michelle Wilson at Ramon's Tailor.


Rhinoceros art in above image closer.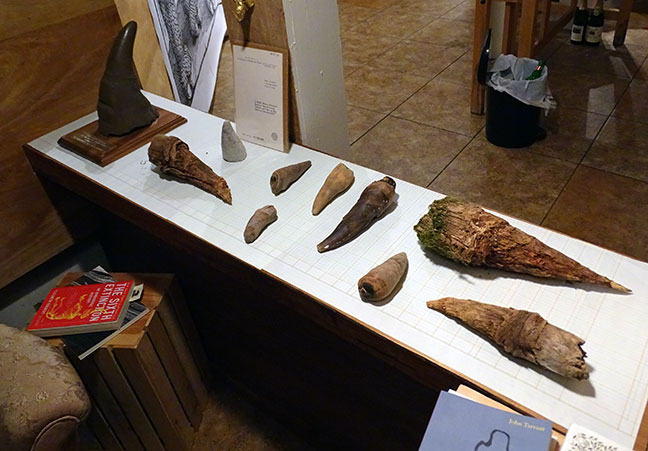 Sculptured and carved rhino horns by Anne Beck & Michelle Wilson.


Collaborative rhino sewing & printing project ongoing at Ramon's Tailor.


***
Misho Gallery: 5th Annual Bay Area Swiss Artist Show
Artists: Jorge Bachmann, Kathrin Blatter, Sylvie Serex-Bonnet, Max Kellenberger, Marianne Kolb, Daniel Leu, Jean-Benoit Levy, Monika Steiner, Brian Swope, Misho.
Comment by AB: The show title tells the tale.

Art by Monika Steiner at Misho Gallery.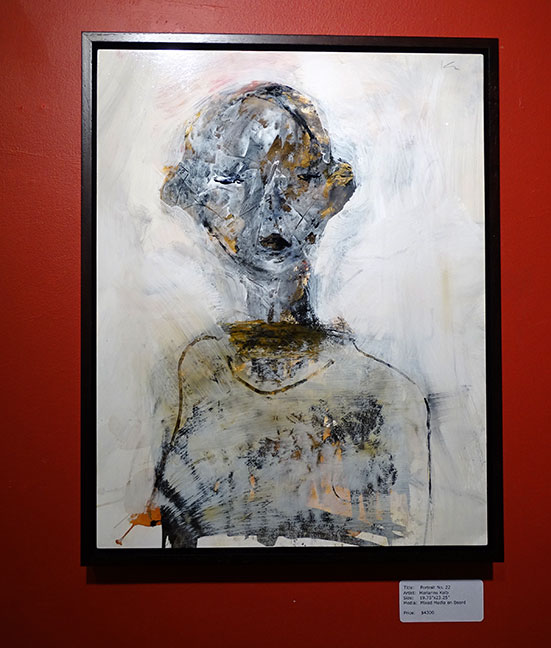 Marianne Kolb art.


Photographs by Max Kellenberger.


Brian Swope art.


Graphic art by Jean-Benoit Levy.


Long view - Bay Area Swiss artist group show at Misho Gallery.


***