***

Get your art fix fast: Instagram @alanbamberger
***
Don Soker Gallery: Dimitra Skandali - Meltemia and Other Stories
Comment by AB: A romantic look at the life in Greek isles and fishing life on the Aegean Sea through the eyes of an artist who knows it well.

Seaweed sculpture by Dimitra Skandali at Don Soker Gallery.


Seaweed embroidery by Dimitra Skandali.


Pinkie cam detail of art in above image (nicely done).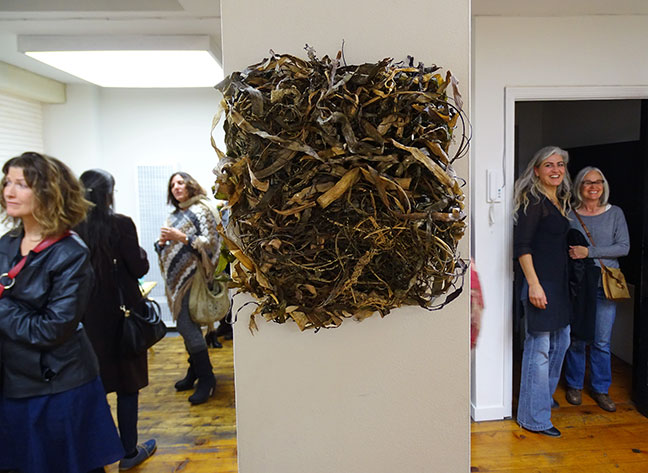 Seaweed sculpture by Dimitra Skandali (she's 2nd from right in the background).


Greek fishing net installation by Dimitra Skandali.


Art in above image closer.


L-R, seaweed art & drawing by Dimitra Skandali at Don Soker Gallery.


***
Shambhala Medical Cannabis Collective: FA SHOW - A Group Show Curated by Yarrow Slaps
Artists: Tim Cohen, Sasha Zirulnik, Sachi Moskowitz, Malcolm Kenter, George Crampton, Chad Hasegawa, T.W. Five, Rafael Arana, Michael Covington, Christopher Burch, Milly Millions, Olivia Krause, Manik Raj Nakra, and Emily Fromm.
Comment by AB: Young local talent. Help with names please. Thank you.

Rafael Arana and his art at Shambhala Medical Cannabis (nicely done).


Party time art.


Paintings on vintage serving platters.


Button art, and lots of it.


Long view - group art show at Shambhala Medical Cannabis Collective.


***
The Great Highway Gallery: Differing Feathers
Artists: Apex, Sage Akaboshi, Nick Allen, Ann Alstatt, David Kimball Anderson, Nicole Andrijauskas, Mathew Bajda, Leo Bersamina, Methanie Binder, Jill Bonny, Alexis Braun, Rob Brodman, Able Brown, Steph Canalas, Madison Clell, Mike Cohen, Sean Collier, Blake Conway, Ilana Crispi, Sachi Cunningham, Cielo De La Paz, Naomi Deal, Dave Decotis, Jessica Dunne, Bethany Eden, Ethan Estes, Miguel Farias, Paul Ferraris, Edward Fnnch, Todd Francis, April Fredrikson, Dave Gardner, Lucas Gasperik, Dave Glass, Annie Glavin, Sam Graves, Jeana Hadley, John Harding, Sherri Harding, Jeremy Harper, Gerald Hawk, Cliff Hengst, Amber Hockborne, Georgia Hodges, Taylor Holland, Walker Hollenbeck, Alan Hopkins, Tana Johnson, Kyle Johnson, Michelle Jones, John Keegan, Lawrence LeBianca, Mario Lemos, John Lindsey, Spencer Mack, Mark Madeo, Flika McGurrin, Jay Mercado, Silvin Morgan, Josh nelson, Bailey Nelson, Max Nordemann, Tino Olsen, GP Panawek, Aleks Petrovitch, Tiff Pollard, Matt Prohele Eric Rewitzer, Heather Robinson, Tami Tsark, Alex Schaffer Czech, Elissa Steamer, Jonathan Steinberg, Robert Steiner, William Strasser, Mathew Sumner, Tracey Thompson, David Tomb, Brita Ulf, Charles Valoroso, Marie Van Elder, Rafael Vieira, Colette Vitrosko, Jamie Williams, Ed Woloski, Jade Zebrowski, Kayleigh Ziehler-Martin.
Comment by AB: What do you get when you throw a group show for 90 artists in a compact space? This...

Relative density - 90 artists - group show at The Great Highway.


Art by Apex (center).


Surreal Alfred Hitchcock image.


Art art everywhere.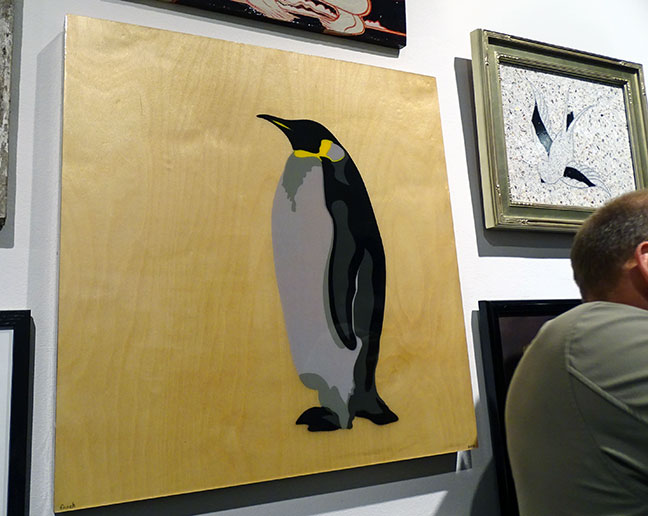 Penguin art on panel.


Art, art & art at The Great Highway Gallery.


***