SAN FRANCISCO ART GALLERIES OPENINGS

FIRST THURSDAY - 01.07.10

(with assistance from DeWitt Cheng, RWM and Kathryn Arnold)


Comment by AB: So here we are. 2010. A brand spanking new decade of art in Ess Eff and plenty of good stuff on tonight's docket to show for it. In fact, almost everything I see is at or above threshold which, as we're all well aware, is great for relieving that occasional bloating or discomfort associated with indigestion of the mind.
And now for your viewing enjoyment...
***
Gallery Paule Anglim: Xiaoze Xie - New Paintings; Randy Hussong - Sculpture and Lithography.
Comment by RWM: Paintings of books, but they look like they can be photographs. Amazing, even though not to be read.
Comment by AB: Fine contemplative and deliciously linear still lifes of books from eminent repositories like the Library of Congress, Stanford Art Library and the LA Public Library by Xiaoze Xie. It's tough enoughh to paint representationally and with streamlined photographic precision, but then to ramp that reality into the rarified cerebral sector of finer higher art-- that's good. Xie has no problem getting over on any of it. Pick of First Thursday. Prices range $10K-$17K. In the anteroom, Randy Hussong serigraphs an image of your basic box/stick/string trap over the same digitally altered landscape photograph taken at different times of day. A 350 lb steel sculpture of the trap rests at the ready in the center of the gallery floor. According to the communique, the exercise is about victim vs victimizer. Priced reasonable-- $1500 for the prints (editions of 3), $6500 for the sculpture.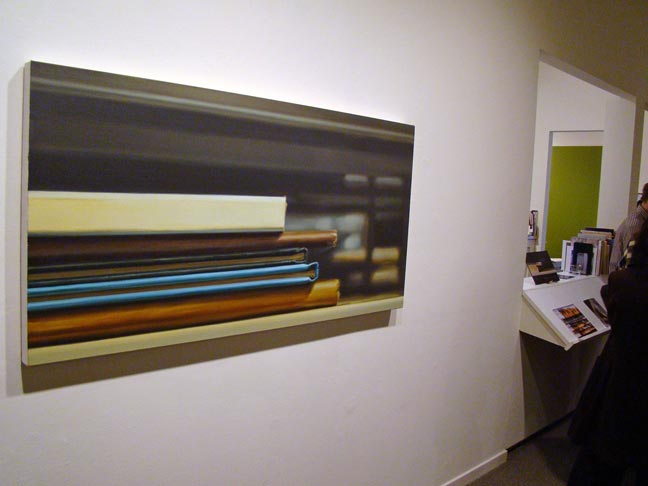 Art by Xiaoze Xie - like it.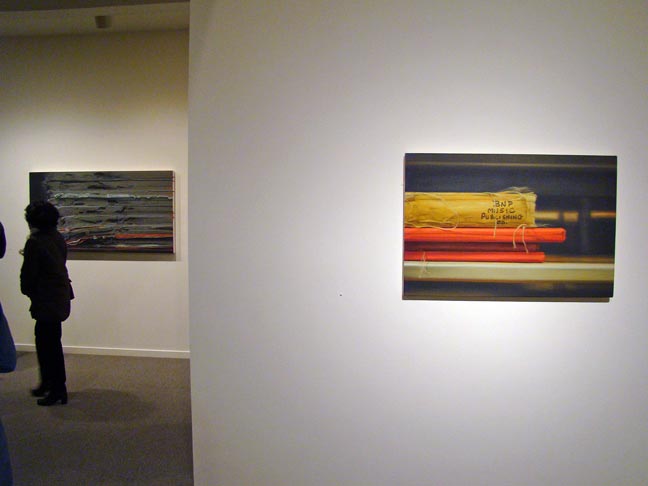 Xiaoze Xie paintings.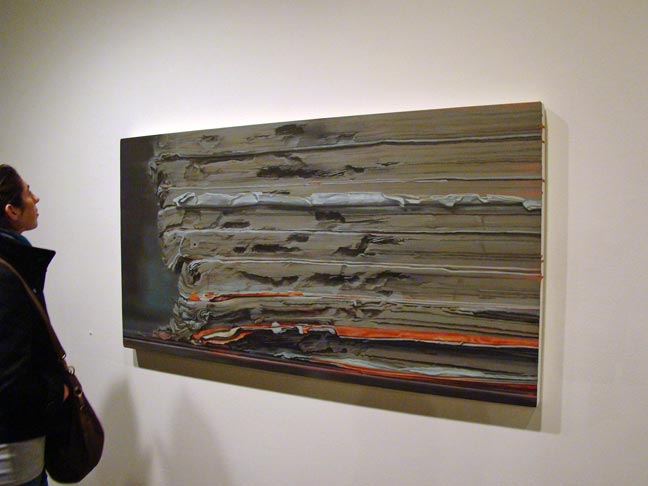 Art by Xiaoze Xie closer.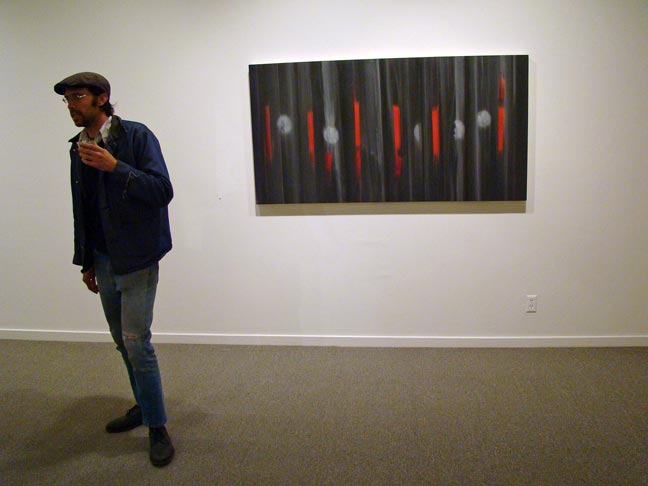 Xiaoze Xie art.


Paintings by Xiaoze Xie.


Randy Hussong and affiliate plus his art.


Sculpture by Randy Hussong.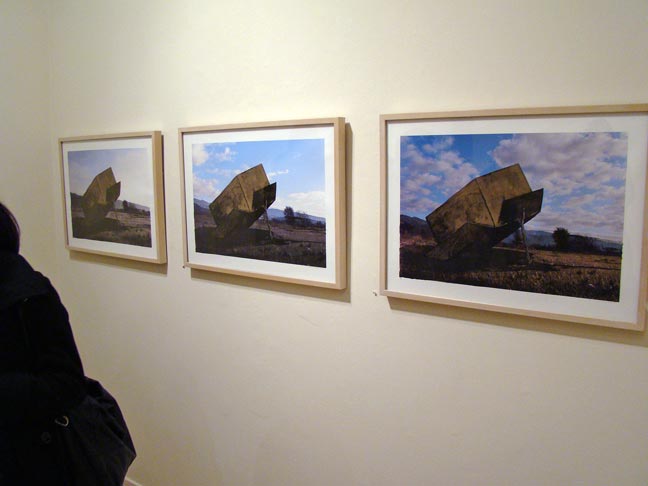 Art by Randy Hussong.


***
Haines Gallery: Mike Henderson - Now.
Comment by AB: Sumptuous vital accomplished expressionist abstracts by Mike Henderson, the latest endeavors in an art career that's spanned forty years. But wait; there's more. He's also a talented bluesman, and his band's playing live here tonight. It's not that unusual for an actor, singer or musician to make art (or visa versa), but it is unusual for one to do both commendably well. Mike Henderson does. Good show; go see.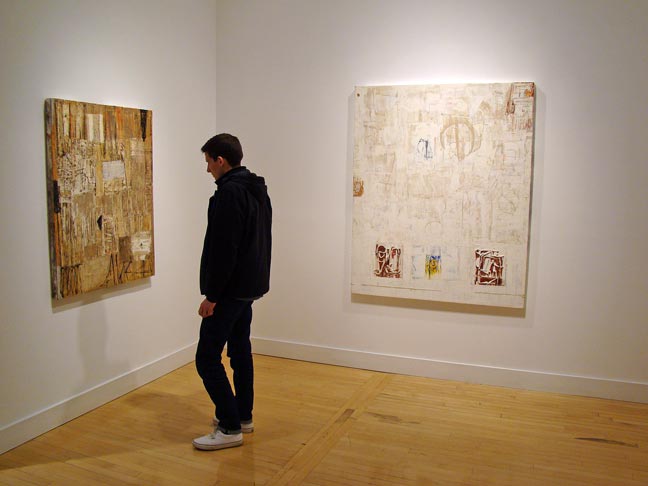 Paintings by Mike Henderson.


Mike Henderson art.


Art by Mike Henderson.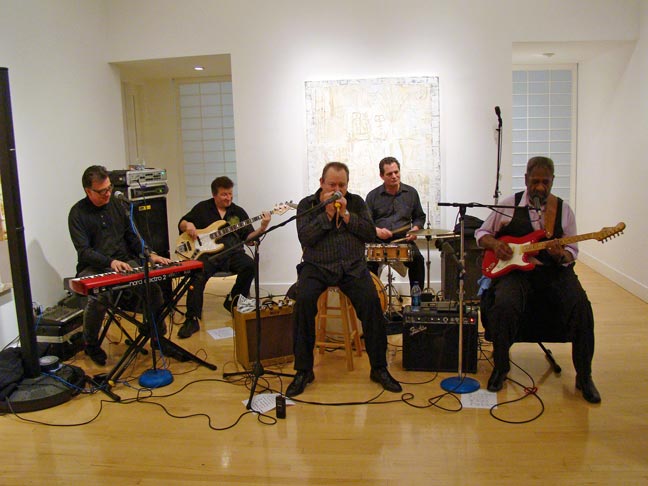 Mike Henderson (right) and his band - like 'em.


Painting by Mike Henderson.


Mike Henderson art book.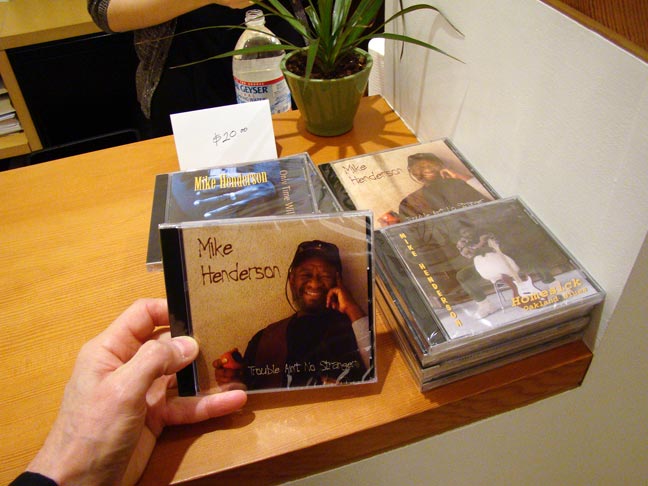 Mike Henderson music CDs.


***
Gregory Lind Gallery: The Rule of Typical Things.
Artists: David Ambrose, Reed Anderson, Thomas Campbell, Chris Corales, Jim Gaylord, Seth Koen, Jake Longstreth, Aaron Parazette, Mel Prest, Jovi Schnell, Sarah Walker, Alan Wiener, Will Yackulic.
Comment by AB: Spirited group show of works by gallery artists generally demonstrating precision, geometry, meticulousness and overall mastery of craft.
Art by Chris Corales (left) - Jake Longstreth (right).


Art by Will Yackulic.


Art by Jovi Schnell (left) - Mel Prest (right).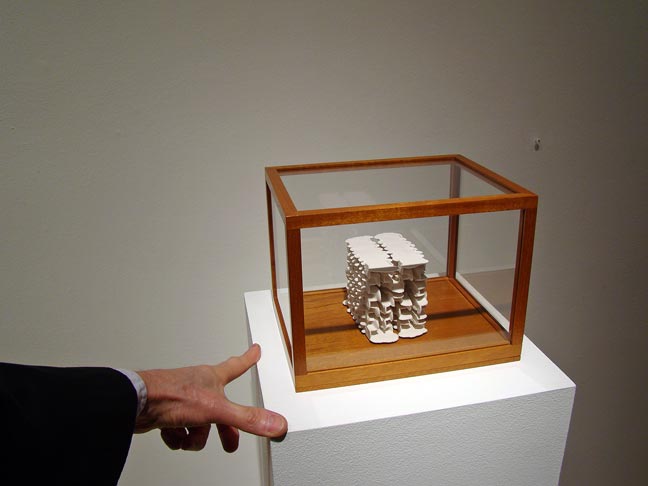 Sculpture by Alan Wiener.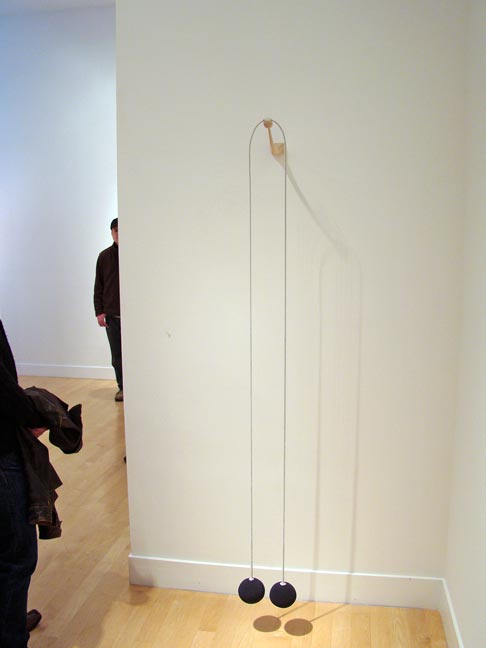 Crocheted art by Seth Koen.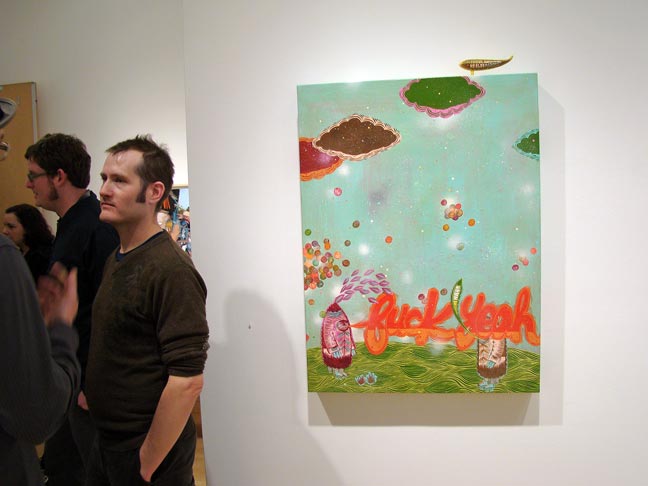 Art.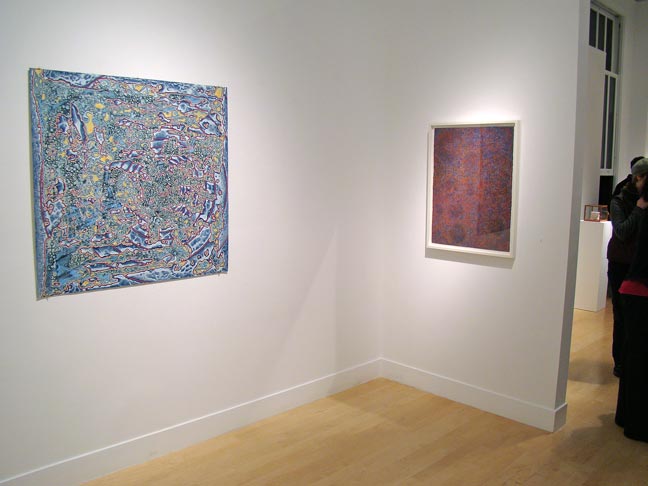 Art.


***
Brian Gross Fine Art: Robin McDonnell - Affect / Effect.
Review by DeWitt Cheng: Robin McDonnell does medium-sized abstract paintings (oil on canvas stretched over board) in somber palettes of blue, brown, umber and orange. Her layered approach to AbEx gestural improvisation yields heavy, dense, textured surfaces that despite their metallic glints, verge on being monochromatic, suggesting time, pressure and geology rather than atmosphere, landscape, or metaphysical fencing.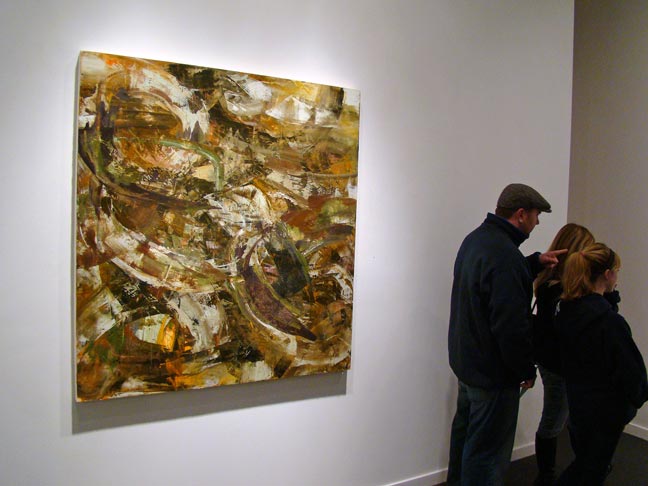 Art by Robin McDonnell.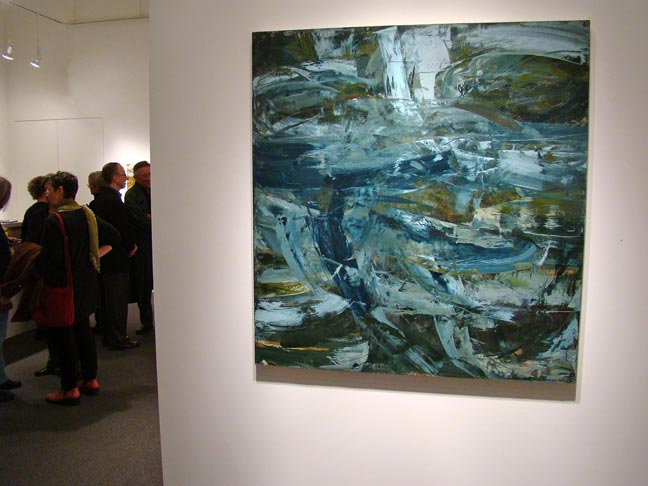 Robin McDonnell art.


Robin McDonnell and her art (image c/o DeWitt Cheng).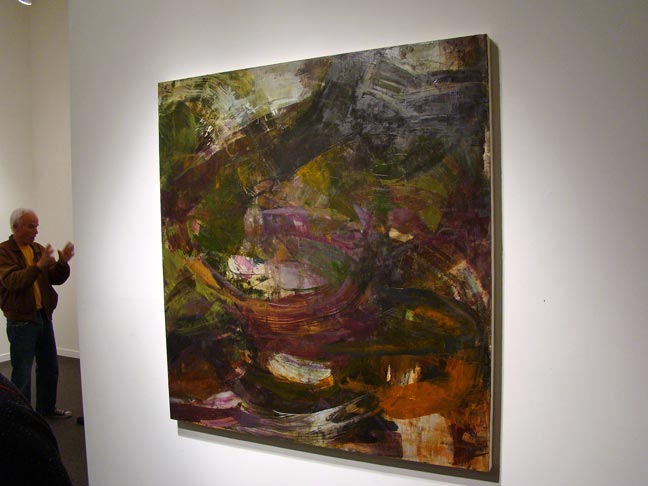 Painting by artist Robin McDonnell.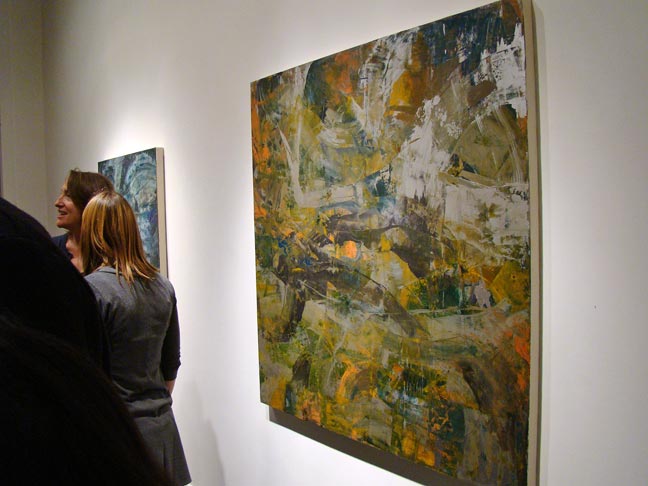 Robin McDonnell art.


***
Fraenkel Gallery: Diane Arbus - Christ in a Lobby and Other Unknown or Almost Known Works. Selected by Robert Gober.
Comment by AB: The Diane Arbus photographs on exhibit here, though they may be lesser known or even unknown examples of her work, without doubt epitomize her singularly aberrant perspective on life. In fact, their relative subtlety as compared to her signature more seminal works not only engages, but serves to deepen our understanding of Arbus as an artist. And part of that understanding perhaps involves a reassessment of the degree to which it's appropriate for a photographer to exploit his or her subjects... or whether it's possible for those controlling an artist's estate to show too much. Whatever way you wanna twist it, worthy show. Go see.
Photography by Diane Arbus.


Diane Arbus photograph closer.


Diane Arbus photos.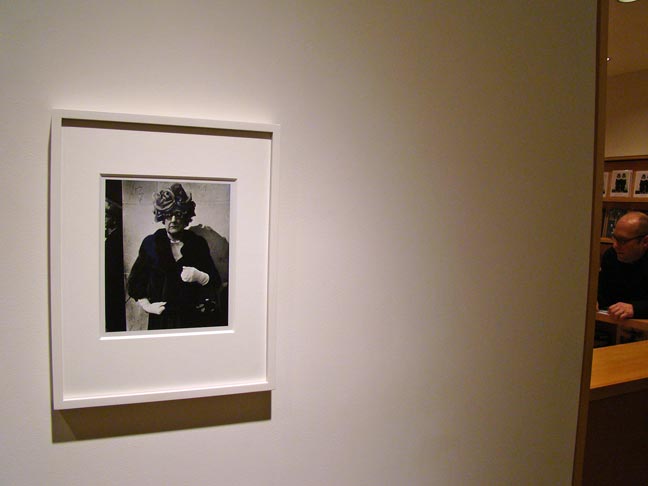 Photograph by Diane Arbus.


Diane Arbus photos.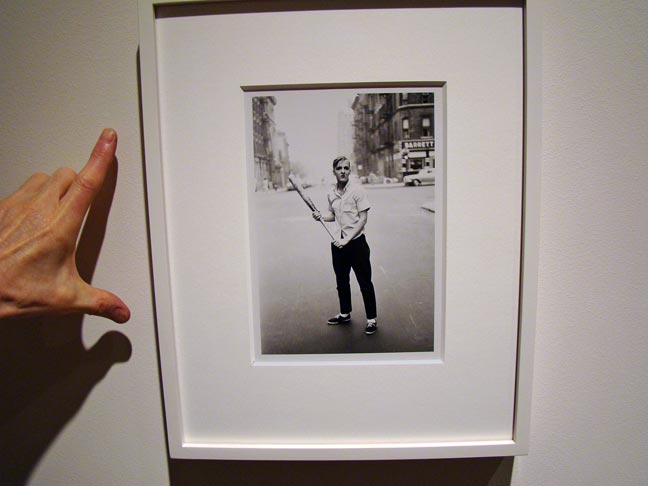 Photograph by Diane Arbus closer.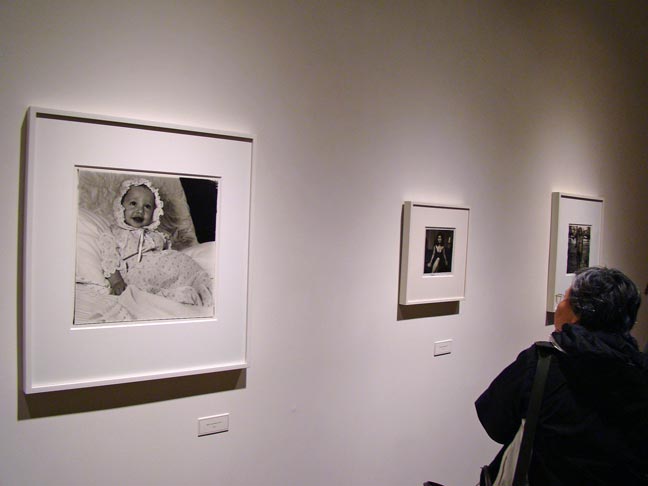 Diane Arbus photographs.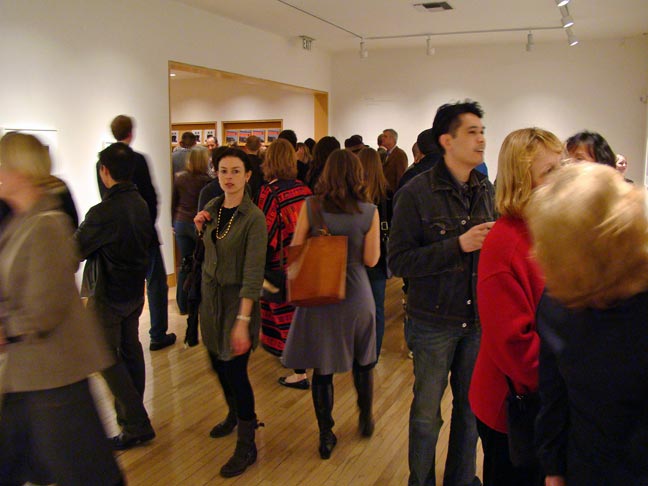 Attendance figures.


***
A440 Gallery: Dominic Alleluia - Painting and Installation.
Review by DeWitt Cheng: Dominic Alleluia makes dynamic paintings and installations; Susan Alleluia makes videos (which I do not have time to watch tonight, unfortunately). The small gallery seems to amplify the work's energy, so if you like immersion... or 3D...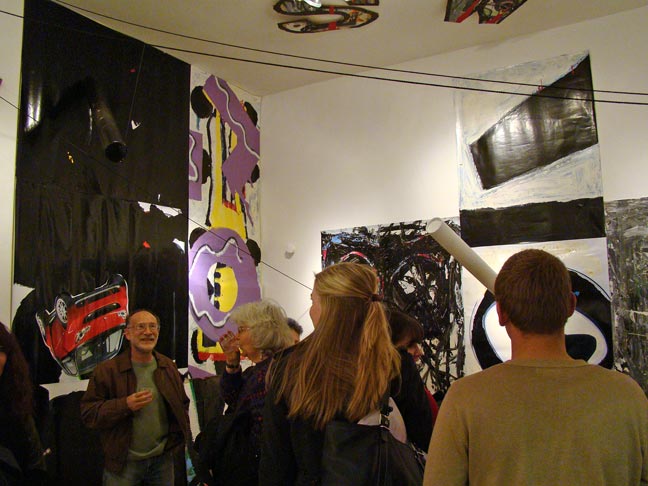 Art by Dominic Alleluia.


Dominic Alleluia art.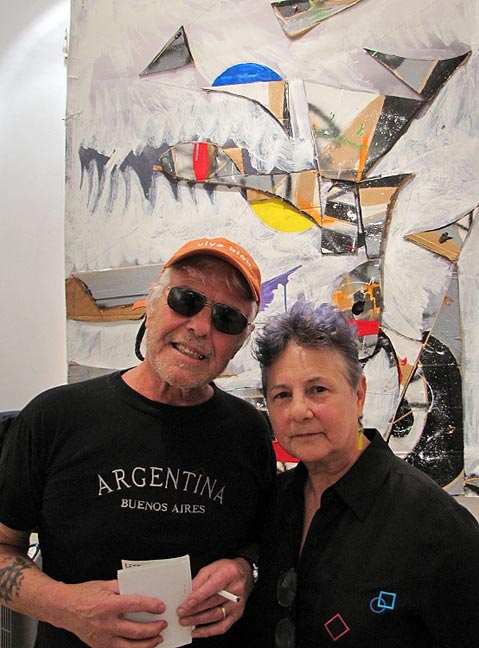 Dominic and Susan Alleluia (image c/o DeWitt Cheng).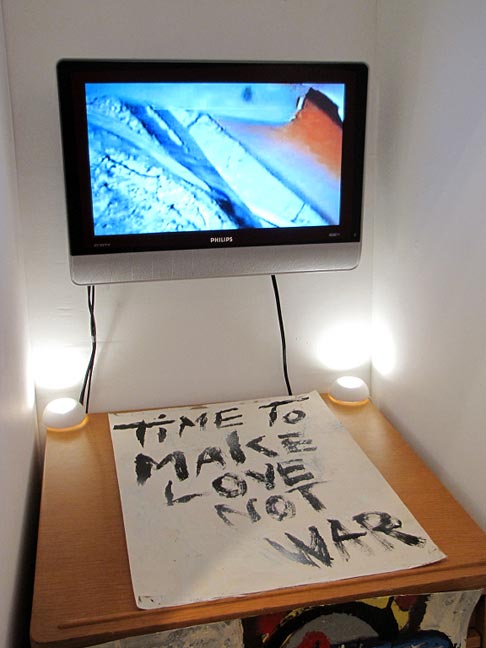 Video by Susan Alleluia (image c/o DeWitt Cheng).


Art and installation by Dominic Alleluia.


***
Altman Siegel Gallery: Shannon Ebner - Signal Hill.
Comment by AB: According to Los Angeles artist Shannon Ebner, Signal Hill is not a place but rather a state or condition of mind where thoughts, objects and actions exist and "signify" outside of conventional constraints. Not sure what it all means, but I'm kinda likin' the art.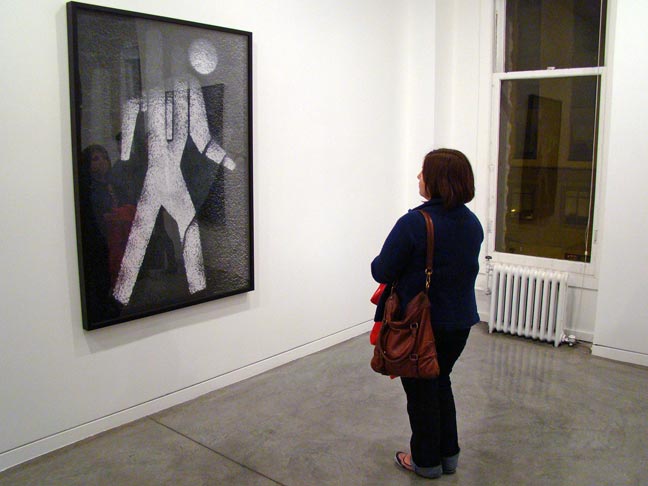 Art by Shannon Ebner.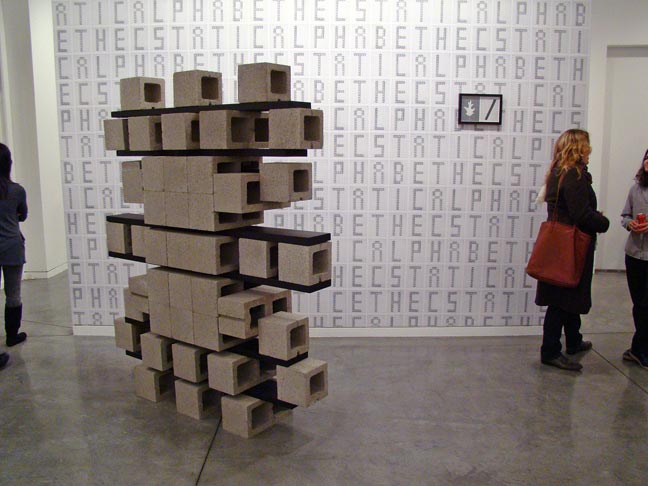 Shannon Ebner art.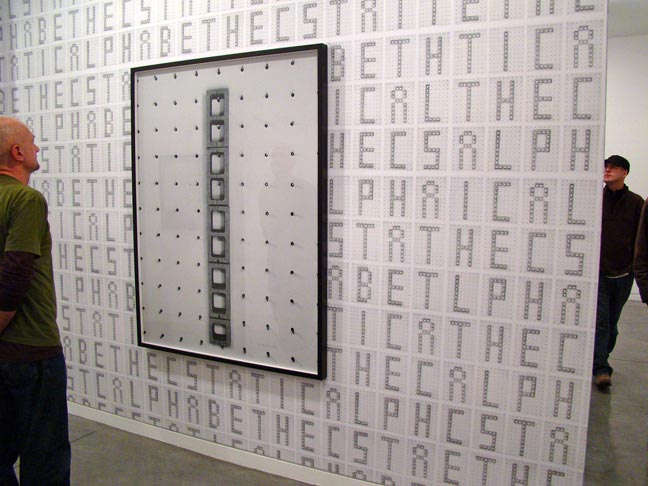 Art by Shannon Ebner.


Art by Shannon Ebner (that might be him, left).


Shannon Ebner art.


***
Toomey Tourell Gallery: Population - Ray Turner.
Comment by AB: Los Angeles artist Ray Turner's accurate, insightful and at times intriguingly ambiguous 12 x 12 inch impasto portrait oils on glass investigate the physicality of countenance as well as its essence. For those of you keeping score at home, Kenneth Baker, art critic for that pulp-devouring dinosaur, the San Francisco Chronicle, has reviewed a rather remarkable five shows at Toomey Tourell in the past ten months-- Lyndi Sales on April 18, 2009; Gregg Renfrew on May 16, 2009; Brian Dettmer on September 12, 2009; Jimi Gleason on October 31, 2009; and Ray Turner on January 9, 2010. Can any other gallery in town boast that total? Yo!
Art by Ray Turner.


Art closer by Ray Turner.


Ray Turner and his art.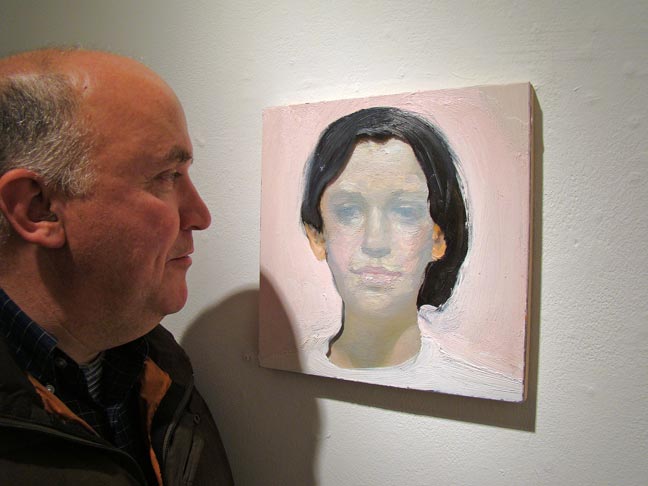 Adobe don, Andrew McKinley, is partial to this painting by Ray Turner.


Paintings by Ray Turner.


Ray Turner art closer.


***
Stephen Wirtz Gallery: Rick Arnitz - Hits; Catherine Wagner - Morphology; Apollonia Morrill - USS Hornet.
Comment by AB: With calculated hieroglyphic overtones, Catherine Wagner arranges and photographs delicate ephemeral specimens from the California Academy of Sciences Botany and Entomology departments against plain white backgrounds. In the main gallery, serene beckoning paintings by Rick Arnitz oscillate between abstract and representation. I think I may have missed Apollonia Morrill's art; maybe it's in one of the rear galleries. Sorry. Stop on by.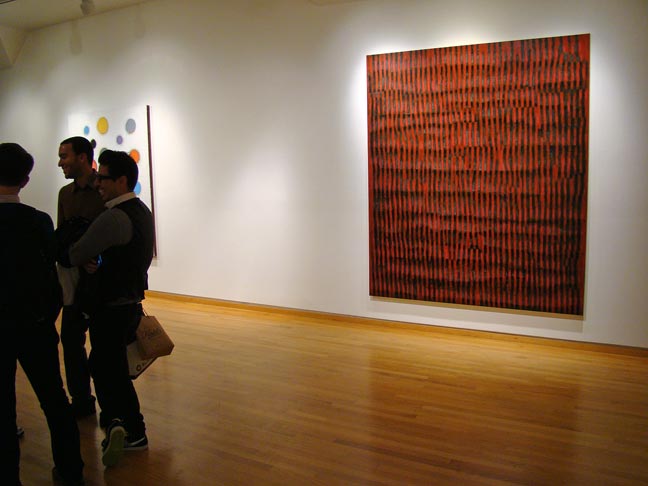 Art by Rick Arnitz.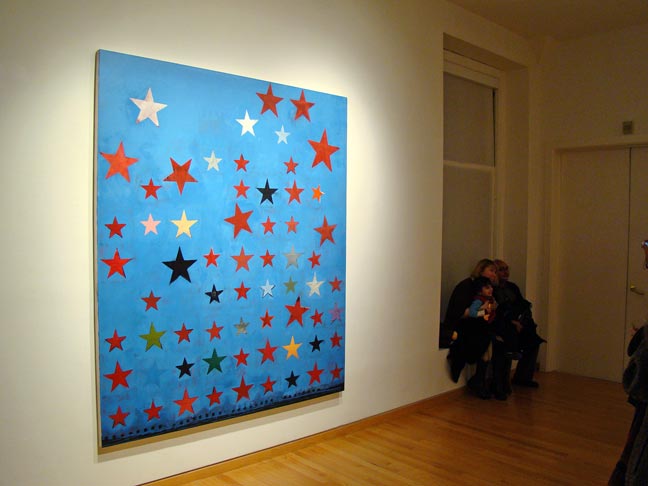 Rick Arnitz painting.


Art by Rick Arnitz.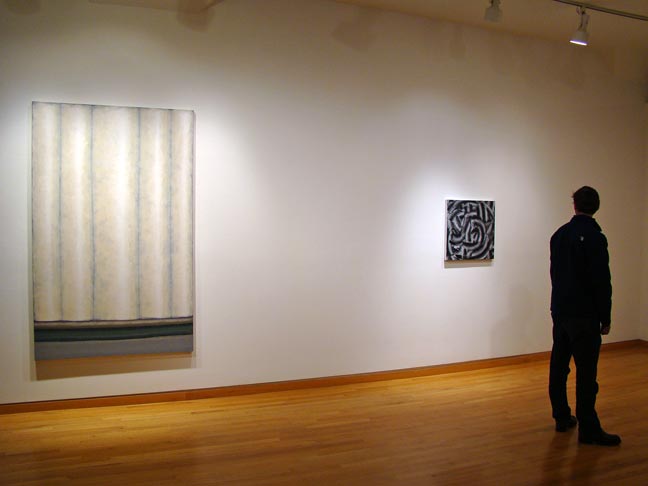 Paintings by Rick Arnitz.


Photography by Catherine Wagner.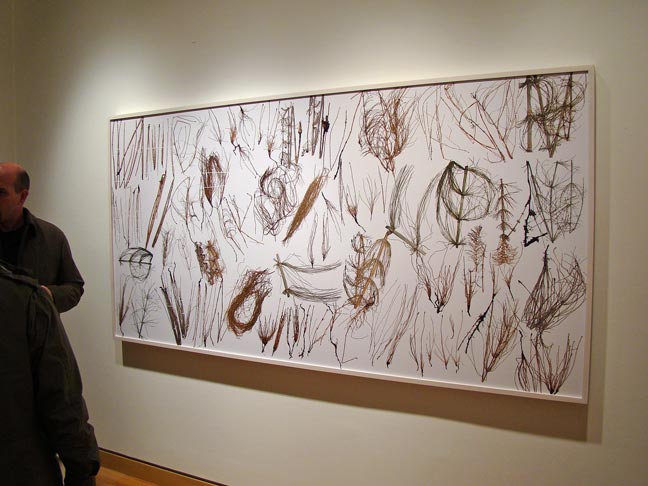 Catherine Wagner photograph.


***
Micaela Gallery: Thai Bui; Peter Foucault.
Review by DeWitt Cheng: Thai Bui makes small sculptures from pebbles which he cuts and notches to fit together like woodwork. His wall pieces take the form of arrays of wrapped fetishlike pieces in black or gold leaf. Foucault does large screenprints of wiry forms that seem midway between nature studies and random mark-making.
Comment by AB: In the front gallery, Thai Bui convincingly transforms ordinary objects into art by, among other things, wrapping them in shiny black tape, gold leafing them, or hanging them from the ceiling. In the rear gallery, Peter Foucault creates a cute little art machine which darts around a piece of paper laying down curved black marks, and changes direction every time it detects a loud or sudden noise like clapping. Worth a visit on both counts.
Sculpture by Thai Bui.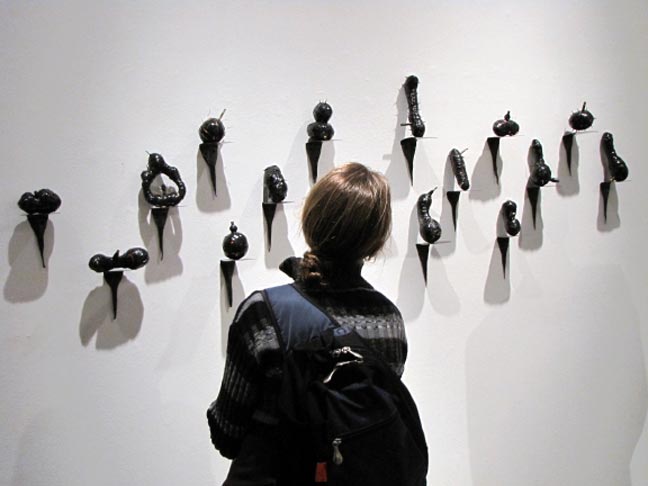 Thai Bui sculpture closer (image c/o DeWitt Cheng).


Thai Bui sculpture closer yet.


Thai Bui and his sculptural installation (image c/o DeWitt Cheng).


Thai Bui sculpture closer.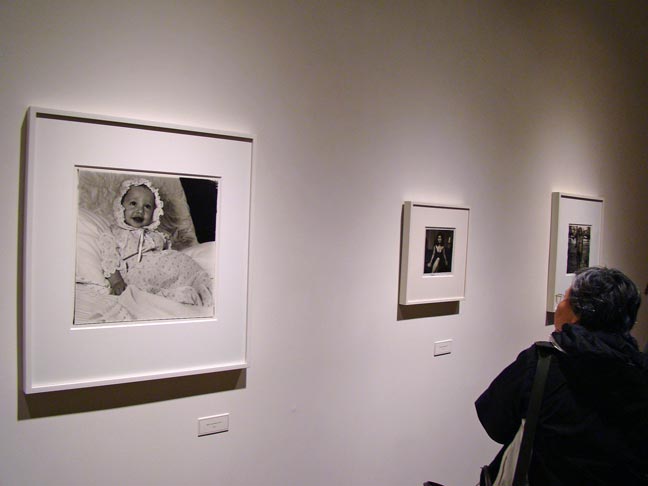 Art by Peter Foucault.


Peter Foucault and his art.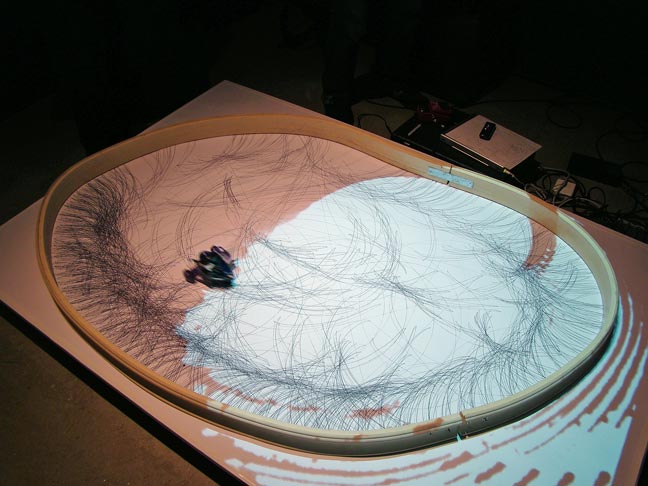 Peter Foucault art-making machine in action.


***
Bekris Gallery: Side of the Vanquished - Recent Works by Bruce Clarke.
Review by DeWitt Cheng: Bruce Clarke is a Brit who studied at Leeds in the Art and Language group conceptual-art heyday, and became a political activist fighting apartheid in South Africa and genocide in Rwanda. His mixed-media paintings combine collage and paint in order to recontextualize the sociopolitical messages that pat for media-- judge people by their possessions and buy more stuff, you! (OK, buying good art is OK, as is "shopping within the context of art history," to quote the collector in [Untitled].)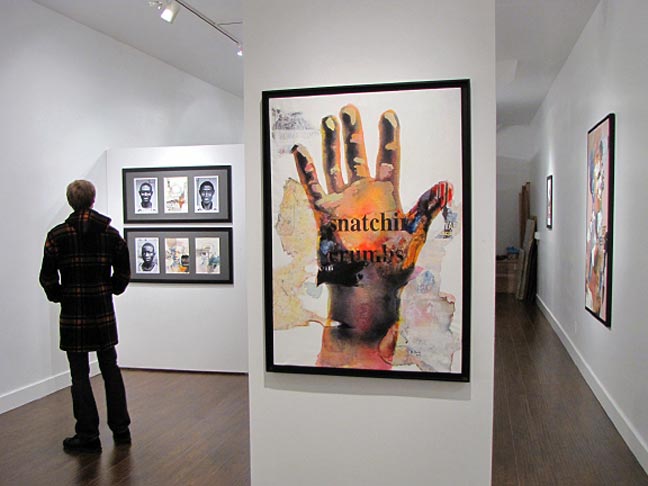 Art by Bruce Clarke (image c/o DeWitt Cheng).


Art by Bruce Clarke closer (image c/o DeWitt Cheng).


Art by Bruce Clarke (image c/o DeWitt Cheng).


Bruce Clarke literature.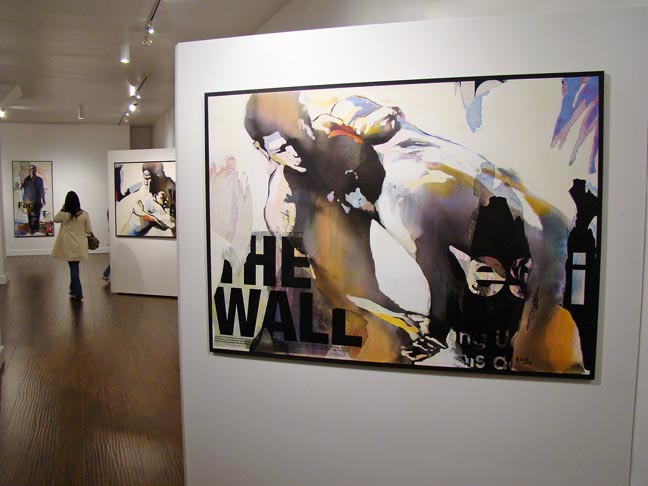 Bruce Clarke art.


***
SFMOMA Artists Gallery: John Yoyogi Fortes, Jessalyn Haggenjos and Mike Narciso (in the main gallery); Tip of the Blade - Pamela Belknap, Jason Winshell, George Pfau (in the loft space).
Review and images by Kathryn Arnold: On exhibit in the main gallery are John Yoyogi Fortes paintings/collages, Jessalyn Haggenjos enamel based paintings, and Mike Narciso, photography. In the upstairs gallery is a separately curated exhibition (focusing on civil rights in celebration of Martin Luther King Jr.) titled 'Tip of the Blade' with artists Pamela Belknap photography, George Pfau mixed media painting/drawing and Jason Winshell photography.
Before beginning the coverage of the artwork, I wish to mention the amazing work that Maria Medua (director of the Artists Gallery) and her crew perform each and every month. In particular, opening of six artists' works all at one time, as they have done this month, is truly an amazing feat and is deserving of recognition. The Artists Gallery is a non-profit space affiliated with SFMOMA. It leases out artwork along with selling it outright, and is well worth a visit just to peruse all of the art they have available.
Upon arriving, I head up the stairs and begin viewing George Pfau's range of works. They are meticulously crafted, form-matching-content types of works as visually understood with the boundary creations of contour line and transparent effects in see-through surfaces enhancing skeletal structures. Also incorporated are overlapping of translucent and transparent images defined by edges. Pfau has an excellent artist's statement in which he mentions his interest in Martin Luther King Jr.'s near death experience in Harlem. The artist ties this to a state of becoming. One work is installed on the ceiling with backlight and another is structured like a shrine. Formal concerns together with conceptual, the installation reads well.
Pamala Belknap recorded the San Francisco weddings of 2008 in her pursuit of civil rights concerns and artistic interest. In her work she links contemporary issues / social issues and concerns of the past, and relates these with the curatorial theme. One work that catches my eye is a folded accordion-style book with multiple scenes. The photographs displayed on the wall, beautiful, serve a dual function as documental works, capturing historic moments in the history of our city and country.
Jason Winshell's photographs depict a variety of scenes from day to day life and experience; I need a return trip to view them more in detail. When you visit, you will see that there are many of these small photographs to select from.
Next, as part of the main gallery exhibition but on the second floor, are Mike Narciso's photographs from his Tarp series. They are dark and mysterious and one begins to realize they are all tarps after viewing them a short while. They are almost painterly in the manner with which they draw you in with all of the variations in subtleties.
Downstairs I experience the paintings of John Yoyogi Fortes, many incorporating collaged elements. Feeling neo-expressionist in nature, I am reminded of the works of Jean-Michel Basquait (NYC painter) yet there are differences. Fortes's works seem to have a script or a narrative that ties the images together. The collaged elements make reference to our visual culture and create serious themes. The largely gestural paint qualities are exhilerating while pointing to some of the grit and grime that surround us. Beauty and pain.
Jessalyn Haggenjos' enamel based paintings are my last stop through this large and elaborate exhibition. She allows the natural process of pouring enamels to form her imagery, referencing topographical formations. These works engage a form of automatism to signify nature at work. The colors however are not necessarily 'landscapey' but more like Miro or Matta (in the earthy-toned pieces).
Art by Jessalyn Haggenjos.


Art closer by Jessalyn Haggenjos.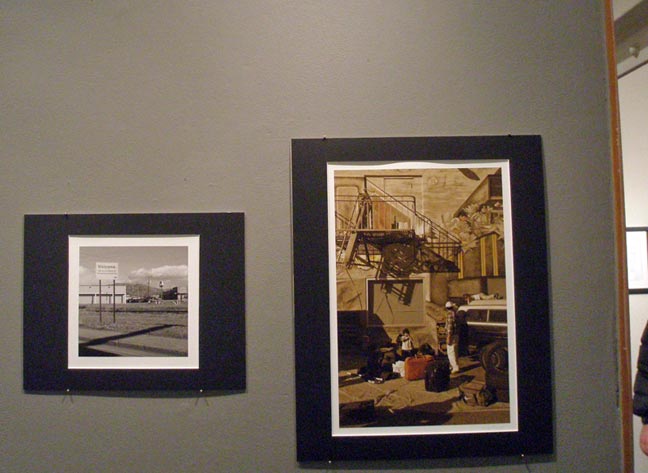 Photography by Jason Winshell.


Photo closer by Jason Winshell.


Art by John Yoyogi Fortes.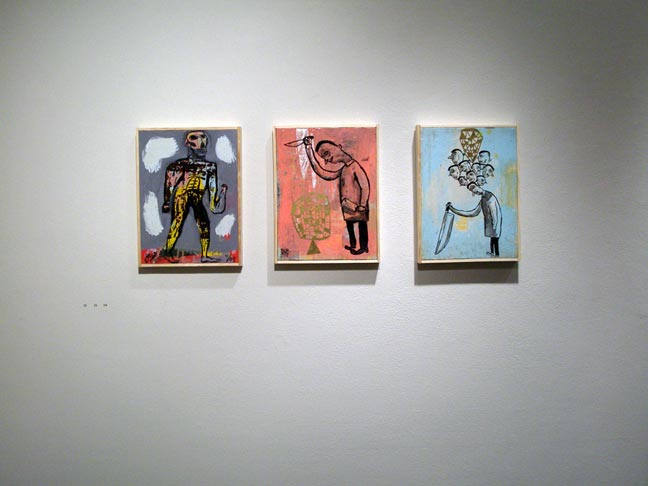 Art closer by John Yoyogi Fortes.


Art by George Pfau (that's him on the right).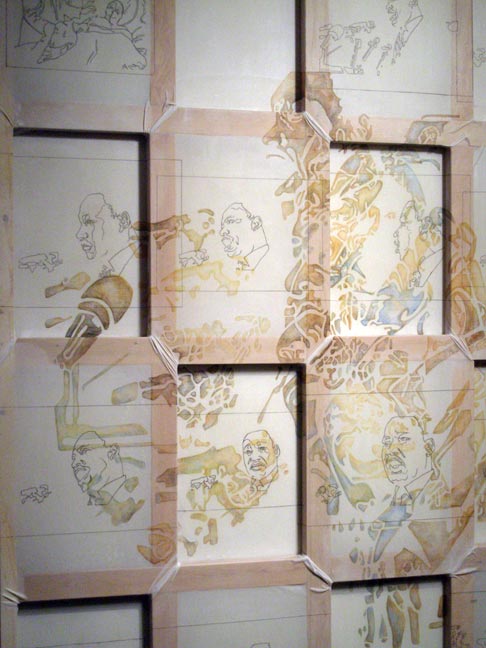 Detail of art by George Pfau.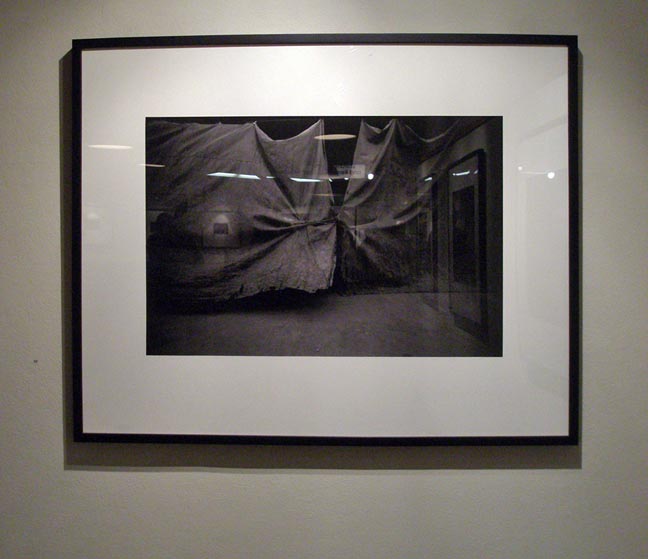 Photography by Mike Narciso.


***
Togonon Gallery: Steve Baibak - The Transmogrification of the Designated Safety Zone.
Review and images by DeWitt Cheng: Steve Baibak fabricates bizarre, funny sculptures from recycled materials and gives them inventive, Joycean titles like Tritanphork, Tipurdence, Ovial Augmenta and Rus Donalow.
Sculpture by Steve Baibak.


Artist Steve Baibak and his sculpture.


Steve Baibak sculpture.


Art by Steve Baibak.


***
SF Camerawork: An Autobiography of the San Francisco Bay Area - Part 2, The Future Lasts Forever.
Photographers: Michael Light, Linda Connor, Chris McCaw, Lukas Felzmann, Richard Gordon, Apollonia Morrill, Robert Dawson, Youngsuk Suh, Louis Hock, Anne Collier, Victor Arimondi, Kevin Killian, Janet Delaney, Tammy Rae Carland, Binh Danh, Peter Tonningsen, Hulleah Tsinhnahjinnie, Jessamyn Lovell, Lynn Hershman Leeson, Anne Walsh & Chris Kubick, Abner Nolan, Todd Hido, Paul Schiek, Charles Gatewood, Jack Fritscher, Arthur Tress, David Hurles, Jim Stewart, Robert Mapplethorpe, David Maisel, Richard Barnes, Mark Richards, Tom Marioni, many more.
Comment by RWM: Vast and expansive. Amazing and explosive. Personal yet grand in stature.
Comment by AB: Humongous mega mungo and really really ferkin big survey of San Francisco Bay Area photography. Prepare to be overwhelmed. Set aside some serious time for this one.
Polaroid "Aura" photos by Anne Collier (like 'em).


Pinkie cam detail of John Baldassari "Aura" photo by Anne Collier.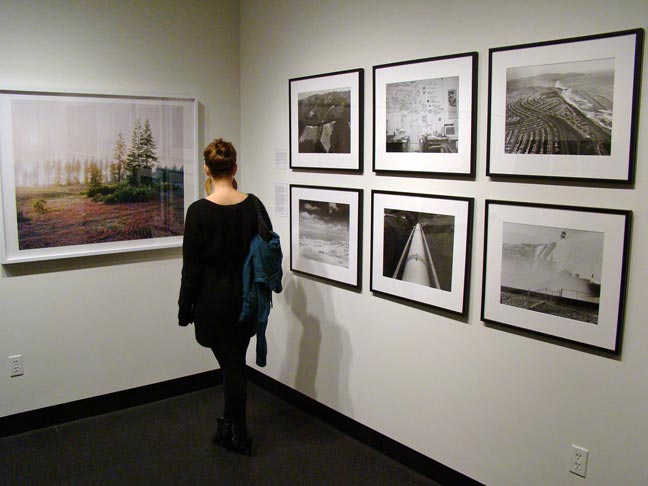 Bay Area photography.


Bay Area photographs.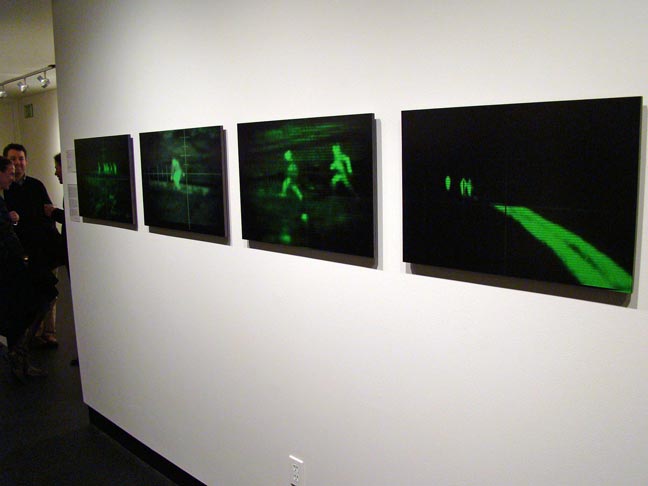 Bay Area photos.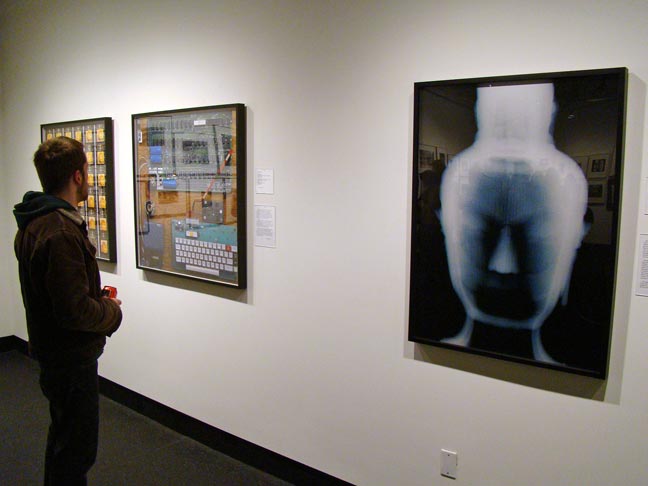 Photography in the Bay Area.


Bay Area photography survey.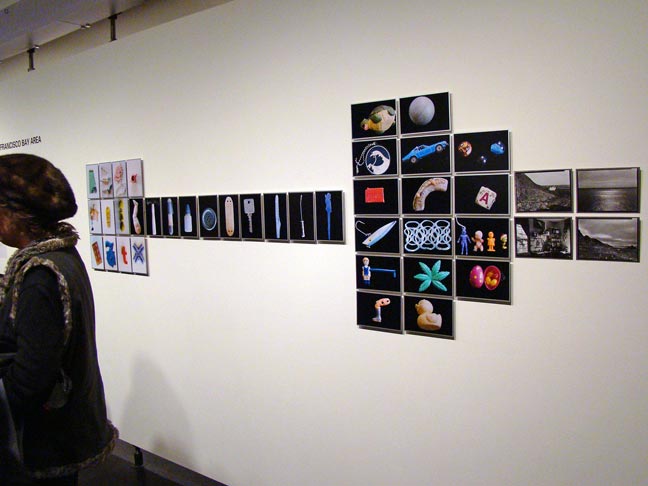 Photography in the Bay Area.


Big atomic boom photos.


***
Hang Art Gallery: American Pastiche, Choose Your Own Adventure - Jose Arenas / Phillip Hua.
Review by RWM: Trees painted on newspapers by Philip Hua. You've heard this argument before about what is worthwhile to print, but so boldly rendered here. Wonderful images and colorful. Trees as a symbol of continuity, depicted with beauty.
Comment by AB: Cultural and political subtexts imbue both the wall works of Phillip Hua and weathered wood plank paintings and sculptures by Jose Arenas.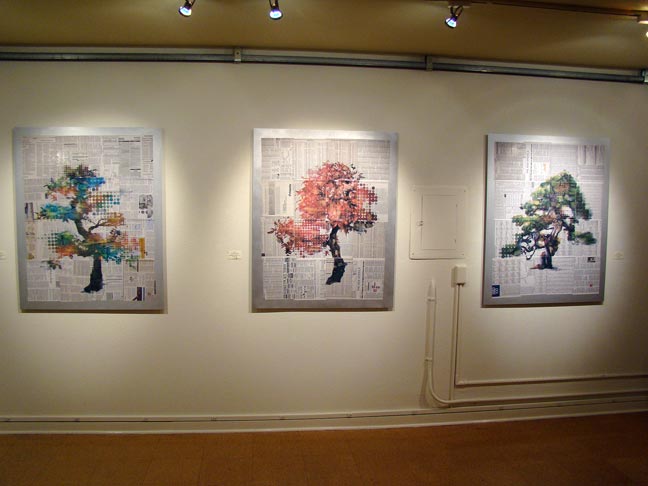 Art by Phillip Hua.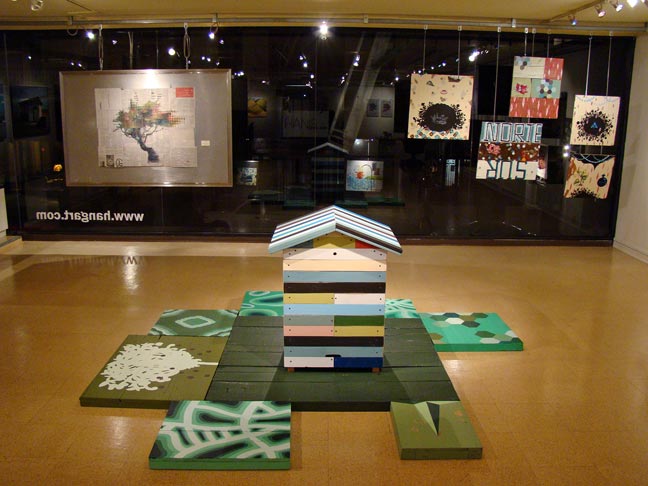 Art/installation by Jose Arenas & Phillip Hua (hanging on wall left).


Art/installation by Phillip Hua and Jose Arenas.


***
18 Reasons: 18th Street Corridor Community Show.
Artists: Simon Richards, Smiling John Watts, Sierra Zumwalt, Shana Astrachan, Joy Opfer, Sam Mogannam, Anne Walker, Zoe Mogannam, Rachel Correy, Imin Yeh, Jennifer Stuart, Lindsay Carver, Arin Fishkin, Kari Iverson, many more.
Comment by AB: Peppy group get-up of art by artsits from da hood including a number who also work at nearby businesses like Tartine, Bi-Rite Creamery, Delfina, and Dolores Park Cafe.
Benjamin Franklin by Lindsay Carver.


High Fructose Fuckup by Kari Iverson.


Art.


Art.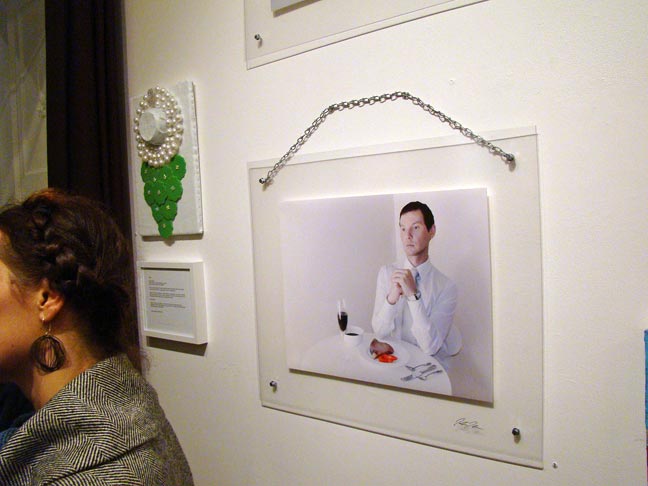 Photography.


***
Addendum: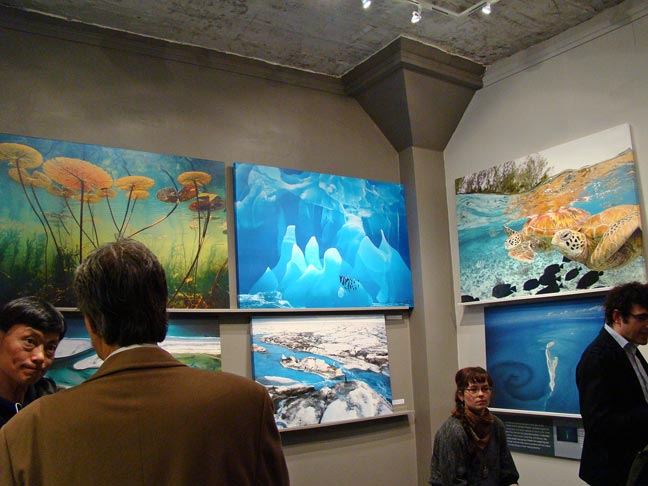 International League of Conservation Photographers at Fifty Crows.


Another International League of Conservation Photographers at Fifty Crows.


One more from International League of Conservation Photographers at Fifty Crows.


***
Bringing San Francisco's art scene to you is hellish hard work. Believe it. All so that you can enjoy the bounty with the click of a mouse. Ever think about engaging in a little of this? I'd sure appreciate it.
***
First Thursday - December 3, 2009
First Thursday - November 5, 2009
***