SAN FRANCISCO ART GALLERIES OPENINGS

FIRST THURSDAY - 11.05.09

(with assistance from RWM, Kathryn Arnold and Pilar Vree)


Comment by AB: Sometimes I wonder whether artists think about how long their art's gonna last. And I wonder the same about the dealers who sell it (and the collectors who buy it). It may look great today, all bright and fresh and peppy and perky and mint and shit, but how's it gonna look five years from now... or fifty... or a hundred? That's the question. You know, back in the good old days, like say the Renaissance, they taught techniques that would endure the ages. Today, not so much.
Pretty petty, you might suggest. Good art is good art regardless. But if you're a buyer, would you rather pony up sacks of cash for the Rock of Gibraltar or a potential basket case, ultimately beyond the abilities of even the most crackerjack conservators to resuscitate? You gotta consider the future; it's not all about now. In fact it's hardly ever about now; it's almost always about the future. I don't know about you, but I like my art to look better the older it gets, not worse.
At this point, you're probably asking yourself, "Self, what's got Bamberger's coif in such a quiver?" Well my artful darlings, the answer to that inquisitory lies somewhere due south of this sentence, nestled amongst the evening's aesthetic adventures. Which reminds me-- we've got abundant openings proffering copious cornucopias of art to observe, consider and assess. And just in time for Thanksgiving. Yep. Uh oh. The train's about to depart the station; you better hop on 'cuz you sure don't wanna miss this one...
***
Caldwell Snyder Gallery: Rik Van Iersel and Cole Morgan.
Comment by AB: Cole Morgan combines abstraction, still life and trompe l'oeil into a satisfyingly savory and harmonious blend. You think you're looking at actual objects on a surface when, in fact, sometimes you are and sometimes you're not. In the front gallery, raw complex compositions of self-taught artist Rik Van Iersel offer much to contemplate.
Art by Cole Morgan.


Painting by Cole Morgan closer (nicely done).


Cole Morgan paintings.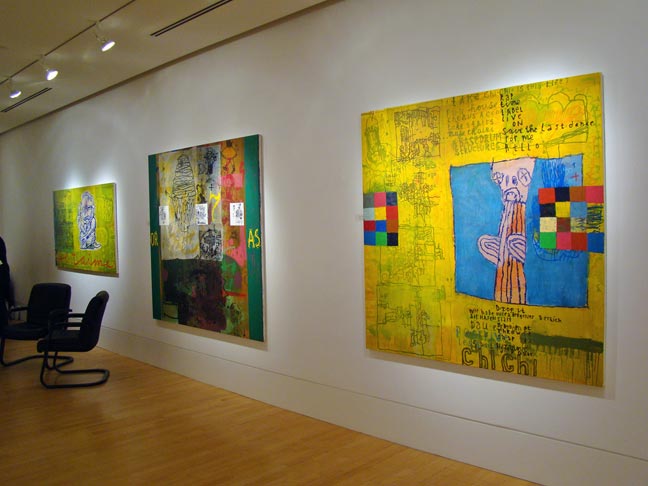 Paintings by Rik Van Iersel.


Rik Van Iersel art.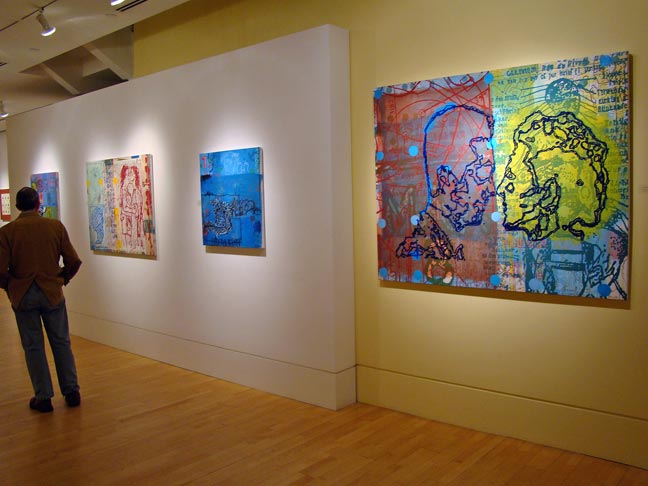 Art by Rik Van Iersel.


***
John Berggruen Gallery: Stephen Hannock - New Work.
Comment by AB: Stephen Hannock's atmospheric landscape paintings of the Napa Valley stylistically recall high points of nineteenth century American painting like Luminism and the Hudson River School, an essence he enhances with refurbushed weathered antique frames. But the fun part is that if you look close, you find that he subtly seasons 'em with twisty bits of modernism, yielding mysterious spectral overtones. Stop on by.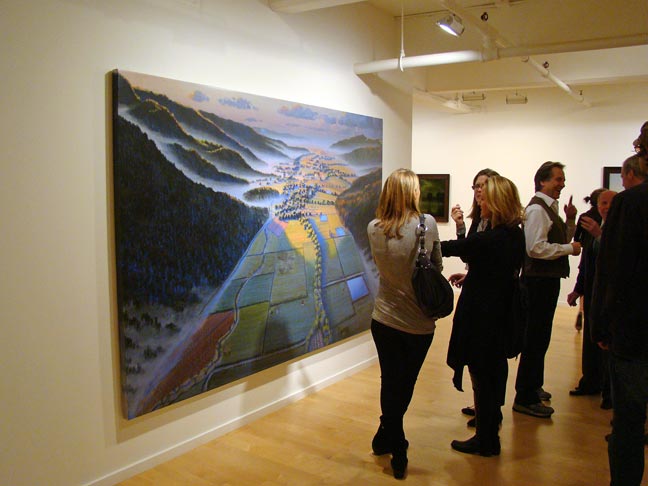 Art by Stephen Hannock.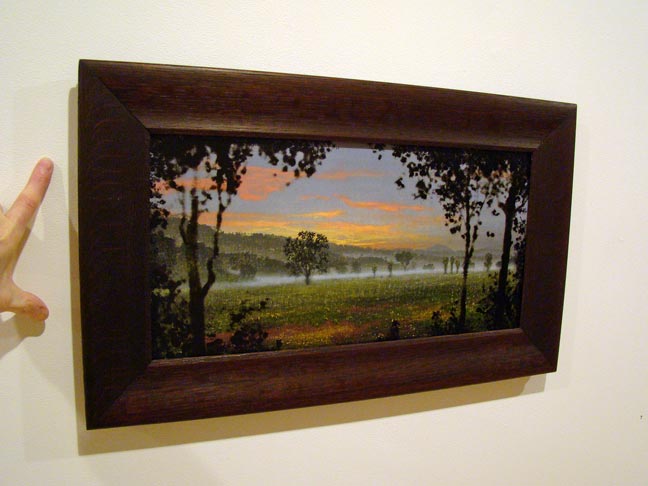 Stephen Hannock painting closer (like it).


Art by Stephen Hannock.


Stephen Hannock art closer.


Paintings by Stephen Hannock.


***
Rena Bransten Gallery: Ruth Asawa - interstices, sculptures and drawings.
Comment by AB: I just plain love how Ruth Asawa weaves ordinary wire into delicate organic forms that practically take on lives of their own. Her works manifest balance, harmony, symmetry, rigor, accomplishment, dedication, discipline, attention to detail, and all kinds of uplifting descriptives like that. Plenty of artists sculpt with wire; no one does it like Asawa. Also on display is a selection of her vintage works on paper, elegant renderings of plant life, nature and the great outdoors. Don't miss this one.
Wire sculpture and drawings by Ruth Asawa.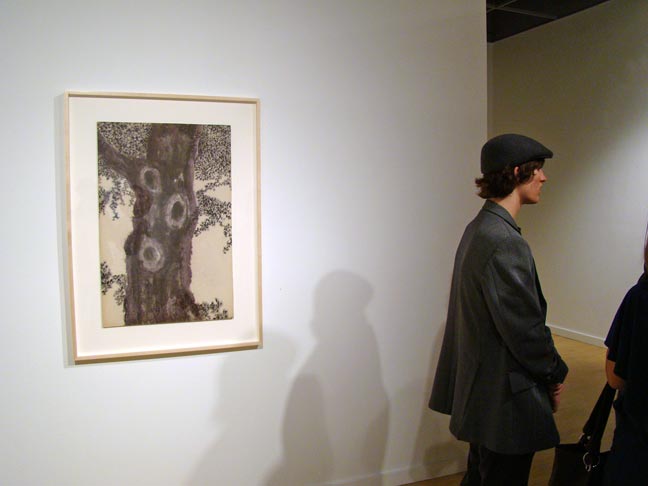 Ruth Asawa sculpture and drawings.


Art by Ruth Asawa.


Sulpture and drawings by Ruth Asawa.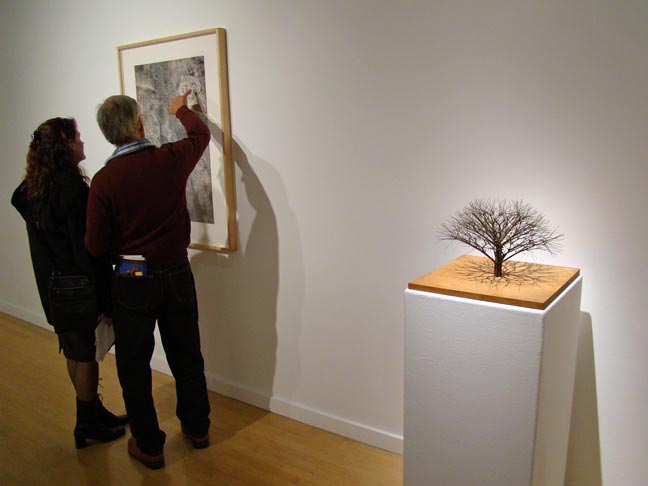 Ruth Asawa art.


Art by Ruth Asawa.


***
George Krevsky Gallery: Lawrence Ferlinghetti - Evolution of a Painter.
Review by Kathryn Arnold: Entering George Krevsky Gallery this evening I am overwhelmed by the numbers of guests, all of them waiting for the artist to arrive. I wait also, but must have missed his arrival. It is such a real delight to be able to see so many of Ferlinghetti's works up in one location, and they confront me with the seriousness this artist brings to the table. The rapid play of paint and color create forms as if by complete spontaneous generation. I am struck by their relationships to both Joan Brown and Edward Munch.
In the back room are drawings and photographs. I am enthralled by one that is titled Whistler's Daughter, a rapidly, or so it seems, drawn piece on yellowed newsprint. I run into a friend observing the photographs. She falls in love with one of Ferlinghetti high up on a light pole, with hands as if praying to the street sign labeled Jack Kerouac. "It is so San Francisco," I say to her and she selects it for purchase.  What a nice evening to experience some of the taste of San Francisco and its Beat Generation heritage.
Comment by AB: People occasionally ask me what I think of Lawrence Ferlinghetti's art. I tell them he's earned the right to paint.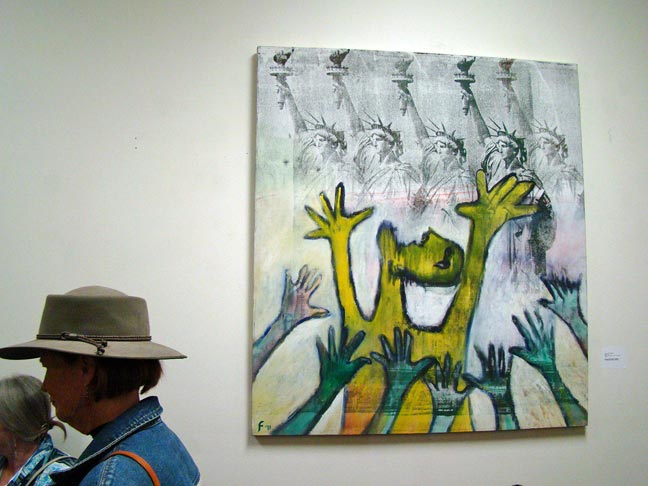 Art by Lawrence Ferlinghetti.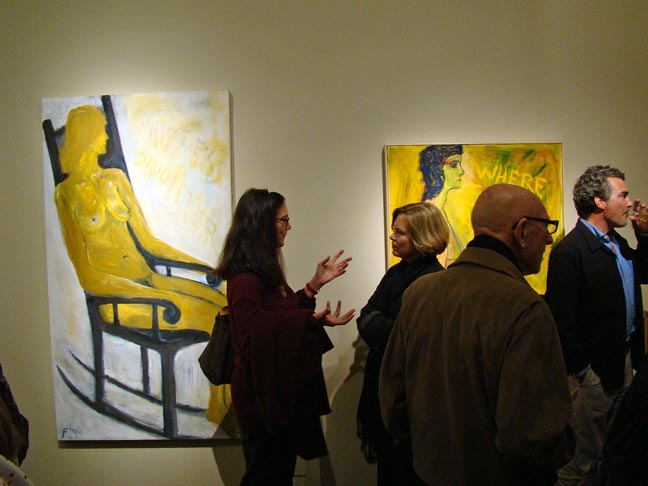 Lawrence Ferlinghetti paintings.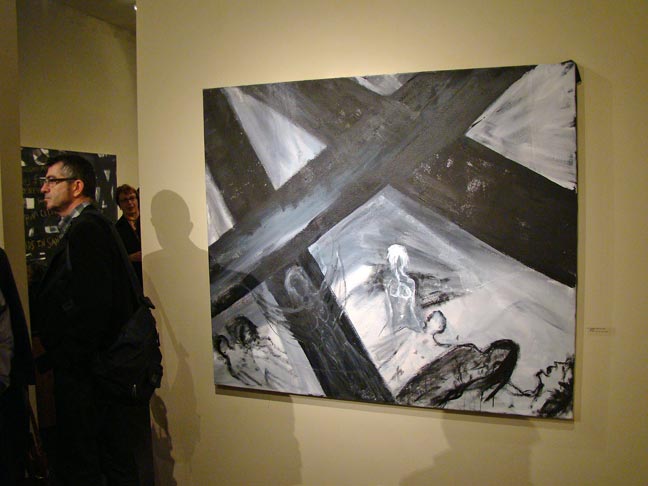 Paintings by Lawrence Ferlinghetti.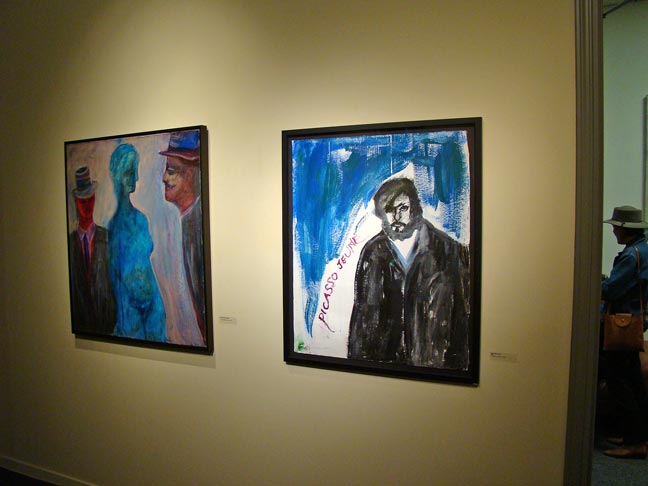 Lawrence Ferlinghetti art.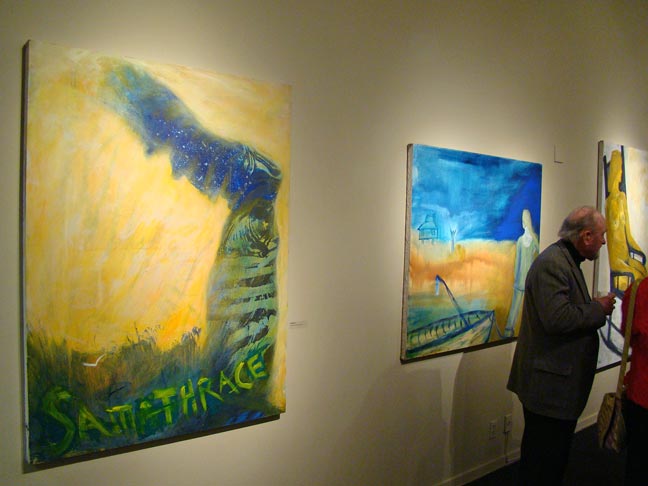 Paintings by Lawrence Ferlinghetti.


***
Togonon Gallery: Hiroyo Kaneko - Selections From Three Series; "Counterpoint 2009, The Beginning - Recent Works of Seven West Coast Artist Using Photography.
Counterpoint photographers: Richard Bluecloud Castaneda, Jack Fulton, Klea McKenna, Darcy Padilla, Jackson Patterson, Jessica Skloven, Lucia Zegada.
Comment by AB: For the group show, too many different photographers in too small a space. Not enough work by any one artist and way too loosely themed to offer even the most dedicated viewer an adequate degree of traction. It's like you go to a restaurant, order dinner, and they serve you 5 peas, 3 french fries, one meatball, an oyster, 6 M&M's, a cracker, and 2 grapes. The good news is that the quality's commendable overall, plus there's some pretty tasty images by Hiroyo Kaneko to balance it all out.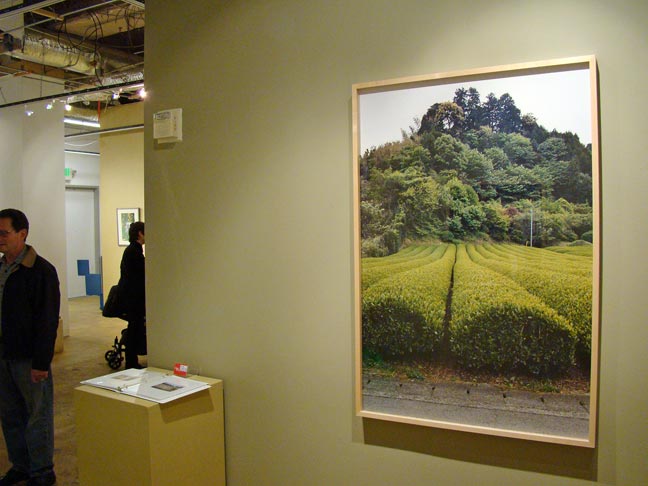 Photography by Hiroyo Kaneko (nicely done).


Photography.


Photographs.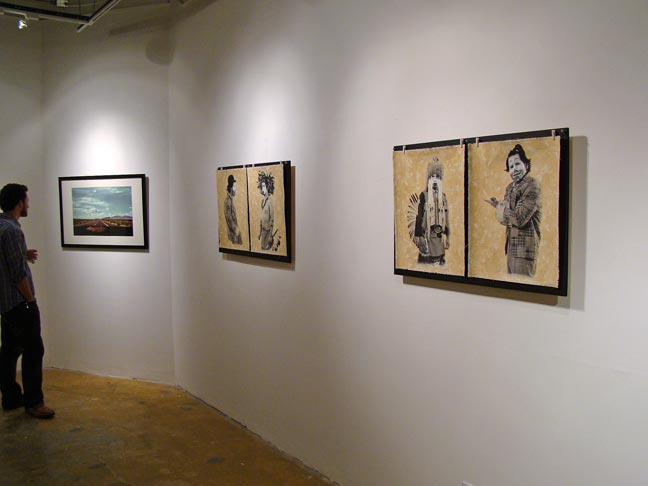 Photos.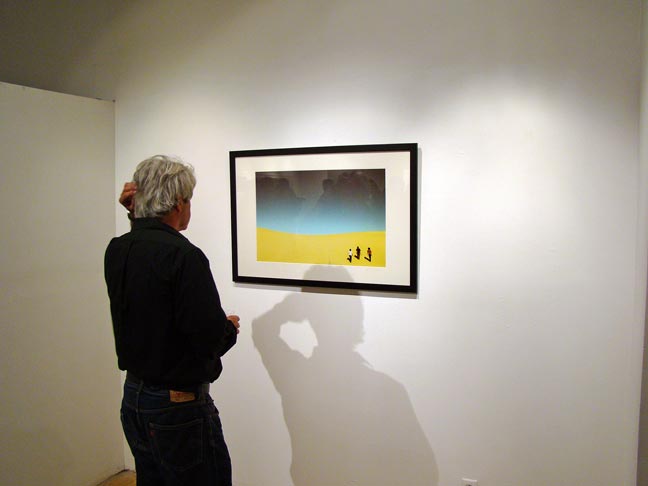 Photograph.


Photography.


***
Patricia Sweetow Gallery: Markus Linnenbrink - EVERYTHINGEVERYWHEREALLTHETIME; Lauren Cohen in the Project Room- If Painting Is Dead I Am The Air Bomb That Blew It.
Review by Kathryn Arnold: Nice work up at Patricia Sweetow and Markus Linnenbrink is becoming a regular. His newest work, still built with epoxy resin and color, takes on additional shapes and textures. Stacks and piles, along with a floor installation, embedded circles appearing in wall works and the continuing stripes are predominant. I am a fan of the stripes having worked through Albers Interaction of Color during my undergrad life and these stripes take on qualities all of their own. One striped work, which I think is titled Blanquitos, takes on more neutralized color qualities and seems to be an interesting addition to the other brilliantly hued works. The surface textures combined with hues mesmerize.  
Lauren Cohen's works in the smaller area bring to mind naïve and/or primitive art forms with the sharply defined figures with bright colors against a neutral ground. Messages appear to be a part of the works-- they seem to play with social constructs. Multiple figures abound in many of the works and are engaged in various activities.
Art by Markus Linnenbrink.


Markus Linnenbrink art.


Epoxy resin sculpture by Markus Linnenbrink (image c/o Kathryn Arnold).


Art by Markus Linnenbrink.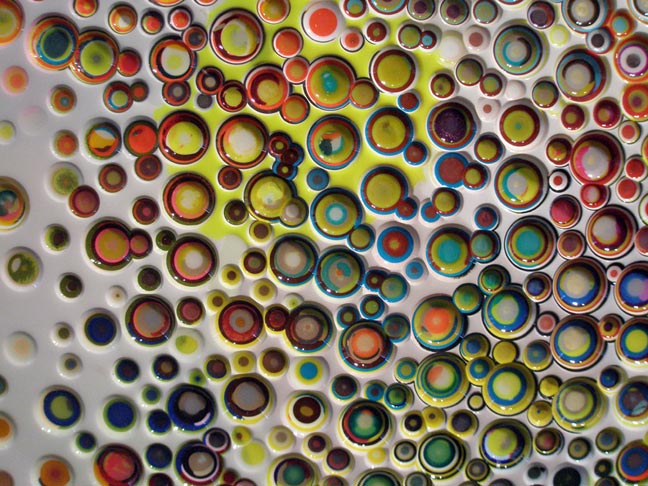 Detail of art above - Markus Linnenbrink (image c/o Kathryn Arnold).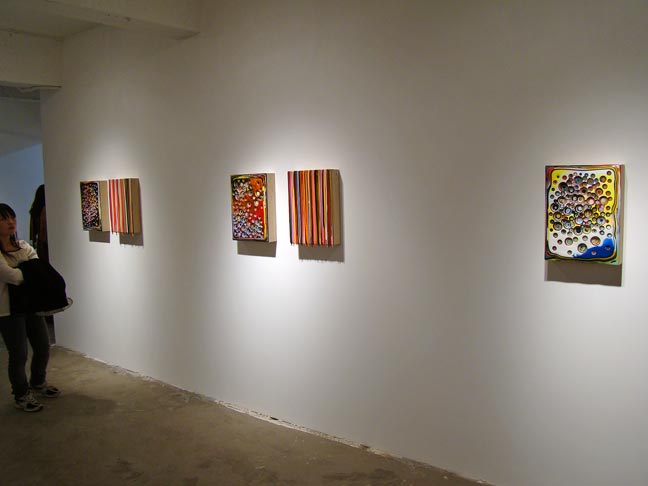 Art by Markus Linnenbrink.


Pinkie cam zoom of left center painting in above image - Markus Linnenbrink.


Art by Lauren Cohen (image c/o Kathryn Arnold).


Art by Lauren Cohen (image c/o Kathryn Arnold).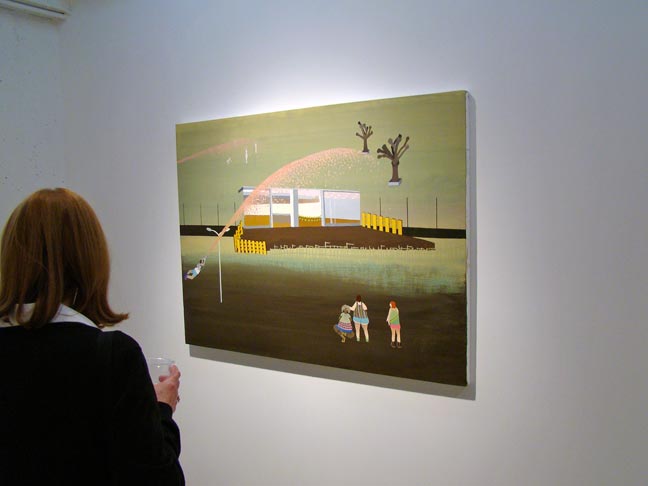 Painting by Lauren Cohen.


***
Robert Koch Gallery: Holly Andres - Sparrow Lane; Adolescence and Other Mysteries - A Group Show.
Group show photographers: Thomas Allen, Bill Owens, Nicholas Prior, Herbert Matter, and a selection of anonymous photographs.
Comment by AB: The adolescent feminine adventure photographs of Holly Andres are undeniably well executed, but a tad canned, and abiding by a plotline that's not exactly compelling. The group show, on the other hand, presents some cherry vintage imagery including a photo of two sons raking leaves in sixties suburbia, apparently instructed by their father to climb a young tree in the front yard and hand-remove all remaining leaves. Yo!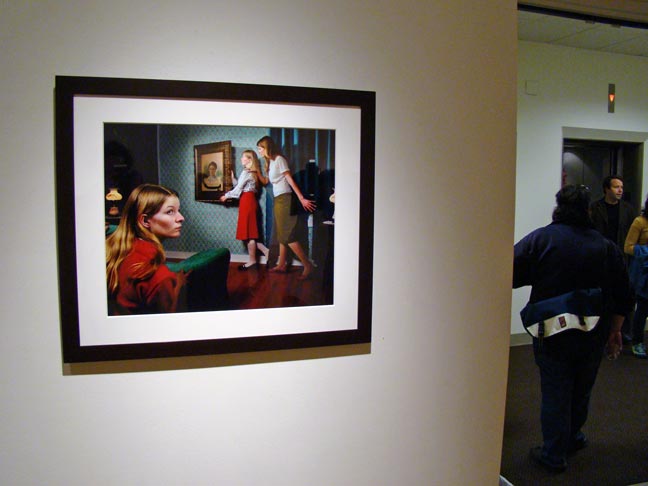 Photography by Holly Andres.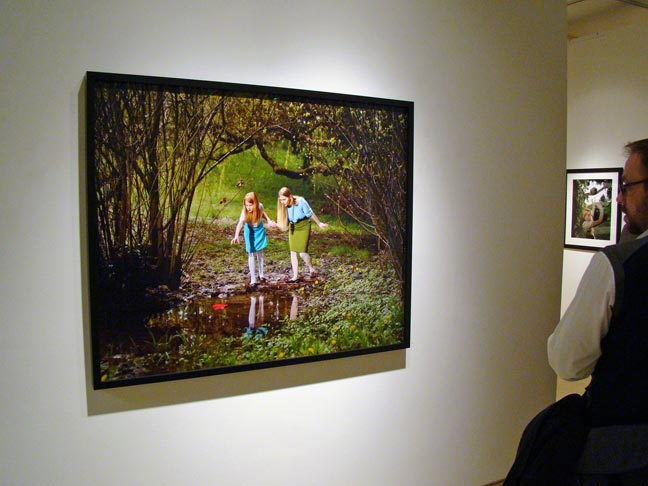 Holly Andres photos.


Photograph by Holly Andres.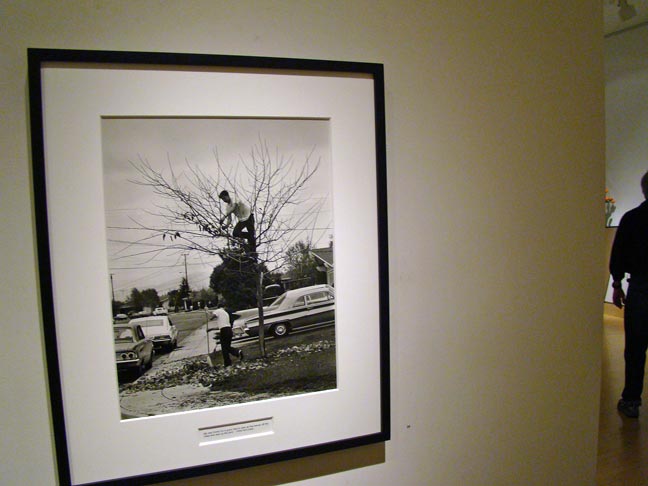 Manually denuding the tree photography (like it).


Photography from the group show.


Photos from the group show.


***
Gregory Lind Gallery: Don Voisine ­ Paintings.
Comment by AB: Precision geometric hard-edge abstraction is the soup du jour for New York artist Don Voisine. Well done.
Paintings by Don Voisine.


Don Voisine art.


A portion of Gregory Lind explaining a painting by Don Voisine.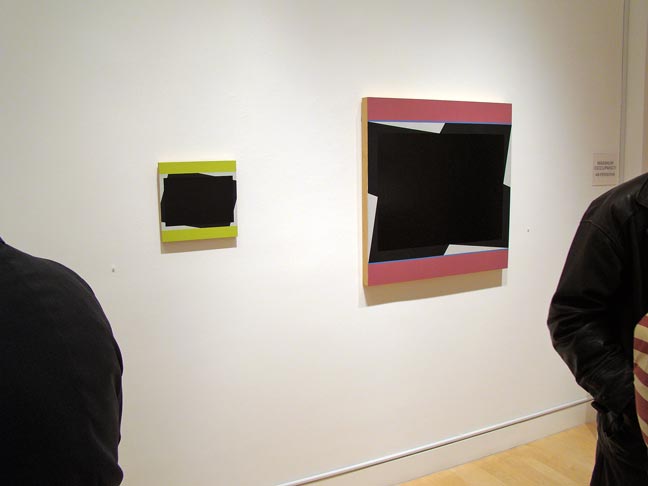 Art by Don Voisine.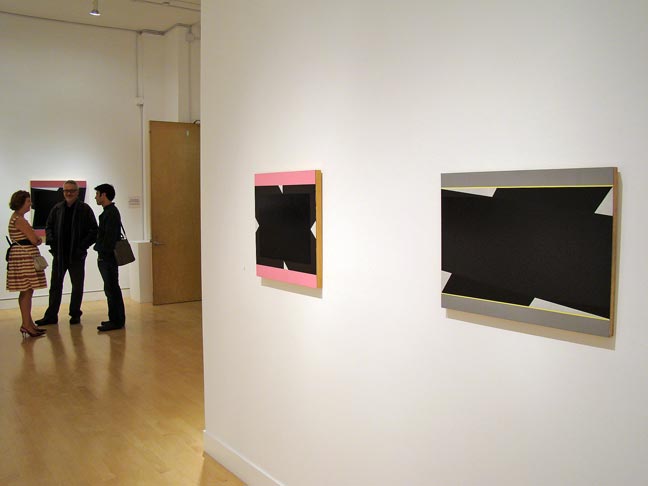 Paintings by Don Voisine.


***
Elins Eagles-Smith Gallery: Frances McCormack - Recent Paintings.
Comment by AB: According to Frances McCormack, "this series of paintings continues to emphasize the canvas as a contained space and my desire to witness both the impulsive and impetuous as well as the restrained and subdued in one space. Combining landscape design drawings, stark architectural elements and loosely interpreted botanical forms, the paintings manifest a range of felt energies reflected through the natural world. Lush paint, the physicality of the execution and the history of decisions are obvious and unapologetically optical. Form is referential but not realistic, more fully inviting the viewer's participation." Whatever that means. Plus I love when artists review their own shows. No conflict of interest there, right? That said, I kinda like 'em. Amble on in if you get a chance.
Art by Frances McCormack.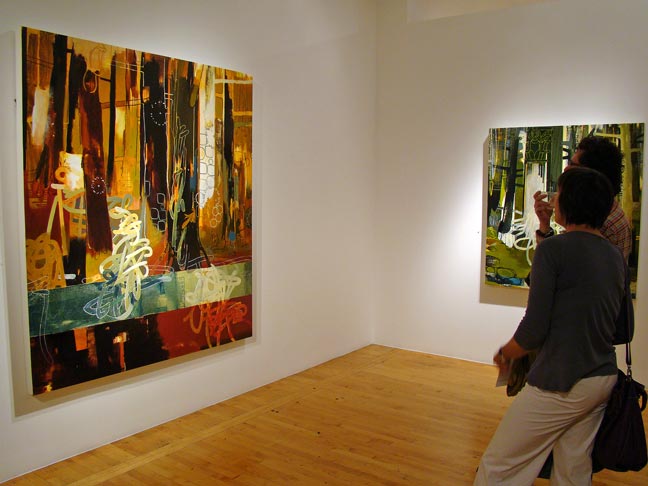 Paintings by Frances McCormack.


Frances McCormack art.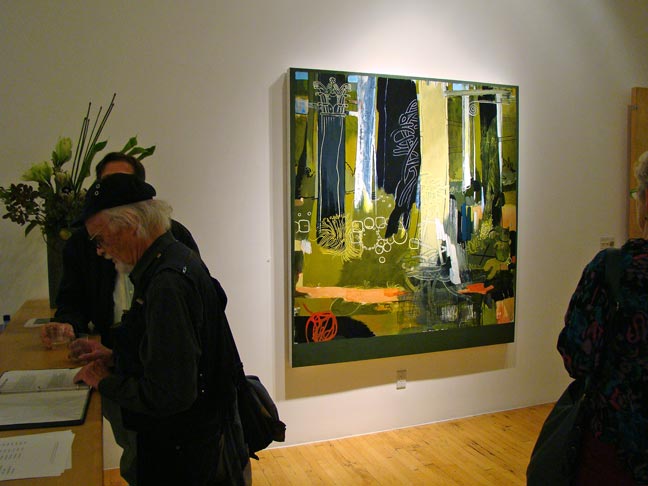 Frances McCormack painting.


***
Brian Gross Fine Art: Robert Sagerman - Workings.
Comment by AB: The fragrant aroma of oil paint permeates the gallery. The paintings by Robert Sagerman, comprised of myriad multicolor dabs, extend outward from the surface of their canvases like lush frosting atop the most sumptuously scrumptious confection imaginable. (According to the documentation for Sagerman, it's as much about the process, perhaps even more so, as it is about the product.) As for me, I love 'em-- right here, right now, this instant. But them cruel-ass ravages of time concern me. Will gravity sooner or later prevail? Will cracks eventually appear? Will the paint shrink? The interiors of the dabs likely aren't even dry yet. And how are you gonna dust these suckers? I'm gonna fall back on the old adage that "he who smells the roses owns the garden." It's mine for the moment, and let that moment extend out to eternity.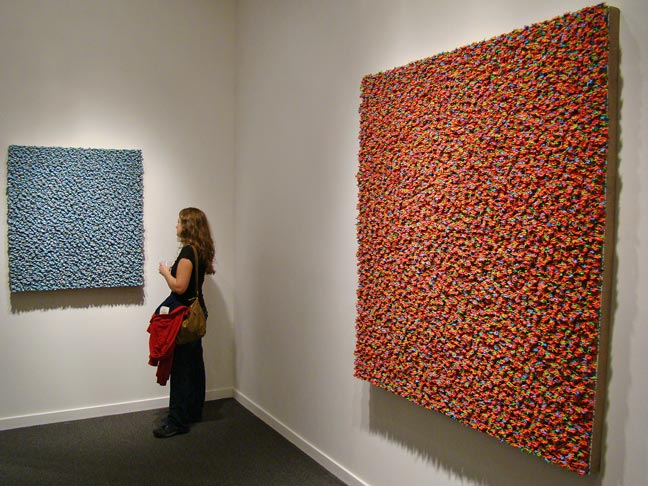 Paintings by Robert Sagerman (nice).


Robert Sagerman art.


Pinkie cam zoom on art by Robert Sagerman from the front.


Pinkie cam zoom of Robert Sagerman from the side.


Robert Sagerman paintings.


***
Fraenkel Gallery: Carleton Watkins - Discoveries.
Comment by AB: It's hard to believe we're looking at photographs of California and the West-- grand majestic landscapes-- that Carleton Watkins took between 1865 and 1881. Yep, that would be 120 to over 140 years ago. For you history buffs, the Golden Spike, marking the completion of the first transcontinental railroad was not driven until 1869, just to put things in perspective. These images were astounding stuff to most Americans at the time-- nothing like they had ever imagined let alone experienced, and certainly nothing like the benign landscapes back East. To witness our West through these profoundly stunning and historic images of Carleton Watkins is a pleasure and a privelege. (Talk about creating art that will survive the centuries-- see that here.)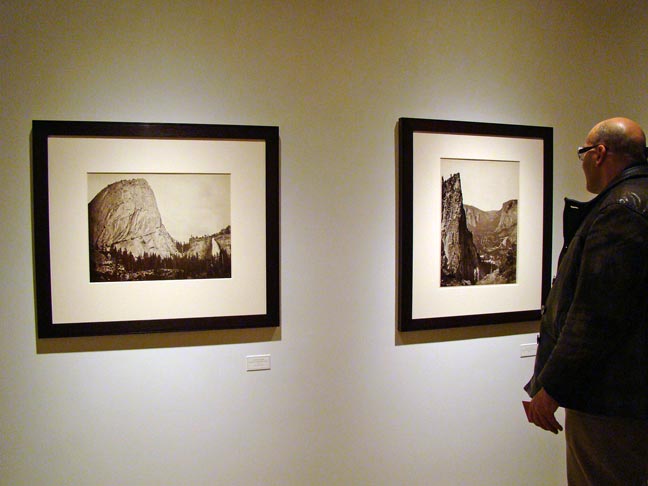 Photographs by Carleton Watkins.


Carleton Watkins photos.


Photography by Carleton Watkins.


Real old skool Ess Eff by Carleton Watkins.
(The harbor in the center is where the financial district is today.)


Photographs by Carleton Watkins.


Carleton Watkins photography.


***
Altman Siegel Gallery: Shinpei Kusanagi - Towing Voyage.
Comment by AB: The ethereal abstracted "landscape" paintings of Japanese artist Shinpei Kusanagi, though minimal in appearance, mesmerize you with an uncanny hypnotic hex. It's like at first glance you think there's not much there there, but then just to make sure, you look a little longer to see if "there" you might have missed and that's when you get hooked.
Art by Shinpei Kusanagi.


Shinpei Kusanagi painting.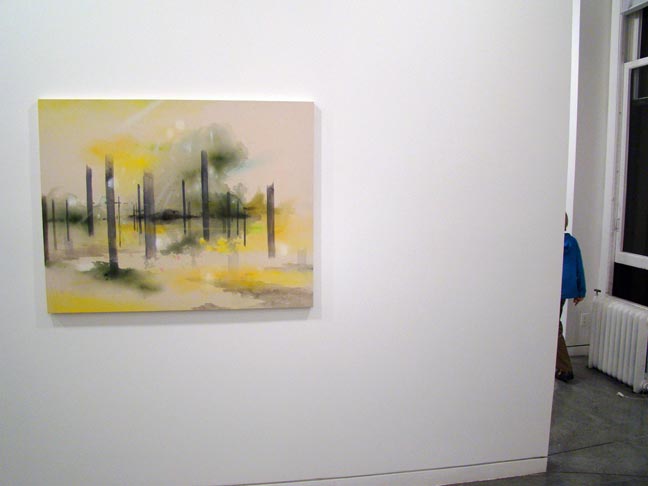 Painting by Shinpei Kusanagi.


Art by Shinpei Kusanagi.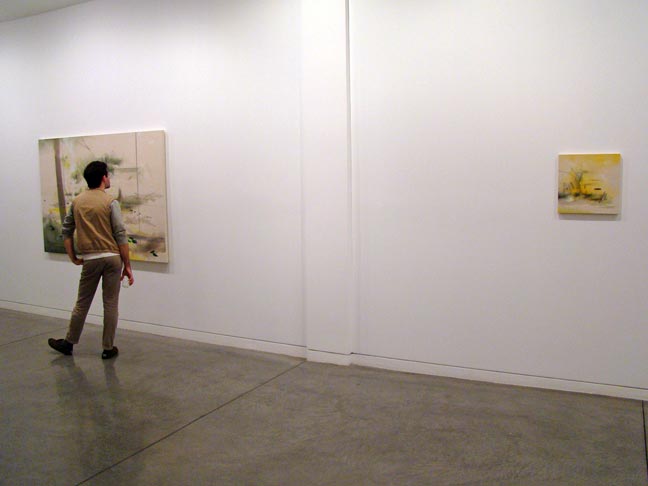 Shinpei Kusanagi art.


***
Toomey Tourell Fine Art: Mark Paron and Allison Paschke - Soft and Hard.
Comment by AB: Allison Paschke sculpts in porcelain and epoxy resin blocks, layers and rectangular forms. She also creates rigorous wall works consisting of numerous coated straight pins protruding from flat background surfaces (well done but hard to dust). Also in the "how am I going to keep this thing clean?" department are entertaining crumpled neocortical-esque sculpturals by Mark Paron that jut from walls and rest on pedestals. I'm enjoying the art, but am queasy as to how they'll hold up in the long term.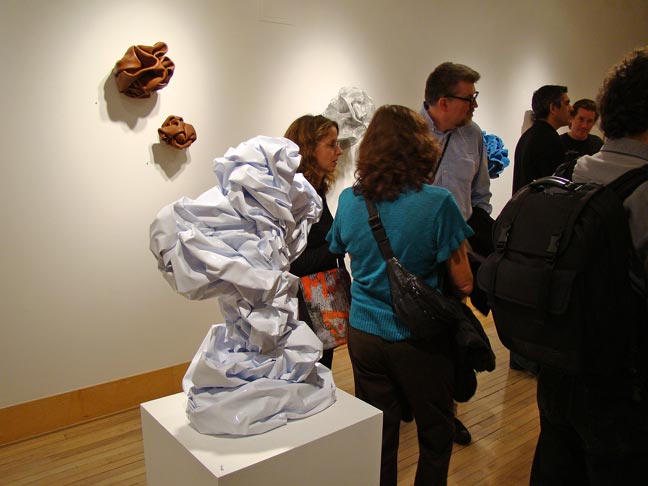 Sculpture by Mark Paron.


Mark Paron sculpture.


Art by Mark Paron.


Straight pin art by Allison Paschke.


Pinkie cam detail of art in above image by Allison Paschke.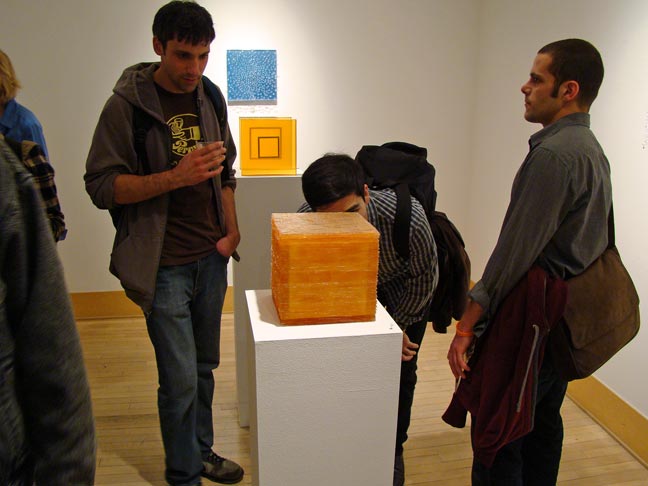 Sculpture by Allison Paschke.


Allison Paschke art.


***
Scott Nichols Gallery: Rolfe Horn - Shinjosui, Mind Like Water.
Comment by AB: Rolfe Horn exhibits black and white photographs taken during his fall 2008 travels in Japan. All of his images incorporate some aspect of water, nuanced to exemplify a reverential and meditative calm, and at times waxing divinely abstract. Worth a visit.
Photography by Rolfe Horn.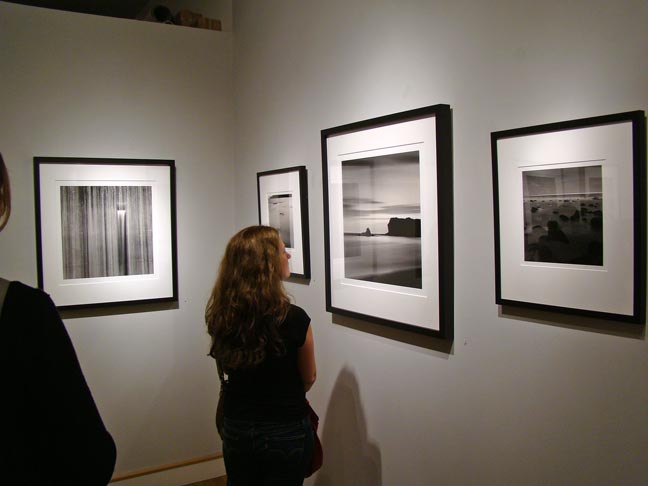 Rolfe Horn photographs.


Rolfe Horn and his photography.


Photos by Rolfe Horn.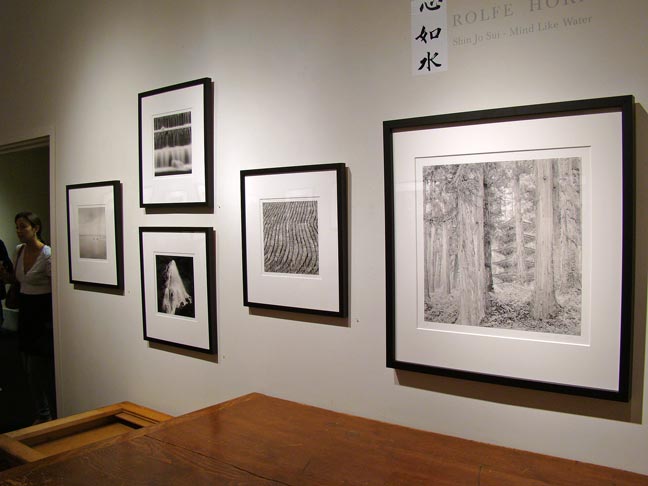 Rolfe Horn photographs.


***
Jack Fischer Gallery: Lauren DiCioccio.
Comment by AB: Lauren DiCioccio sews, embroiders, paints and folds herself up a delightful essay on everyday items like rolls of 35mm film (painted on empty thread spools), fabric playing cards that you can actually play with, faux plastic throw-away shopping bags with niceties like "Thank You" embroidered onto them, film slides, notebooks, a pencil, an hourglass and more. In so doing, she also reminds us of the glut of rubbish we produce, and to perhaps be a bit more mindful in that regard. The upshot? One monumental amount of meticulous and painstaking labor, which leaves me no choice but to slap a "Pick of First Thursday" on this baby for arting above and beyond the call of duty.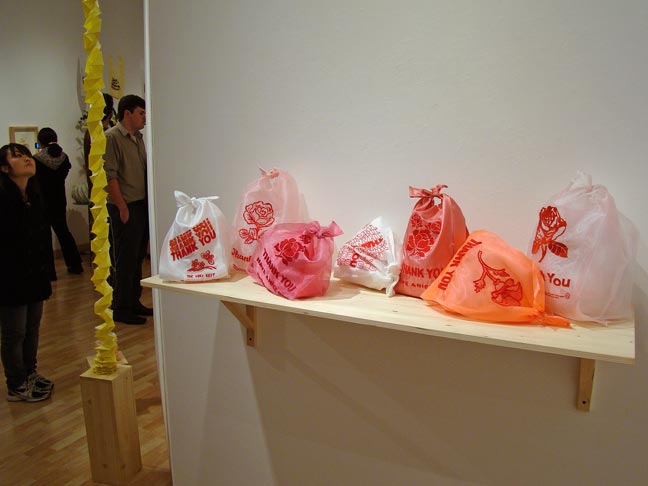 Art by Lauren DiCioccio.


Lauren DiCioccio art closer.


Pinkie cam detail of art in above image by Lauren DiCioccio.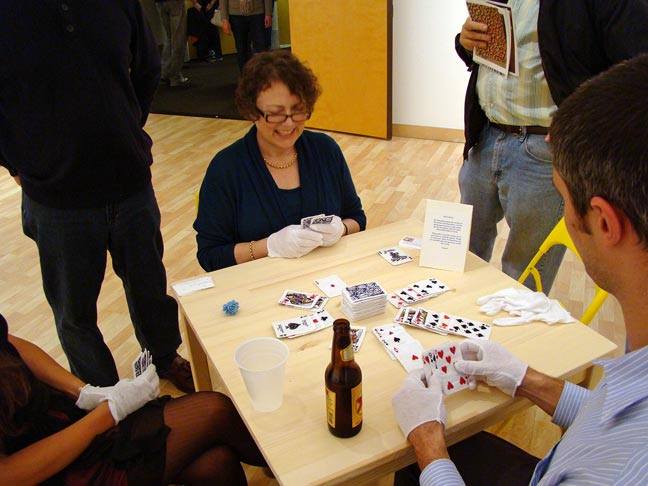 Fabric playing card art by Lauren DiCioccio.


Glut of stuff art by Lauren DiCioccio.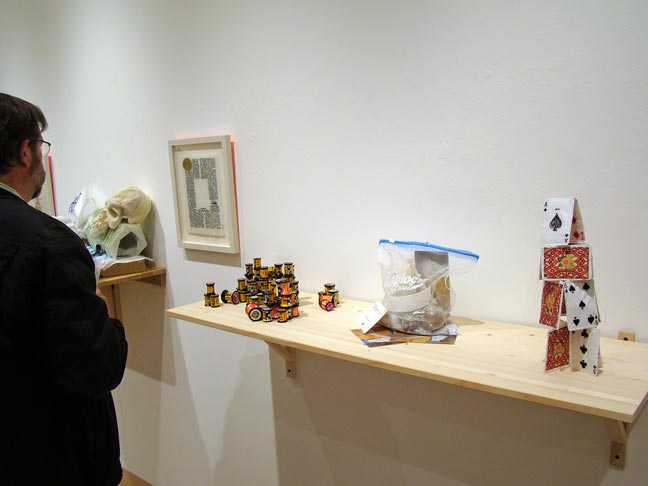 Art by Lauren DiCioccio.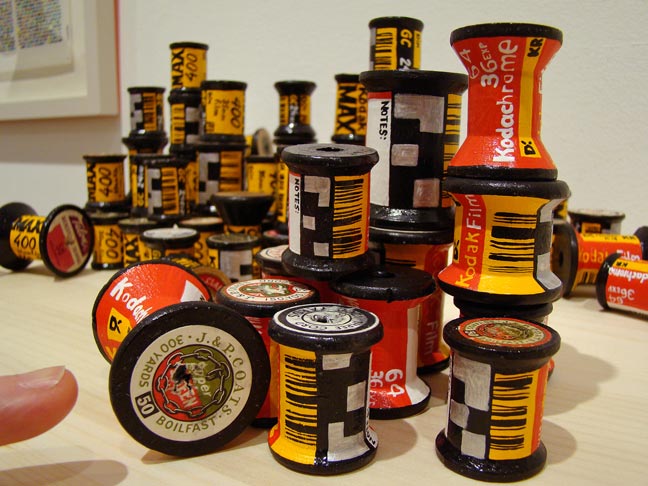 Pinkie cam detail of art in above image by Lauren DiCioccio (like 'em).


The basic idea -art by Lauren DiCioccio.


***
Stephen Wirtz Gallery: Marc Katano - Half-light; Laurie Reid - Eight Days Improv.
Comment by AB: Marc Katano's substantial yet sensitive abstractions are rooted in the fluid essence of Japanese calligraphy while Laurie Reid's soothing elemental monotypes are the upshot of an eight-day residency at Aurobora Press.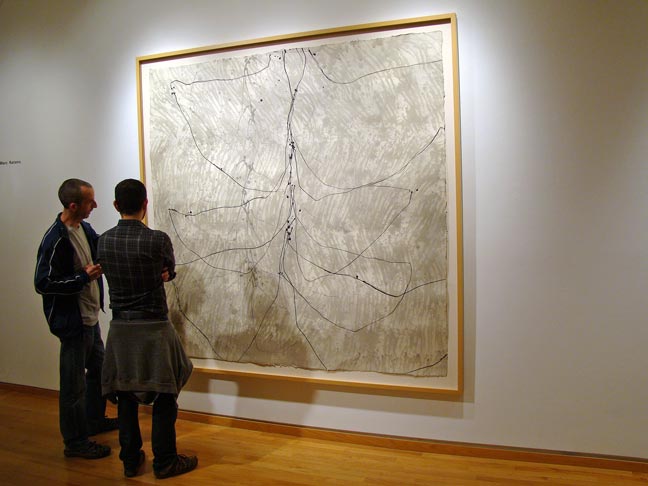 Art by Marc Katano.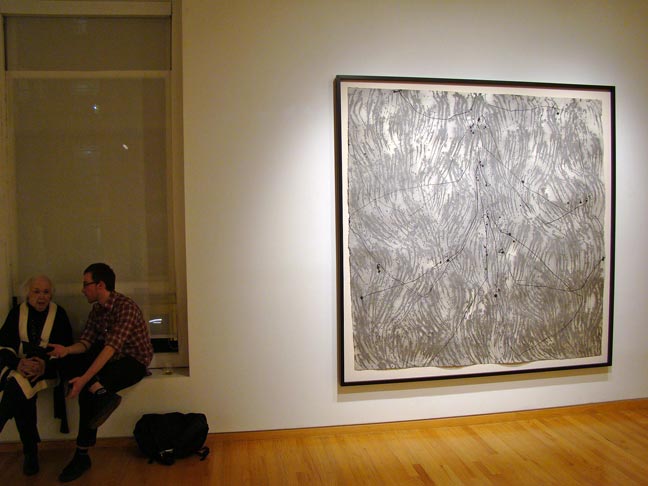 Marc Katano art.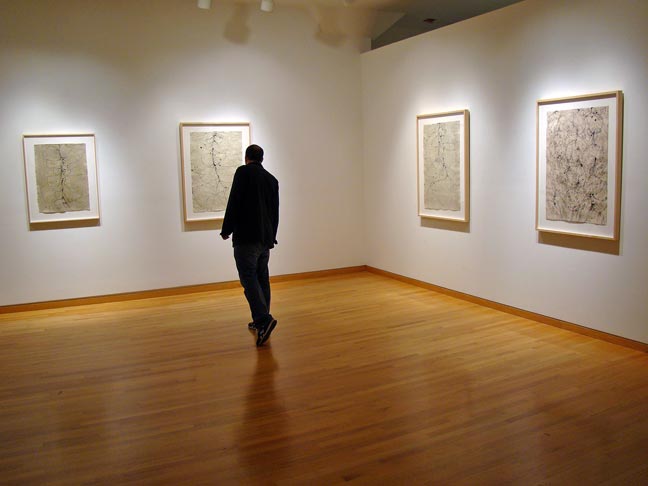 Works on paper by Marc Katano.


Art by Laurie Reid.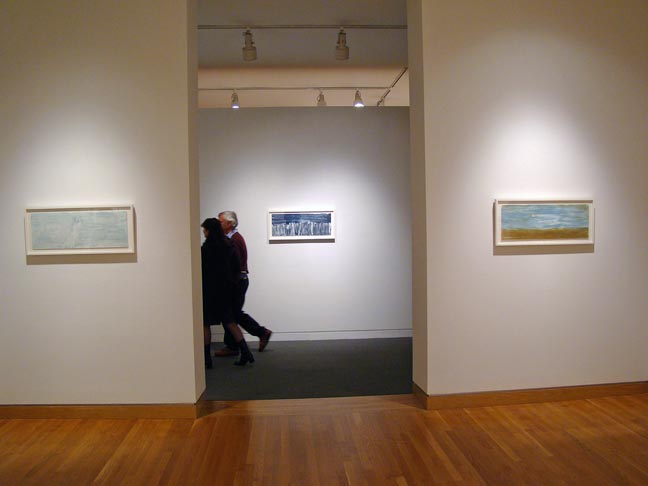 Laurie Reid monotype art.


***
Micaela Gallery: Winter Salon 2009 - New Works.
Artists: Emil Alzamora, Alex Bernstein, Thai Bui, Ernesto Canovas, Marie-Lou Desmeules, Peter Foucault collaborating with Matthew Parrott, Scott Kiernan, Scott Kildall, Franziska Klotz, Carol Lawton, Prema Murthy, Eugenia Pardue, Nicole Schmoelzer, Carmen Spera, Monika Steiner.
Comment by AB: European and American artists advance options including glass, mixed media, painting, sculpture, digital images and video.
Art.


Art.


Video art.


Art.


Art.


Ambiance.


***
Modernism Gallery: Mark Stock - Short Stories; Catherine Courtenaye - Fieldhand & Other Works.
Review by Kathryn Arnold: Modernism, tonight festive in atmosphere, presents two very stylistically different artists with quite engaging work.  
I begin with Catherine Courtenay's subtlety toned surfaces with markings, writings and additional poetic inferences. The titles give clues about each work which takes on an overall hue, i.e. one being muted lavender, another a sap green, another grey misty blue and so on. Inscriptions on the surfaces with numbers, geometric markings and drawn images elude meaning yet seek to convey. Some of Cy Twombly's works come to mind.    
Mark Stock's paintings are in the next room-- a dimly lit space that seems to match the tone of these trompe l'oeil works. I smile as I see Man Ray's smile in the sky of one, along with other illusions in other paintings to art's historic past. With skills that rival (surpasses?) that of Peto and Harnett, this artist gives his work a conceptual plane. I particularly enjoy the chalkboard works that picture dangling pieces of chalk and slate chalkboards, all 2-dimensional of course. One is of Elvis. For "Yore" he recreates paintings from the past, such as Hopper, and pictures them as attached with tape, also in this illusionistic two-dimensional fashion. A great blend of pop and fine art images and quite fun when one connects with the inferences.
Comment by AB: Good show; go see. Especially Mark Stock.
Art by Mark Stock.


Mark Stock tromp l'oeil paintings.


Roy Lichtenstein peek-a-boo painting by Mark Stock.


That's right, sir. It's not real chalk. It's a painting (Mark Stock).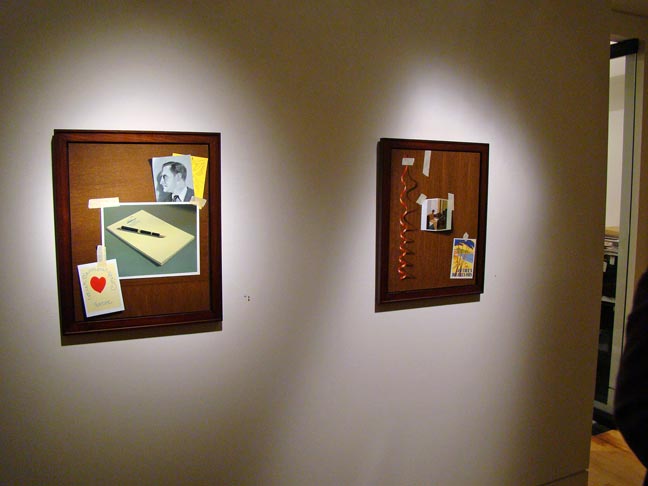 Mark Stock paintings.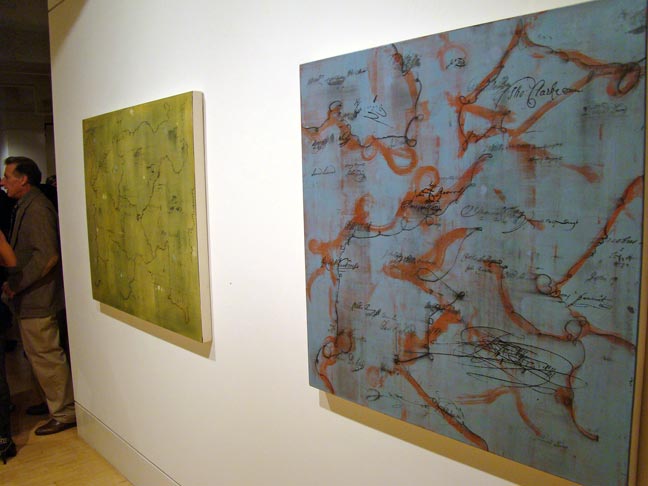 Art by Catherine Courtenaye.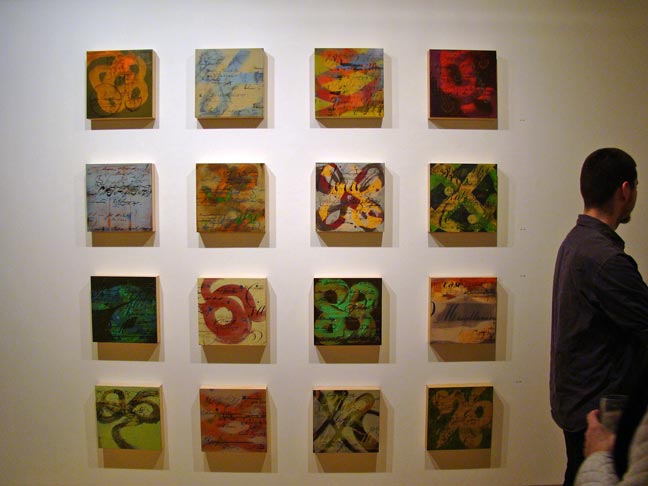 Paintings by Catherine Courtenaye.


Art by Catherine Courtenaye.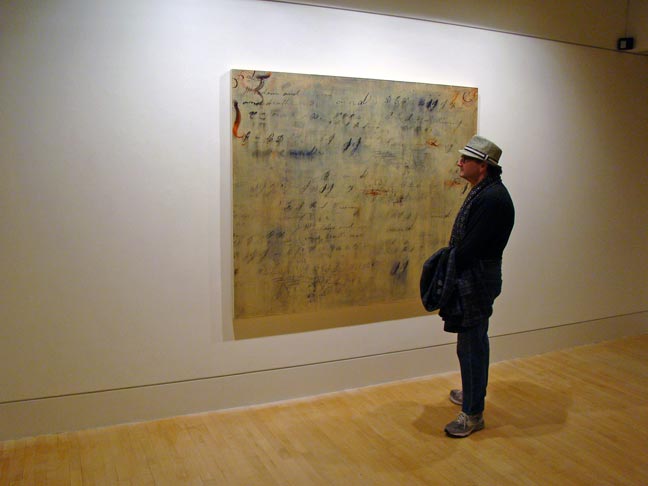 Paintings by Catherine Courtenaye.


***
Hangart Gallery: Twenty Four Seven - A Group Exhibition.
Artists: Jeff Dikio, Katja Leibenath, Eddie O. Rodriguez, Catherine Saiki.
Review by RWM, images c/o Hangart: Another successful show at Hangart Gallery as per usual. The participant works of art are somber and melancholy, but profound nonetheless. They may remind one of Edward Hopper because the images are without people; instead empty structures evoke a sense of longing. There you are, caught up in the cityscapes, ocean horizons, empty amusement parks, and abstractions-- examining life.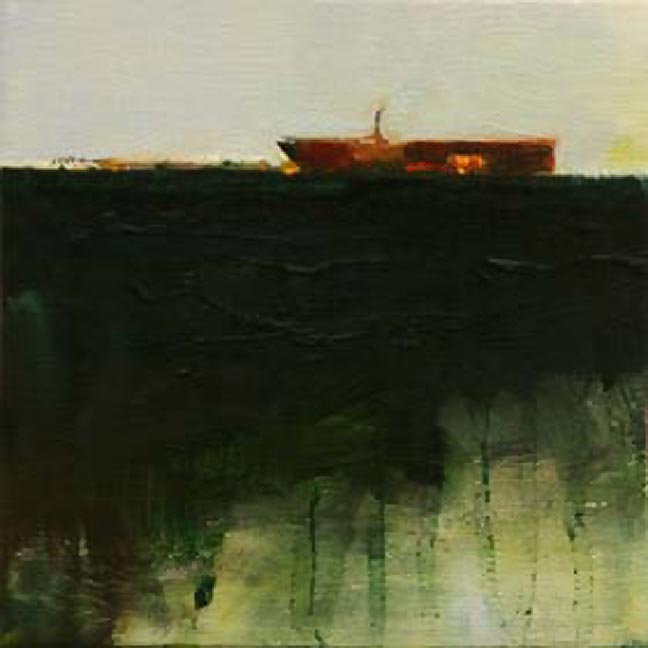 Art by Katja Leibenath.


Painting by Jeff Dikio.


Art by Catherine Saiki.


***
Ever Gold Gallery: Aaron Eliah Terry and Korakrit Arunanondchai.
Comment by AB: Aaron Terry blends urban elements with ominous netherworld overtones, sometimes flat and sometimes layered, while Korakrit Arunanondchai whips up a wild hyper-delic black light ride. Good show; go see.
Aaron Terry art.


Art by Aaron Terry.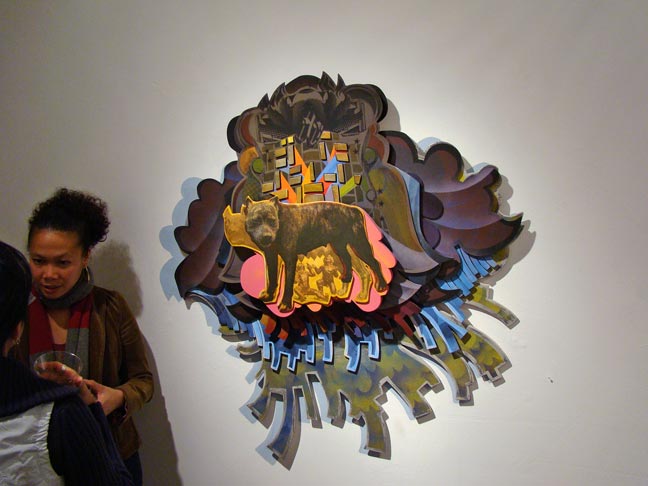 Art by Aaron Eliah Terry.


Aaron Terry with Andrew McClintock & Alex Braubach (Ever Gold co-owners).


Black light extravaganza art by Korakrit Arunanondchai.


Black light art by Korakrit Arunanondchai.


***
Fecal Face Dot Gallery: Maxwell Loren Holyoke -Hirsch - Megarealms.
Review and images by Pilar Vree: Maxwell Loren Holyoke-Hirsch's new collection of art combines all the essential elements of good art-- super gloss, super shapes, super colors and a bitingly simple aesthetic that reverberates across the collection. A kitschy assemblage of found objects takes the form of playground interpretation while small pieces crowd the walls in an onslaught of lines and winking forms.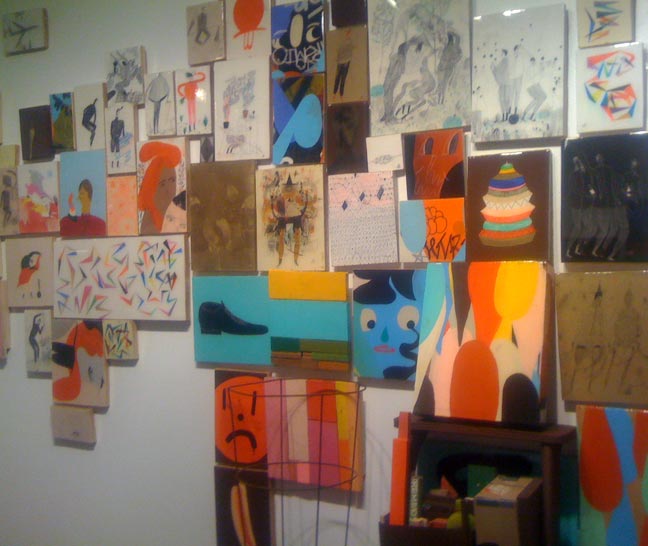 Art by Maxwell Loren Holyoke -Hirsch.


Art closer by Maxwell Loren Holyoke -Hirsch.


Art and installation by Maxwell Loren Holyoke -Hirsch.


Art by Maxwell Loren Holyoke -Hirsch.


Art closer by Maxwell Loren Holyoke -Hirsch.


Outside looking in - art by Maxwell Loren Holyoke -Hirsch.


***
Consulate General of Mexico in San Francisco: Building Bridges.
Artists: Alejandra Phelts, Alejandro Martinez Pena, Leonardo Torres, Silvia Galindo Betancourt, Estela Hussong, Pablo Castaneda, Arturo Mora, Ismail Castro, Marco Miranda, Ramon Carrillo Moreno, Roberto Rosique, Pedro Peralta, Armando Franco, Luis Manuel Urrutia Fernandez.
Comment by AB: In their ongoing endeavor to encourage cultural exchange between us and our next door neighbors to the south (which I totally entirely admire), the Mexican Consulate presents an exhibition of Baja California artists, brought to San Francisco courtesy of the Institute of Culture of Baja California (ICBC) and ARTDECOLLECTORS Contemporary Art Gallery in Los Angeles. Good show and a noble undertaking; go see.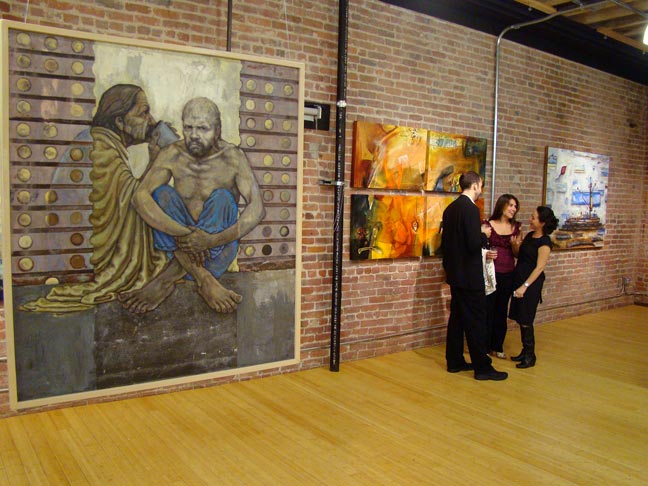 Art.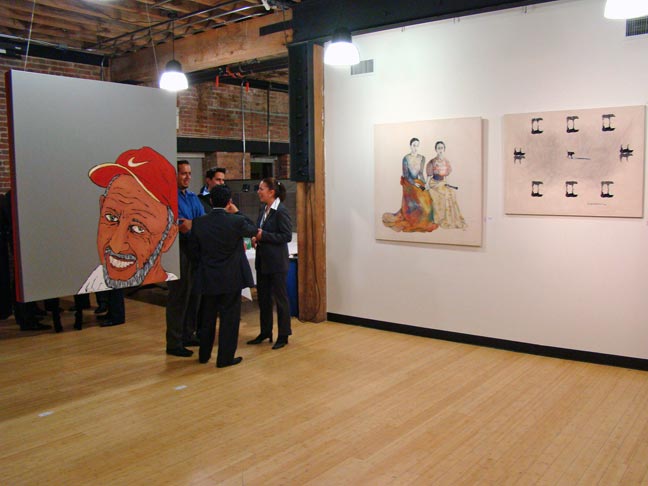 Art.


Pyrographic art + Marisa Caichiolo (right, ARTDECOLLECTORS Director) & associate.


***
Fifty24SF: Will Barras - Darling, We're leaving.
Review and images by Pilar Vree: Will Barras's new show is a eurphoric rush of dripping color and swirling movement that literally melts from canvas to wall. His highly texturized pieces create an atmosphere of excitement and glory that enraptures the viewer and seems to lift right into the cloudy sky. With the canvases jumping out of a muralled wall, this show is certainly one worth making it to the gallery for.
Art by Will Barras.


Art closer by Will Barras.


Art closer by Will Barras.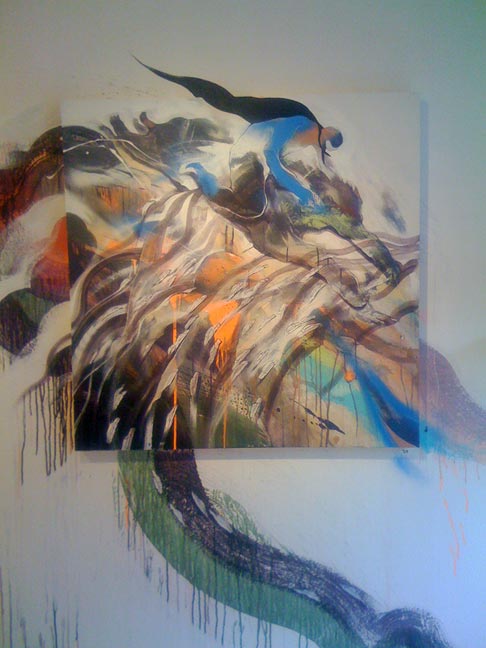 Art closer by Will Barras.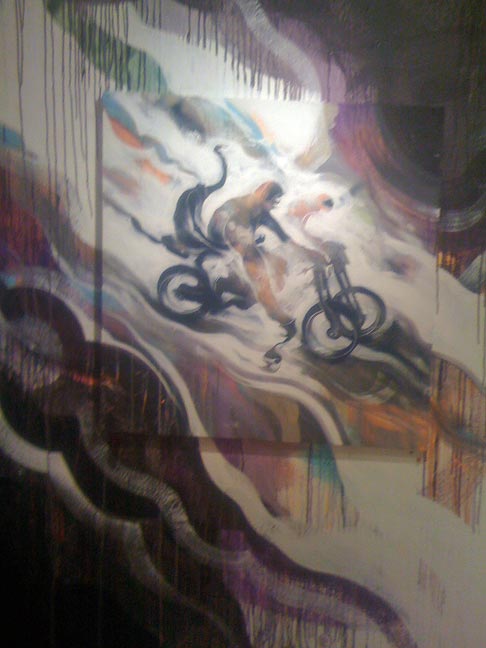 Art closer by Will Barras.


***
111 Minna Gallery: The Novemberists.
Artists: Alex Braubach, Alex Case, Catto Houghton, Chris Stokes, Christopher Butler, David Fallis, Dusty Genard, Ian Robert Mullen, Jesse Gidcumb, Kelly Nicolaisen, Matt Gonzalez, Mike Steffen, Ryan Coffey, Sean Brimer, Tim Schafer, Yoni Matatyaou.
Comment by AB: Group show meanders around and about the urban artosphere. My fave-- uncommon collage work by Ryan Coffey. One of you galleries out there looking for fresh faces might check this dude out.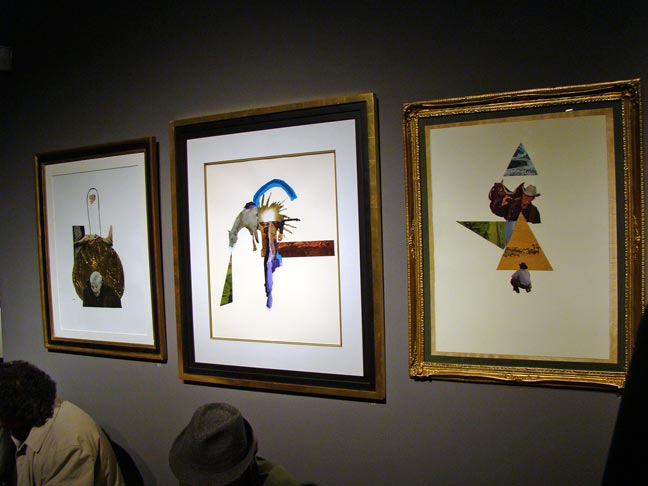 Collage art by Ryan Coffey (kinda like it).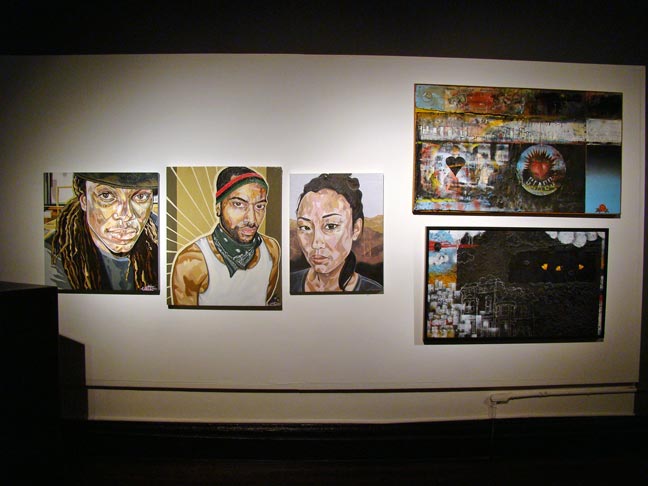 Art.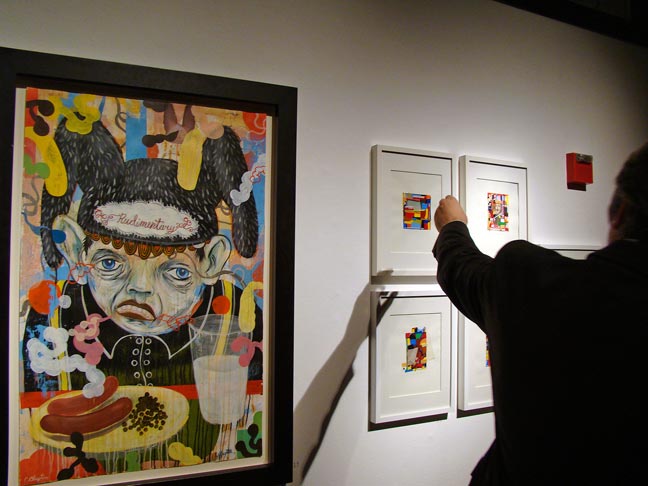 Art (Matt Gonzalez collages, right).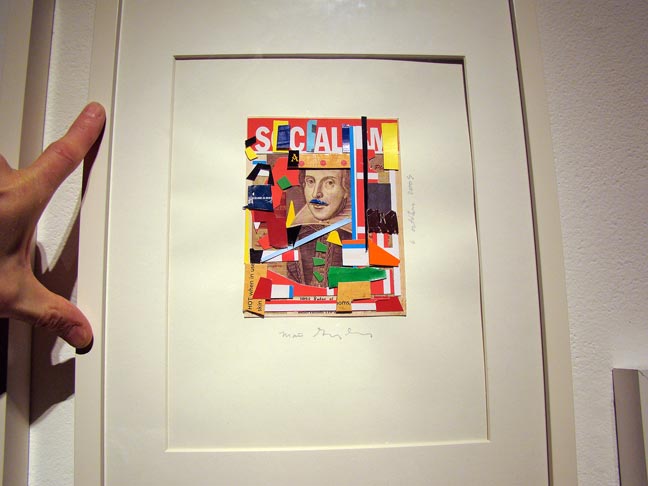 Matt Gonzalez collage art closer.


Art.


Art.


Art.


Art.


***
Space Gallery: Culturshock.
Artists: ReMade USA Handbags, Litter Jewelry, Kurt Manley, Genaro Vergoglini, Taryn McCabe, Cuong Ta Ceramics, Hilary Williams, John Wood,Vanessa Gade, FuryOne, My Dutch Bike, Nate1 of New Skool.
Comment by AB: Late nite metropolitan melange.
Ceramic art by Cuong Ta.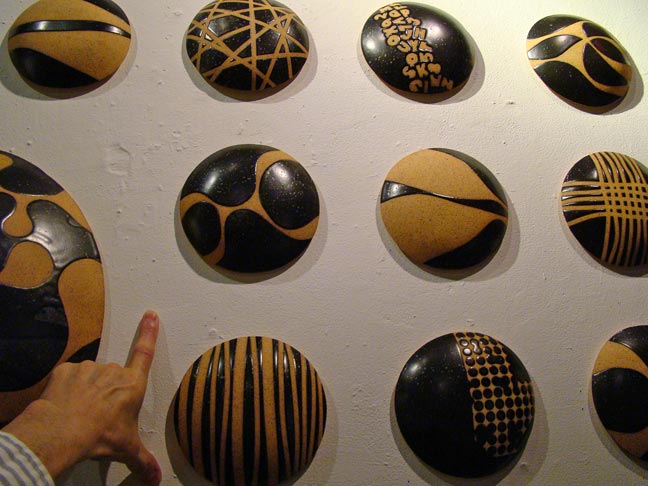 Ceramics by Cuong Ta closer.


Live painting by artist John W. Wood.


Art.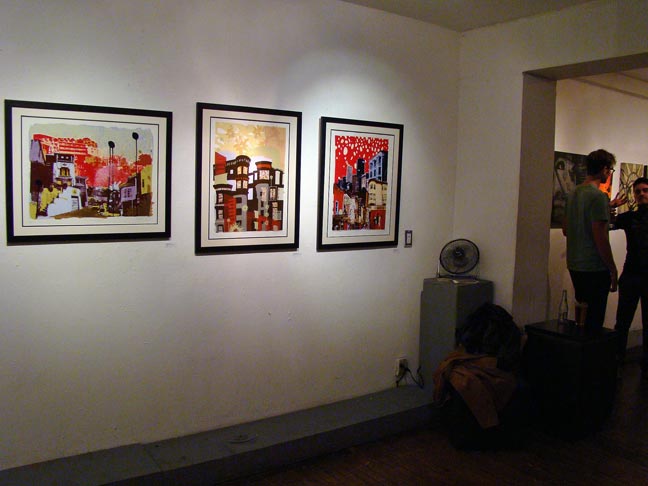 Art by Hilary Williams.


Art.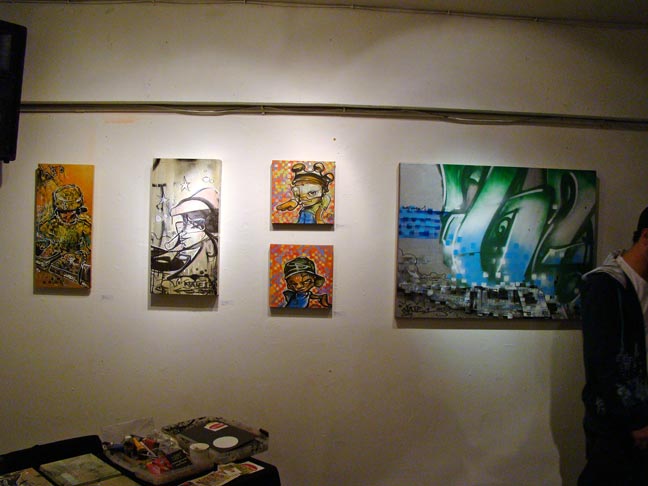 Art.


***
Addendum:
Group show at Adler & Co. Gallery.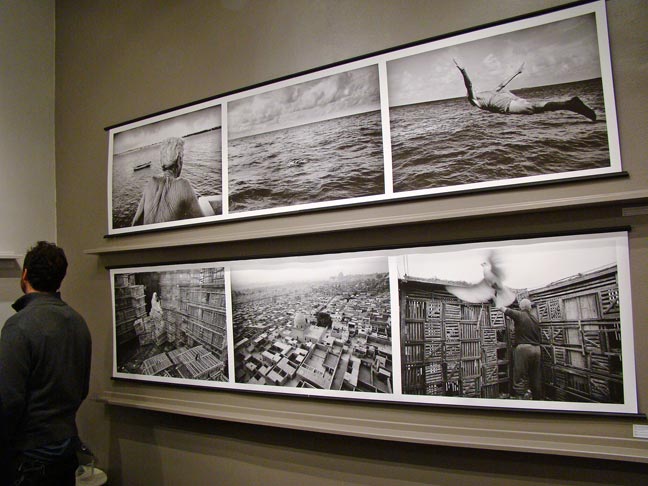 "Social change" photography at Fifty Crows.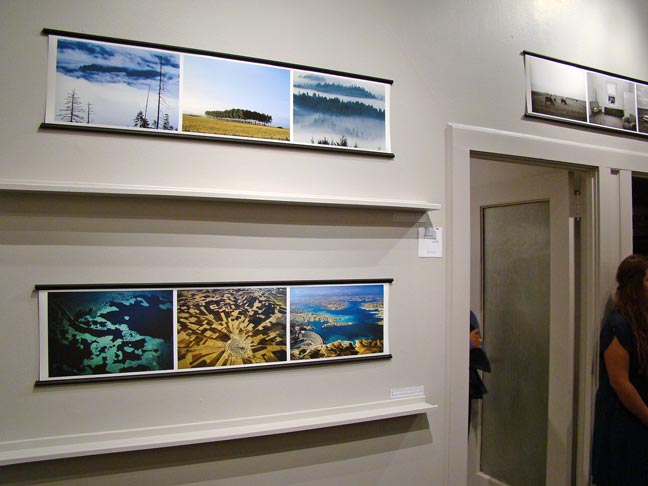 One more from documentary photo show at Fifty Crows.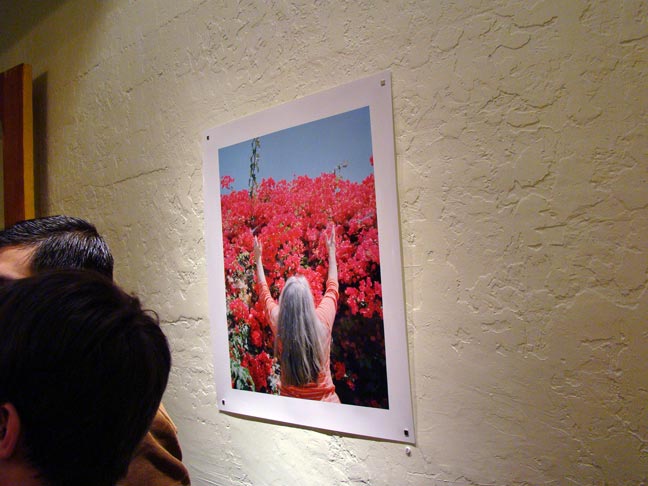 Casey McGonagle photographs at Kokoro Studio.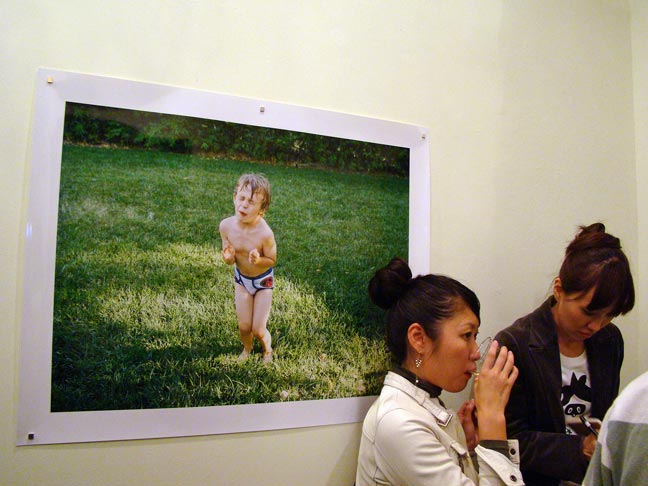 More photography by Casey McGonagle at Kokoro Studio.


Photos by Casey McGonagle at Kokoro Studio.


Group show, Spacecraft, at CELLspace.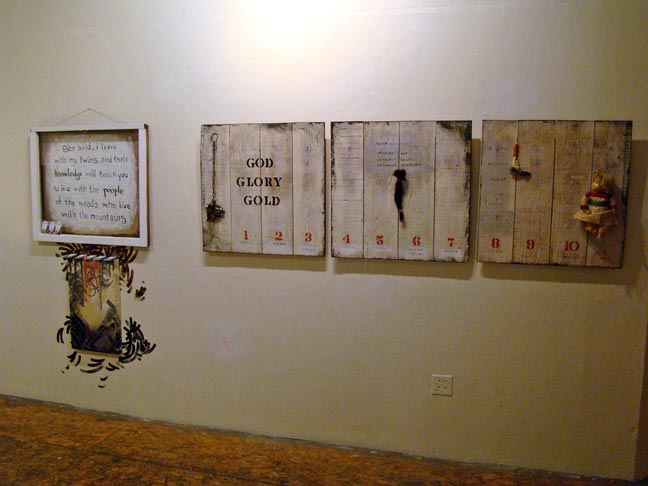 Another from group show at CELLspace.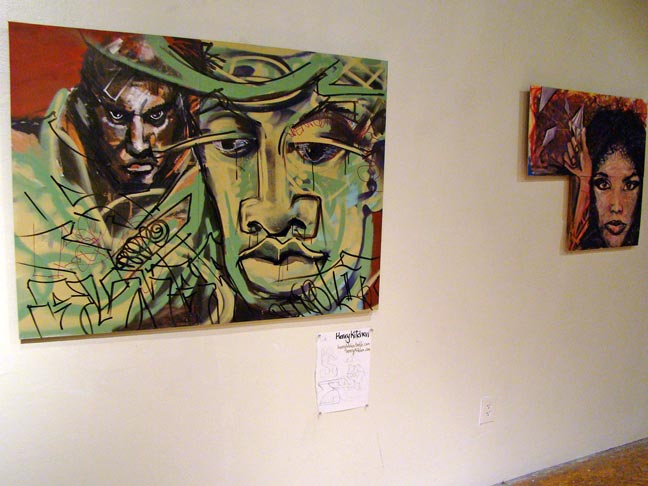 And another from group show at CELLspace.


Last one from group show at CELLspace.


***
Yo! Have you thought about this? Way more than 5000 San Francisco art openings and events covered right here on this website since May 9, 2003. Compliments of artbusiness.com and for your viewing pleasure. Believe it.
***
First Thursday - October 1, 2009
First Thursday - September 3, 2009
***