SAN FRANCISCO ART GALLERIES OPENINGS

FIRST THURSDAY - 12.03.09

(with assistance from RWM)


Comment by AB: In the spirit of this Season of Giving (and since everyone's off in Miami which means I can sneak one), 'tis the time to perpetrate a conniption of entreatment, to splay myself at your toenails, and petition that I can sure use more help covering this glorious San Francisco art scene (and performing other sundry ArtBusiness.com related duties as well). Forever and continually indebted to all those who help now and who have helped in the past, I look forward and acknowledge that yet more is required. Logic may dictate that economic conditions reduce the bounty of artful options in this great city, but the opposite is in fact the case. We have more galleries and alternative art venues than ever-- like rabbits they multiply-- and I want 'em all right here right now on parade for your viewing entertainment, as well as for posteritous purposes so that we may one day look back and critically assess the import of their endeavors.
So email me. Call me. Accost me when you see me. Volunteer some of that precious precious time of yours for the cause, 'cuz not only is it fun, edifying and instructive, but you get to be in the heart of the mix. And the best part? Free cheese. Plus if you're a student, I'll even help you arrange an internship for college credit.
And now for another thrill-a-minute paroxysm of aesthetic intrigue...
***
Dolby Chadwick Gallery: The Art of Play.
Artists: Jeffrey Beauchamp, Gary Edward Blum, Chris Cosnowski, Marshall Crossman, Matt Duffin, Holly Farrell, Kim Frohsin, Katina Huston, Dan Jackson, Alex Kanevsky, Vanessa Marsh, Gary Ruddell, Ada Sadler, Rob Tarbell.
Comment by AB: The Holidays are upon us-- the season of play. Here's some whimsical, light-hearted and festive art to go with it.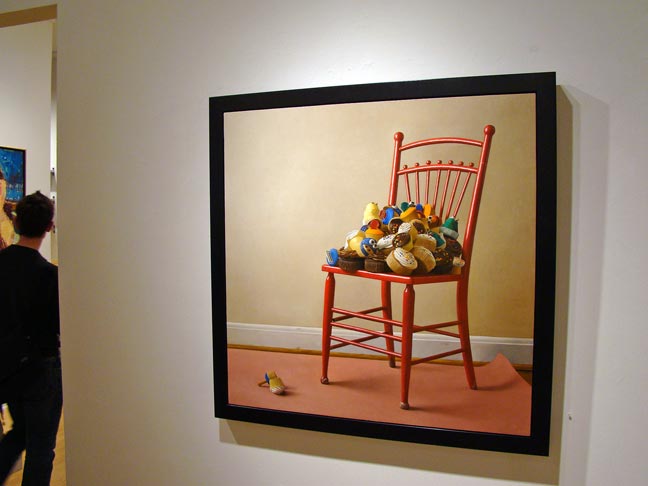 Art.


Art.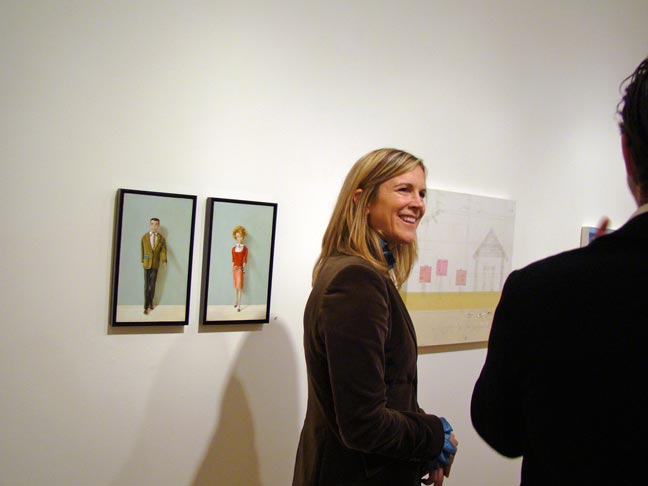 Art & gallery owner Lisa Chadwick.


Art closer.


Pinkie cam detail of art in above image.


Art.


Art.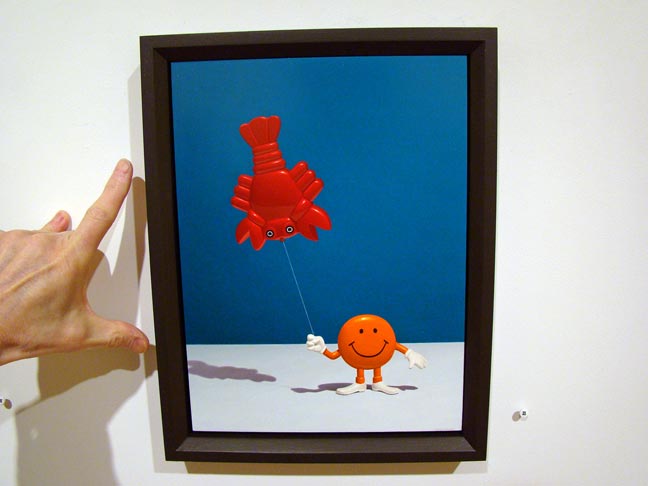 Art in above image closer.


***
Hespe Gallery: Reconstructed Memories - A Group Exhibition.
Artists: Richard Ambrose, Philip Barlow, Ethan Diehl, Sofia Leconte-Mitev.
Comment by AB: It's all good here, especially Richard Ambrose's impressive graphite drawings that easily compete with paintings (my pick) and Ethan Diehl's black and white photorealist "pixel paintings" that ramp it up even more.
Graphite drawing art by Richard Ambrose.


Art in above image closer by Richard Ambrose (like it).


Graphite drawing by Richard Ambrose.


Art by Richard Ambrose (center) - Ethan Diehl (right).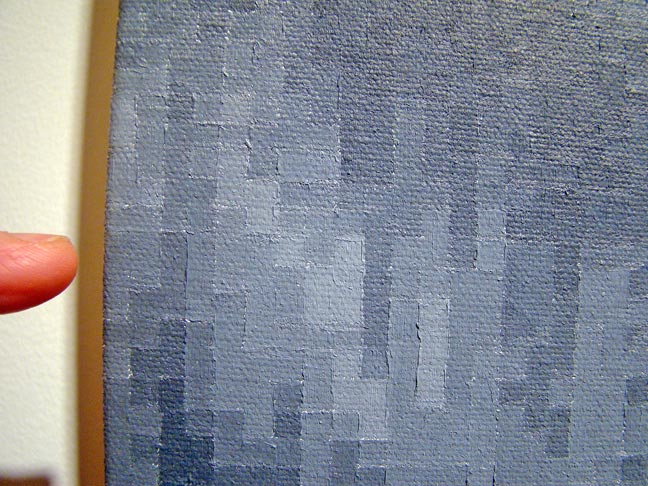 Pinkie cam detail of art by Ethan Diehl in above image (nice).


Art.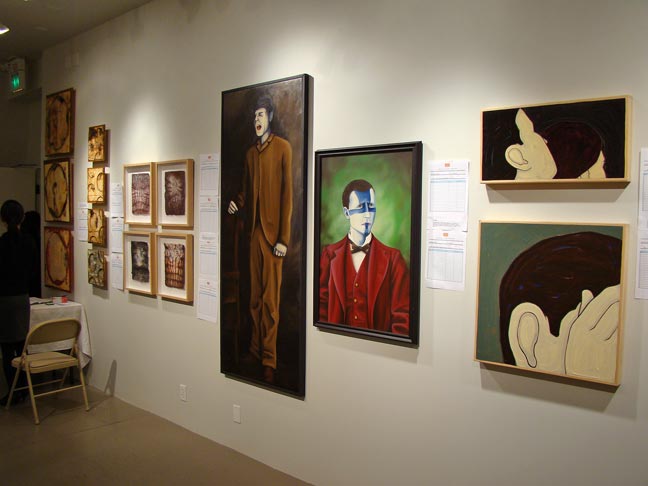 Art.


***
Rena Bransten Gallery: Chromatic - 35 Colorful Years of Creative Growth.
Artists: Daniel Miller, Charles Nagle, Aurie Ramirez, Merrit Wallace, Ray Vickers, Judith Scott, Luis Aguilera, Olga Bielma, Terry Bowden, Gina Damerell, Dan Hamilton, Cedric Johnson, Dwight Mackintosh, Nelson Tygart, Ron Veasey, Angela Villalobos.
Comment by AB: Oakland's Creative Growth Art Center, now in its 35th year, provides a platform for artists with developmental, physical, mental and emotional disabilities by promoting their work in the contemporary art world. This group show is about that. Exceptionally affordable on all counts.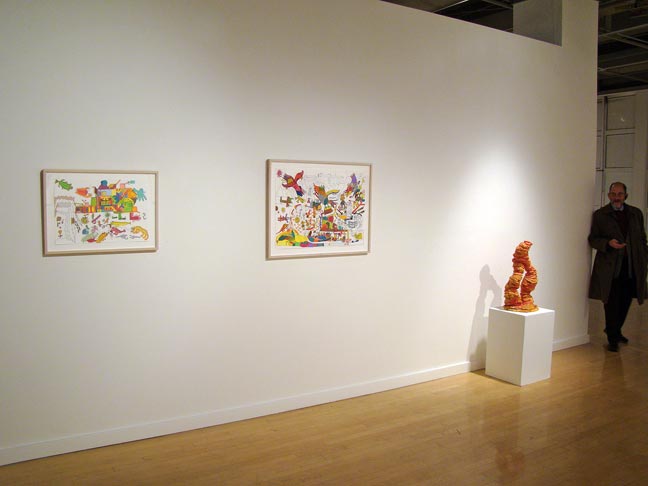 Creative Growth of Oakland, California art.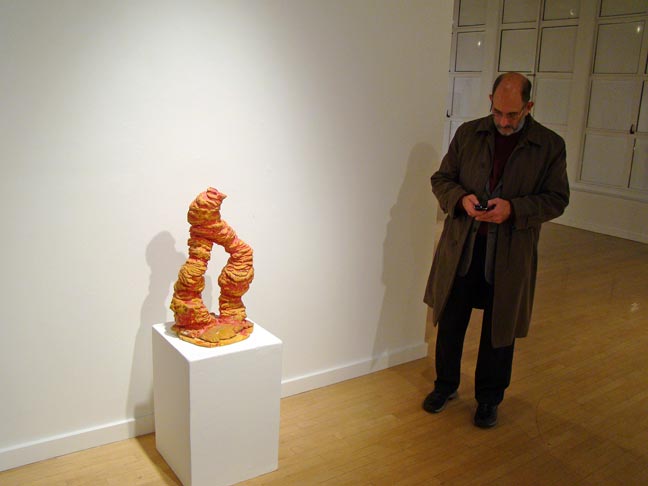 Art from Creative Growth closer.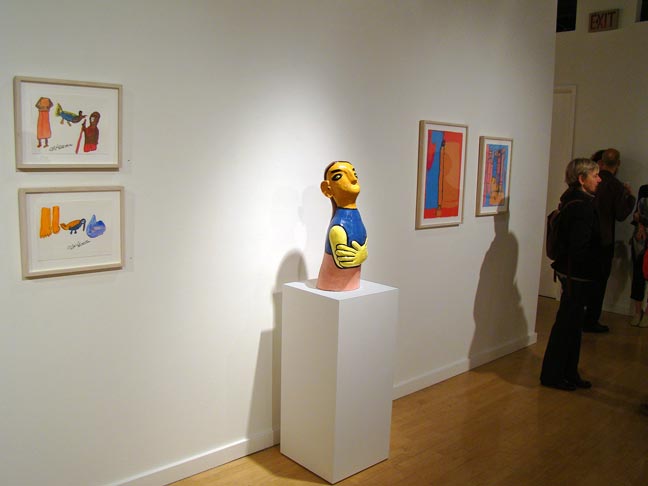 Art by artists from Creative Growth, Oakland, California.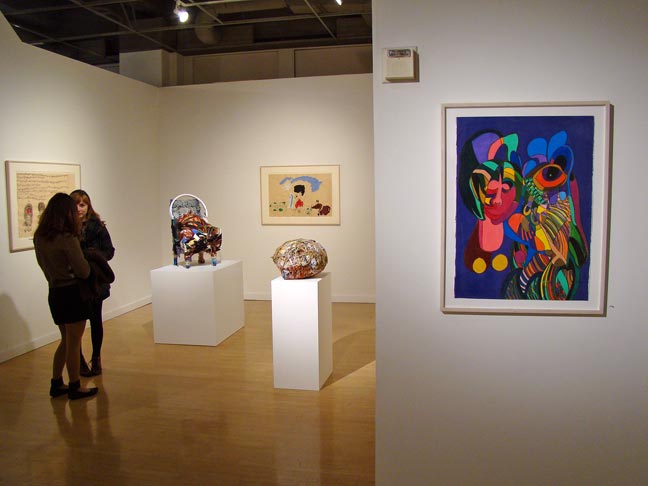 Art by artists from Creative Growth.


Art by artists from Oakland, California's Creative Growth.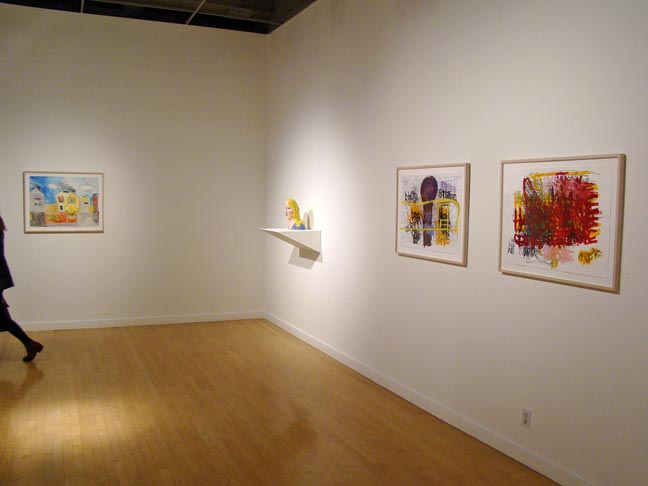 Art from Creative Growth, Oakland, California.


***
111 Minna Gallery: Micah LeBrun - Resurface.
Comment by AB: Micah LeBrun demonstrates his consummate versatility in paintings, works on paper, and a wall of photographs which document his recent 'round the world travels. This is his fifth solo show at 111 Minna Gallery-- likely some kinda record.
Art by Micah LeBrun (that New Yorker one could easily work as a cover).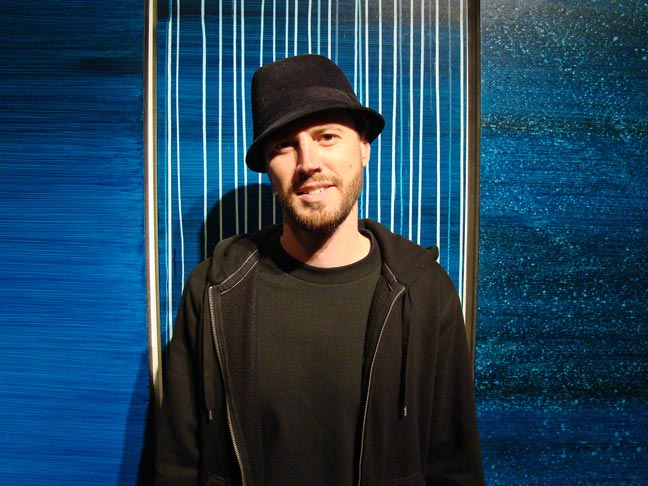 Micah LeBrun.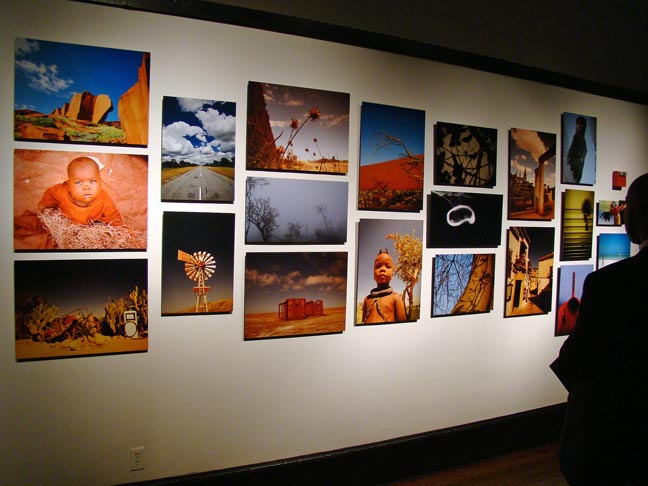 Photography by Micah LeBrun.


Paintings by Micah LeBrun.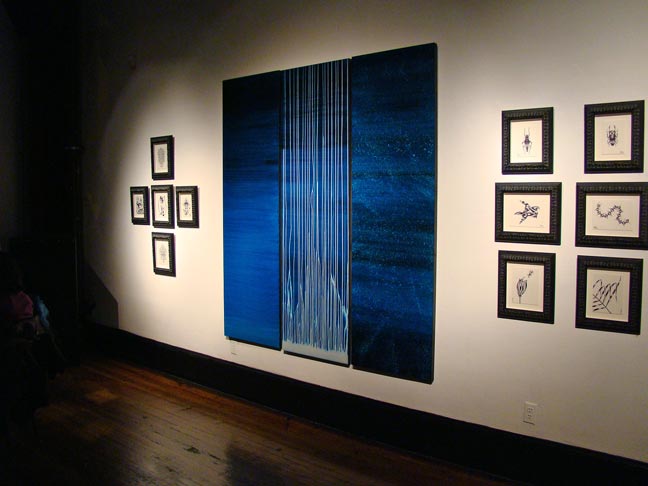 Artist Micah LeBrun paintings and drawings.


***
Rhodes and Fletcher, LLC: Proliferations.
Artists: Alexis Arnold, Ashley Pigford, Jennifer Weigel, Jessica Westbrook, Michael Ryan, Michal Gavish, Peter Foucault, Ray Guillette, Ruth Santee, Steven Elliot, Victoria DeBlassie, Walter Aprile. Curated by Kathrine Worel
Comment by AB: According to the deposition, "we are experiencing a time of perceived lack" but the curatorial contention is that "there is no shortage of either material goods or spectacular ideas, only a shortage of dissemination." And that is what the art here addresses.
Art by Michal Gavish.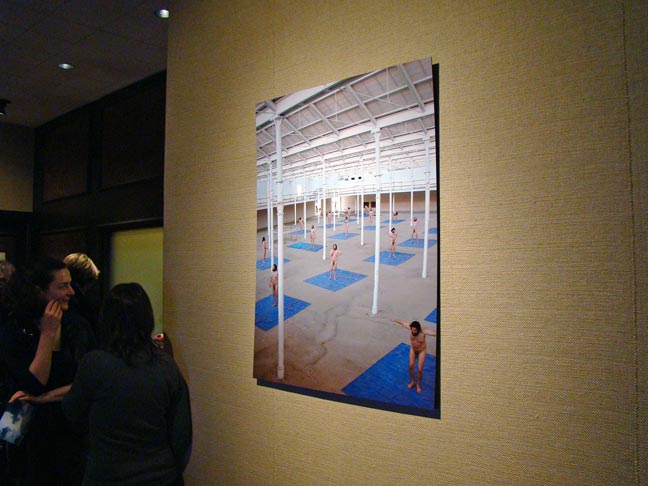 Photography.


Art by Jennifer Weigel.


Pinkie cam detail of Jennifer Weigel art in above image.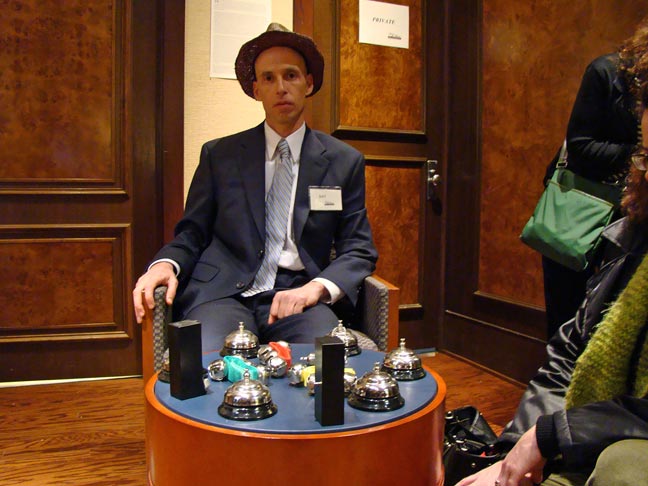 Performance artist Ray Gillette and his accompaniments.


Epoxy, ink & gourd art by Ruth Santee ($650 each).


Festive essence in the building's main lobby.


***
Hangart Gallery: Model Behavior - A Group Exhibition.
Artists: Sukey Bryan, David Fullarton, Phillip Hua, Hugo Kobayashi, Katja Leibenath, Eddie O Rodriguez, Piero Spadaro.
Comment by AB: Hangart arranges a figure painting and drawing session at the gallery for artists who don't normally paint or draw figures. And then they show the results. Fortunately, there's a group show in the other half of the gallery to take refuge in.
Figure drawing group show.


Figure drawing group show.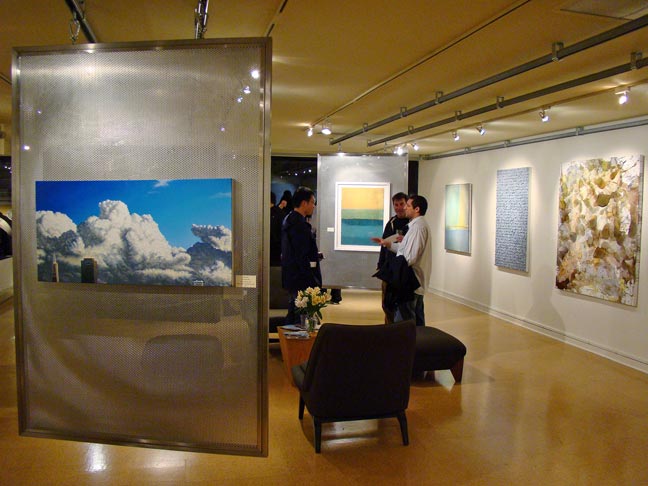 Gallery selections.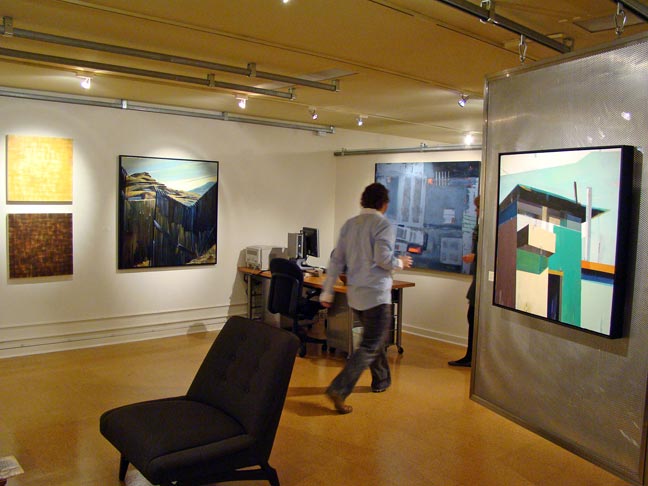 Gallery selections.


***
Ever Gold Gallery: Sandy Kim - Book Release Opening Party.
Comment by AB: This may well be the most crowded show I've ever been to in the entire history of whatever I've been doing all these years. The essence of tonight's squish-a-thon basically boils down to one of these San Francisco photo essay slice-of-life kinda deals courtesy of the gritty imagery of Sandy Kim, and featuring musique by the band, Girls. The weird thing is I think I get reverse pick-pocketed while there because I come out of the gallery with three wallets, five cell phones and a handjob.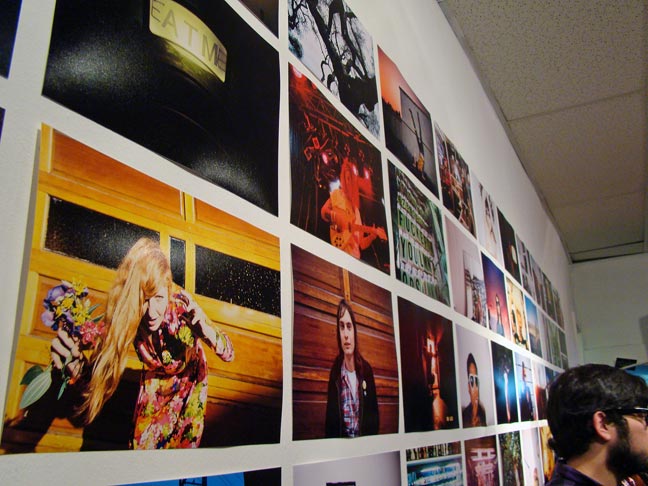 Photography by Sandy Kim.


Sandy Kim photographs.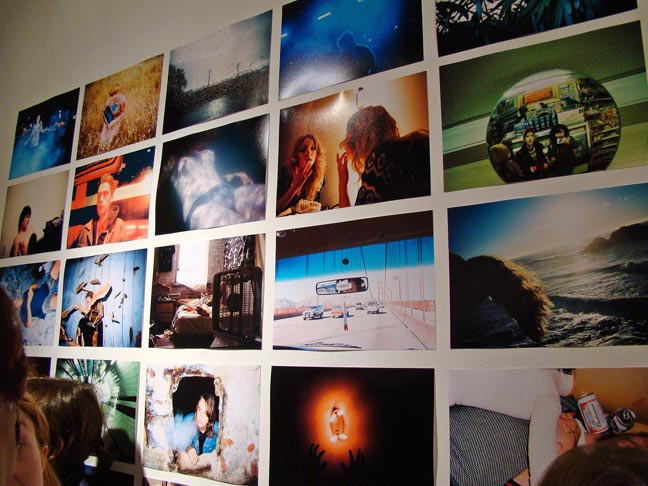 Photos by Sandy Kim.


See? I told you it was dense.


Installation in the rear gallery.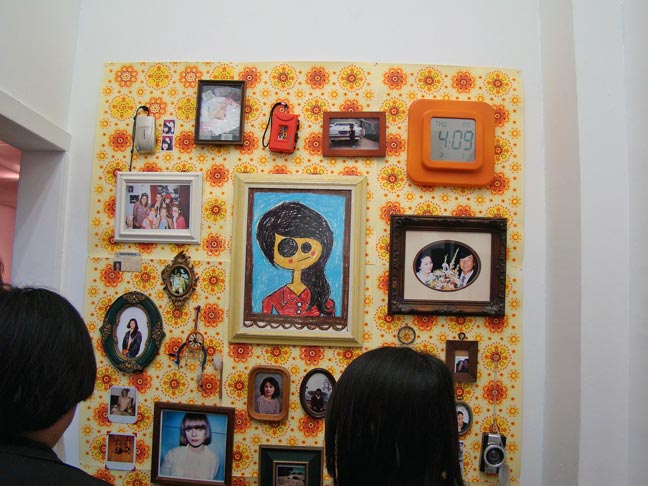 Installation in the rear gallery.


***
Divisadero Art Walk: Various Locations.
Review by RWM: Some pretty cool offerings at The Divisidero Art Walk this month. Kat Horn at Big Umbrella has some›welcoming paintings of the seashore. There are also photographs of submerged trees by G. Cole Allee, titled "Refractions"-- a message about the bigger societal tree of life, being impacted unfavorably. The best spot for the ecotourist is the Mini Bar with a fascinating group show reacting to the natural world. There are colorful etchings and a variety of other mediums dedicated to exploring our connection with the wild other. (Sorry, no images.)
***
Live Worms Gallery: 7th annual PanOpticon.
Artists: Agneta Falk, Alex Miloradovich, Amy Cruz, Andreas Katz, Andrew Boyle, Ashley Hayward, Betty Fergusson, Carrington, Catz Forsman, Cheryl Chester, Coco, Constantina, David Newman, Dennis Sullivan, Diane Putnam, Elizabeth Ashcroft, Fanny Renoir, George Long, Harriette Holmes, Howard Whitehouse, Ian Cooper, Jack Freeman, Jack Hirschman, James Cha, James Redo, Jane Rades, Jean Dierkes Carlisle, Jeff Grove, Jeffrey Thompson, Jennifer Barone, Jerry Ferraz, Jessica Loos, Jessica Snow, Jimo Perini, Joie Cook, John Dowling, John Norton, Jonathan Van Coops, Jurgen Trautwein, Katharine Snyder, Kent Barichievich, Kevin Brown, Kim Haueter, Klara Bobaly, Lawrence Ferlinghetti, Leonardas Surgalia, Lynn Alcorn, Marc Dierkes, Mark Pechenik, Matt Gonzalez, Mery Bernard, Michael Leonard, Michael Pedroni, Momo, Proctor Jones, Ramu Aki, Rebecca Peters, Resh Sandhu, ›Richard Luckey Perri, Robert Windle, Roger Strobel, Ronald F. Sauer, Rosemary Manno, Ruth Caprow, Samantha Kopf, Sherry O'Donnell.
Comment by AB: The apex of Bohemian boffo. Plenty sells at these shows and for good reason-- it doesn't get any more San Francisco (and more affordable) than this.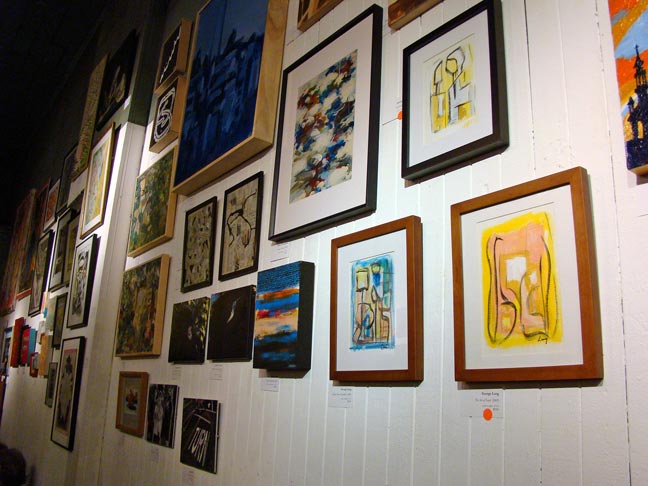 Art.


Art.


Art.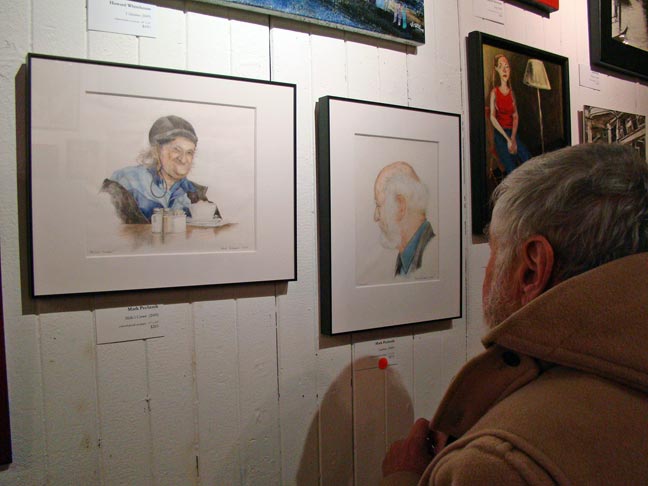 Art.


Tunes.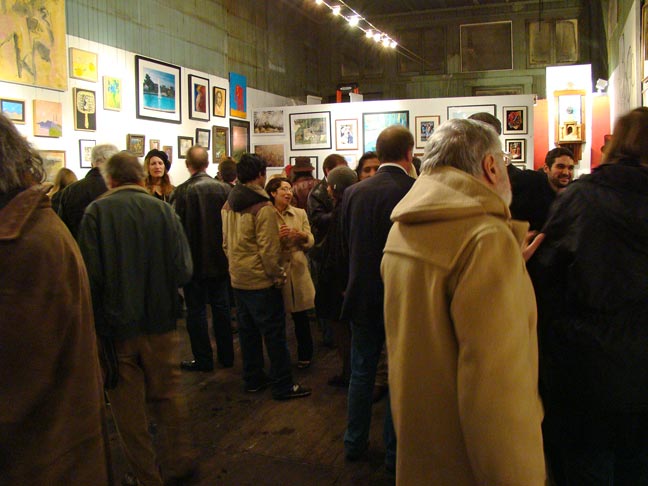 Ambience.


***
Addendum: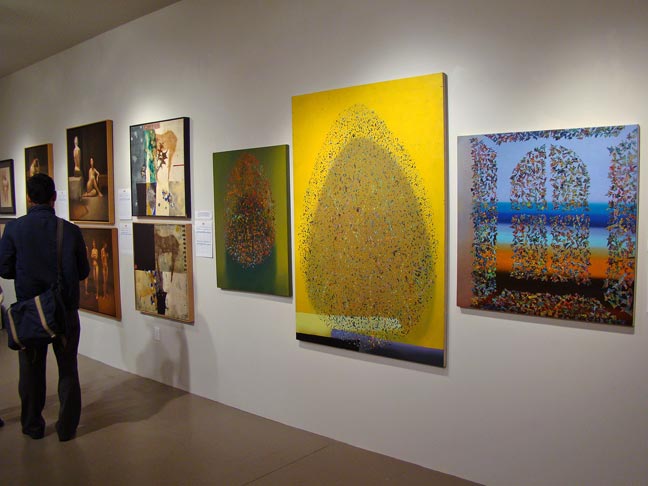 Silent auction at Sandra Lee Gallery.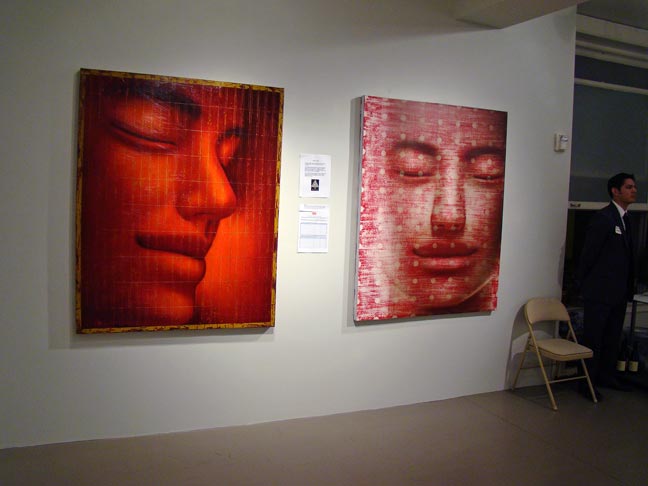 Another from the silent auction group show at Sandra Lee Gallery.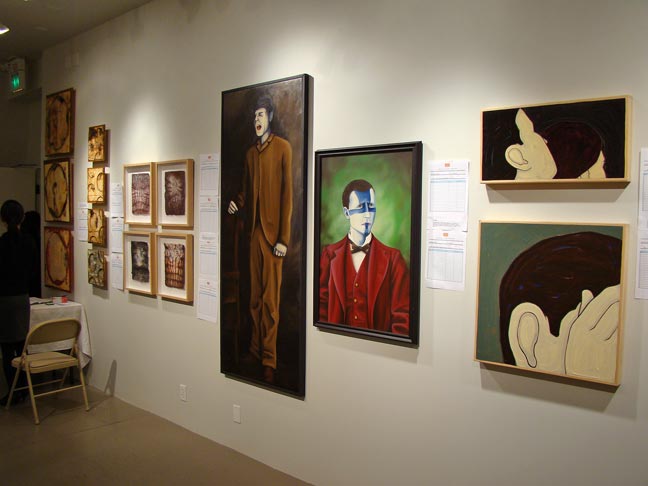 Last one from silent auction group show at Sandra Lee Gallery.


Mike Ritch paintings at Cafe Royale.


More from Mike Ritch paintings at Cafe Royale.


Tunes at Mike Ritch paintings show - Cafe Royale.


***
Maybe? I'd sure appreciate it. Keeping you artfully entertained is a veritable shitload of work.
***
First Thursday - November 5, 2009
First Thursday - October 1, 2009
***