Second International ArtExpo California
The second annual International Artexpo California is being held in San Francisco from November 1-4, 2001. Organized by Advanstar International Art Group, publisher of Art Business News and producer of similar events in New York and Miami, the show is decidedly commercial in flavor and a place where selling art is the primary focus. The several hundred exhibitors consist primarily of galleries, fine art publishers, and artists, many from California, but a number from out-of-state and other countries including Israel, Russia, Greece, France, Spain, and New Zealand.
Exhibitors show everything from conventional paintings, sculptures, and watercolors to giclees (digital prints), jewelry, glass, assembly line-style import paintings, lamps, prints by modern masters like Chagall and Dali, reproductions of vintage posters, limited edition prints, reproductions of art by famous deceased artists, large-format digital printers, websites for selling art online, cushions with laser-printed surfaces, frames, and miscellaneous crafts. In addition to the exhibits, Artexpo University, sponsored by Art Business News, offers free seminars to all attendees on topics like art licensing, self-publishing, identifying different types of prints, fine art marketing, legal issues for artists and galleries, collecting giclee prints, and fine art marketing.
People who show at Artexpo expect to make retail and wholesale sales, but more importantly, they are there to network with members of the trade, expand their representations, get publishing deals and product licensing arrangements, and look for additional art business opportunities. International Artexpo is not juried, but only serious artists and vendors tend to participate. At over $4,000 for a small booth, total show expenses easily exceed $5,000-6,000 even for local participants. This year, we focus on four exhibitors: two sculptors, one painter, and one art importer. Let's meet them now and find out what they have to say.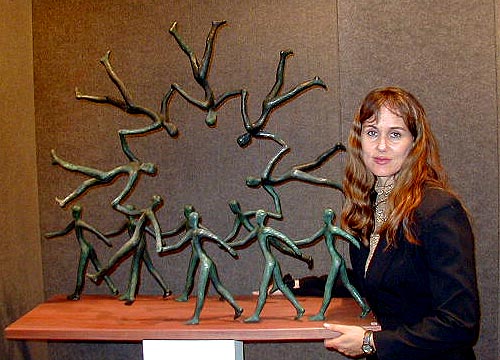 Tolla Inbar has come from Israel to show her sculpture at International Artexpo. Born in Germany in 1958, she moved to Israel in 1971 where she began studying art. She has made her living as an artist for the past twelve years and is represented by galleries in Israel, Germany, France, and the United States, and has exhibited at numerous major trade shows at locations like Miami, Chicago, Palm Beach, Las Vegas, New York City.
Tolla's sculptures range in price from $1,400-$43,000, and more for public commissions. The piece pictured above is a bronze, titled "Circle of Life," that retails for $9,900. A Paris gallery has recently published a book on Tolla as she continues to advance in her career. Learn more about Tolla and her art at the Tolla Gallery website.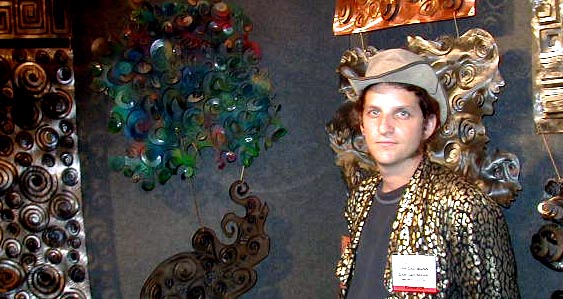 San Francisco sculptor Dan Das Mann is an artist, a bit of a showman, and a businessman all rolled into one. This is his first appearance at Artexpo and, when asked what prompted him to do the show, he said that it's just another business opportunity worth exploring. He's not afraid to take a chance and try something new.
Mann currently employs eight people, grosses about half a million dollars annually, and has 2000 names on his mailing list. The metal wall hangings that he brought to the show range in price from $125 for 12 by 18 inch pieces up to $1650 for painted or woven works that range in size up to 32 by 48 inches. Less expensive pieces are produced in editions; custom works, none of which were on display, are priced higher. For further information, visit the Dan Das Mann website.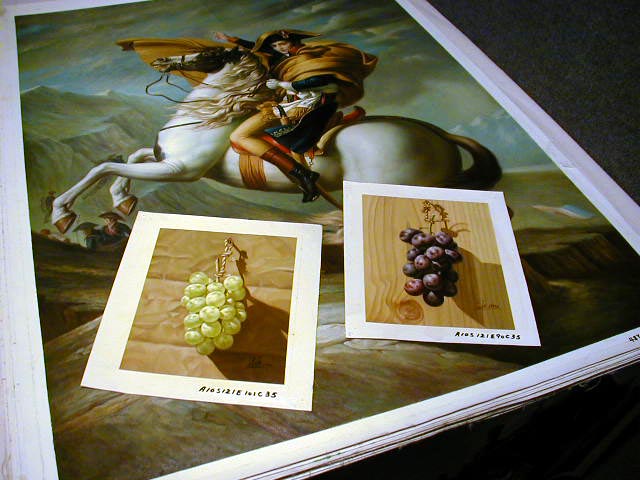 Vivian Yeung, Vice President of Ming's Artists Agency (her father is President), was a little shy about being on camera, but she let me photograph several examples of the art that she imports from China. Her company sells unstretched canvases, both original compositions and reproductions or derivatives of famous paintings. Canvases range in size from 8 by 10 inches to 36 by 48 inches. Some of the artists use their real Chinese names, others use English pseudonyms. As Vivian explains it, American buyers often prefer paintings that are signed in English and appear to be by American artists.
Several notable aspects of Ming's import art are that the majority of it is extremely well painted, it's extremely inexpensive, and a number of the derivative works and reproductions are painted over and over again with virtually identical compositions. Prices on the paintings shown above are $35 each for the 8 by 10 inch tromp l'oeil still lifes and $682 for the 48 by 36 inch Napoleon piece. Ming's is wholesale to the trade only. To see more of their art and artists, visit the Ming's Artists Agency website.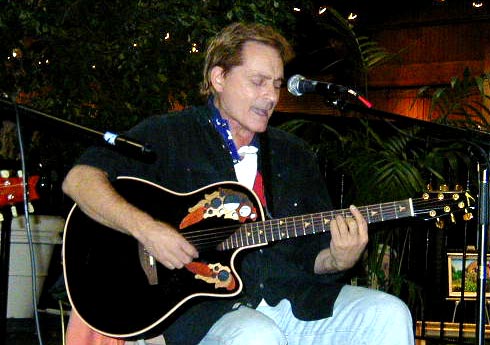 A very special treat at the Artexpo opening was a performance by Marty Ballin of Jefferson Airplane and Jefferson Starship notoriety. Ballin played Starship favorites, original compositions, and rock and roll classics for over an hour in a setting so intimate and uncrowded that you could practically walk up and say hello. Ballin is also an artist, appearing on behalf of Musicians as Artists.com, a Clearwater Beach, FL based company featuring original paintings by legendary musicians. In addition to Ballin's prints and paintings, Musicians as Artists.com shows art by Jerry Garcia, Micky Dolenz, Commander Cody, John Lennon, Tony Curtis, and others.


Three of Ballin's oil paintings on display at Artexpo International, from left to right, "Page and Plant," 48 by 36 inches, $15,000; "Jerry Garcia," 32 by 32 inches, $18,000; and "Led Zeppelin," 48 by 36 inches, $18,000.

Current Features
How to Buy Art on Instagram and Facebook
More and more people are buying more and more art online all the time, not only from artist websites or online stores, but perhaps even more so, on social media ...
Collect Art Like a Pro
In order to collect art intelligently, you have to master two basic skills. The first is being able to...
Services for Artists and Collectors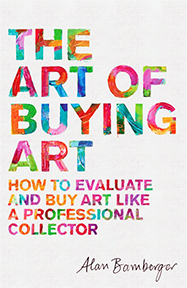 Buy the Book