Two Online Art Resources: Artprice.com and Artstar.com
Click here for the latest art price products and resources. The price information below is no longer current.
Art Price Database at Artprice.com
Artprice.com bills itself as "the world's leader in art auction information" and that's basically what it is. The searchable online database contains nearly 2,100,000 auction records of works of art by over 175,000 artists sold at auctions around the world between 1987 and the present. They continually update their listings as auction results are made available and can post hammer prices as fast as several weeks after sales end.
The advantage of Artprice.com over traditional forms of auction records is this constant updating. Book and CD-ROM auction prices, for instance, only come out once a year which means that users get only one update annually and that just before that update is published, the most recent records are already a year old. When you need up-to-the-minute auction information, artprice.com is the only way to go.
Anyone can use the Artprice.com database. Begin by typing in an artist's last name in the search window at the top of their homepage. Click the "search" button and you'll be shown all artists with that last name. Click the name you want and you'll be shown the total number of price results in the Artprice.com database sorted by medium (paintings, prints, and so on). Click the medium that you're researching and you'll be shown the title of each work of art by sale date beginning with the most recent. This is as far as you can go without paying.
To see more, you have to purchase "response units." This is done online with a major credit card-- the minimum purchase being 20 units for $20 on up to 1,000 units for $500. Each unit allows you to see one auction record. After buying units, return to your sales results, check the box next to each one you want to see, log in with your username and password (which you receive when you buy units), and those records will appear on your screen. Each one contains the name of the artist, birth and death dates, the medium of the art, title, dimensions, signature and date information, signature location on the art, presale estimates, hammer price, sale date and location, auction house, lot number, illustration location in the sales catalogue (if illustrated), and any additional notes on the art.
Artprice.com also maintains a database of upcoming auctions from around the world which can be searched to see whether art by artists you collect is coming up for sale. Searches can be made either by artist, sale location, or type of sale (prints, paintings, photographs, and so on). As you do when searching for art prices, type in the name of an artist in the search window, click the "search" button and, for no charge, you'll see the dates, locations by city, and types of auctions where the artist's art is being sold. Full details of each listing, including the name of the auction house offering the art, cost one "response unit." For that, you get the same information as you do with completed sales results except, of course, for the hammer prices.
Unless you have an unlimited budget, the most economical way to use Artprice.com is to pay for the most current auction records online and research the older ones in books or CD-ROMS. Artprice.com just happens to publish auction records in both forms under the ADEC brand name and, like the Artprice.com database, they're also the best references available. They can be purchased directly from the Artprice.com website.
***
Update posted April 26, 2008: Artstar.com no longer exists online. For current art price information and reference resources, click either the "Art Price References" or "Articles for Collectors" links to the left.
Artstar.com Artist Database
A free online artist database is now available at Artstar.com. Go to their homepage, click on "Who's Who" and you'll have instant access to the entire 22nd edition of Marquis' Who's Who in American Art. It's the best source of biographical information on nearly 12,000 visual arts professionals currently active in the United States, Canada, and Mexico including artists, photographers, crafts people, curators, art critics, appraisers, patrons, teachers, collectors, dealers, historians, restorers, and more. Those of you researching older art should keep in mind that even though the database includes only living artists, many were active as early as the 1940's and 1950's.
The book version of Who's Who in American Art is currently in it's 23d edition which means that the online data at Artstar.com is between a year and two years old. The substantial majority of listings, however, change little or not at all from one edition to the next. Seeing as the current edition of Who's Who in American Art sells for over $200, being able to search slightly older listings free online is not such a bad deal.
To use the "Who's Who" database, type in the last name of the artist or fine arts professional in the search window. Click the "go" button and all individuals with that last name appear on the screen. Click on the name you want and their biographical and career data appears on the screen including birth date, birth location, education, commissions, gallery representation, contact information, exhibitions, awards, and more.
Artstar.com claims to be "your complete art resource" which may be a tad of an overstatement. Nevertheless, they have plenty to offer including an art auction, retail art sales, art consulting, online artist portfolios, current articles about art, art book and gift sales, and more. The site is a bit of a slow load if you're on a modem and it requires that javascript be enabled in order to navigate it, but the plusses definitely outweigh the minuses.

Current Features
How to Buy Art on Instagram and Facebook
More and more people are buying more and more art online all the time, not only from artist websites or online stores, but perhaps even more so, on social media ...
Collect Art Like a Pro
In order to collect art intelligently, you have to master two basic skills. The first is being able to...
Services for Artists and Collectors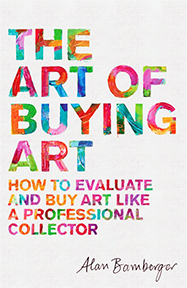 Buy the Book