Benezit Artist Dictionary Now Available in English
The classic French artist encyclopedia, Dictionnaire des Peintres, Sculpteurs, Dessinateurs et Graveurs Benezit or Benezit for short, one of the most popular, best selling, and widely consulted art reference books in the world has again been revised, expanded, and-- here's the best part-- TRANSLATED INTO ENGLISH. The newly titled Benezit Dictionary of Artists means no more fumbling through artist listings, French-English dictionary at your side, trying to figure out exactly what you're reading. The last major revision was done in 1999 when the encyclopedia expanded from ten to fourteen volumes. This new translated edition, also fourteen volumes, has increased to over 20,000 pages with thousands of updates and addtions, and includes over 170,000 artists of all time periods and nationalities.
Every artist entry contains basic biographical information, specialties (painter, sculptor, printmaker, etc.) and, when available, birth and death dates, signature examples, price records, exhibition histories, awards, career milestones, and relevant genealogical details.
The major advantage of Benezit over artist indexes like Davenport's Art Reference and Price Guide is that it provides more detailed biographical data. Davenport's is an excellent first step in artist research and it's a great reference, but it only provides the most rudimentary data, referring you to other sources of more complete information like Benezit, for example. And yes, Benezit often has the most comprehensive listing on an artist available anywhere, especially more obscure names. It also lists many artists who are not found in artist indexes or price guides.
Most major libraries, museums, and universities already have Benezit in their art reference sections, but not the English translation, which is where you come in. Tell them it's available and ask them to buy it. In the art business, you're only as good as your reference library, knowledge means profits, and when it's knowledge you need, you'll find it in Benezit far more often than not.
Benezit Dictionary of Artists. Editions Grund, Paris, 2006, hardbound, 14 Volumes, over 20,000 pages, 6 1/2 by 9 5/8 inches, $1650 ($1498 discounted price to institutions). Available from Omnigraphics, Inc., Order Department, PO Box 625, Holmes, PA 19043 or call 800-234-1340. You can also order directly from the Omnigraphics website.

Current Features
How to Buy Art on Instagram and Facebook
More and more people are buying more and more art online all the time, not only from artist websites or online stores, but perhaps even more so, on social media ...
Collect Art Like a Pro
In order to collect art intelligently, you have to master two basic skills. The first is being able to...
Services for Artists and Collectors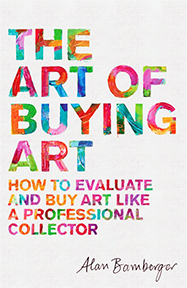 Buy the Book