Protecting Your Art with the DMCA

The Digital Millennium Copyright Act

by Jesse Woo
It happens to artists all the time. You're browsing the Internet and come across an image that looks strangely familiar. You realize that not only have you seen it before, but it's yours! It could be a painting, a photograph, a digital work, anything. Online piracy and copyright infringement does not discriminate and can be really disheartening if you discover that someone else is using your art without your permission. The good news is that thanks to the Digital Millenium Copyright Act or DMCA, you now have a powerful tool at your disposal called a DMCA Takedown Notice.
What is a DMCA Takedown Notice?
The Digital Millennium Copyright Act created a system where websites, Internet service providers (ISPs) and online platforms like Facebook or Instagram, for example, that host content for individuals, businesses or other entities can avoid liability for copyright infringement by complying with a specific type of written notice called a Takedown Notice. This notice is a way for copyright holders to remove content from any Internet site that infringes on their copyrights. This process mainly works with specific Internet platforms and websites but can also work with ISPs. 17 U.S. Code § 512 outlines the procedure. Since no ISP or Internet platform wants to risk liability if one of their users might be infringing on a copyrighted work, they will generally comply with the statute and act when receiving such notices.
What is the Process?
A DMCA Takedown Notice consists of:
1. A physical or electronic signature of the copyright holder or their agent.
2. Identification of the work that has been copied or infringed upon (the image or images of your art).
3. Identification of the content or material claimed to be infringing that you want removed, with sufficient information on how to find and view that material (for example, images of your art and where they are located). Properly identifying the work is very important so the host can remove it. Improperly identified work is one of the most common problems with DMCA notices.
4. Your contact information such as an address, phone number, or email (including all three is best).
5. A statement that you, the complaining party, believe in good faith that neither you nor your agents have authorized use of your material.
6. A statement that "the information in this notification is accurate, and under penalty of perjury, that the complaining party is authorized to act on behalf of the owner of an exclusive right that is allegedly infringed."
There are a few things to note about this process. Requirement number 5 is important because there can be strict penalties for lying about the copyright status in a Takedown Notice. Unfortunately many companies do abuse the DMCA Takedown Notice procedure. In addition, a recent Ninth Circuit case (the "Dancing Baby Case"), the court held that the sender must also have a good faith belief the infringer is not protected by fair use (see below). Once you send the notice, the hosting platform must either remove the infringing content or risk "vicarious" or secondary liability for copyright infringement, which no host wants.
Where Should the Notice Be Sent?
Every ISP or platform must designate an agent to receive Takedown Notices. The US Copyright Office maintains a directory of these agents, and many companies also list their agents on their own websites. Some larger companies even have online forms where the necessary information can be submitted. If the infringing material is not hosted on a platform then you must contact the ISP directly. You can find the right ISP by doing a WHOIS search or a DNS lookup.
What About Fair Use?
Fair use is one of the most common defenses to copyright infringement. Unfortunately it is also very fact-specific, meaning it generally requires a court and a judge to rule whether an infringer is protected by fair use. As mentioned above, the Ninth Circuit in the "Dancing Baby Case" ruled that copyright holders need to have a good faith belief that fair use is not an issue. There are many resources to help you understand fair use, although if you want to be sure, consult an attorney who is familiar with copyright law. You can read more about fair use on the United States Copyright Office website here.
What Happens Next?
Once you send the notice, the host must "expeditiously" remove the content. That is usually the end of the process, unless the person who uploaded the content issues a "counter-notice," where they claim that the content is not infringing copyright. In that case, the host must restore the content between 10 and 14 days after taking it down. If that happens, your only recourse as the content owner is to file a lawsuit, with all the hassle and expense that usually entails.
The DMCA is a powerful and useful tool, but while it is helpful in many instances, it is not the solution to all infringements. It is however the simplest and easiest way to fight piracy and copyright infringement online.
***
Disclaimer: The contents of this article do not constitute legal advice and should not be construed as legal advice. If you have any questions of a legal nature, consult an attorney.
To contact the author Jesse Woo, email jwoo@jessewoolaw.com.
(art by Charles Arnoldi)

Current Features
How to Buy Art on Instagram and Facebook
More and more people are buying more and more art online all the time, not only from artist websites or online stores, but perhaps even more so, on social media ...
Collect Art Like a Pro
In order to collect art intelligently, you have to master two basic skills. The first is being able to...
Services for Artists and Collectors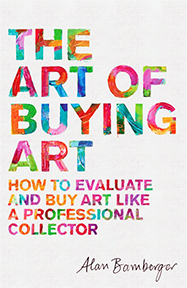 Buy the Book