Art Picks From eBay, Number 14; Matisse on eBay; Art Buying Tips
This is the fourteenth in our instructional series of articles that focuses on how to dissect and analyze the ways that works of art are sometimes described for sale on the internet auction site, eBay. eBay does not actively police their auction offerings, but rather depends on emails from dealers, collectors, experts, buyers, and potential buyers to notify them of problems relating to particular works of art. Any seller can describe any work of art in any manner that he or she chooses, and as long as no one complains, that art sells to the highest bidder. As a result, eBay and similar online auction sites are among the more dangerous places for uninformed or inexperienced collectors to buy original art.
This installment's auction item is described below. ArtBusiness.com credits the seller, by way of eBay, as the source of all of the following information and images. ArtBusiness.com comments and questions appear in red italics throughout the eBay seller's description. Grammar, spelling, and punctuation are as they appeared in the original for sale listing. ArtBusiness.com at no time implies, makes, or intends to make any claims or express any opinions regarding the authenticity of any works of art that appear in this series.
Seller's headline:
Henri Matisse Nude ink drawing Signed
ArtBusiness.com comment: The title states that the item up for sale is a signed ink drawing of a nude by Henri Matisse.
Seller's description: Greetings and welcome to the *******, a place full of yesterdays treasures for you to enjoy today... This item is an ink drawing signed HM (Henri Matisse).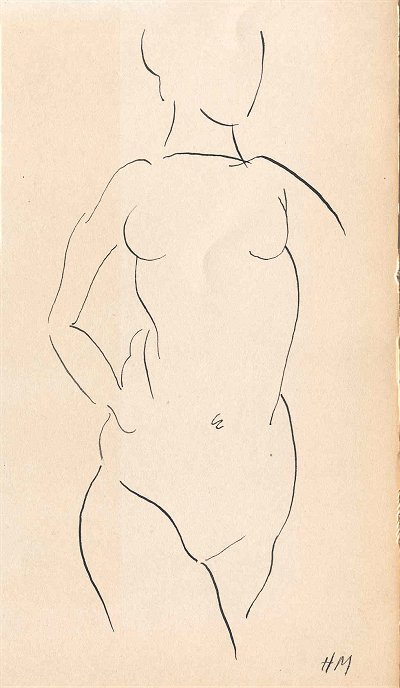 ArtBusiness.com comment:This drawing is initialled HM, not signed Henri Matisse. How the seller makes the leap from HM to Henri Matisse is not clear.
Seller's description continued: The French artist (1869-1954) was the leader of the fauve group and was regarded as one of the great formative figures in 20th-century art, a master of the use of color and form to convey emotional expression.
ArtBusiness.com comment:Now that the seller has made the leap from HM to Henri Matisse, he provides some biographical information about Matisse, seasoned with a dash of art criticism.
Seller's description continued: This piece does just that with a few simple lines on a page one can tell the attitude and mood of the figure drawn.
ArtBusiness.com comment:The seller appears qualified to critique this drawing as well as the art of Henri Matisse, but is unclear about what exactly the attitude and mood of the figure are.
Seller's description continued: Ready to frame and having only normal signs of age such as a very slightly yellowed paper...
ArtBusiness.com comment:This sentence indicates that the paper has age.
Seller's description continued: This piece measures approximately 9 inches high and 5 inches wide and is part of a collection which has been amassed over many years by our buyer.
ArtBusiness.com comment:According the the seller's "me" page, he (or she) is a lone individual. The above sentence appears to say that multiple sellers are offering this initialled drawing and that those sellers either employ a buyer or have someone who buys for them.
Seller's description continued: Like many of our items it was purchased from various estate sales and other venues without provenance, COA or other forms of paperwork.
ArtBusiness.com comment:This is about as vague a statement regarding the nature of a work of art as one can possibly make. But it clearly says that the drawing being offered here for sale has no provenance, no COA (certificate of authenticity), no paperwork of any kind. Now if a drawing that's only initialled HM, NOT signed Henri Matisse, is being offered with no paperwork or provenance of any kind, HOW CAN THE SELLER POSSIBLY CONCLUDE THAT IT IS BY HENRI MATISSE?
Seller's description continued: This item is being offered as is with no guarantee and with a low reserve.
ArtBusiness.com comment:The seller repeats that the drawing is being sold as-is and with no guarantees of any kind. As an aside, people who own original drawings by Henri Matisse are not generally inclined to offer them for sale on eBay with low reserves. And one more thing, dear reader-- if I purchased a Henri Matisse drawing or what I even remotely thought might be a Henri Matisse drawing, I would remember exactly where it came from and would do everything in my power to document its ownership history as well as its authenticity.
According to this seller's recent eBay auction activity, his or her or their "buyer" appears to have acquired, over the years, original works of art by modern masters, including Chagall, Picasso and Dali, under equally vague circumstances as was this HM-initialled drawing acquired. These generally auction for between two and four hundred dollars each.
Bidded up to 155.30 with 6 bids. Item did not sell as seller's reserve was not met. Stay tuned for our next "Art Pick from eBay."

Current Features
How to Buy Art on Instagram and Facebook
More and more people are buying more and more art online all the time, not only from artist websites or online stores, but perhaps even more so, on social media ...
Collect Art Like a Pro
In order to collect art intelligently, you have to master two basic skills. The first is being able to...
Services for Artists and Collectors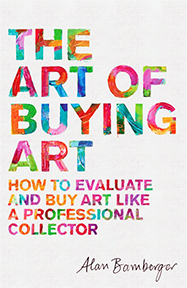 Buy the Book