Art Picks From eBay, Number 17; Pierre Bonnard on eBay, or Maybe Not
This is the seventeenth in our instructional series of articles that focuses on how to understand and analyze the ways that works of art are sometimes described for sale on the internet auction site, eBay. eBay does not actively police their auction offerings, but rather depends on emails from dealers, collectors, experts, buyers, and potential buyers to notify them of problems relating to particular works of art. Any seller can describe any work of art in any manner that he or she chooses, and as long as no one complains, that art sells to the highest bidder. As a result, eBay and similar online auction sites are among the more dangerous places for uninformed or inexperienced collectors to buy original art.
This installment's auction item is described below. ArtBusiness.com credits the seller, by way of eBay, as the source of all of the following information and images. ArtBusiness.com comments and questions appear in red italics throughout the eBay seller's description. Grammar, spelling, and punctuation are as they appeared in the original for sale listing. ArtBusiness.com at no time implies, makes, or intends to make any claims or express any opinions regarding the authenticity of any works of art that appear in this series.
Seller's headline:
PIERRE BONNARD, FRENCH, INTERIOR, WATERCOLOR
ArtBusiness.com comment:The title states that the item up for sale is a watercolor by French artist, Pierre Bonnard.
Seller's description: AN INVENTIVE DEPICTION OF AN INTERIOR BLENDING SIMULTANEOUSLY WITH A STILL LIFE PORTRAYAL.
ArtBusiness.com comment: Sounds pretty good-- an inventive depiction. Keep in mind, however, that this is a subjective opinion, not a statement of fact.
Seller's description continued: This wonderful interior scene is superbly crafted with three vases being placed precisely in a diagonal row jutting out into another's space against a flat background of complementary, contrasting colors. These elements manipulate the scene so that the artist is depicting his personal environment yet entering another person's space. The complex and carefully wrought watercolor shows qualities of daring and invention its perspective with its softened spectrum of color palate based on a delicate interplay of tones and multiple view points. An exuberance of light and color.
ArtBusiness.com comment: Art criticism or gibberish? You be the judge. One thing for sure-- it too is a subjective opinion, not a statement of fact.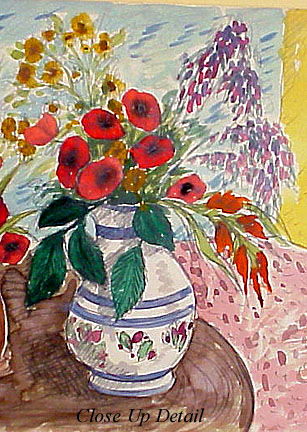 Seller's description continued: PIERRE BONNARD, FRENCH, 1867-1947, as a young man he followed his father's wishes and studied the law and was actually called to the Bar before deciding to paint instead. While studying law he met Maurice Denis and Paul Serusier. Together these three along with Edouard Vuillard and Paul Gauguin would form the Group with which the young Bonnard most identified, the Nabis painters. He was inspired by Japanese prints with a bold outlined form and color and designed stained-glass windows, pottery, furniture and screens. and posters. His poster for champagne inspired Toulose-Lautrec to try his hand at poster making. He had enrolled in 1887 at a Paris art school while studying law. He exhibited in the Salon des Independants in 1891 and subsequently participated in its many exhibitions. He met his future wife in 1894, Martha Boursin, and became preoccupied with painting her over and over in all kinds of household activities which were typical of the classical nudes in the Lourvre. His palate became softer after Martha's death, he then painted more still life and landscape paintings. Bonnards entire stylistic evolution offers a transition from impressionism to a coloristic, abstract art and his work was instrumental in the development of abstraction and is now viewed as one of the century's most complex and masterful painters. .
ArtBusiness.com comment: The seller provides biographical information, perhaps for bidders who like the watercolor, but are not familiar with the artist.
Seller's description continued: Watercolor on paper. The paper appears to be of the period; size: 10-1/2" x 14-3/8"; overall size with frame: 22-3/8 x 26-1/4"; Frame: gold wood; Signed: "Bonnard" lower left; Condition: no visual defects.
ArtBusiness.com comment: The seller provides dimensions, signature location, condition information, and a comment regarding the age of the paper that the watercolor is painted on. How the seller determined the age of the paper is not clear.
Seller's description continued: Provenance: Found in a folio of drawings and prints from an estate sale of an artist's studio in London, England.
ArtBusiness.com comment: THIS IS NOT PROVENANCE. THIS IS WHERE THE WATERCOLOR WAS FOUND. Provenance consists of names of previous owners, galleries, and other specifics that speak directly to the authenticity of a work of art.
Seller's description continued: Because there is no detailed provenance, in our qualified opinion, we are selling this artwork as "attributed to" the artist. For further clarification please review the explanation of our cataloguing terms which can be found by clicking on "me" next to our Ebay ID on the seller's line in the listing.
ArtBusiness.com comment: No detailed provenance? There's no provenance whatsoever!! And whose qualified opinion attributes this watercolor to Bonnard? And what qualifies that person to make such an attribution?
Quoting from this seller's "me" page: "Please be advised that any work of art that is described in our listing using the terms found below (i.e. "Attributed to", "Circle of", "Studio of", "School of", "Manner of", "After") carries no guarantee of authenticity."
Seller's description continued: We do guarantee on a money-back basis that this is a watercolor on paper and not a print nor a mechanical reproduction. If judged, in writing, by a qualified conservator, who is a member of the American Institute of Conservation, that it is not a watercolor on paper, it may be returned within one week of receipt for a full refund of purchase price.
ArtBusiness.com comment: Big deal. After all the build-up, the seller guarantees only that this is a watercolor on paper. NOTHING ELSE. Genuine watercolors on paper can be purchased all day long for a few bucks each at junk shops, second hand stores, flea markets, and garage sales everywhere.
So why all the descriptive and biographical information treating this watercolor like it's painted by Pierre Bonnard? Quoting again from the seller's "me" page: "Please note that biographical information is not given in order to lend an air of authenticity to the picture."
If that's the case, then what's it there for? What exactly is this seller up to?
Seller's description continued: PLEASE ASK QUESTIONS BEFORE BIDDING since there are no returns accepted under this classification. Placing a bid on this auction shall confirm that you have read and accepted our conditions of sale and definition as applied to this listing.
ArtBusiness.com comment: Hey bidders-- see that? It's all the way down at the bottom of the description. Hopefully, you read this far. You have NO return priveleges.
This sale is a "private" auction. Private auctions hide the identities of competing and winning bidders and inhibit communications of any sort between eBayers. ArtBusiness.com recommends that potential buyers avoid private auctions unless they are experienced collectors, skilled at recognizing the work of the artists they bid on, and/or have some familiarity with the sellers. ArtBusiness.com also recommends that eBay eliminate private auctions.
Sold for $1,237.65 with 18 bids. Stay tuned for our next "Art Pick from eBay."

Current Features
How to Buy Art on Instagram and Facebook
More and more people are buying more and more art online all the time, not only from artist websites or online stores, but perhaps even more so, on social media ...
Collect Art Like a Pro
In order to collect art intelligently, you have to master two basic skills. The first is being able to...
Services for Artists and Collectors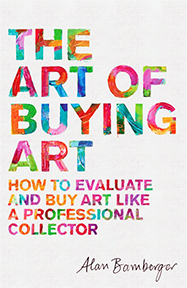 Buy the Book