Itemizing Your Art Career

How to Write Your

Artist Resume or CV
In many ways, being an artist is no different from any other profession. You start at the beginning, advance in your career, and accumulate an increasingly extensive track record of accomplishments along the way. And there's no better way to document those accomplishments than by itemizing them in a CV or resume. There's also no better way to inform people about the course of your art career to this point.
This article is mainly about your written resume, but due to people's increasing aversion to reading (in combination with the fact that written resumes can be difficult for less experienced buyers or collectors to understand), I now recommend also having what I call a "visual resume," which I'll talk about immediately following the instructions for writing the written one.
In the art world, the words CV (or curriculum vitae) and resume are used pretty much interchangeably, but if you want to get technical about it, a CV is a comprehensive list of everything you've done while a resume is an abbreviated list usually summarizing the most significant achievements in your career. When you're just starting out or don't have that many accomplishments, a comprehensive CV makes more sense, but the further along you get and the more you accomplish, a resume of your most notable achievements will likely do the trick. For simplicity's sake, we'll stick to resumes here.
If you are at all serious about being successful as an artist, creating, maintaining and regularly updating your resume is required. You also have to make it easily accessible to anyone who wants to know more about you and your art, whether they are fans, followers, potential buyers, galleries, institutions, art writers, or related art professionals. These days, pretty much anyone with interest in your work will first search you online and check out your overall online profile, and especially your resume before they make contact. The best place by far to post your resume is on your website. Those of you who have let your websites languish in favor of social media take note. Social media platforms are not conducive to posting resumes, and even more problematic is the fact that resumes are difficult to locate through searches if they're only on social media.
A professional resume is basically an UP-TO-DATE list of your most important accomplishments. Keeping things current shows people that you're managing your career like a pro. Staying on top of things is without a doubt the best way for any artist to provide current information on what's happening in their career. Posting these highlights on social media is also good but their staying power, like any other online posts, is often only temporary. Unfortunately, they're not in the headlines for long and soon vanish forever into the vast black hole of artist posts everywhere.
A word of caution before we get going. Never fudge on your resume. Art pros who read resumes as part of their job descriptions know how to spot possible problems and can figure out pretty fast whether an artist is being truthful or not. An important part of telling your truth is the details. The more specifics you provide (like those you'll see mentioned below), the easier it is for people to verify your accomplishments. Any art business professional will tell you that resumes lacking in specifics often raise more suspicions and questions than they answer. But enough about that.
Artist resumes are traditionally divided into categories and organized according to standard protocols and formats. Depending on an artist's career, those categories may include Education, Solo Shows, Group Shows, Awards, Distinctions, Reviews, Publications, Collections that own their art, Commissions, Residencies, and Teaching Experience. With some artists, additional categories may also be necessary.
Whatever your categories of accomplishments are, list them in the order shown below. Within each category, organize all entries chronologically. Start with the most recent and work your way back, not the other way around. The first thing readers want to see is what's happening now, not what happened yesterday.
Perhaps the one thing that's changed the most with respect to traditional resumes is the amount of significant career events that now take place entirely online. These include online shows, online competitions, being represented by "galleries" or platforms that exist entirely online, social media accomplishments or distinctions, and more. Now you can either include these items in their traditional categories or you can add an entirely new category dedicated exclusively to your online achievements. That decision is up to you.
YOUR WRITTEN RESUME
In addition to the order of your categories as shown below, the following tips and pointers will help you write your resume right:
1. SOLO SHOWS These are the most important part of any resume. They are high points in your art career where you're the star and no one else. Each entry should include the name of the gallery or institution or venue, the title of the show, the dates of the show, and the location of the venue. Or if they take place entirely online, the name of the website or online gallery and the title of the show. If you've participated in a number of two or three person shows, you might add a separate heading directly under solo shows. Or you could expand solo shows to include two or three person shows.
2. GROUP SHOWS When you're just starting out, list every show you're in, no matter how many artists are in that show with you. Even when shows are minor, the more lines you have on your resume, the better you look in terms of how serious and committed you are to getting your art out in front of the public. As you advance in your career, you can thin this section out as necessary, keeping only the more significant shows. At that point, you can rename the category, "Select Group Shows." As with solo shows, include the name of each gallery or venue, the title of the show, the dates of the show, and the location of the venue. As above, document online group shows by the name of the website and title of the show.
3. AWARDS AND DISTINCTIONS These may include prizes, honors, grants, organizational memberships, honorariums, and related forms of recognition.
4. REVIEWS Here you include critical reviews of your shows, interviews, features, articles you are mentioned in, published images of your art, and so on. Each entry should contain the name of the publication or website, the title of the article or review, the author, and the date published. If the item is online, you can also include the link (but make sure it opens in a new window when clicked on).
5. PUBLICATIONS Here you list books, catalogs or surveys that are either entirely about you or ones that you are mentioned or included in. For each publication, include the title, author, publisher, place where published, and the copyright date.
6. COLLECTIONS Depending how many collections your work is in, you can either group everything together under the single heading of Collections or divide them by category. These categories might include Museum Collections, Corporate Collections, Private Collections, Commissions, or Institutional Collections. Provide the titles or names of individual artworks in certain collections if necessary.
7. PROFESSIONAL EXPERIENCES When relevant, round out your resume with art-related experiences like residencies or sabbaticals, and educational work like teaching positions, courses, seminars, lectures, and so on. Be a bit careful here. You want these to reflect favorably on your art career rather than on what you've been doing outside of your art career.
8. EDUCATION Regarding your education, if you've recently graduated from art school or are just starting out and don't have many accomplishments, you can put your educational credentials up top. For those of you who study independently, resist the temptation to list every course you've ever taken or every teacher you've ever had. The further along you are in your career, the less your education matters. As your accomplishments increasingly take center stage, you want to move your education to the bottom instead of leaving it on top because it will eventually be overshadowed by everything else you've done. Lastly, don't worry if you have no formal training. Tons of great artists are self-taught. No matter how few or many degrees you have, your art is ultimately all that matters.
YOUR VISUAL RESUME
As mentioned above, reading simply isn't as popular as it used to be and sadly, increasing numbers of people no longer wish to be bothered by it, especially when the subject is art. Many would far rather look at pictures than read about the careers of the artists who made them. The good news is that even though they might skip reading your resume, there's still a way to inform them about your most significant artistic achievements, how long you've been around, how long you've been getting recognition for your work, and how serious and dedicated you are to being an artist. You do this by adding a category to the Gallery (or Art or Portfolio) section of your website called "Past Work" or "Select Past Work." This menu option should go right after the section or sections of your current work.
Here you show images of works of art that have received various forms of recognition. These can include pieces that have won awards, been accepted into significant juried shows or competitions, are in corporate or institutional or private collections, public commissions, have been featured in books or articles (either in hard-copy or online), or have other distinctions associated with them.
As with your written resume, show the most recent examples first and work your way back to the earlier ones. The basic format is to show an image of the art followed by the title, medium, dimensions, and related particulars. Follow this information with brief comments about what makes the art special, like "First Prize at the AAA Art Show," "Collection of the Anytown Museum of Art," "Installation at Bigland Municipal Airport," "Private collection New York City," "Collection of Three Star Law Offices," "Exhibited at City Hall," etc.
This is the perfect way for anyone to get up to speed on what you might call your "Greatest Hits." And of course, the more impressive those hits are, the more favorably this will reflect on you as an artist, and on anyone's thoughts about perhaps getting involved with your art, like adding it to their collections, exhibiting it, representing you, commissioning work, and so on. Your "Select Past Work" section also makes people aware that you're showing, selling, staying active, getting your art out into the public, and having successes in your art career.
***
Need professional help organizing or writing your resume? Has your art career followed a non-traditional path? Have significant gaps in your resume? No matter what your situation is or how your art career has evolved, I can help you create a resume that works. You may make an appointment at anytime. Call me at 415.931.7875 or email alanbamberger@me.com
***
(art by Cornelius Völker)

Current Features
How to Buy Art on Instagram and Facebook
More and more people are buying more and more art online all the time, not only from artist websites or online stores, but perhaps even more so, on social media ...
Collect Art Like a Pro
In order to collect art intelligently, you have to master two basic skills. The first is being able to...
Services for Artists and Collectors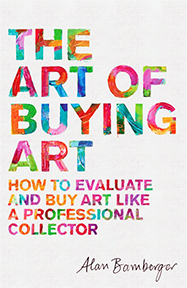 Buy the Book