ARTISTS IN CALIFORNIA, THIRD EDITION, BY EDAN HUGHES
The long awaited, twenty years in the making, third and absolutely positively final edition of Artists in California, 1786-1940 by Edan Hughes, has at last been published by Sacramento's Crocker Art Museum. To give you some idea of how important this book is, the out-of-print and hard-to-find second edition was, until recently, being offered for as much as $750 on secondary markets. The monumental two-volume 1,250 page third edition contains 20,000 detailed biographies of artists who were active in California through 1940, thousands more artists than the second, and is unquestionably the finest reference of its kind ever written. Hughes stopped at nothing to obtain accurate artist information using books, newspaper and magazine articles, old art catalogues and gallery notices, death certificates, personal interviews with artists and artist descendants, and whatever other resources he could get his hands on.
Artists in California is much more than an artist dictionary; it's a glimpse into the lives of thousands of artists, packed with human interest details the likes of which are not found in any comparable reference works. Hughes paints a history of California through the eyes of its artists with tales of drama, adventure, success, failure, love, hate, and more. For example, arbitrarily opening volume two to pages 982-983 reveals that Harry Schary died as the result of his car being struck by a bus on October 5, 1947. Later in life, artist and animator Donald Schaffer became a marriage counselor in Long Beach, eventually moving to Beaverton, Oregon where he owned and operated an art gallery until his death in 1986. Frederick Schafer made regular sketching trips to the Northwest during the late nineteenth century, but his art was uneven in quality due to his alchoholism.
Hughes has donated Artists in California, his lifework, along with all future income and publishing rights, to the Crocker Art Museum. Hughes has also donated art from his private collection to one day be housed in The Edan Milton Hughes Room, which will be built by the Crocker especially for his collection. The contribution that Edan Hughes has made to California art history cannot be overestimated. His book has instantly become the benchmark by which all subsequent American artist reference books will be judged.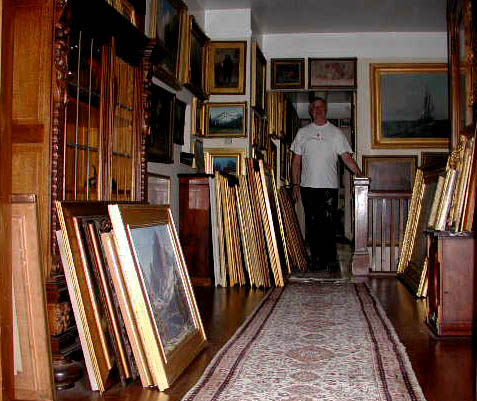 Edan Hughes at home with a tiny bit of his collection
Artists in California, 1786-1940 by Edan Hughes; Crocker Art Museum, Sacramento, California, 2002, two volumes, 1250 pages, hardbound, dustjackets, 8 3/4 by 11 1/4 inches. $150. Total cost including taxes and shipping is $176.63 within California and $165 out-of-state.
Payable by check made out to the Crocker Art Museum Association and mailed to Scott A. Shields, Curator of Art, Crocker Art Museum, 216 O Street, Sacramento, CA 95814; questions and credit card orders call Stephanie Landrum or Scott Shields at (916) 264-7843; or visit the Artists in California page at Crocker Art Museum website.

Current Features
How to Buy Art on Instagram and Facebook
More and more people are buying more and more art online all the time, not only from artist websites or online stores, but perhaps even more so, on social media ...
Collect Art Like a Pro
In order to collect art intelligently, you have to master two basic skills. The first is being able to...
Services for Artists and Collectors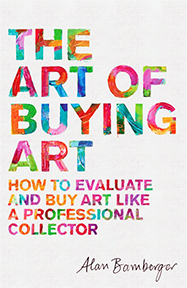 Buy the Book