LAWRENCE'S DEALER PRINT PRICES, 2003-1992, CD-ROM
Posted November 26, 2003
Lawrence's Dealer Print Prices, 2003-1992 CD-ROM, published by Gordon's Art Reference, contains retail prices for 280,000 prints by over 15,000 artists, nearly 30,000 more than the previous edition. Prices for prints in all price ranges are taken from domestic and international dealer catalogues and inventories that date primarily from 1991 through 2002, but a number of entries have been taken from hard-to-find retail price resources dating from 1970-1990. Every entry includes data such as the artist's name, nationality, birth and death dates, image title, dimensions, edition size, signature information, date of the print, condition information, and a reference number to the dealer selling it.
This year's CD-ROM contains a number of technical improvements over those of previous years that make it faster and easier to use. Data can be accessed easily and in a variety of ways. For example, if you can't make out the title of a particular artist's print, a free text search allows you to search for that title by any group of consecutive letters that you can identify. You can also search an artist's prints by price, price range, date of sale, lot number of print in a particular sale, and other variables. These search options are especially useful when you're researching artists with hundreds or thousands of results like Picasso, Dali, or Chagall.
Lawrence's is the only existing published database of retail dealer prices in the art business. Retail prices are normally privileged information shared exclusively by specialist dealers and experienced collectors, but Lawrence's changes all that. Now anyone can use this information to evaluate selling prices and buy, sell, donate, or appraise prints more effectively.
For those of you who collect prints, Lawrence's can also be used as a catalogue to shop for images or artists that you collect. Full contact information for all dealers who provided price data is included in an index of worldwide print dealers on the CD-ROM, so when you see an image you might want to own, you can locate the dealer who offered it, find out whether it's still available, and buy it. You can also find out whether the dealer has any other images by the same artist. Additional indexes list dealers by specialties and geographic locations. Comprehensive bibliographies of catalogues raisonne and general print reference works round out this terrific price reference.
Lawrence's is an essential reference for anyone appraising or transacting in fine prints at any level of the trade.
Lawrence's Dealer Print Prices, 2003-1992 CD-ROM, Jeff Blue, managing editor, Gordon's Art Reference, Phoenix, AZ, 2003, initial subscription $595, subsequent annual updates $245.
Available from Gordon's Art Reference, 306 Coronado Road, Phoenix, AZ; 1-800-892-4622; or visit Gordon's Art Reference online.

Current Features
How to Buy Art on Instagram and Facebook
More and more people are buying more and more art online all the time, not only from artist websites or online stores, but perhaps even more so, on social media ...
Collect Art Like a Pro
In order to collect art intelligently, you have to master two basic skills. The first is being able to...
Services for Artists and Collectors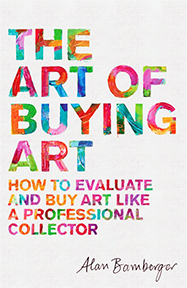 Buy the Book