Email and Mailing Lists

of Art Galleries, Dealers, Consultants

Are They Worth it or Not?
Q: What do you think about buying email and mailing lists with names of art dealers and collectors? I heard about a company that sells these kinds of lists. I can also buy lists of hundreds of galleries, consultants, corporate art collections, museum curators, and more in all parts of the country. I plan to buy several lists and then send emails and maybe even mailings of information about me and my art. They don't cost very much considering how much you get.
A: First off, you can get much of this information FREE and make your own targeted email or mailing lists, either online or by accessing databases through public libraries. These databases and references include The Official Museum Directory (fee-based database of American Museums, but may be free through a public library), Art Gallery Guides, Artnet Gallery List, and The American Art Guide containing names and contact information for 3000 galleries, museums, private dealers, consultants, and more. You can also find local and regional gallery database sites like Visual Art Source which lists galleries throughout the Western United States. But know going in that using any art dealer or gallery or other kind of email or mailing list is not necessarily a productive use of time and money, and in the large majority of cases, they'll do very little for you.
Let's say for example you live in Texas and buy a list of 500 art galleries in Texas. That list will include all kinds of galleries that sell all kinds of art-- much of that art bearing absolutely no relation or resemblance to yours-- art by living artists, art by deceased artists, abstract art, representational art, European art, Latin American art, Asian art, limited edition prints by famous artists, paintings, sculptures, photographs, experimental art, glass and ceramic art, art by Houston artists, art by Dallas artists, art with Cowboy and Western subject matters, art with Texas subject matters, and so on.
But wait; it gets worse. Some of these lists can be terribly outdated. I once asked for a list of local gallery names from a website that claimed to get the word out about your art to thousands of galleries, museums and arts organizations across the country. What did that list include? Dead people, galleries that were no longer in business, galleries that were still in business but no longer at the listed addresses (some addresses were ten years or more out of date!), and other completely useless contact information. Some lists are relatively updated, but keep in mind that individuals and businesses change their addresses all the time and keeping everything up to date can be challenging to say the least. And now for the odds of an email or mailing list paying off big for you...
No matter what kind of art you make, only a small fraction of the galleries on any list will likely sell it-- because email and mailing lists tend to be general, not specific, and tend to include all kinds of galleries selling all kinds of art. Only a fraction of that fraction will be looking for new artists to show. And only a fraction of that fraction of that fraction will accept unsolicited submissions from artists who they've never heard of or who haven't been personally referred by people who the gallery owners already know and trust. So out of that list of maybe hundreds of galleries, no more than a handful will even bother to look at anything you send them. That's often your best-case scenario.
And think about the money you'll spend after you buy the list-- especially if you decide to mail materials rather than make contact by email. The list itself might be relatively inexpensive, but designing and printing up hundreds of brochures or other promotional materials, putting them together, addressing the packets, and mailing them out can easily cost several thousand dollars if you want to do it right, not to mention the many hours of time you'll spend. The bad news is that no matter how much time and money you put in, most of your materials go straight from the mailbox to the circular file without ever getting looked at. Why? Because many of the galleries you'll be sending to to know the difference between serious solicitations and spam... which is basically what your mailer will be.
Speaking of spam, mass emailings don't fare much better. Galleries can almost always tell the difference between mass emailings and serious artist inquiries, and it's even easier for them to press the delete button than it is to physically toss something into a wastebasket. And these days, spam filters have gotten so good that many unsolicited mass emails are automatically sent to spam or junk folders. Galleries never even see them unless they check their spam, and most don't.
About the last thing galleries are interested in is artists who send mass mailings or emailings. Galleries like to feel the artists who contact them are being relatively discreet, exclusive and limited in who they're contacting. They prefer artists who appear to care about them, understand their histories, know the types of art they sell and the types of artists they show, not artists who look like they're sending the same exact information to every other gallery in town.
Any art gallery owner will tell you that large numbers of artists continually approach them looking for representation or wanting shows, and that many of those artists have no idea whether their art even remotely matches what the gallery sells. They'll also tell you that exhibiting the work of artists who walk in off the street is highly unlikely, and that exhibiting the work of artists who send information in the mail, cold-call them by phone, or email them out of the clear blue is equally unlikely. And geographically speaking, unless you're already well-known or established in the region where you live, the farther away a gallery is mileage-wise from your home base, the less likely they are to have any interest in your art no matter how you contact them.
Your best bet is to forget about email or mailing lists altogether and combine whatever online presence you already have with a more hands-on approach. To begin with, start close to home and get free lists of all art dealers and venues in your area either online from arts and entertainment sections of area calendar or event websites, from local arts associations or organizations, or from hard-copy art publications that cover art in your area. If you're interested in showing your art in nearby cities or regions, do the same for those areas as well. The less well-known you are, though, the more you should focus on working your immediate area, and do your broader networking online rather than gallery by gallery.
If the place where you live has little or no art scene and you're determined to be an artist, show wherever you can-- galleries as well as alternative venues-- and supplement that with social networking activities. The mere fact that you regularly post updates and regularly show your work at physical locations as well as online demonstrates your commitment and dedication to being an artist. If you take your social networking and exhibition opportunities seriously, you increase the chances of getting positive responses to your work (hopefully including invitations to show, and even making sales). Do a good job of getting the word out and people will begin to notice... and follow your progress. If good things start happening and you begin to feel more confident about your potential for success, you might consider moving somewhere with a more substantial arts community at some point. But don't be hasty; make sure your career is off and running first.
In the meantime, take your local art dealer list, visit each gallery website, learn about what types of art and artists they sell or represent and see how closely they match with your art. Personally visit those venues that seem appropriate for your work, get a better feel for what they're like and if they seem right for you, get on their email lists and start attending their openings and events. You don't have to introduce yourself or start talking about your art the first time you see them; consider initial visits more as information-gathering and getting familiar with the territory than anything else.
At the same time, begin to immerse yourself in your local art community. The best way by far to get your name and your art out there is to regularly attend art openings, lectures and events, and to get involved with local arts organizations, museum groups and non-profits. Eventually people will get to know you and you'll start hearing about opportunities to show your art, but again, take things slow and get to know people gradually first. All this may sound a little on the labor-intensive side-- and it is-- but it's what you have to do in order to get noticed and establish yourself as a working and exhibiting artist. There's no quick-fix in the art world, just good old-fashioned hard work.
If you like where you live in spite of a limited local arts scene, focus your engergies online and experiment with ways to publicize your art such as actively participating in groups or websites focused on your type of art. Put your art up for sale on your own website, at art or artist sites that show similar work, and perhaps at online auctions as well. Don't get too heavy-handed or engage in hard sells, but rather use social networking to drive traffic to your website or online store, and occasionally make mention of available art. In short, try everything. Sooner or later you'll figure out what works best. Sure, this all takes time, effort, experimentation and dedication-- practically as much time as networking in person, especially if you're just starting out-- but if you hang in there and do it right, you'll make headway over time. Sooner or later people will begin to recognize who you are. And if there's any way you can combine your online activities with local or regional shows at physical locations-- gallery or otherwise-- do it.
Buying and working off of highly targeted email or mailing lists might make a little more sense if you're already an established artist, but only if you're experienced at researching and identifying new opportunities, approaching the people in charge, and effectively presenting your art. Then again, if you're at that level already, you likely don't need lists and can find out who the main players are without too much difficulty from people you already know. Plus you can get names from social networking contacts, online art blogs, calendar sites, publications and magazines, fellow artists, art organizations, dealers you already know, and other art community resources.
However you find potential exhibition or representation opportunities, focus specifically on those galleries or dealers who show your kind of art and really get to know them before presenting not only your art, but also your resume and sales history so they can get some sense of how things might go if they decide to work with you. The closer you can come to providing them with complete background information as well as suggestions for organized shows of your work, the greater your chances of success. Know going in that in the end, only a small fraction of galleries will be right for you, but no matter how many may turn you down, never ever give up. Rest assured that sooner or later you'll be hearing the almighty "Yes".
(sculpture by Joseph Havel)

Current Features
How to Buy Art on Instagram and Facebook
More and more people are buying more and more art online all the time, not only from artist websites or online stores, but perhaps even more so, on social media ...
Collect Art Like a Pro
In order to collect art intelligently, you have to master two basic skills. The first is being able to...
Services for Artists and Collectors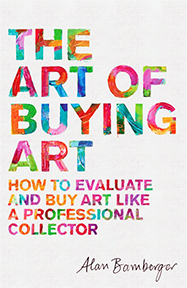 Buy the Book