Build an Artist Website That Makes Money
Related article: Website Tips for Artists
Related article: Common Artist Website Mistakes
Artists and art dealers everywhere continue to puzzle over the vagaries of selling art successfully online. Annex Galleries of Santa Rosa, CA, specialists in vintage American and European prints, has made progress towards solving the problem, launching a website that not only sells art, but also makes money. According to the gallery's owner, Dan Lienau, www.annexgalleries.com makes so much money that it paid for itself within its first two weeks of operation. Sales on the recently redesigned site average twenty to thirty works of art per month and account for $8,000 - $12,000 of the gallery's monthly gross revenues.
As the Internet saying goes, "Content is King," and you'll find boatloads of it at annexgalleries.com. The website currently catalogues nearly 3,000 works of art-- more than enough to keep visitors busy once they arrive. The greater the number of works of art available for sale on a website, the longer visitors tend to stick around, and, assuming they like what they see, the more inclined they are to buy.
Content is managed from the gallery and updated daily to make sure that whenever visitors return to the site, they see fresh images and fresh stock. Sold prints are quickly removed from the database and older stock is rotated in and out. Repeat visitors do not want to see the same content over and over again. From the homepage, different types of prints can be broadly searched under a handful of umbrella categories like "American," "European," and "Latin American." More specific searches can also be made from the homepage by typing names of individual artists or other print-related keywords into the site's search engine.
Lienau says that the previous Annex Galleries website failed to generate sales because it was too difficult and confusing to navigate. Prints were divided and arranged into miscellaneous categories such as WPA, color woodcut, abstract, or nationality of artist. Visitors had to search for images using these sorts of keywords and instead of being able to locate groups of prints for sale by particular artists, their searches usually yielded groups of prints that shared several common characteristics, but were by a number of different artists.
Visitors to the new site can still search using any terminology they please, but the site is now arranged basically by artist, with all prints currently for sale by any given artist contained on a single artist main page. From any artist's main page, clicking on a specific print's title links to a page dedicated totally to that print, which provides its complete details. All individual print pages include the name of the artist, title of the print, date of the print, medium, dimensions, signature location, edition size, references containing additional information about the print, type of paper the print is printed on, publisher, and selling price. Most prints are illustrated with thumbnail images that can be enlarged with a mouse-click.
Purchasing information and an order form are at the bottom of every individual print page. A buyer does not have to wade through complicated shopping cart procedures or fill out cascades of forms in order to buy a print. He or she quickly fills out the simple form on the print page and then clicks to submit it. The site will be adding a shopping cart feature in the near future, however, for those who wish to buy multiple prints.
Putting all selling prices online is essential for an art website's success, reports Lienau. Showing prices presents a site as forthcoming and having nothing to hide. Websites that don't post selling prices, but instead request visitors to call or email for information engage in a shell game: They sucker prospective buyers into inquiring about prices, assess their level of interest in the art, and then quote prices as high as possible according to those buyers' circumstances. Experienced dealers and collectors are too savvy to play the please-tell-me-the-price game; many other people simply aren't interested in revealing personal information in order to get prices, or suspect that if they ask, they'll be setting themselves up for bombardment by spam emailers and dinnertime telemarketers.
Putting all prices online also helps Lienau to buy new stock. He tells artbusiness.com that one of the overriding benefits of annexgalleries.com is that sellers offer him prints that he would never have otherwise had opportunities to buy. Sellers compare the art they have for sale to what Annex is selling it for, feel comfortable querying the gallery since they have retail price information up front, and are more inclined to accept Lienau's offers to buy when they see exactly what percentages of retail he's willing to pay.
An unexpected benefit of organizing his site with a main page for every artist, says Lienau, is that relatives and descendants of minor or obscure artists who search the internet for information about those artists are landing on the respective annexgalleries.com artist pages. Not only do these searchers get the data they're looking for, but a significant number go on to buy prints. As a result, Lienau is selling pieces that have been lying dormant at the gallery for years or even decades with little or no chance of ever finding buyers (dealers with dead stock, take notice). In fact, relatively unsalable works by less well-known artists account for the majority of Annex's online sales.
The flip side of this phenomenon is that collectors searching for prints by famous or better-known artists have difficulty landing on annexgalleries.com. For example, a search on Google for prints by Pablo Picasso results in tens of thousands of matches, but the Annex Galleries website is not sufficiently high enough up on such a list to attract any attention. Lienau may be somewhat perplexed by this situation, but at the same time, he's more than delighted with the revenues that his website is generating.
An additional aspect of annexgalleries.com's success, Lienau concludes, is that the gallery's name and full contact information are found at the top and bottom of every single page on the site. This allows first-time visitors who land on pages other than the homepage to figure out where they are, and what to do next. Visitors whose first contacts with art websites are pages that lack appropriate contact information usually have no idea why they're there and, as a result, exit fast without ever taking second looks.

Current Features
How to Buy Art on Instagram and Facebook
More and more people are buying more and more art online all the time, not only from artist websites or online stores, but perhaps even more so, on social media ...
Collect Art Like a Pro
In order to collect art intelligently, you have to master two basic skills. The first is being able to...
Services for Artists and Collectors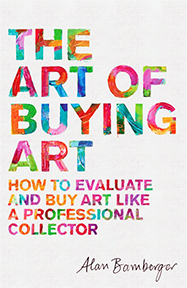 Buy the Book