San Francisco Expo for the Artist and Musician, 2002
Being an artist or musician in a major city is never easy. Thanks to the Annual Expo for the Artist and Musician, being an artist or musician in San Francisco Bay Area is just a little bit easier. Now in its third year, the Expo is an opportunity for creative people to learn about and access services, resources, and grassroots and nonprofit organizations essential to the survival of the Bay Area's large and diverse arts community.
On May 4, 2002, nearly eighty arts and music nonprofits and small businesses exhibited at CELLspace in San Francisco's Potrero Hill district. For an optional dollar donation, attendees were able to browse exhibitor tables, attend workshops and get involved with arts in the Bay Area. Exhibitors included California Lawyers for the Arts, community gallery spaces, independent radio stations, media and promotional groups, artist coalitions, arts education programs, and artist housing groups. Workshops included "How to Finance an Arts Space," "Grant Writing for Individuals and Organizations," and "Tax Issues for Independent Artists and Musicians."
Featured for the first time at this year's Expo was the "Expo Angels Walkthrough," a new program designed to give generous supporters of the arts a chance to meet up close and personal with more than thirty nonprofit organizations in need of financial, material and practical assistance. Prospective patrons received copies of the "Expo Angel's Manual," a guidebook explaining each group's mission, services, nonprofit status, staff and budget size, and wish list. "Angels" were asked to help by providing financial support, pro bono assistance, equipment donations, and by sitting on boards of directors.
San Francisco is once again ahead of the curve in establishing means to support its vital and vibrant arts community. Nearly decimated by the arrogant extravagances of the now defunct dotcom greed rush, arts community activists got enterprising and figured out ways to save themselves from skyrocketing rents and rampant evictions. One such legacy is the Annual Expo for the Artist and Musician. Organize and unite the arts resources your city or town today and always remember-- art enriches life.
More pics:
The nice folks at ArtSpan, responsible for San Francisco Open Studios, the city's largest annual visual arts event, and Art for Inner City Youth, among other accomplishments. Learn more about ArtSpan and San Francisco Open Studios at the Artspan website.


Artist Resource is an online database and clearinghouse for information dedicated to educating and promoting Bay Area artists and writers, and creating a supportive community. Every major city should have its own Artist Resource. For more information, visit the Artist Resource website.



Current Features
How to Buy Art on Instagram and Facebook
More and more people are buying more and more art online all the time, not only from artist websites or online stores, but perhaps even more so, on social media ...
Collect Art Like a Pro
In order to collect art intelligently, you have to master two basic skills. The first is being able to...
Services for Artists and Collectors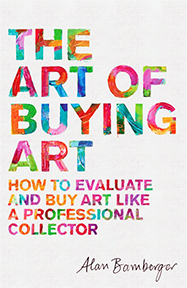 Buy the Book