Artist Tips for Successful Art Openings
An art opening at an art gallery is always a momentous occasion. The atmosphere is upbeat; the art is fresh and new. Everyone from the artist to the gallery owner is optimistic about the prospects for healthy sales and favorable reviews. In a sense, the art will never look as good as it does during the opening, and as such, this special event always represents an opportunity for any artist to make a significant impression and advance their career.
A successful art opening creates a buzz in the art community, not only about the art and the artist, but also about the gallery. The better the opening, the more people talk; word spreads and attendance at the show increases. And we all know that the more people who see the art, the greater the chances of making sales. With this in mind, the following pointers are designed to make your openings successful in terms of publicity, attendance, and sales.
The best way to make an art opening work for you is to create a level of anticipation that encourages as many people to come and see your art as possible. In cooperation with the gallery, put together a compelling announcement or press release, get the word out as widely within the art community as possible-- typically on social networking pages and area art and event websites-- and make sure everyone sees it in plenty of time to make plans to attend your show. The announcement should be clearly written (so that pretty much anyone can understand it) and contain two to three paragraphs of two to three sentences each briefly describing not only the show, but also include an enticing sentence or two about the experience of seeing the art. That's about all you need; quick and simple.
In addition to posting on local events websites, email the announcement to your email list as well as to relevant local arts organizations, notify arts publications that list local events, and make contact with any other media or online sites or blogs that regularly cover on local arts and culture happenings (including community access channels). Be aware of any deadline dates for getting your show listed, and send the email at several intervals, perhaps 2-3 weeks before the show and 3-6 days before the show. Don't oversend; that can get irritatiing. If your gallery has an advertising budget, find out where they'll be advertising and make sure your show notice appears in as many local and regional visual arts publications and on as many community events calendar websites as possible. You might even volunteer to help get the word out in this regard.
Once people know about your upcoming show, the fewer obstacles they have to overcome in order to get there and enjoy it, the better. Number one on the "remove all obstacles" list is DON'T require people to do something in order to get in. This includes insisting that they RSVP in advance, give their emails or other contact information at the door, and especially pay admission or make donations at the entrance. Artists and galleries, particularly those with low budgets or who haven't been in business very long, occasionally decide to charge admission in order to help pay the bills. This is always a bad idea; art openings should be free.
Know up front that art collectors are not in the habit of paying to see art first in order to decide whether or not to buy it. Even a modest cover charge may discourage a good percentage of serious buyers from attending. Instead of your opening, they'll go to someone else's. Can you imagine paying for every art opening you attend? If you're like many artists or more dedicated collectors, you go to dozens every year.
Some artists and galleries try to justify admission charges by promoting their openings as parties with music, refreshments or other forms of entertainment. Either you're having an art opening or you're having a party. Serious art buyers usually spend maybe a half-hour to an hour at any given opening. They are interested in art, not in staying for the evening and partying. Party people, on the other hand, may well pay admission and stay for hours, but they come mainly to party, not to buy art.
Charging for refreshments is another bad idea that discourages people from buying art. This is not nearly as bad as charging just to get through the door, but when you're trying to sell items that cost hundreds or thousands of dollars and up, a little complimentary wine or cheese never hurts when the time comes for on-the-fence buyers to relax for a moment while thinking about whether or not to loosen the purse strings. Sure, a few freeloaders will likely come only to drink for free, but that's how art openings are. If you have a low refreshment budget, buy cheap wine. For you who still insist on charging admission or selling drinks, at least have the common sense to comp your best collectors and their friends.
Always pay special attention to media people like critics or art writers, no matter how small or insignificant their publications or websites or how much you may disagree with their views. You want your shows to be reviewed, so make sure you know your local reviewers and introduce yourself at your opening. Beyond that, let them ask the questions or lead the conversation. Not everyone will want to speak with you, and that's fine. Never presssure anyone; they're perfectly capable of assessing the situation on their own. Publicity is always good, no matter where it appears or what it says. When someone writes about you, that means you're worth writing about. And who knows-- that upstart blogger who writes for iliketowriteaboutart.com may one day become the art critic for The New York Times.
Make sure all art is priced and that a price list and resume are visible and within easy reach of anyone who wants to learn more about you and your art. Interested buyers who may be seeing your work for the first time and like it often prefer to read about you first, before striking up a conversation. Even more importantly, they want to see whether they can afford your art. Those who can afford it and who are impressed by your accomplishments will then speak with either you or someone at the gallery.
Be available to speak with anyone who shows any level of interest in your art. Don't make yourself difficult to access by surrounding yourself with friends and acquaintances; you can see them anytime. The new people-- the first timers-- these are the ones who you should be paying special attention to, and be available to speak with if they look like they might want to talk. The more willing you are to help them better understand and appreciate your art, the deeper the connection they'll feel with it, and the more inclined they'll be to buy. So get out there and mingle.
By the way, walking up and introducing yourself to someone who's seriously studying your prices or looking at your art is perfectly acceptable, but be sensitive to how they respond and careful not to overstay your welcome. Some people really appreciate the attention; others prefer being left to themselves. Also make sure everyone who may be talking about or selling your art has had a chance to meet and speak with you in advance, ask whatever questions they might have, that they have access to your resume and information, can speak knowledgeably about your prices, and if asked, can refer to your sales history, successful past shows or awards or distinctions, names of people or institutions that already own your art, and other relevant career information.
(art by Richard T Walker)

Current Features
How to Buy Art on Instagram and Facebook
More and more people are buying more and more art online all the time, not only from artist websites or online stores, but perhaps even more so, on social media ...
Collect Art Like a Pro
In order to collect art intelligently, you have to master two basic skills. The first is being able to...
Services for Artists and Collectors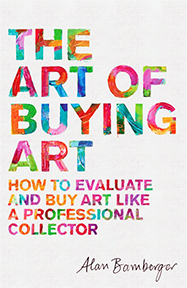 Buy the Book