How to Write and Send Artist Emails,

Newsletters, Invitations or Announcements

To People You Don't Know
ArtBusiness.com receives tons of unsolicited emails from complete total strangers including artists, galleries, PR firms, art consultants, artist agents and representatives, various fine art marketers, art-sales websites. These include updates, newsletters, images of art, exhibition and show notices, announcements, marketing requests, representation requests, and invitations to visit websites. Many of these emails are concise and to the point; some are confusing and raise more questions than answers; others have major problems; and a surprising number are totally unintelligible. As an pro-artist website, ArtBusiness.com offers the following guidelines for writing and sending emails to people or businesses you don't know, and making initial contact with anyone on social media-- individuals, galleries, institutions or other potentially interested parties.
Sending unsolicited emails or direct messages on social media to strangers is similar to the real life situation of wanting to meet someone for the first time at an event like an art opening, art class, or other art-related function. If you're like most people, you introduce yourself, start up a conversation, and get to the point pretty fast. Anyone who wants to continue talking with you will do so; anyone who doesn't won't. You would never keep talking, for instance, with someone who obviously isn't interested in hearing what you have to say. It's a really good idea to treat your email or DM recipients the same way by making your point fast, inviting those who want to know more to get back to you, and not continuing to bother those who don't.
Before sending your email or DM, make sure you have a good reason to send it. Your good reason should have two parts. The first part is what you want to say. The second part is why whomever you're contacting would want to know about it. Don't bother making contact if you only have the "you" reason and not the "them" reason. Assuming you have both, best procedure is to focus on a single newsworthy item like a development in your career, an upcoming show, an award you're receiving, a new body of work, a studio sale, or other event or accomplishment that involves you. Make your announcement, briefly mention how and why you believe they might be interested, and then tell them they can either contact you or where they can go online to find out more.
Always use a good well-thought-out headline (subject line). Emails with blank or confusing subject lines get deleted far more often before they're even opened than emails with concise informative headlines. The best headlines provide readers with ample information about the who, what, when, where, and why of your message. For example, headlines like "100 New Paintings on Bill Smith's Website," "Susan Moore Gets Sculpture Commission," or "Mary Moran Show Reviewed in the Times" clearly state content and increase the chances that interested parties will open these emails. Headlines like "My Art" or "Visit My Website" or "See My Paintings", on the other hand, will likely get deleted.
Keep your message short, simple, and clear. The average online attention span these days is not very long, and if you don't get the main point or purpose of your message across in the first two or three sentences, consider your email destined for deletion. Hardly anyone likes receiving long, rambling or vague emails from people or organizations they don't know or have never heard of. Your goal is to grab the attention of anyone who's interested and hold it long enough to convince them that they want to know more.
Stay on message. Don't go on and on about yourself, your career, or what you're doing with your life unless it specifically relates to your purpose in making contact. Some artists, for example, digress about individual works of art, how they're doing with works in progress, or how people are responding to their art. This information may be exciting for the artist to write about or fine for artist discussion groups, but it's not newsworthy if it has nothing to do with the point of your email. Can you imagine the glut that would pile up in your mailbox if every artist emailed you every time they either started, worked on, showed or completed a work of art?
If the purpose of your email or DM is like pretty much all art and artist emails, your goal is to get recipients to look at your art. So keep it short and sweet. A sentence or two about your current series or current body of work is enough. When you are emailing about your website, give the specific URL you want readers to visit. Don't simply dump people on your homepage with a "look at my art" type of message; tell them briefly why they should visit and exactly where they should go to see what you're writing about.
If you don't have a website, but want to include attachments of your art in your email or DM, be brief. Don't attach any more than one or two images of the relevant art and keep them reasonable in size. Anyone who wants to see more will hit their reply button and ask for it. ArtBusiness.com has received unsolicited emails from complete strangers with as many as 100 separate attachments, the most excessive totaling well over 20 megabytes in size. This only makes people mad. Several images along with simple instructions on where to go to see more is all you need. Below are some additional pointers for sending unsolicited promotional emails that get results.
* Target your recipients. Make sure you understand who you're emailing or messaging and why, and make sure they understand why you're contacting them. Avoid mass-mailings unless you know that everyone on the recipients list already has interest in either you, your art, or your career as an artist.
* Add a personal note to every email you send. Form emails or DMs don't work. People who feel that they've been singled out are more likely to continue reading.
* Make no more than three separate announcements per email, preferably less, preferably one. Strings of announcements often take too long to plow through and end up getting deleted.
* Your entire email or DM should be no longer than three paragraphs of two to three sentences each, preferably less. Learn how to get your point across as fast as you can. Your career depends on it.
* Stick to facts and resist the urge to critique either yourself or your art. You may think your art is fantastic, totally unique, has never been done before, is the best art out there, that you're the next Picasso, or that you're a genius, but keep personal opinions like that to yourself. Let the readers decide.
* Keep content truthful. Misrepresent yourself or your career accomplishments and, sooner or later, people find out. As always, honesty is the best policy.
* If your goal is to increase your fan base or following, do the same as you do when inviting people to look at your art. Keep it short, sweet, persuasive, limit images, invite them to follow you, and that's that.
* Be brief if you include any biographical or career information, preferably limited to recent accomplishments or achievements. For those who might want to know more, provide a link to your resume or tell them to contact you directly.
* Put as much contact information as you feel comfortable with into your email or DM (you'd be surprised how many artists provide nothing, and don't even bother to give their names). At the very least, include your name, email, and links to your website or social media pages. Depending on the type of announcement you're sending, you might also include your cell phone or studio address. The more information you provide and the more accessible you make yourself, the more comfortable people feel about contacting you, and the better the chances they'll respond. The less contact information you provide, the more hesitant people are to contact you, and the more suspect they are of your intentions.
* Send no more than two or three emails to anyone who doesn't respond, no matter how badly you might want them to. In spite of what direct marketers say about how many contacts are necessary to make a sale, art is not like clothing, computers, cars, or timeshares. People only have to see art once in order to decide whether they want to see more.
(art by Roy McMakin)

Services for Artists and Collectors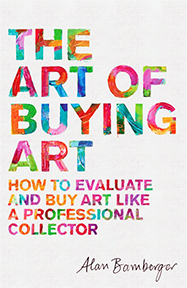 Buy the Book