MALONEY'S ANTIQUES AND COLLECTIBLES, 7th EDITION
Posted January 5, 2004
With over 20,000 listings, 11,000 websites, and 14,000 email addresses, not to mention traditional addresses, phone numbers, and fax numbers, Maloney's Antiques & Collectibles Resource Directory, 7th Edition retains its title as the best reference for quick basic information about almost every segment of the art, antiques, and collectibles industries. It contains nearly 3,200 categories of art, antiques, collectibles, and other types of personal property from gems and jewelry to race cars, boats, airplanes and meteorites. Included within the categories are entries for dealers, collectors, experts, buyers, collectors clubs, specialty periodicals, appraisers, restoration and repair specialists, and Internet resources. If you've got any kind of antique, collectible, or older item that you want to know more about, Maloney's is a great place to start your research.
Artbusiness.com asked editor Dave Maloney whether, in the Internet age, anyone still needs his book. He graciously ignored the insinuation that his book is no longer relevant, and provided the following reasons why a computer and online connection should not substitute for traditional research, and may fail to answer your antiques and collectibles questions:
* A large number of important resources have no web presence at all, and cannot be found on the Internet.
* A number of the best resource websites are poorly designed, so do not appear on search engines when relevant searches are done.
* Even better designed sites may get lost in the crowd and fail to appear within the first several pages of a search's results. People rarely look at more than four or five pages of results.
* An Internet search works well when you know the exact name of a club, periodical, or company, for example, but when you don't, Maloney's often works better.
* Maloney's contains a detailed cross-referenced index including directions to "See" and "See Also" additional resources that may be relevant. The Internet is not yet able to "suggest" additional resources in this way.
* Maloney's is an entire antiques & collectibles resource community at your fingertips. Searches are quick and easy, and you don't have to fire up the computer to do them. "While working with the television show, Treasures in Your Home: The World of Collecting," says Maloney, "I was amazed to find that all of the twenty or so college graduate, computer-savvy assistants had dog-eared copies of Maloney's in their cubicles.
* Internet users not familiar with the items they're researching may not know the most appropriate key words. Consequently, their searches don't necessarily yield the best results.
* And here's another reason courtesy of Artbusiness.com-- Maloney's resources are qualified and vetted by Maloney himself. Anyone can set up shop online, regardless of their qualifications, and many unqualified people do just that.
***
With respect to art, Maloney's has a general art section as well as more specialized sections on topics including animation art, paintings and drawings, bronzes, cartoon art, folk art, frames, commercial art, "bad art," prints, pulp art, paint-by-numbers art, art restoration and conservation, sculpture, and Outsider art. One of the best aspects of Maloney's is that most entries, art and otherwise, contain brief comments in order to help users more effectively determine which resources best satisfy their needs. For example, "bad art" collector Vito Salvatore's comments state that he "scours the U.S. for the most appallingly bad art." Which, if any, medications Salvatore takes in order to enjoy his collection are beyond the scope of this review.
As with any general resource directory, use Maloney's as a jumping off point for more in-depth research rather than an as end in-and-of-itself. Maloney's lists a handful of art museums on about a page, for example, while The Official Museum Directory, published by the American Association of Museums, lists thousands of museums and is over 2,000 pages long. Maloney's is a must for any working art, antiques, or collectibles library. Make sure you either own or have access to it.
Maloney's Antiques & Collectibles Resource Directory, 7th Edition edited by David J. Maloney, Jr. Krause Publications, Iola, WI, 2003, softbound, 862 pages, 8 1/2 by 11 inches, $32.99.
Available wherever antiques and collectibles reference books are sold or order directly from MaloneysOnline or call 1-800-258-0929.

Current Features
How to Buy Art on Instagram and Facebook
More and more people are buying more and more art online all the time, not only from artist websites or online stores, but perhaps even more so, on social media ...
Collect Art Like a Pro
In order to collect art intelligently, you have to master two basic skills. The first is being able to...
Services for Artists and Collectors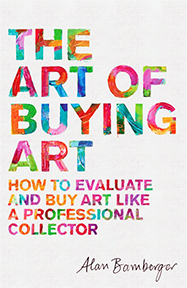 Buy the Book