Who's Who in American Art: 27TH Edition, 2007-2008
Posted January 29, 2007
Hey artists... I post this in the Reference Books and Book Reviews section of the website, but you might be interested in knowing that applying for inclusion in Who's Who in American Art is FREE (which is why I'm posting the review here too). Anyone can apply, but whether you get in or not depends largely on your career track record to this point. Here's the review as posted for art business professionals; contact information for the publisher follows...
Who's Who in American Art, 27th Edition, 2007-2008 is the best reference available for quick concise biographical information on nearly 11,500 living American artists, critics, curators, administrators, librarians, historians, collectors, conservators, educators, dealers and other significant visual arts professionals mainly in the United States, but also from Mexico and Canada. Nearly 400 names appear for first time ever in this edition.
A typical artist entry includes basic vital statistics such as the artist's date and place of birth; education and training; commissions and exhibitions; museums holding the artist's work; professional positions; awards; books and articles by and about the artist; the media in which the artist works; the artist's dealers and representatives; and the artist's mailing address. All entries are listed alphabetically by name, and cross-indexed at the rear of the book by state and by profession or discipline. A Necrology at the close of the book lists all previous Who's Who in American Art entrants who died between 1953 and 2006 (always check the Necrology if you don't find an artist listed in the main listings section; if you find the name in the Necrology, that means that a previous edition will have the biographical information you're looking for).
Who's Who in American Art is one of the first references I check when I'm researching a contemporary American artist or fine arts professional because it provides what's called "primary source" or firsthand information. The book is particularly useful for anyone who has either inherited or bought art from artists or galleries in recent decades, but has either no current information about those artists, the dealers or galleries that currently represent the artist, or what the art's current market values might be. Most established American artists are included in this book and no one is better qualified to price or provide biographical information about an artist and his art than the artist himself and/or the galleries or dealers that represent him. Who's Who in American Art is not cheap at $279, but it's an essential part of any working art reference library. Make sure you have access to a copy through a public or private library, museum, college or university in your area. If you can't find a copy, ask your local librarian about ordering one.
Who's Who in American Art, 27th Edition, 2007-2008 edited by Eileen Fanning. Marquis Who's Who, New Providence, NJ, 2006, hardbound, 8 3/4 by 11 1/4 inches, 1,587 pages, $279.00. Available from Marquis Who's Who, 890 Mountain Avenue, Suite 4, New Providence, NJ 07974 or call toll-free 1.800.673.1000 or order directly from the Marquis Who's Who website.
***

Current Features
How to Buy Art on Instagram and Facebook
More and more people are buying more and more art online all the time, not only from artist websites or online stores, but perhaps even more so, on social media ...
Collect Art Like a Pro
In order to collect art intelligently, you have to master two basic skills. The first is being able to...
Services for Artists and Collectors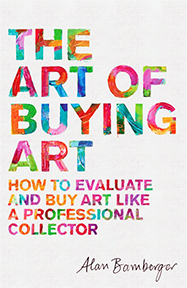 Buy the Book