Gordon's Print and Photo Price Reference Books, 2006
CLICK FOR CURRENT 2007 REVIEWS OF THESE GORDON'S PRODUCTS.
Posted May 25, 2006
Annual print and photography compendiums of auction selling price records and results published by LTB Gordonsart Inc. are the best available anywhere because they're more detailed and contain more information than similar products offered by competing art price reference publishers. For starters, Gordon's annual books of sales results contain technical data not found in other art price database products including quality of image impressions, paper types, condition information, and margin details (as described in auction catalogues). In addition, Gordon's editorial staff corrects incorrect titles, editions or states, catalogue raisonne numbers, and other errors that may appear in auction catalogue listings. For many major artists, titles of artworks are then translated into the language of the catalogue raisonne which saves you the trouble of having to bumble through the translation yourself. And at the end of each book, you'll find extensive bibliographies of reference books that you can use for additional research.
Gordon's Print Price Annual 2006 contains 50,000 international auction prices for prints in all price ranges sold during the 2005 auction year, with no minimum price cut-offs, prices for buy-ins (items that fail to sell), and withdrawn lots (items withdrawn from auctions before sales take place). Auction price results include those for Old Master, Modern, and Contemporary fine prints; decorative, historical, botanical, natural history, topographical, and Japanese prints; vintage and fine art advertising and film posters; illustrated books, livres d'artiste (artist books), books and periodicals with original graphics; Picasso ceramics; and more.
Gordon's Photography Price Annual International 2006 contains approximately 15,000 sales results for photographs sold at international auctions during the 2005 season. Included are 19th and 20th century photographs as well as books and periodicals that contain original photographs. Information about negatives, print dates, signature information, and other critical details are also included. Not only that, but you also get an extensive bibliography of photography literature which comes in mighty handy if you need more information about the images you're investigating.
To reiterate, here's why Gordon's art price products are better-- the more you know about a print or photograph in terms of condition, signature information, and other particulars, the more accurately you can apply its selling price at auction to similar prints or photographs that you either own or are considering buying. For example, if you're thinking about buying a particular Picasso limited edition print, and you find two auction selling prices for it, one for $15000 and the other for $5000, you have to understand what the differences between those two prints are in order to know which price is more applicable to the print you're considering buying. Maybe the $5000 print has condition problems, has been cut down, or is a later edition. Maybe the $15000 print was dedicated by Picasso to a famous person or came from a famous collection. You see, an auction selling price means nothing unless it's accompanied by enough descriptive information for you to accurately determine why that price is what it is. And Gordon's provides that kind of information more so than does the competition. Get it? Good.
Gordon's Print Price Annual 2006 edited by Howard Moneta, LTB Gordonsart, Inc., Phoenix, 2005, hardbound, 2019 pages, 8 3/4 by 11 1/4 inches, $285; six-month update, $95.
Gordon's Photography Price Annual International 2006 edited by Howard Moneta, LTB Gordonsart, Inc., Phoenix, 2005, softbound, 542 pages, 8 1/2 by 11 inches, $165.
All Gordon's products are available from LTB Gordonsart, Inc., 13201 N. 35th Avenue, B-20, Phoenix, AZ 85029 or call 1-800-892-4622 or visit LTB Gordonsart, Inc. online.

Current Features
How to Buy Art on Instagram and Facebook
More and more people are buying more and more art online all the time, not only from artist websites or online stores, but perhaps even more so, on social media ...
Collect Art Like a Pro
In order to collect art intelligently, you have to master two basic skills. The first is being able to...
Services for Artists and Collectors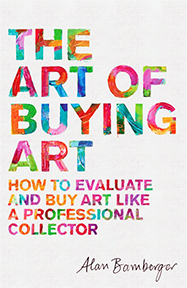 Buy the Book