Appraising Personal Property - Principles and Methodology
Posted September 3, 2007:
For all of you who have emailed over the years asking how to become an art appraiser (or an appraiser of antiques, collectibles, jewelry, furniture, decorative arts, and so on), I now officially have the answer. Appraising Personal Property-- Principles and Methodology by David J. Maloney, Jr. is a complete course book and reference guide not only for anyone who wants to learn how to appraise personal property, but also as a refresher course for those who already do. The nearly 400-page book covers everything you need to know about appraising, including definitions and explanations of the various types of appraisals, the various ways to value personal property, codes of ethics, IRS rules and regulations, how to format an appraisal, how to research values, and even details like what tools you need to do your appraising effectively-- flashlight, magnet, magnifying glass, black light, tape measure, etc. Plus the book includes the complete USPAP (Uniform Standards of Professional Appraisal Appraisal Practice) as issued by The Appraisal Foundation and authorized by the Congress of the United States as the source of appraisal standards and appraiser qualifications. What I'm trying to say here is that this is serious stuff for people who are serious about wanting to become appraisers.
Perhaps the best part about Maloney's book is that it's only $56.95 and you don't have to become a member of any organization or association to buy it. Similar information offered in appraisal courses provided by major appraiser associations often costs much more, plus you have to pay membership dues to those orgaizations before even gaining access to their course information. The only requirement for owning Maloney's book is you have to pay for it. For those of you who want to do course work, the book is used as part of the curriculum for "Appraising Personal Property: A Core Course in Valuation Studies Featuring USPAP," a six-day course in personal property appraising taught by Maloney and his partner, Certified National USPAP Course instructor Bill Novotny. According to Maloney, not only does the course cover appraisal principles and methodology, but it also includes the full 15-hour National USPAP Course taught by a certified USPAP instructor. For more information on course options or to purchase Appraising Personal Property-- Principles and Methodology, visit the Appraisal Course Associates website.
Appraising art (or any other type of personal property) is not a parlour game and it's not for amateurs. If you want to become an appraiser, do it right and buy this book.
Appraising Personal Property-- Principles and Methodology by David J. Maloney, Jr., AOA CM. Appraisers Press, Frederick, Maryland, 2007, softbound, 8 1/2 x 11 inches, 393 pages. $56.95 plus tax (5% MD residents) and shipping ($9 within US). Available online from Appraisal Course Associates, 1612 Shookstown Rd. Frederick, MD 21702; 301-712-5855.

Current Features
How to Buy Art on Instagram and Facebook
More and more people are buying more and more art online all the time, not only from artist websites or online stores, but perhaps even more so, on social media ...
Collect Art Like a Pro
In order to collect art intelligently, you have to master two basic skills. The first is being able to...
Services for Artists and Collectors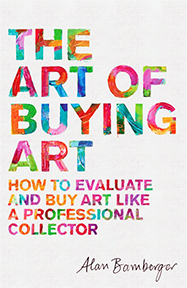 Buy the Book